Have you been hoping to attend a marriage retreat?
But maybe you just haven't been able to get away.
Or maybe you've both been way too busy.
Or perhaps you simply haven't been able to afford it.
Well, how you would you like to come to our Virtual Marriage Retreat?
You don't even have to leave the house (unless you want to) and it doesn't cost a thing.
Yes, I'm totally serious. Lovely idea, isn't it? I thought so too.
That's why I'm so excited to share with you this new Marriage Series starting the 1st of September!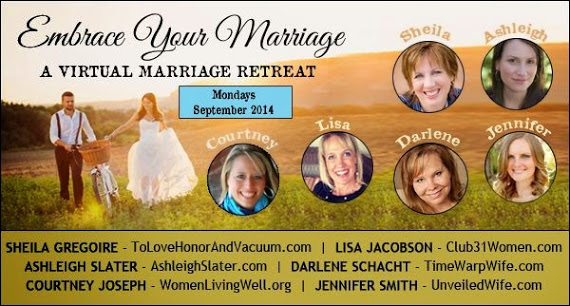 Every Monday in September, each of the following blogs will be offering a word of wisdom and inspiration to encourage you in your marriage. You can meet my wonderful blogger friends over at the following sites . . . .
And here's what you have to look forward to!
September 1 – Embracing Grace 
September 8th – Embracing Change  
September 15th – Embracing Your Differences  
September 22nd – Embracing Unity 
September 29th – Embracing Friendship 
So mark your calendar and join us each week as we all share on these very important topics in marriage. And be sure and invite any friends who might be blessed by this event as well.
Looking forward to seeing you on Monday!
*If you have topics or questions that you would like covered in this series, would you let me know? Either in a comment below, or on my contact page? I'll do my best to cover it if I can!