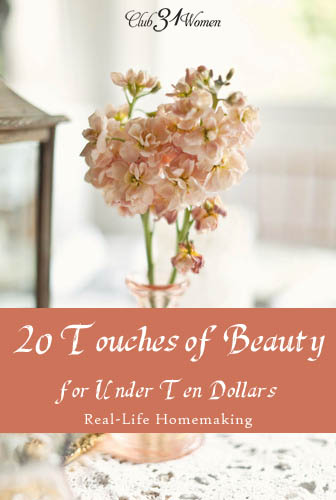 He likes to call me his Budget Queen.
And I can't say that I mind.
Take it as a compliment really.
Because it's true: I love a bargain. I feel this strange sense of delight when I come across a "terrific find".  A screaming-mimi deal.
And if it blesses my family and cheers up my home?
Well, it just doesn't get much better than that.
And you? Have you wanted to brighten up your home, but don't know where to begin? Can't imagine how you'd afford it?
I totally get that.
But I'm here to tell you that it's far easier than you might think – and far cheaper than you might imagine.
In fact, I'm going to share some of my very best Budget Queen secrets when it comes to bringing beauty into your home.
Ready. . . ?
20 Touches of Beauty for Under Ten Dollars
Arrange fresh cut flowers. Even a few daisies look charming in a small jar.
Set out some cheery candles. I rely on the Dollar Store for these simple beauties.
Gather seashells. Of course, we live near the West Coast, so this is easy enough for us. Unique, interesting shapes and colors.
Reach back in time. Pull out your grandma's tea-cup, her yellowed handwork, her spectacles. I love throwing in (not literally!) my grandparents' "pretties".
Bring out your favorite books. I've set out this gorgeous copy of Out Of Africa in my living room.  Adds a slightly exotic touch to our country home.
Stack up some rocks. I'm serious. You'll find rocks all over my house. Some I even put out there on purpose (I'm a mom of boys, remember?).
Pick up a can of paint. My husband is the one who taught me this trick: a can of spray paint can do wonders to just about any item!
Find frames for old – or new – photographs. Picture frames are abundant in your second-hand stores and plentiful in the clearance section of any craft or Target-type store.
Place a potted plant in the windowsill. That right there can make all the difference!
Go treasure-hunting. Or, as my mom calls it, "junking". Second-hand stores, garage sales, and clearance sales. My husband and I enjoy poking around (okay, me more than him) and seeing if we can uncover something really special.
Show off your best dishes. Why hide these treasures in the cupboard? Put them out where they can be enjoyed by all.
Display old mementos. I picked up a "memory board" and we keep mementos from our travels there: foreign money, photos, train tickets, etc.
Spread out a table runner. And I don't just mean on the dining table – across a coffee table, a sideboard, the old piano. It can work magic!
Take pride in your children's art. Frame it and let people enjoy it for years to come.
Put out those gorgeous foods. Limes, bright apples, chocolate – show it off. Chocolate is always beautiful. 😉
Plump up a pretty pillow. This is one of the few things that makes my husband groan. I've got a thing for pillows though. Toss them everywhere (and he tosses them right off – we're still working that one out).
String up twinkly lights. Maybe it's because I grew up 10 minutes from Disneyland, but you'll find little lights all-year round at our place. Twinkly lights make me happy.
Pull out swaths of fabric. My mom is amazing at this. She takes long strips of fabric and wraps them around her stairs, across the windows, or many other unexpected places. She's got the "knack" – and I'm still learning.
Make the most of ribbons and bows. Lots of bang for this buck. Scoop up rolls of ribbon when you go by the clearance bin of your favorite craft store. I promise – it will come in handy.
Tuck in some dried flowers. Roses, birthday bouquets, lavender – dry those precious things and save them to cheer up a rainy day.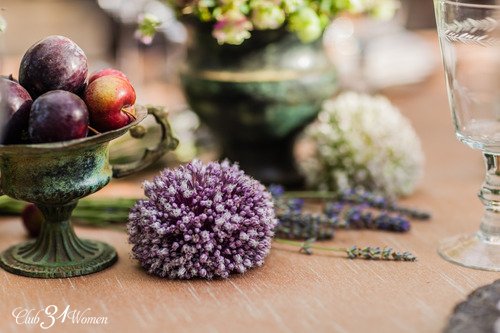 It's the best "decor" you can find in a home.
Transforms the shabby and brightens up the plain.
Makes everything seem beautiful.
And it does't cost anything. Just a smile.
*Okay, your turn. What are some of your tips for bringing beauty into your home – and staying within the budget? 
In His grace,


(This post may contain affiliate links. Read my full disclosure.)
*Our books are now available:  100 Ways to Love Your Husband by Lisa Jacobson and 100 Ways to Love Your Wife
 by Matthew L. Jacobson
If you would like these posts delivered directly to your inbox, simply subscribe below (and get the FREE eBook, The 7 Habits of a Highly Fulfilling Marriage).