An Insider Look: 20 Things You Always Wanted to Know About the Jacobson Home
Shhhh. I'm going to try to sneak this post onto Lisa's website without her noticing, or I'm afraid she won't hit publish. Please read it quietly under the covers with a flashlight! ~ Christy
A few years ago I connected with Lisa on Club 31 Women, and she invited me to write a guest post for her. A guest post turned into a rich, long friendship, which is why I hopped on a plane recently to have a weekend sleepover at her house.
This was the first time I had met her family or had visited her home, and I was anxious to know the Jacobson family for real, not just in blog world, and I think you want to know too, don't you? Is this lady and her dashing husband, eight kids, and family dog the real deal?
20 Things You Always Wanted to Know about The Jacobson Home
Their house is immediately warm and feels rich, with lodge pole banister, stone fireplace, high ceilings, and a fuzzy blanket on the leather couch. One of their boys starts a fire first thing every morning.
We gathered for morning coffee on the first day, including the kids. Lisa and I sat, while her 9-year-old son made coffee in the kitchen and then carried in a tray with two full French presses, mugs for everyone, cream, and sugar. We sat while he poured. (I could not possibly make this up.)
One of her daughters was out of town, but she left a folded towel and washcloth, toiletries, and chocolates at the foot of her bed for me.
On Saturday I watched Lisa: Mediate conversations with her college kids, Facetime her local daughter, take her special needs child to the restroom, encourage a young mom over the phone, start a massive pot of white beans for the church chili potluck, and check on her in-laws next door, (Let me catch my breath.)
Her young boys sang worship songs while they played with Legos.
One of her boys made us breakfast and lunch, and all the boys did the dishes afterwards.
A large piece of the shower handle is missing in the girl's bathroom. (I found it extremely encouraging that something in her house was falling apart.)
Every time I sat down with Matthew Jacobson he asked me questions about my life and listened intently to my answers.
A few main walls in the first level of the house are missing chunks of sheetrock, all at the same level. This is where their middle daughter's wheelchair bashes around the corners during the day. I happened to think this was some of the most beautiful décor in the house.
I watched Lisa with one of her young sons during the day – once quietly getting on to him for a seemingly disrespectful response to something she asked him to do and once when he came to ask her a question and she gently stroked his cheek while looking him in the eye with her answer. (Can you see my heart melting?)
Their special needs daughter gave me a tour of her room and told me she takes her own laundry downstairs so her mom can wash it. This daughter can't walk, but she said, "Look how fast I can slide down the stairs!" And at night she crawls up them and can get herself into bed. I was impressed. She was very excited about the annual church "apple squeeze" on Sunday, so we circled around to talk about it all day long.
I went with Lisa to pick up their milk from a farm. She tucked one of the glass containers into the back seat with a seatbelt, and then she took a picture of it to send to her husband. "A picture is worth a thousand words," she said.
The boys slammed the doors every time they went in and out, and Lisa cringed and gave me a silent Why? look every time.
I made a chocolate cake as an early birthday celebration for Lisa, and her youngest son helped me make the frosting. He knew where all of the supplies were.
The Jacobsons held hands when they prayed before a meal, and her boys talked to God comfortably and with sincere hearts.
We walked next door, to check on Matt's mom and dad. Mom was having a pretty good day. Dad wasn't feeling so well. But the boys had been over to play a game of cribbage and to watch westerns.
Lisa was late to church on Sunday. (You are still reading this under the covers?) But okay, it was because we had forgotten to buy Operation Christmas Child boxes the day before and had to make a run to the dollar store.
Lisa's chili was awesome. Somebody ask her to give us the recipe, but don't tell her where you got the idea to ask.
Before Lisa and I left for a little overnight retreat, I saw Matt kiss her right on the lips. (#steamy)
So there you have it for my on-site reporting. This is one special family, and I'm here to say that if Lisa gives you advice about being a mom or a wife you should listen. Good things are happening in her house.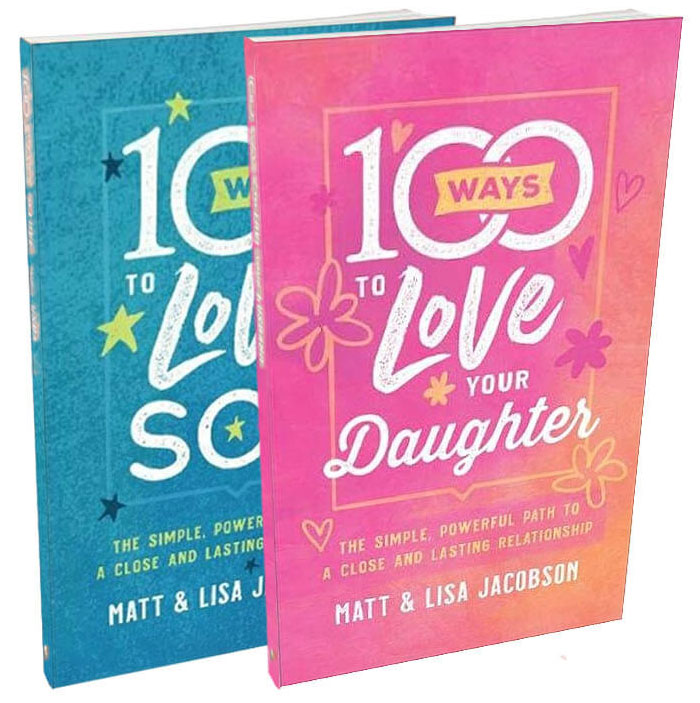 100 Ways to Love to Your Son/Daughter
You love your son and daughter–but that doesn't mean you always know the most effective ways to show that love, ways that will connect with their hearts, and stick with them no matter what life throws their way.
These practical books by the authors of 100 Ways to Love Your Wife and 100 Ways to Love Your Husband give you 100 specific, actionable ideas you can implement to show love to your children, no matter what age they are.
The best part? The short, bite-sized readings make it easy to start right now!