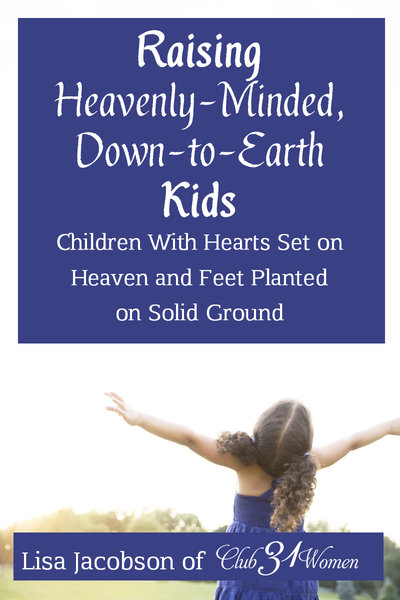 As a thank you for subscribing to Club31Women, I'm happy to be able to offer you this FREE eBook, Raising Heavenly-Minded, Down-to-Earth Kids: Bringing Up Children With Hearts Set On Heaven and Feet Planted on Solid Ground.
Table of Contents:
Chapter 1 – Raising Kids to Shine Bright in a Dark World
Chapter 2 – Raising Heavenly-Minded, Down-to-Earth Kids
Chapter 3 – Raising Kids Who Know They Are Deeply Loved
Chapter 4 – Raising Kids Who Genuinely Love Jesus
Chapter 5 – Raising Kids Who Might Fall…But Get Back Up Again
Chapter 6 – Raising Kids Who Walk in the Power of Purity
Conclusion –  Raising Kids Who Shine Brightly For Jesus
You are welcome to download your copy of the book right here. Be sure and save it to your computer!
If it doesn't work immediately, please wait and try again in a few minutes. When too many people are simultaneously downloading, the system  will sometimes "jam". If all else fails, you can contact me  and let me know and I'll try to take care of it directly: Contact Me.
Please remember that this book is a gift intended for subscribers ONLY. If you, or someone you know, would rather not subscribe then the the book will also be available on Amazon for $1.99. Thank you so much for understanding.
I hope you are blessed and encouraged!
In His grace,