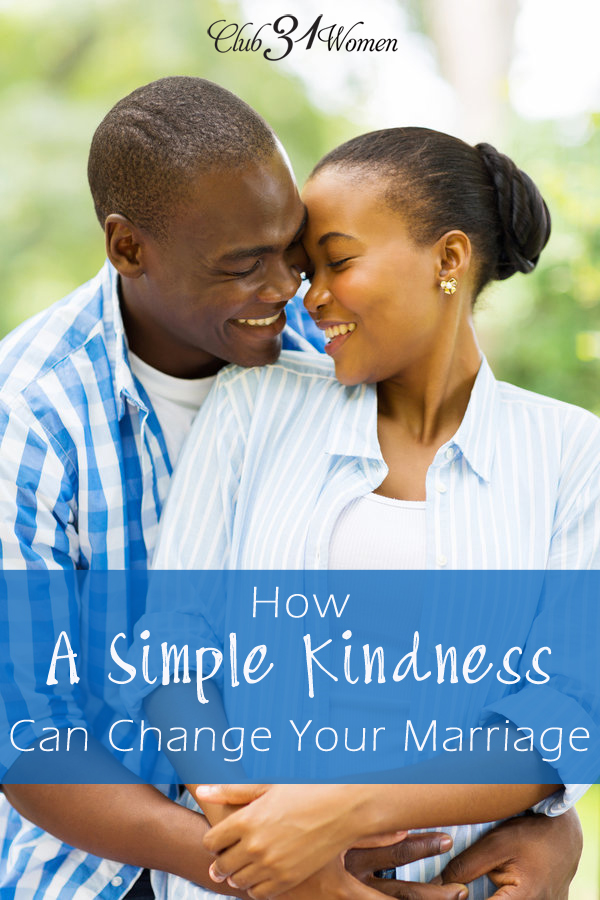 So I had this really hard day.
Or, to be more accurate, I had a really hard week.
And I was close to tears by late afternoon.
He asked me what was wrong and I'm sorry to say that I snapped at him.
Was it not obvious? Hello…? You'd only have to take one look at all the pressures I'd been under the last five days.
He stared at me and I felt a bit of guilt for the hurt I saw there. Taking it out on him. Undeserved.
But not feeling guilty enough to apologize.
I was too wrapped up in my own struggles.
I figured it was about to get ugly and, frankly, I had asked for it with my snotty attitude.
Then I saw his countenance visibly change – from offended to compassionate.
He didn't exactly understand where I was coming from – but then again, he didn't need to. What mattered was that I was in a bad place.
His eyes softened.
He reached out with a gentle touch.
Asked if I'd like run into town with him. A mini-errand date.
He also announced to the kids that Mommy was turning in early that night.
And then later ran a hot bubble bath for me.
So, yes, I did end up crying that evening, but these were very different tears. They were the tears that come when someone shows kindness to you that you didn't necessarily deserve.
My husband is the hero in this story. But you know what? I learned something afresh.
I was reminded of the power of offering a simple act of kindness in a relationship.
Offering Kindness in Your Marriage
A loving look.
Sometimes you don't need to say anything at all. Just look at your spouse with loving eyes and communicate that you care and you'll always be there.
A soft voice.
It's possible to completely turn around a situation by returning harsh or unjust words with a sweet response. A soft answer turns away wrath, but a harsh word stirs up anger (Prov. 15:1).
An encouraging word.
Often our meanest moments come from our own discouragement or feeling of defeat. Those are the times when we could most use a friend (or spouse!) to cheer us up with kind, uplifting words.
A gentle touch.
Reaching for his hand, rubbing his knotted shoulders, a loving kiss – these small gestures can have a powerful effect on the one we love.
A thoughtful act.
Going beyond the ordinary to do something special or meaningful to the other person when they are down, or "in a bad place".
Like any skill, kindness must be practiced repeatedly and untiringly in order to really master it.
And, like any gift, it is not up to us to judge another person's talent, but far better if we simply focused on developing our own.
So, I don't know about you, but I've recently renewed my commitment to showing kindness to my husband.
Even in those times when he doesn't necessarily deserve it.
Maybe even especially in those times.
Because kindness is simply changing our marriage.
*What kinds of things do you like to do to express kindness in your marriage? Please share! I'd love to get some ideas from you.
In His grace,