How to Find Motivation for the Mundane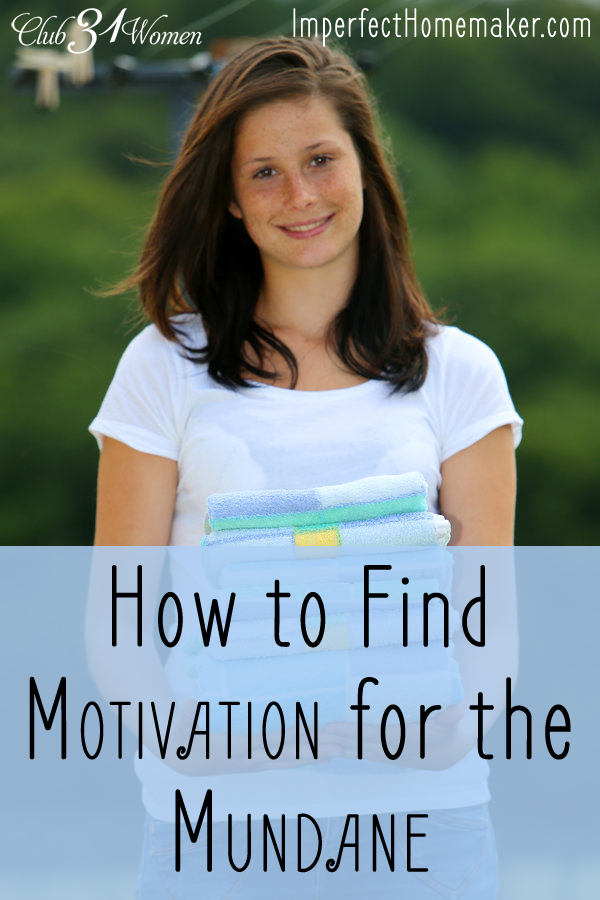 "I just can't get motivated. I am not passionate about this cooking and cleaning thing."
Have you ever felt that way?
I have many times.
For a long time I struggled with doing all the day-to-day chores without just feeling like I had to do them.
I wanted to love being a homemaker! I wanted to look forward to cooking and cleaning for my family and serve them with a genuine smile on my face.
But instead I always found myself begrudging the work, wishing that homemaking wasn't one long cycle of boring things that I had to do just to keep everyone from going crazy.
It's a little difficult to be passionate about scrubbing a bathroom floor. And for me it's hard to even be passionate about cooking or decorating because I'm not very good at those things.
So how do I do all those things – those mundane things – with excitement rather than a sense of drudgery?
I asked the Lord to help me develop a love and excitement about the housework in place of the "have-to" attitude.
And one day he answered my prayer, not by placing that excitement in my heart, but by showing me how I could develop that excitement myself.
As I was spending some quiet time with the Lord, I read in Matthew 6: 21, "For where your treasure is, there will your heart be also."
That was it! Wherever my treasure is, my heart will follow.
If I want to be passionate about something, I need to invest my treasure into it. Sometimes that treasure is in the form of money, but more often it's in the form of my time and energy.
I can develop a passion for the mundane by investing my time and energy into it.
Instead of waiting until I feel motivated to do the chores, I choose to pour my time and energy into them, and the motivation follows!
Once I realized that cooking and cleaning is how I as a homemaker can lay up treasures in heaven, it became a lot more exciting!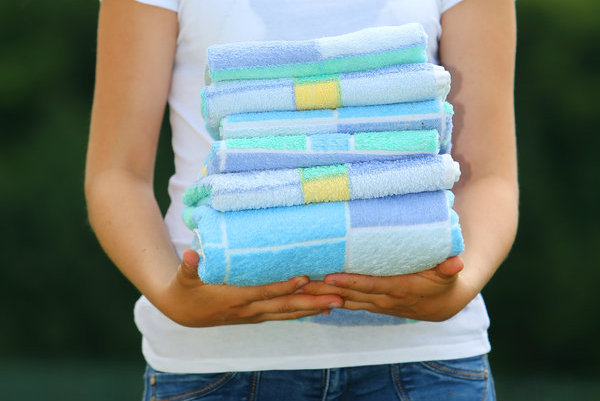 Love Is Shown in The Mundane
How do I know that I am laying up treasures in heaven by cooking and cleaning?
For one thing, keeping my home is what God has called me to do. (Titus 2:5)
I'm also to love my husband and children (Titus 2:4), and the home is the primary place where I do that loving.
It is much harder to maintain a calm, gentle attitude with my husband and children when chaos is reigning all around me in my home.
It is hard to teach and train my children to obey God when they don't see their mother putting forth the effort to do what she is supposed to be doing.
It is hard to show intimate love to my husband when the atmosphere in the bedroom is anything but intimate.
Love is shown in the mundane – providing clean and unwrinkled clothes, a hot meal at the end of a long day, and a clean bathroom floor to step onto when my husband is fresh out of the shower. (I'm pretty sure a clean bathroom floor is one of his love languages. 😉 )
When I realized that by loving my husband and children through these mundane chores I was also storing up treasure in my heavenly bank account, I found a lot more pleasure in doing them! They became a "get to" instead of a "have to".
Friend, are you struggling to find motivation in the monotonous chores of homemaking?
Invest your time and energy into them anyway, knowing that you are laying up treasure in heaven by doing so.
And wherever your treasure is, you'll soon find your heart has followed.
~ MaryEllen Bream, ImperfectHomemaker
(This post may contain affiliate links. Read my full disclosure.)