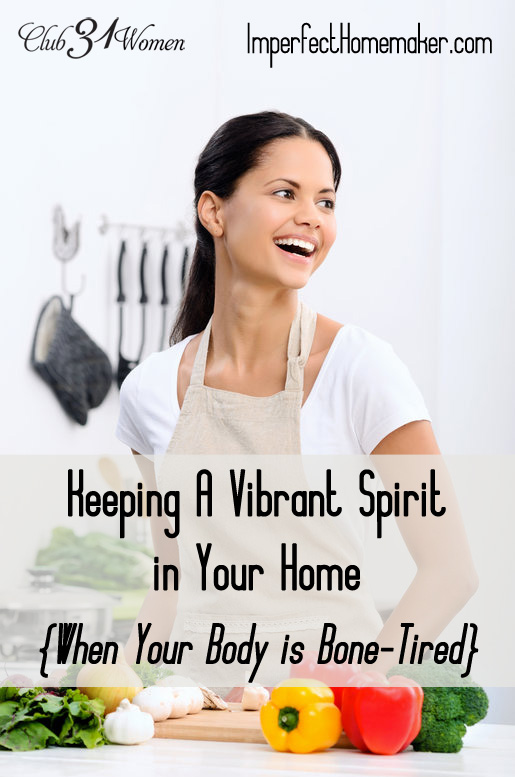 I can rest when I get to heaven.
That's what one old preacher I know used to say.
He wasn't meaning we should never sleep or rest, but he was emphasizing the fact that he didn't want to place too high of a premium on relaxing. Our time here on earth is so limited; let's not waste it by always seeking the path that's most comfortable.
As a wife and mom, my ministry is primarily limited to within the four walls of my home. Although I minister in my church and community when possible, the bulk of my time is spent taking care of my family and home.
Through the years, I've prepared countless meals, scrubbed the toilet an innumerable amount of times, and washed (and occasionally even folded and put away – ha!) the same clothes over and over again.
I'll be honest. Sometimes I get tired, and I really just feel like taking it easy. Okay, let me rephrase that. I am often exhausted, and I often find myself checking out instead of sticking with my work.
I'd rather put my feet up and relax with a good book over washing dishes any day. (Wouldn't you?)
*Let me be clear here. I am not advocating a run-yourself-ragged, the less-sleep-you-get-the-better, never-ever-let-your-family-help-you kind of philosophy.
But I think sometimes we're just a little too quick to tell ourselves that we deserve a break. We're a little too quick to give up when we're tired. (That's one of the Things I've Learned About Homemaking From the Older Generation.)
What If Things Get Tough?
I've been thinking about the Apostle Paul and what he did when things got tough. He was persecuted beyond what we can imagine. He was beaten; he was stoned; he was imprisoned.
If anyone had a right to give up, he did.
But instead, he called these things a "light affliction". He said that they only last for "a moment" and that they were working a "far more exceeding and eternal weight of glory." (II Corinthians 4: 17)
If Paul could have that attitude about being beaten, stoned, and imprisoned, can I not have the same attitude about the ministry that goes on in my home?
When done with the right motives, my light affliction of preparing yet another meal, of scrubbing another toilet, or washing another load of clothes is one day going to be replaced with an eternal reward!
I'm certainly not Paul, but just like he was faithful with the ministry with which God had entrusted him, I need to be faithful with mine.
How was Paul able to stick with it even when things were so hard for him?
Instead of focusing on the outward difficulties, he turned his focus inward (his relationship with Christ) and upward (his anticipation of heaven). Yes, his body was tired, but his spirit was vibrant!
For which cause we faint not; but though our outward man perish, yet the inward man is renewed day by day. For our light affliction, which is but for a moment, worketh for us a far more exceeding and eternal weight of glory; While we look not at the things which are seen, but at the things which are not seen: for the things which are seen are temporal; but the things which are not seen are eternal. (II Corinthians 4:16-18)
And that same attitude is how I as wife and mom can pull myself out of the "I'm-tired-and-I-quit" slump. Instead of saying, "Woe is me; look at all this work I have to do," I can meditate on God's Word. I can pray. I can thank Jesus for the sacrifice he made so that I can spend eternity in heaven. And then I can look forward to the day when I can rest at his feet!
I don't know about you, but thinking about that makes my step a little lighter, and even though my eyes may still droop, my smile certainly doesn't!
Fellow wives and mamas, I know you're tired. The days are long and the nights are short. But hang in there! Don't focus on the difficulties; focus on fulfilling faithfully the ministry to which God has called you.
When you reach eternity you will find it was worth very effort ten times over!
~ MaryEllen Bream, ImperfectHomemaker
*Anyone have a word of encouragement for a sister who is tired or discouraged? Please offer in the comments below!
(This post may contain affiliate links. Read my full disclosure.)