Raising Kids Who Genuinely Love Jesus
I held my breath when the call came in.
I had no doubt that what was going to be communicated would come as a harsh blow and that his world would come crashing in. It was all I could do not to hang up on the caller and spare our son the deep pain this conversation would inevitably bring.
But instead I handed him the phone and watched his face fall.
Devastation.
When all was said and done, he hung up and – without saying a word and without looking back – walked out of the room.
Oh, dear God, I cried out. Help that young man.
A mother's heart-felt plea.
Then watched him climb the stairs and shut the door. Followed by a strange silence.
How was he going to handle this? Where would he turn? What would he choose?
He was no longer a child and I couldn't choose for him.
Standing outside his closed door, I pressed my forehead against the solid wall. Praying. Silently weeping. Waiting.
An hour or more passed before I finally heard his voice on the other side of that wall.
It took me a minute or two before I realized what I was hearing.
He was singing praise songs to Jesus.
One after the other. Song after song. I didn't even realize he knew quite so many songs.
His voice was raspy and so I suspected he was emotional. Maybe even cried. But he was definitely singing his heart out.
In the midst of great personal pain, he was praising Jesus.
That moment in his 17-year history was not our son's first test and by no means would it be his last. Yet for some reason it's the most memorable in my mind. A significant time in a mother's life when she is left to agonize: which way will he choose?
How do you bring up children who genuinely love Jesus?
Our children are people, not projects. We just can't turn our kids into a Jesus-project. Above all, they need to see and feel that they are deeply loved and that you truly love Jesus yourself. Children are little people with tender souls, so tend them gently.
Our genuine love for Jesus has a powerful impact. Children are incredibly perceptive and so as parents we need to be the "real deal". Not perfect (kids care way less about this than we think), merely authentic.
The church cannot replace us as parents. We can't leave it up to the youth leader, the youth program, the Sunday School teachers, or even your awesome pastor to lead our children to Christ. God made you the parent of your children and they need YOU to teach and disciple them.
And a parent cannot replace the Holy Spirit. It's true. We have much to offer as the parent as we guide and direct our children, but only the Spirit of God can transform their hearts. So let's not do this in our own power, but rely on Him to do the real work.
Rejoice in the victories. This is very important. If your child does something kind, something honest, or something obedient – then rejoice! Maybe they have some areas (even lots of areas!) that they still need to grow in, but don't let those be your main focus. Instead, celebrate each little step of victory!
Discipleship is an ongoing process. Rather than looking for immediate results, patiently sow the seeds and pull the weeds. What it might look like today in your home doesn't determine how it will always be. Take heart, my friend, for you are doing something wonderful for your children with your loving persistence.
And let us not grow weary of doing good, for in due season we will reap, if we do not give up. (Gal. 6:9)
And please know that I'm walking in a similar row right next to you. It's by no means "over" here in our home. We have no illusions about that. We are still growing, still learning, and still have choices to make every day on Who we are going to choose.
But my prayer is that our children – yours and mine – will keep turning their hearts to Jesus.
In His grace,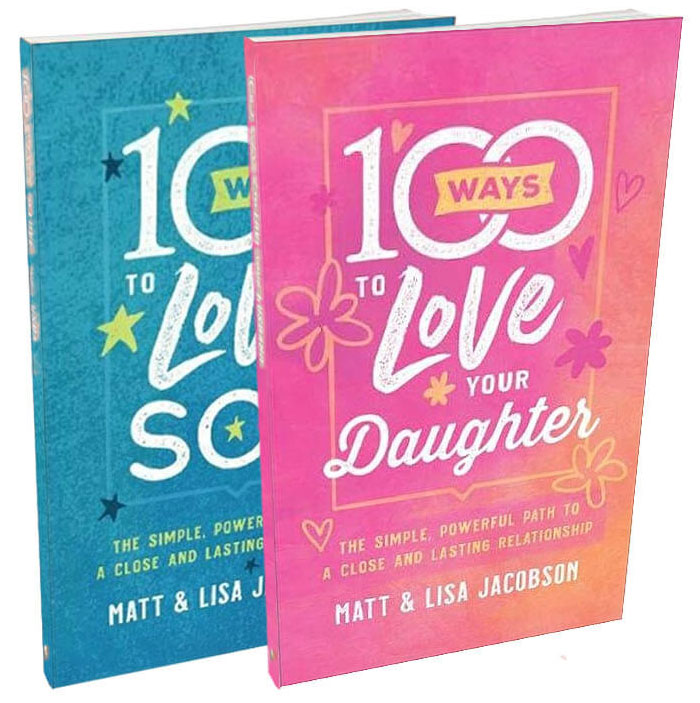 100 Ways to Love to Your Son/Daughter
You love your son and daughter–but that doesn't mean you always know the most effective ways to show that love, ways that will connect with their hearts, and stick with them no matter what life throws their way.
These practical books by the authors of 100 Ways to Love Your Wife and 100 Ways to Love Your Husband give you 100 specific, actionable ideas you can implement to show love to your children, no matter what age they are.
The best part? The short, bite-sized readings make it easy to start right now!