Okay, it's that time of year!
Time to look back…and then to look forward again.
Every year I look back at what's been shared from Club31Women and gather the top 10 posts from over the year.
And when I say "top 10" that only means the most viewed posts. This doesn't necessarily mean they are my favorites or even that they are the "best" (although there certainly might be some crossover), but these are the articles that were most widely shared and read.
Also, surprisingly enough, not all the articles were published in 2015, but in earlier years and yet they continue to be one of the more popular posts.
So are you ready? Because here they are….Countdown!
Ever wonder what modesty is all about? What it is – and what it's not? Here's what I tell my girls about a woman and modesty…The Bare Essentials
Do you ever wish you were closer friends with your husband? Well, you can! Here are some great ways to become best-friends with the man you married. 5 Ideas for Becoming Best-Friends
What if there was just one thing you could do to make a real impact on your marriage? A daily habit that makes for a happier, lifelong marriage? One Small Daily Habit
Who would have thought changing this one bad habit would make such a difference? Here's a simple, but powerful way to breathe life back into your home. Changing One Bad Habit
What does every daughter long to hear from her mom? Here's a beautiful list for all of you women who were perfectly made to be the moms of your precious daughters! What Every Daughter Desires
Ready to fall-in-love with each other all over again? Here are 25 of the best fall date ideas for you and your spouse! 25 Falling-In-Love Date Ideas
What goes into a joyful and loving marriage? So much is made up of these small things. So beloved bride -whether newly married or not- here's a gift for you! 20 Little Things to Make A Big Difference
Boys will be boys! But how do you raise up a son so that he is also kind and polite? Strong and thoughtful? Here's how you can bring him up to be a gentleman too….24 Ways to be A Gentleman
*This one has been in the Top Ten for 3 years running!
Did you know that there are some powerful ways to tell your man that you love him? And that you can say it without ever saying a single word? Here are both some fun and serious suggestions you might want to try! 15 Ways to Say You Love Him
And now for the top post of 2015 . . . .
How does a mother grow close with her daughter? How do you get to know her heart? Here are 21 thoughtful questions she really needs you to ask! 21 Questions for Your Daughter
So that's it! The Top Ten Most Popular Posts from 2015!
(And here are the Top Ten Popular Posts from 2014)
*What were some of YOUR personal favorites from 2015? And, if you're willing, I'd love to hear WHY it was a favorite! 
In His grace,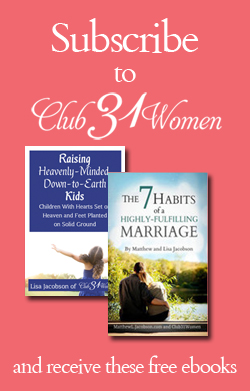 *If you'd like these posts delivered directly to your inbox (and get 2 FREE eBooks),Subscribe to CLUB31WOMEN.