Print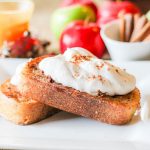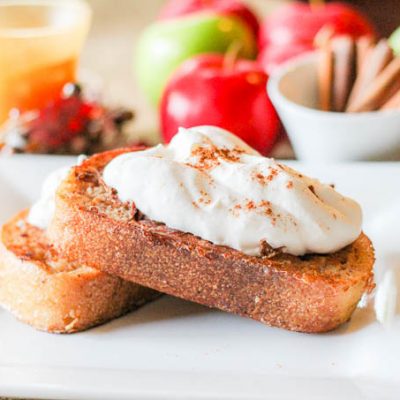 Cinnamon Apple Spice French Toast
Take the time to find some good quality French bread, and enjoy this lightly spiced autumn brunch.
1

loaf freshly baked French bread

, sliced into pieces at least one inch thick

3

eggs

1 1/2

cups

milk

1

tbsp

vanilla extract

2

tsp

ground cinnamon

1

tsp

ground nutmeg

1

tsp

apple pie spice

butter
Add eggs, milk, vanilla, cinnamon, nutmeg, and apple pie spice to a large bowl and beat together.

Heat oven to 170 degrees and place a large cookie sheet inside.

Heat a large skillet over medium heat. Melt butter in skillet (about a tablespoon) and spread to coat evenly.

Dip one slice of bread at a time in the egg mixture, allowing it to submerge and soak up the mixture for a few seconds. The texture and density of the bread will dictate how long it takes to sufficiently soak through.

Move bread directly from the bowl to the skillet. Cook on one side for several minutes, until egg mixture begins to brown, then flip with a spatula and cook the other side for a similar amount of time. Move the bread directly from the skillet to the waiting cookie sheet and keep warm in the oven until ready to serve.

Serve hot directly from the oven, with toppings of your choice. Suggestions include real maple syrup, butter, and whipped cream sprinkled with apple pie spice.