Print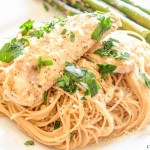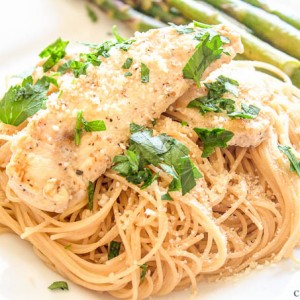 Italian Chicken with Angel Hair Pasta
Chicken marinated in Italian dressing and spooned over delicate pasta with fresh parsley and grated parmesan cheese. This simple supper not only smells good while it bakes, but leaves you stress-free in the kitchen too. Prep time: 5 minutes + Marinating Cook time: 45-60 minutes Total time: 60 minute Yield: 4 servings
8-10

boneless

, skinless chicken tenderloin (figure 2-3 tenders per person)

1/2-3/4

cup

Newman's Own Family Recipe Italian Dressing

1

lb

angel hair pasta

4

tbsp

flat-leaf parsley

, finely chopped

Grated Parmesan cheese for topping
Marinate the chicken with the dressing in a ziploc bag for at least 2 hours and keep in the fridge until ready for use.

Pre-heat oven to 350 degrees. Empty the chicken and dressing into a 9x13 baking dish. You can add a bit more dressing at this point if you like. (The dressing turns into a sauce that you can just drizzle over the chicken and pasta. ) Bake for 45-60 minutes until chicken is cooked through.

While the chicken is baking, prepare pasta according to the box's directions. Drain pasta and return to pot.

Place some pasta on a plate and top with the baked Italian chicken. Drizzle some of the dressing from the baking dish over the chicken. Sprinkle a little bit of parsley over the pasta and chicken. Top with grated parmesan cheese and serve.