Print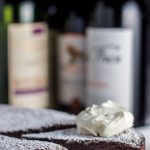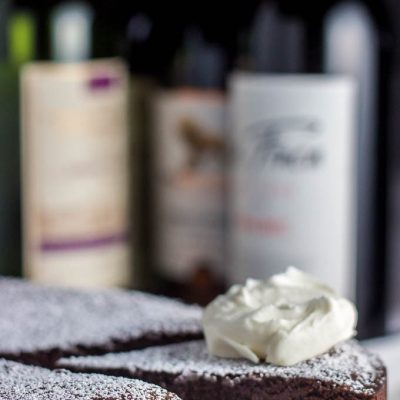 Chocolate Red Wine Cake
Need a dessert that's easy, yet complex, not too sweet, but totally addictive? This Chocolate Red Wine Cake is for you...
For the Cake
6

tbsp

unsalted butter

, room temperature

3/4

cup

packed brown sugar

1/4

cup

granulated sugar

1

large egg + 1 yolk

3/4

cup

red wine

, any kind you like ( I used a Cabernet Sauvignon)

1

tsp

vanilla extract

1

cup

+ 1 tbsp all-purpose flour

1/2

cup

Dutch cocoa powder

1/8

tsp

baking soda

1/2

tsp

baking powder

1/2

tsp

salt

1/4

tsp

ground cinnamon
For the Topping
1/2

cup

mascarpone cheese

1/2

cup

heavy cream

2

tbsp

granulated sugar

1/4

tsp

vanilla extract
Pre-heat oven to 325* degrees. Line a 9-inch cake pan with parchment paper and spray the sides and bottom with non-stick cooking spray. Set aside.

In a large bowl with the paddle attachment (electric mixer works too) cream the butter until smooth. Add the sugars and beat for about 3 minutes or until fluffy. Add the egg and yolk and beat well. Pour in the red wine and vanilla extract and carefully blend on a low speed at first so the red wine doesn't splatter and stain your clothes. Then adjust the speed until mixed. Don't worry, this mixture will look odd an uneven. It's supposed too.

Sift the flour, baking soda, baking powder, salt, and cinnamon over the red wine mixture and mix until it's about 3/4 of the way combined. Then fold the batter the rest of the way.

Spread batter into prepared cake pan and bake for 25-30 minutes or until toothpick comes out clean. (The top of the cake will be shiny and smooth.) Cool in pan for 10 minutes on a rack and then flip the cake out of the pan and allow to cool completely.

For the topping, whip ( I used a whisk attachment) the cheese, cream, sugar, and vanilla extract together until slightly stiff peaks form. Dollop the topping on to cake slices. Cover and store remaining topping in the fridge.