Print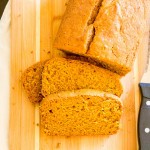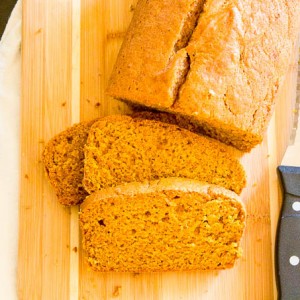 Pumpkin Bread
Moist, sweet, and full of all those autumn spices you love. Serve your friends and family by sharing one of the extra loaves of homemade pumpkin bread.
3

cups

pumpkin puree

1 1/2

cups

vegetable oil/applesauce

4

cups

white sugar

6

eggs

4 3/4

cup

all-purpose flour

1 1/2

tsp

baking powder

1 1/2

tsp

baking soda

1 1/2

tsp

salt

1 1/2

tsp

ground cinnamon

1 1/2

tsp

ground nutmeg

1 1/2

tsp

ground cloves
Pre-heat oven to 350 degrees. Grease and flour 3-9x5 loaf pans.

In a large bowl, mix together the pumpkin, oil, sugar, and eggs until well-incorporated. In a medium sized bowl, whisk together the flour, baking powder, baking soda, salt, cinnamon, nutmeg, and cloves. Gradually pour into the pumpkin batter a little bit at a time, stirring after each addition until the mixture is well-blended.

Divide batter evenly between the loaf pans and bake for 45-60 minutes, or until a toothpick comes out clean when inserted into the middle.

Allow to cool completely in pans before removing the bread. Run a knife around the edges of the bread in the pan to loosen. Store any remaining bread in plastic wrap.