Print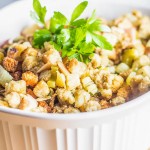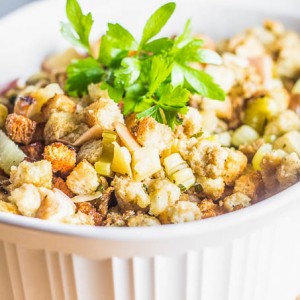 Apple & Onion Stuffing
This sweet and savory stuffing is just as easy to make as the stuff from the store, but tastes better, looks better, and is better for you, too!
Pre-heat oven to 400 degrees. Pre-heat a large skillet over medium-high heat. Add the extra-virgin olive oil to the skillet and butter. When the butter melts, add the bay leaf, celery, onion, and apples. Season with salt and pepper, and poultry seasoning and cook for 5-6 minutes, or until the vegetables and apples begin to soften.

Add the parsley and stuffing cubes to the pan and combine. Moisten the stuffing with chicken broth until all the bread is soft, but not wet. Remove the bay leaf and let the stuffing cool either in the pan or in a bowl.

Brush cookie sheet with additional olive oil. Form a loaf shape out of stuffing and bake until set and crisp on top, about 15-20 minutes.

Scoop the stuffing into a serving bowl and serve warm.