Apple and Onion Stuffing – Always the Crowd Favorite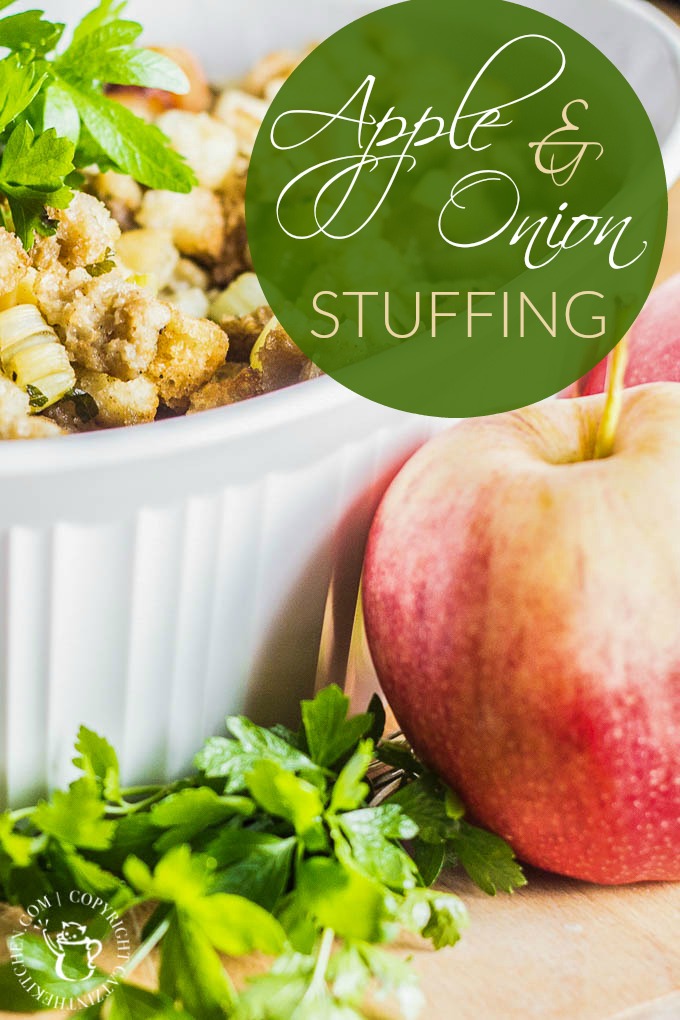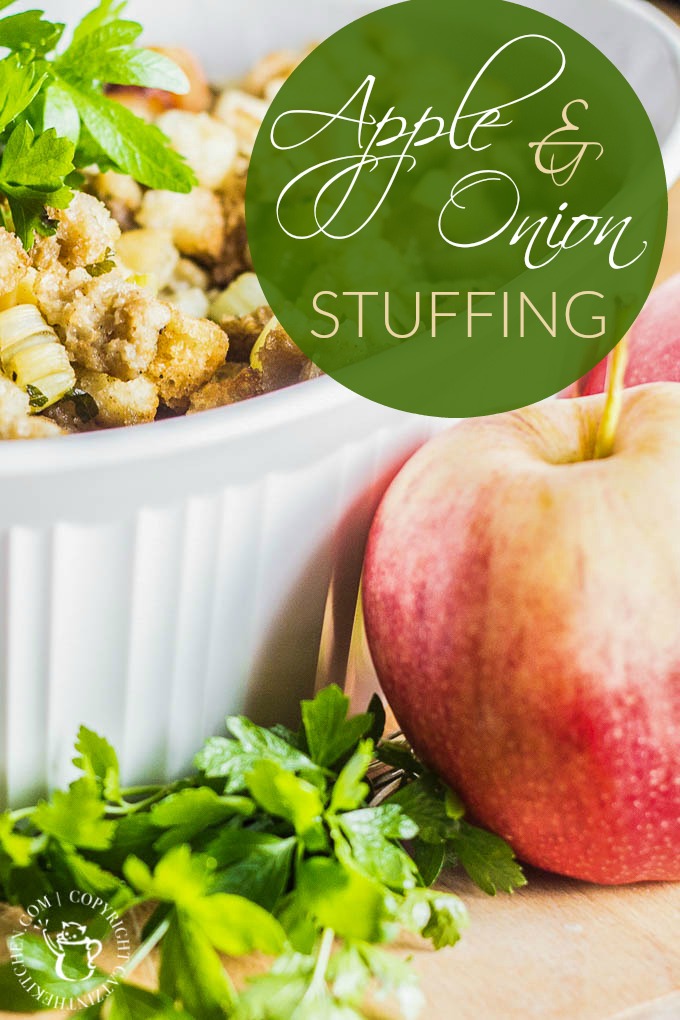 Thanksgiving is quickly approaching and I'm still feeling a little blindsided by that fact.
I find myself reacting like this every year. The days and weeks seem to pile on top of each other so quickly and my head is left spinning a little! I can't be the only mother who feels this way, right?
I want this short stretch of the year to just stop and slow down a little bit so that I can fully enjoy it without feeling bogged down by the many to-do lists I make for myself!
Speaking of lists…we're hosting Thanksgiving this year in our home, and I haven't even made a list of what we're preparing or what I would like others to bring!
I'm not going to worry (well, try not to at least) about all of the preparations, about the menu planning, about what time everyone should show up…and most importantly, what I'm going to wear!
Just kidding! Well, kind of…
"For this reason I say to you, do not be worried about your life, as to what you will eat or what you will drink; nor for your body, as to what you will put on. Is not life more than food, and the body more than clothing?" Matthew 6:25
They say "Comparison is the thief of joy," but so is worry.
Worrying is a lot like fear. It can immobilize us and hinder the Holy Spirit from working through us to reach others.
Instead of worrying about the things I need to get done or how the day will go and if everyone will get along, I'm going to try and use this time of "giving thanks" to focus on what matters most, which is people.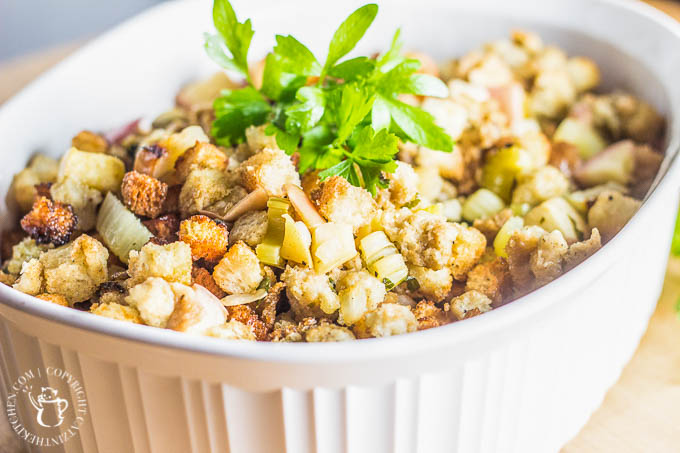 But…what is Thanksgiving dinner without food? And notably the stuffing, which I think is always the crowd favorite.
While I will admit to having a hankering for the stuffing out of the red box (it's good!), last year I made homemade stuffing for the first time and it was really delicious – not at all that difficult or time consuming! Actually, it was probably one of the quicker recipes I cooked up last year.
This apple and onion stuffing is sweet and savory, crunchy and moist, and better for you, too. Which means you can have that extra slice of pie after all!
Sitting around the dinner table with family and friends, and, of course, delicious food that warms us up, is a great opportunity to thank God for His work in and for us.
This Thanksgiving, remember the One who made all things and continues to make all things new (like me and you!) by giving thanks to Him!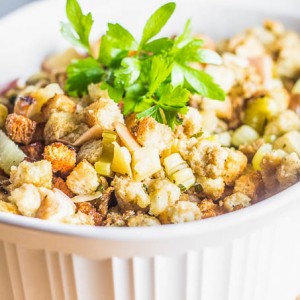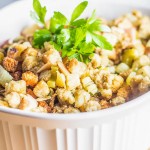 Apple & Onion Stuffing
This sweet and savory stuffing is just as easy to make as the stuff from the store, but tastes better, looks better, and is better for you, too!
Ingredients
2

tbsp

extra-virgin olive oil

1/2

stick butter

, softened

1

fresh bay leaf

4

ribs celery and greens from the heart

, chopped

1

medium yellow onion

, chopped

3

Gala apples

, quartered and chopped

Salt and Pepper

2

tbsp

poultry seasoning

1/4

cup

parsley leaves

, chopped

8

cups

cubed stuffing mix

4-5

cups

chicken broth
Instructions
Pre-heat oven to 400 degrees. Pre-heat a large skillet over medium-high heat. Add the extra-virgin olive oil to the skillet and butter. When the butter melts, add the bay leaf, celery, onion, and apples. Season with salt and pepper, and poultry seasoning and cook for 5-6 minutes, or until the vegetables and apples begin to soften.

Add the parsley and stuffing cubes to the pan and combine. Moisten the stuffing with chicken broth until all the bread is soft, but not wet. Remove the bay leaf and let the stuffing cool either in the pan or in a bowl.

Brush cookie sheet with additional olive oil. Form a loaf shape out of stuffing and bake until set and crisp on top, about 15-20 minutes.

Scoop the stuffing into a serving bowl and serve warm.