Pumpkin Thumbprints: A Great Cookie to Welcome the Changing of the Seasons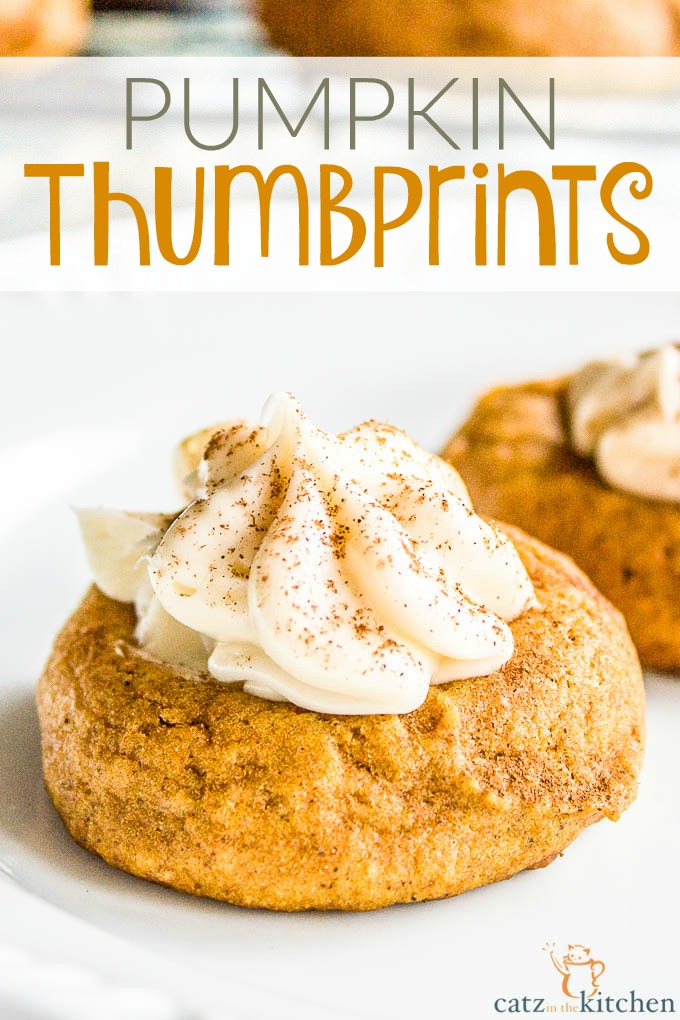 I've been thinking lately about serving.
As wives and moms, we're no stranger to the word serving. We do it all day long. Whether we're changing diapers, potty training, bathing babies, ironing clothes (Okay, I don't actually iron. But our dry cleaner does. Thank goodness.), cleaning bathrooms, or fixing meals – all day long we're serving others.
Sometimes, we can look at these things we're doing as chores. Something to just check off before moving on to the next item on our "To Do" list and because we see it as something that has to be done, instead of something that benefits others, we look at it begrudgingly.
This was how I looked at it when I was a kid, and all the way up until I really began to try to surrender myself to the art of homemaking and hospitality.
A few weeks ago, my whole family traveled up to northeastern Washington to visit my sister in love and her husband, the pastor of a small rural church. They recently took in two wonderful little boys to foster, and then just last month, she found out she was pregnant with her first child!
Very exciting, but for those of us who remember our first pregnancy, I'm sure we can recall how exhausting it was – add two littles into the mix and it can be downright overwhelming!
Though we really wanted to see our family and meet the boys, we had to seriously think about taking the trip. Bringing a family of five into someone else's home for five days and disrupting everyone's routine can be stressful.
But, in the end, we decided to do it – we wanted to see them, and perhaps we could serve them while we were at it, this couple that spends so much of their time serving everyone else!
"In everything I showed you that by working hard in this manner you must help the weak and remember the words of the Lord Jesus Christ, that he himself said, "It is more blessed to give than to receive." Acts 20:35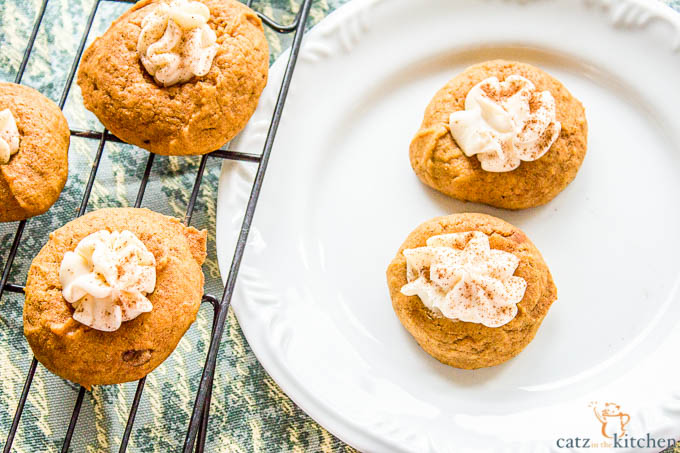 And while we did, I think the bigger blessing was seeing our daughters take pleasure in serving – they did dishes and cleaned up and took the boys outside to play. It was wonderful to see them not only doing things that benefited others, but enjoying doing so.
One of the things I made as a surprise to the boys was make cookies for after dinner. I know my sister in love enjoys fall, but because she has been busy bonding, training, and with playing with the little boys, not to mention experiencing that first trimester fatigue so many of us know so well, I wanted to make something that would help celebrate the season.
Pumpkin Thumbprints are a great cookie to start the season out with, plus fun to do with kids! They'll love smashing their little thumbs onto the tops of the cookie to make an opening for the frosting.
Speaking of the frosting, oh my! You might be temped to just skip making the cookies all together and gather the kiddos onto the kitchen floor and eat spoonfuls of the frosting right out of the bowl.
Nothing wrong with that, not one little bit! 🙂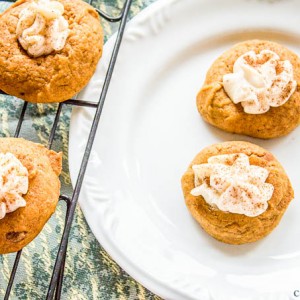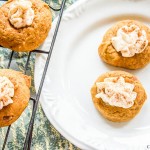 Pumpkin Thumbprints
Soft and chewy pumpkin thumbprint cookies with a smooth cream cheese filling-the perfect treat to welcome the changing of the seasons.
Ingredients
1

cupall-purpose flour

1/2

tspbaking powder

1/2

tspbaking soda

1/2

tspground cinnamon

, plus more for dusting

1/4

tspground allspice

1/4

tsp

salt

1/2

cuppacked brown sugar

1/2

cuppumpkin puree

1/3

cupvegetable oil

1

largeegg

1

tspvanilla extract

4

oz

cream cheese

, at room temperature

2

TBunsalted butter

, at room temperature

1/2

cup

powdered sugar

1/2

tspfresh lemon juice
Instructions
Position racks in the upper and lower thirds of the oven;preheat oven to 375 degrees. Line two baking sheets with parchment paper and lightly spray with nonstick cooking spray, set aside.

Whisk flour, baking powder, baking soda, cinnamon, allspice, and salt together in a medium bowl. Whisk brown sugar, pumpkin, oil, egg, and 1/2 tsp vanilla together in a large bowl. Add the flour mixture to the pumpkin mixture and stir with a wooden spoon until just combined.

Drop tablespoonfuls of dough 2 inches apart on the prepared baking sheets. Bake for 6-8 minutes, then remove from oven and with the back of a teaspoon or using your thumb, make an indentation in the center of the cookie. Return pans to oven, switching the placement of the pans and continue baking for another 4-6 minutes. Let cool for 5 minutes before removing to a wire rack to finish cooling completely.

To make the filling: beat the cream cheese and butter in a bowl on medium-high speed until smooth. Add the powdered sugar, lemon juice and remaining vanilla; beat until incorporated. Transfer to a pastry bag fitted with a small round tip; pipe into the indentions and dust with cinnamon.