The Year of Being Stretched and Delicious Candied Yams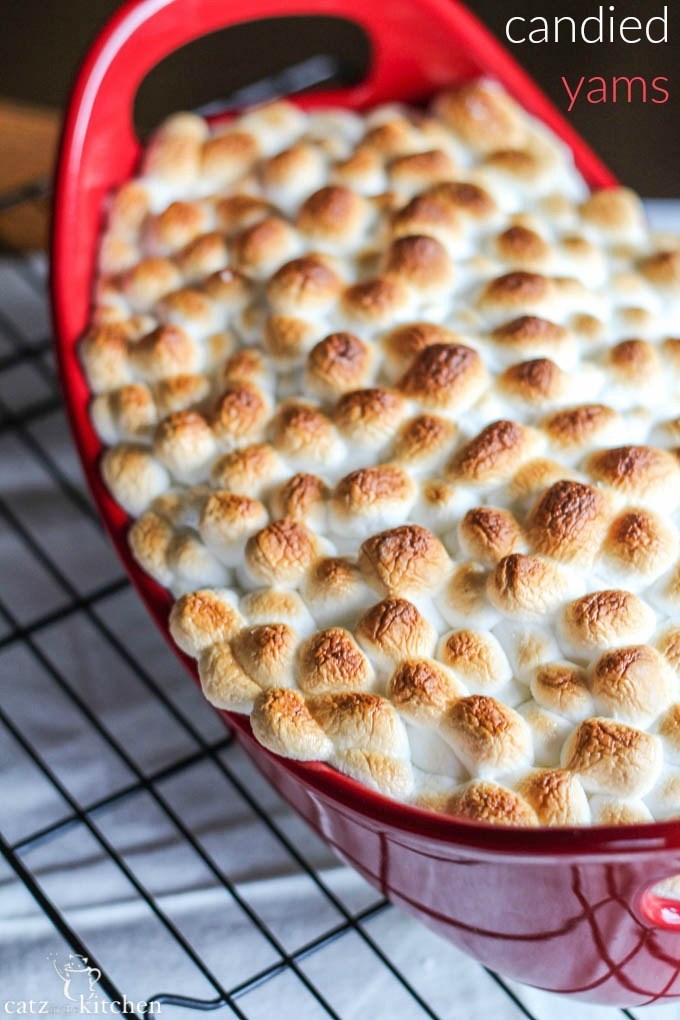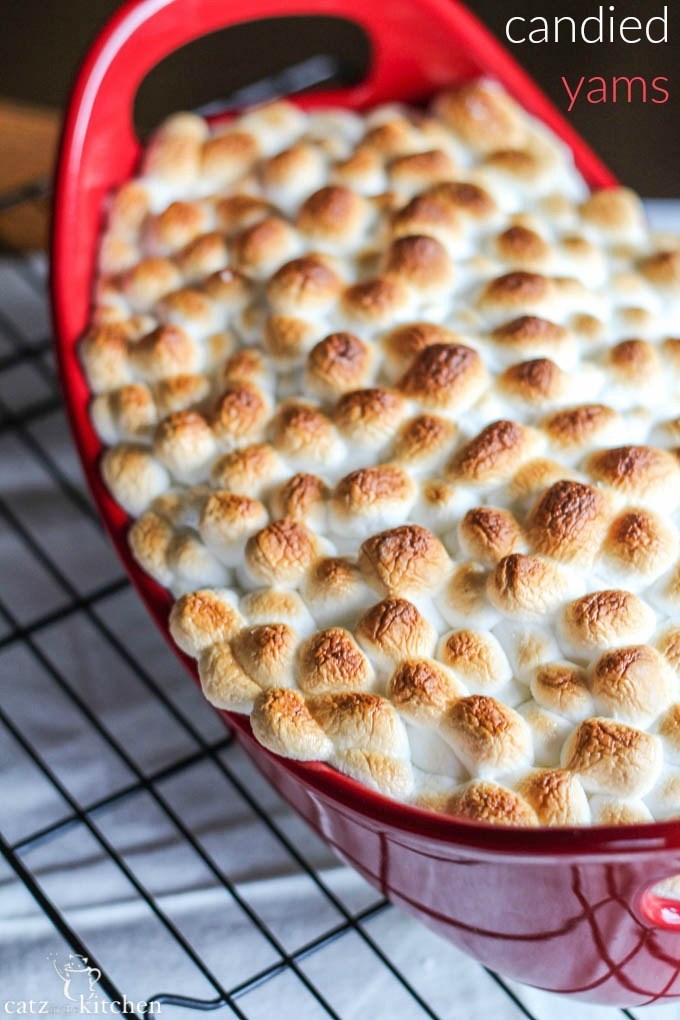 I'm thrilled to share this delicious candied yams recipe with you!
It's been a stretching year, wouldn't you say? I know there are a lot of words we could use to describe this year, but I really like the word stretching in this context.
The Cambridge Dictionary defines stretching (v) thus, and I really connect with it:
"to cause something to reach, often as far as possible, in a particular direction."
A Year of Stretching
Don't we all feel a bit like we've been stretched as far as we can possibly go and…yet…we're still continually being stretched more? We're alternately (or simultaneously) scared, fearful, frustrated, and weary – perhaps desperate for things to go back to normal. The little ordinary everyday parts of our lives have been turned upside down. Some of us have had to change what our kids do for school, some have lost jobs, or, far worse, loved ones, gotten sick, felt isolated and confused…stressed. Maybe our marriages and relationships have suffered.
There is always hope and clarity for us, though, as Christ-followers, because we're given charges, direction, and a call of duty. We're called as believers to persevere…and to persevere with gratitude and joy, no less!
Have we been joyful in this long interlude that has unfolded since March? Have we been thankful? Have we shared with our family, friends, and neighbors how God has used this time to stretch us, what we've learned, how we've grown, and what the reward has been (or might be) on the other side?
Are We Getting Too Comfortable?
Over the last two years, I've been reading through the Old Testament a chapter a day. I'm nearly at the end of Job, so it has taken me a while to just get this far. As I read the pages, one of the things that continually jumps out at me is that God doesn't seem to like for His people to get too comfortable in their everyday lives.
Abraham and Sarah are going along just fine in their elder years and probably have come to terms that there will never be a baby born to them. Until God shows up one day, like, "surprise, I was serious when I said you will be a father and you will have so many children that you won't be able to count them." Don't you think despite how hard it must have been to just simply survive back then that they were comfortable in life?
Most of us know a baby changes a lot for us as young adults. Think about it as someone in their…hundreds?
Or Esther, who is going about her business and suddenly she's in the King's…harem…and the fate of the Jews is in her hands?
Then there is Mary, engaged to Joseph, and then an angel appears and not only tells her she will give birth to the Son of God, but must have left her thinking she would face ridicule because she got pregnant without being married, and she didn't even know that she would give birth in a barn and then turn around a few hours later, run for her life and the life of her baby and then ultimately has to let Jesus go and watch Him die on the cross. When I look at her life, I don't think there was anything comfortable about it from the moment the angel first approached her.
In all of these scenarios and countless more written in those pages, we see these individuals persevering, not running away in fear, but more often running forward in hope!
We Do Not Wish for Hard Things But…
Today, aside from a handful of centenarians, none of us has faced a pandemic before, setting aside whether the primary challenge for you might be viral, economic, or political. In the examples above, none of them had faced experiences before like that in their lives either. In fact, for many of them, no one anywhere had ever faced what they had in front of them.
We may not wish for things to be hard, but hard things are what affords us the opportunity to grow, to pursue Christ and Christlikeness.
In all the hard circumstances there are still so many opportunities to be joyful and thankful, and it is our duty, our commandment, to share that joy and live out our thankfulness to and in front of the world. Every day. Not just Thanksgiving Day. Every day!
To the disciples, it must have seemed like the end of the world when Christ died. They'd lost the battle…until they realized it was only the beginning and they set off and began to disciple others and share the gospel and the joy and salvation it brings, and those who accepted that truth were thankful.
Some days are hard. Some days, 2020 seems to overwhelm us to the point where we're unable to focus.
We are refined by the hard. Persevering through the hard with a heart of joy and an attitude of thankfulness points back to God, because on our own, we couldn't come through it, not like that.
"Count it all joy, my brothers, when you meet trials of various kinds, for you know the testing of your faith produces steadfastness. And let steadfastness have its full effect, that you may be perfect and complete, lacking in nothing."
James 1:24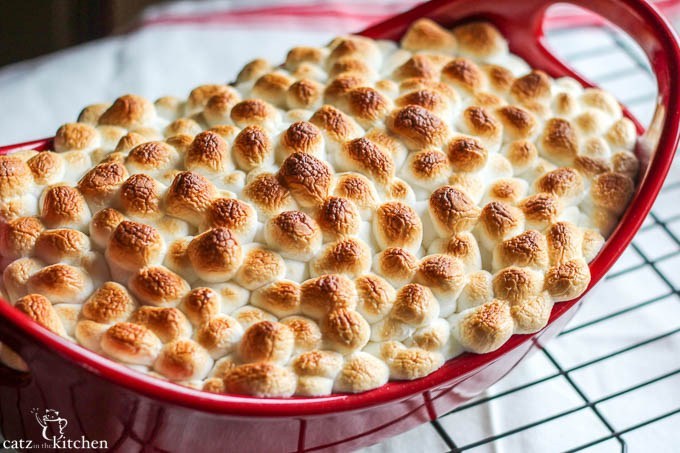 I specifically chose to share my family's beloved recipe for Candied Yams for your Thanksgiving table because of how the marshmallows stand up to the heat of the broiler before you serve the dish. There is something beautiful about something as vulnerable as a marshmallow – pure, sweet, soft, and delicious on its own.
However, when placed in the oven at a high direct temperature and open flame, its appearance, texture, and flavor begin to change. Personally, I prefer the torched marshmallow vs. eating them straight out of the bag.
Refinement makes things better.
Count it all joy!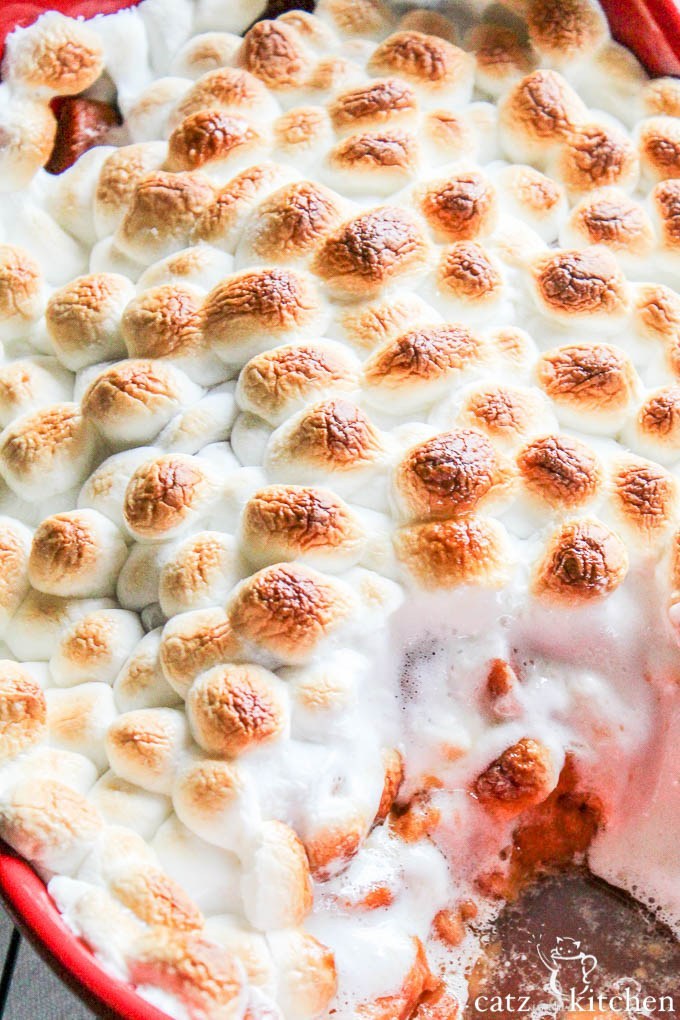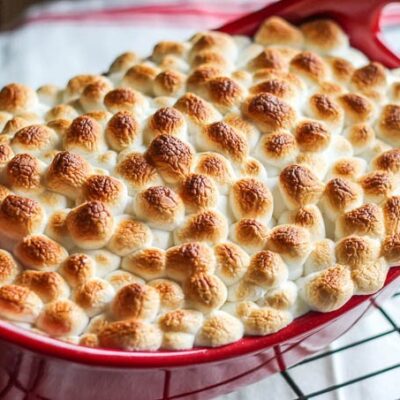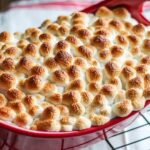 Candied Yams
For our family, nothing says Thanksgiving quite like this simple but insanely yummy and craveable Candied Yams recipe!
Ingredients
2-3

(28 oz each) canned

yams, drained.

Look for the purple can.

4

tbsp

brown sugar

1 1/2

tsp

ground nutmeg

optional - but I like the warmth it give.

3

tbsp

unsalted butter, cubed

1

10-16 oz bag

mini marshmallows

Whatever size you can find. Some brands don't carry the larger size.
Instructions
Pre-heat oven to 350 degrees. Grease a casserole dish. Cut yams into slices and lay on the bottom of your dish.

Sprinkle ground nutmeg over the potatoes, crumble the brown sugar over the potatoes and dot the butter over the brown sugar. Bake in the oven for 15-20 minutes, until hot all the way through.

Remove the casserole dish from the oven and turn on the broil. Meanwhile, top the dish with mini marshmallows making sure there aren't any uncovered spots. Return dish to oven and broil for 3-5 minutes or until the marshmallows are toasted. DO NOT WALK AWAY!