Some days I feel so tired from life that I don't know how I'll have the energy to wake up the next morning and do it all again.
I especially feel like this when it seems that nothing about the day has gone well ("seems" being the key phrase in that sentence).
This season of motherhood with little kids in the house is definitely the hardest thing I've ever done…from bringing them into the world to raising them to worrying if I'm doing it right or failing miserably…
Which is how I feel most of the time. I think most moms feel like that…back me up here, ladies.
"Those who sow with tears will reap with songs of joy." Psalm 126:5
I went to bed so tired the other night that my sweet husband carried me to bed from the couch because I had fallen asleep with my cat. I felt like I was coming down with something, all of my energy was sapped, and I just wanted to sleep.
When I woke up the next morning, I still wasn't feeling great, and my wonderful eldest daughter brought me a little breakfast. As I was eating my mandarin oranges, I discovered a seed in one of them and decided to try to get it out Naturally, juice from the mandarin sprayed all over my comforter and I was so bothered by it, I decided to wash my comforter…which is a king-size, mind you (first world problems, anyone?).
Guess what? After washing the stain out of my comforter, my poor washing machine was so overloaded it couldn't rinse it enough to throw it in the dryer.
So now, my comforter is in my bathtub until it air drys enough to put it in the dryer. Oh well, such is life! There are certainly worse problems to have, but I think as a mom, sometimes it's little things like that that pile up and leave you feeling like you've lost control of your household.
There are seasons of not quite awake enough to make the smartest decisions, seasons of fast and easy, seasons of survival…and seasons of just being thankful someone got dinner on the table!
In that spirit, I thought I would share one of my best unkept secrets with you today for something quick and easy to serve on those nights it's frozen lasagna (or my mom's lasagna), spaghetti out of a jar, or a different quick and easy Italian dish.
It's this Garlic Butter Spread.
I do like the convenience of garlic bread from the store and I buy it once in awhile. But I think the flavor of a homemade spread over sliced French or Italian just can't be beat. Plus, it reheats so well!
I have snuck into the kitchen many times just to reheat slices of this carby goodness.
What I really appreciate about this spread is that it can be made so quickly so far in advance and then whatever's leftover can just be stored in the fridge for another time.
Just make sure you take it out a bit in advance so the butter can soften. I might also mention that since spaghetti and lasagna are really easy meals to bring to someone, a loaf of sliced French bread already slathered with buttery, garlicky goodness and wrapped in foil, ready to go, is a great addition to a meal. And, it smells amazing warming up in the oven!
Now…there have been many a time when I have not had some sort of delicious artisan bread in the house…but let me tell you, hamburger buns, bagels, and yes, even english muffins work great in a pinch too.
Trust me, one mom to another, I've been there and done it…it'll be fine.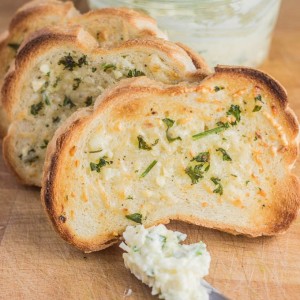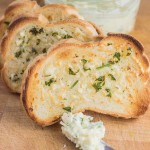 Garlic Butter Spread (and bread)
Ever wanted your own garlic butter spread recipe for making garlic bread at home? Well, now's your chance! This one is easy, quick, and keeps in the fridge!
Ingredients
1

cup

unsalted butter

, softened

4

tbsp

fresh parsley

, chopped

4

garlic cloves

, minced

1/2

tsp

Italian seasoning

1/2

cup

grated parmesan cheese

Freshly ground pepper to taste

1

large loaf of Italian or French bread
Instructions
Pre-heat oven to 350 degrees.

In a medium sized bowl, combine all ingredients with a spoon or rubber spatula until smooth and completely mixed through..( Alternatively, you could also whip this up with the your stand mixer using the paddle attachment. )

Spread the butter on the loaf or bread slices and wrap in foil. Bake for 8-10 minutes. Remove foil and bake an additional 3-5 minutes.