Fabulous Oatmeal Chocolate Chip Cookies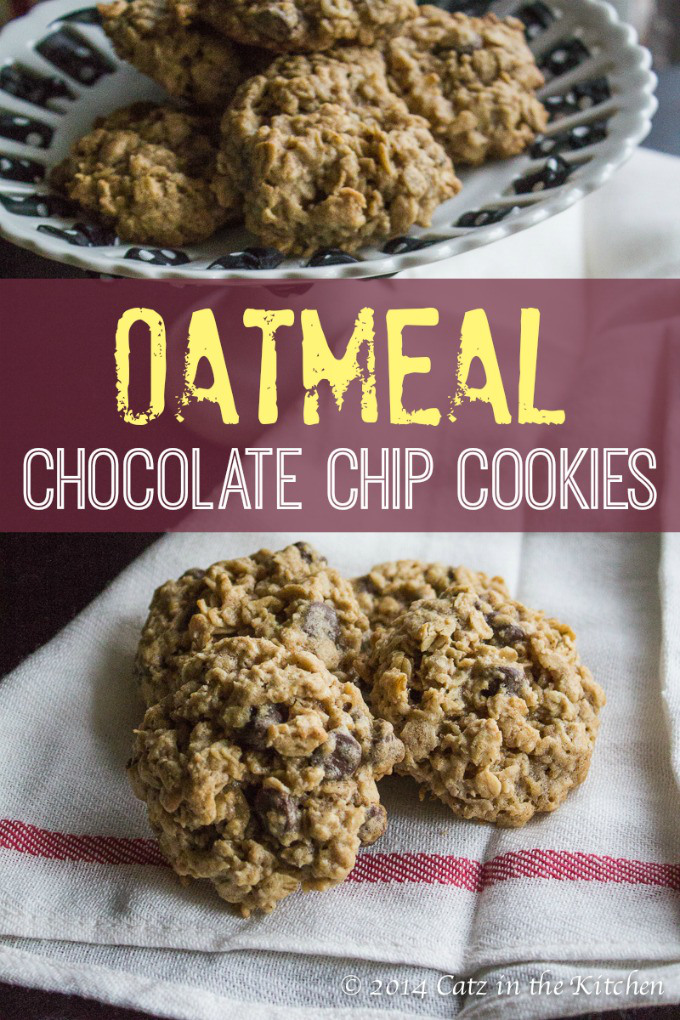 I've got to be honest, I'm not the handiest person.
I can't build anything, I don't sew (though my mom tried desperately to get me interested in it), and I'm not artistic AT ALL!
When my church decided that this was going to be the summer that we repainted the entire church because it had been 15 years since the last repainting job (and our church is kind of…long), I kind of sucked in a deep breath and let it out with dread.
It's not that I don't enjoy helping people (or my church) out, because I do.
But my "to do" list of things to get done before our school year starts seemed long and painting the church just didn't fit on my list! I knew my husband (bless his heart) wanted to be involved, because he loves to help out anyone he can, and I realized that some things on my mental "to do" list weren't going to get done.
I'm going to be honest here, because we're friends and friends should be honest with each other, right?
The real issue wasn't that my list was long.
The real issue was my heart – my willingness to give my time to others. It was clouded by my selfish desires of what I wanted my Saturday to be and look like.
Over these past few months, I can't tell you how many times someone has come to our aid and helped Josh and I out with a few things around the house. From painting six rooms of our house, to reorganizing our garage, to spreading bark dust. Multiple days and weekends have been given up for us, and it really pains me that I had a difficult time giving up one Saturday for my church family.
I know there's a balance to be struck when it comes to making time for just your family, but there's a also a time to help out when help is needed – and cheerfully!
Christ went to cross for this kind of sin, too, just like all the rest, even if this one's a little easier to put a pretty face on and hide from everyone else. He's continually working on us through the Holy Spirit to help us recognize sin, in all its forms, to confront it, to repent, and then to abandon it.
"I acknowledged my sin to You, and my iniquity I did not hide; I said, "I will confess my transgressions to the Lord"; and you forgave the guilt of my sin." Psalm 32:5
I'm not sure how handy I was and I hope nobody had to go behind and fix what I may have missed, but I did bring snacks!
And you know what? A lot of people who weren't able to help with the painting found other ways to be encouraging and helpful. There was so much food in the church kitchen for us all to munch on! Chicken salad sandwiches, chips, drinks . . . .
Grace made these Oatmeal Chocolate Chip Cookies right before we left for the church so they would be nice and warm for all the helpers and not only did they feed some snacky bellies, but it also gave Grace and I an opportunity to help out.
*Has there been in a sin in your life you've had to face? If so, what is helping you rid yourself of it?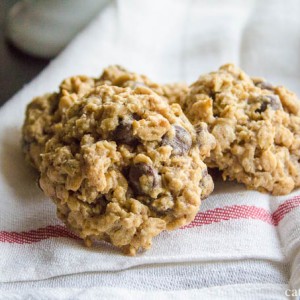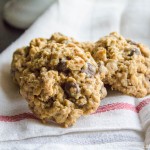 The Best Oatmeal Chocolate Chip Cookies
Soft and chewy, these perfect oatmeal chocolate chip cookies are filled with oats and semi-sweet chocolate chips. This classic cookie is perfection in every bite.
Ingredients
1

cup

(2 sticks) unsalted butter, softened

1

cup

firmly packed brown sugar

1/2

cup

granulated sugar

2

eggs

1

tsp

vanilla extract

1 1/2

cups

all-purpose flour

1

tsp

baking soda

1

tsp

cinnamon

1/2

tsp

kosher salt

4

cups

old-fashioned oats

1

cup

semi-sweet chocolate chips
Instructions
Pre-heat oven to 350 degrees.

Beat butter and sugars together until creamy. Add eggs and vanilla. Beat well.

Add combined flour, baking soda, cinnamon, and salt. Mix well. Add oats and chocolate chips. Mix.

Drop by spoonfuls onto parchment-line cookie sheets. Bake for 13-14 minutes or until cookies are golden brown. Cool for a minute and move to wire rack.
Recipe Notes
These cookies freeze beautifully after baking. Just toss the baked cookies into a freezer bag and thaw when you want some cookies.