Anchored in Faith: Praying for Our Children to Lean on Jesus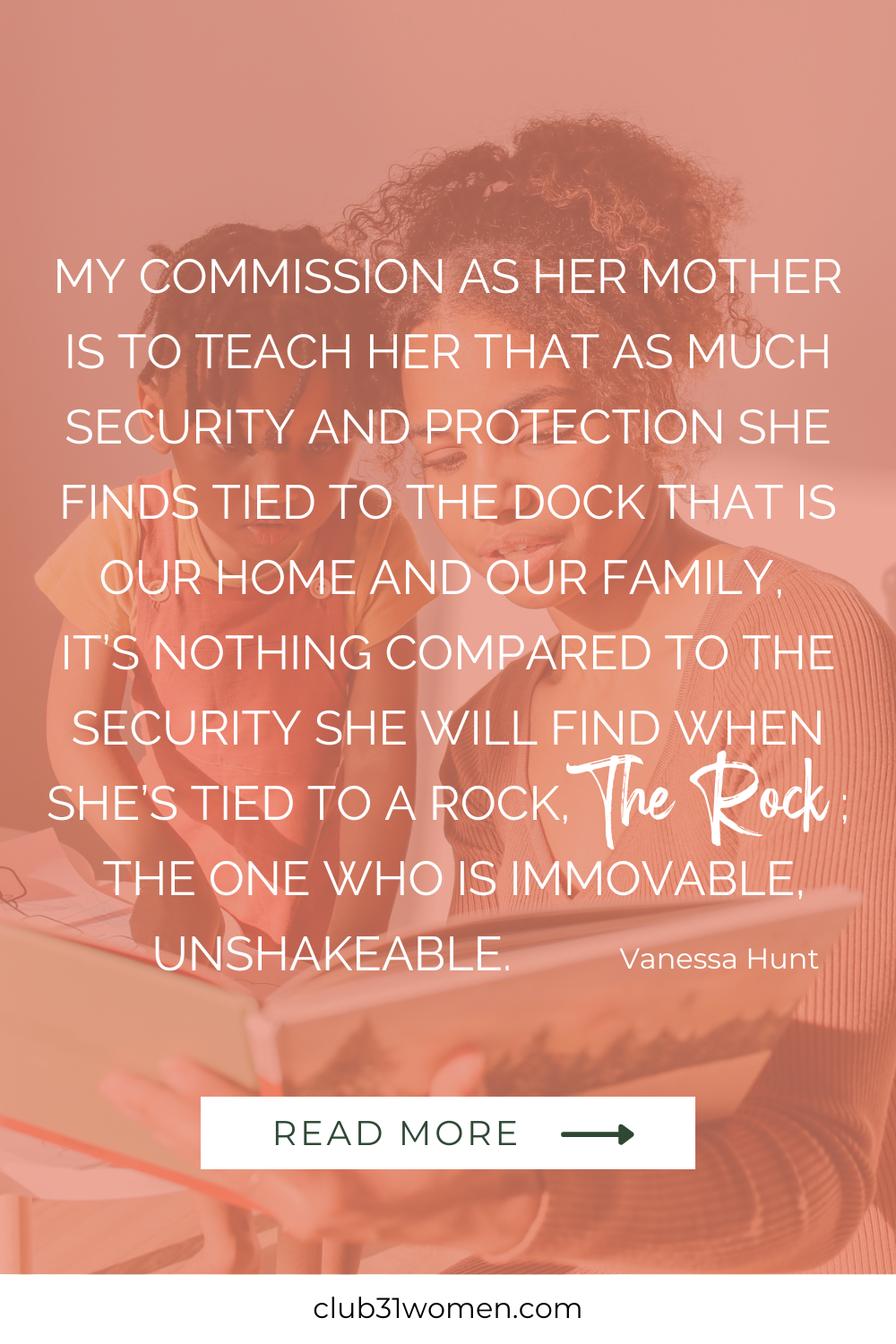 As our children grow, they will face new challenges on new levels. Praying for our children to lean on Jesus is one of the best ways we can parent them.
"The Lord is my rock, my fortress and my deliverer; my God is my rock,
in whom I take refuge. He is my shield and the horn of my salvation, my stronghold.
I call to the Lord, who is worthy of praise, and I am saved from my enemies."
Psalm 18:2-3
The wind was whipping around us as we were spinning and twirling through the yard. Arms spread out, we laughed as dizziness set in before we tumbled into the lawn chair together. She wrapped her little arms around my neck, snuggled in tight, and said, "Don't let me blow away mommy!"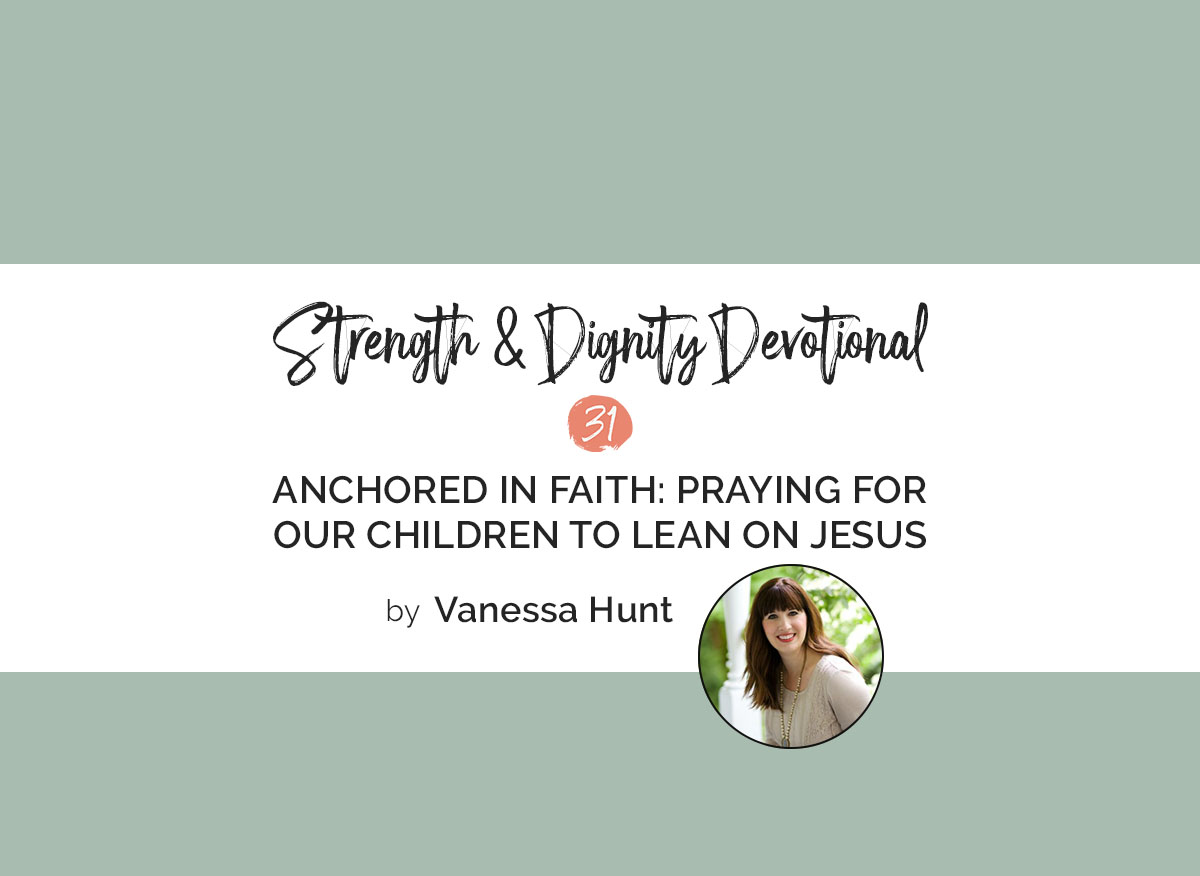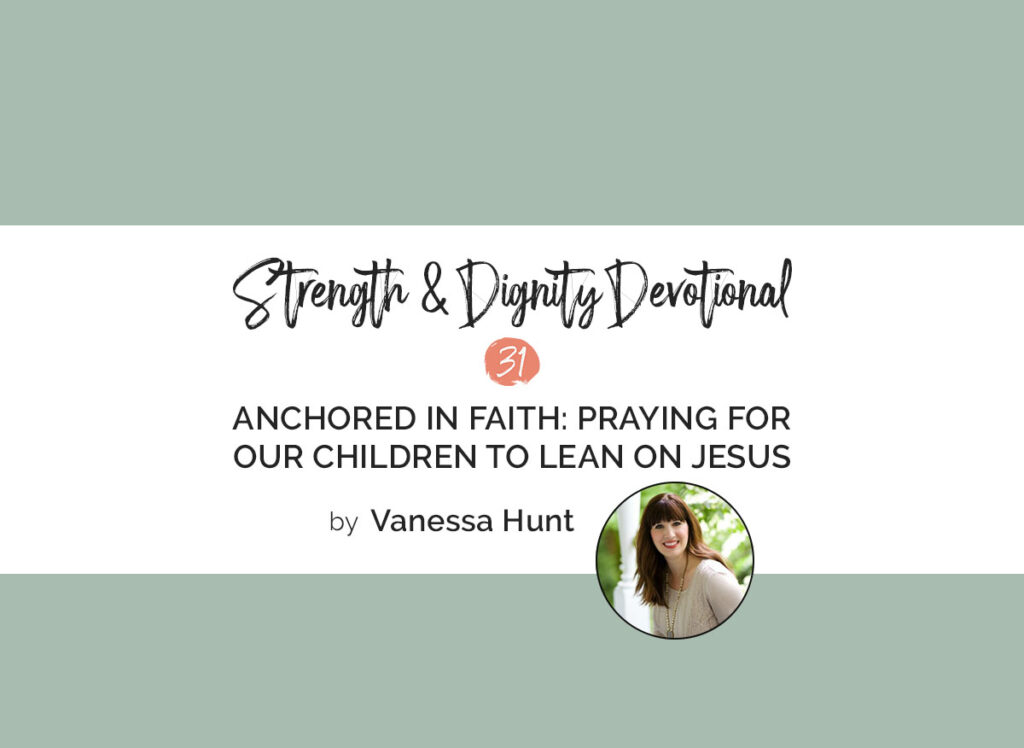 It was one of those moments in life where you wish you could stop time. You long for a way to bottle it up so you won't ever forget how soft her skin feels against yours. How her little fingers played with your hair as we sat quietly together. And my heart began to ache. Ached because I knew that this moment would be over all too quickly. Ached because I knew that soon she would not fit so perfectly in my lap. Ached because I knew that the winds of life would toss and turn her and that I wouldn't always be there to block their force as they tried to "blow her away".
But, there are no magic bottles for collecting moments. No spells to be conjured up in an attempt to stop time. Just as a strong wind pulls and tugs at a boat tied to the dock, this world will try to pull her away from the security of being tied to our "dock". And even the strongest of docks have been known to be pulverized by gale-force winds and boats tossed and turned like plastic toys in a bathtub. So I pray for wisdom, protection, and guidance.
Ask for Wisdom
James 1:5-6 says, "If any of you lacks wisdom, he should ask God, who gives generously to all without finding fault, and it will be given to him. But when he asks, he must believe and not doubt, because he who doubts is like a wave of the sea, blown and tossed by the wind."
I often think about what might happen if we were to grasp the true significance of these verses. Because it's not simply that the Lord gives us any old wisdom. It's wisdom from the Source of all wisdom. It's wisdom that is the most reliable and trustworthy because it supersedes our human understanding. And, as I pray, God reminds me that, no matter how much I want to believe that she will find enough security tied to the dock that is our family, I know that there are some things I cannot protect her from. There is so much that we can't predict and is beyond our control.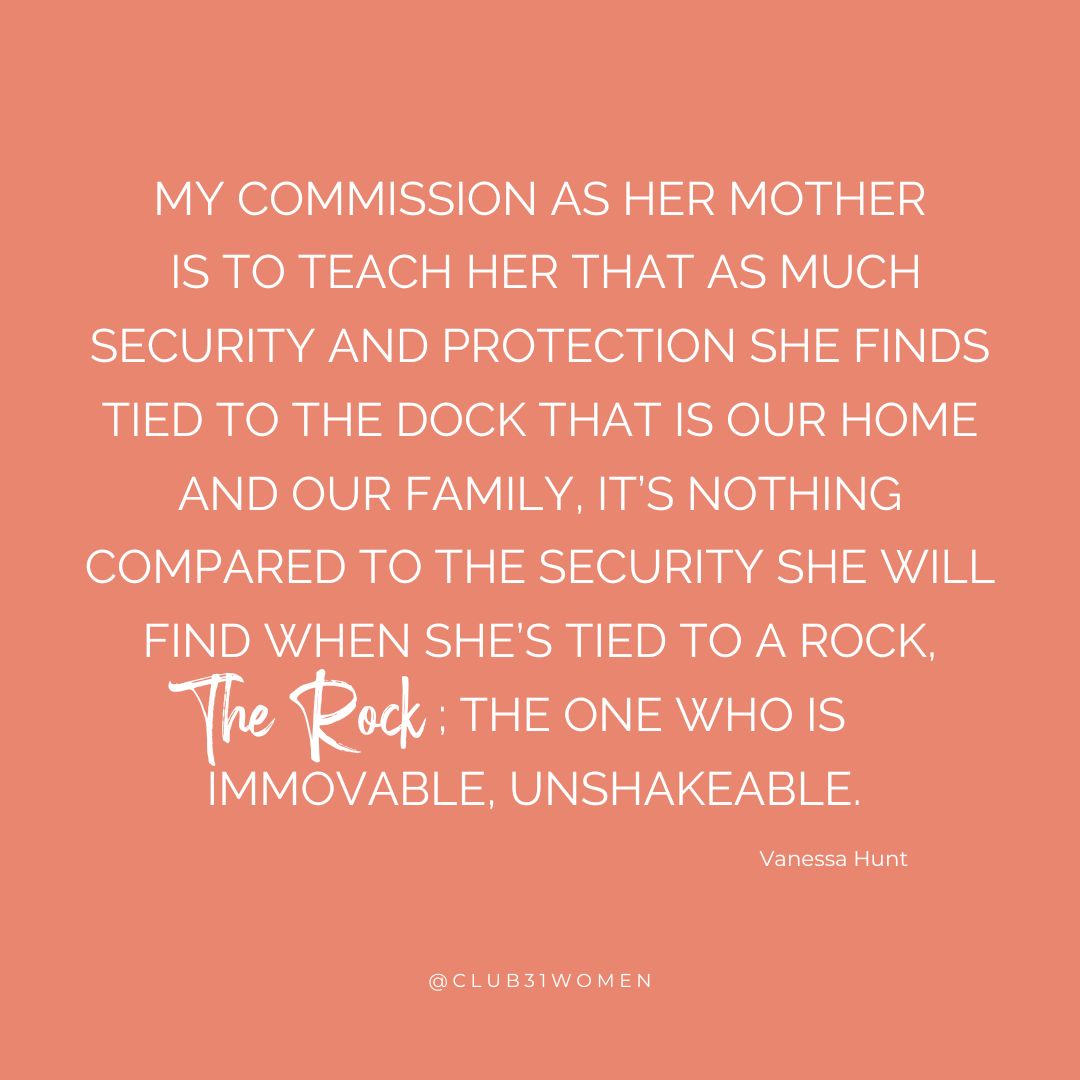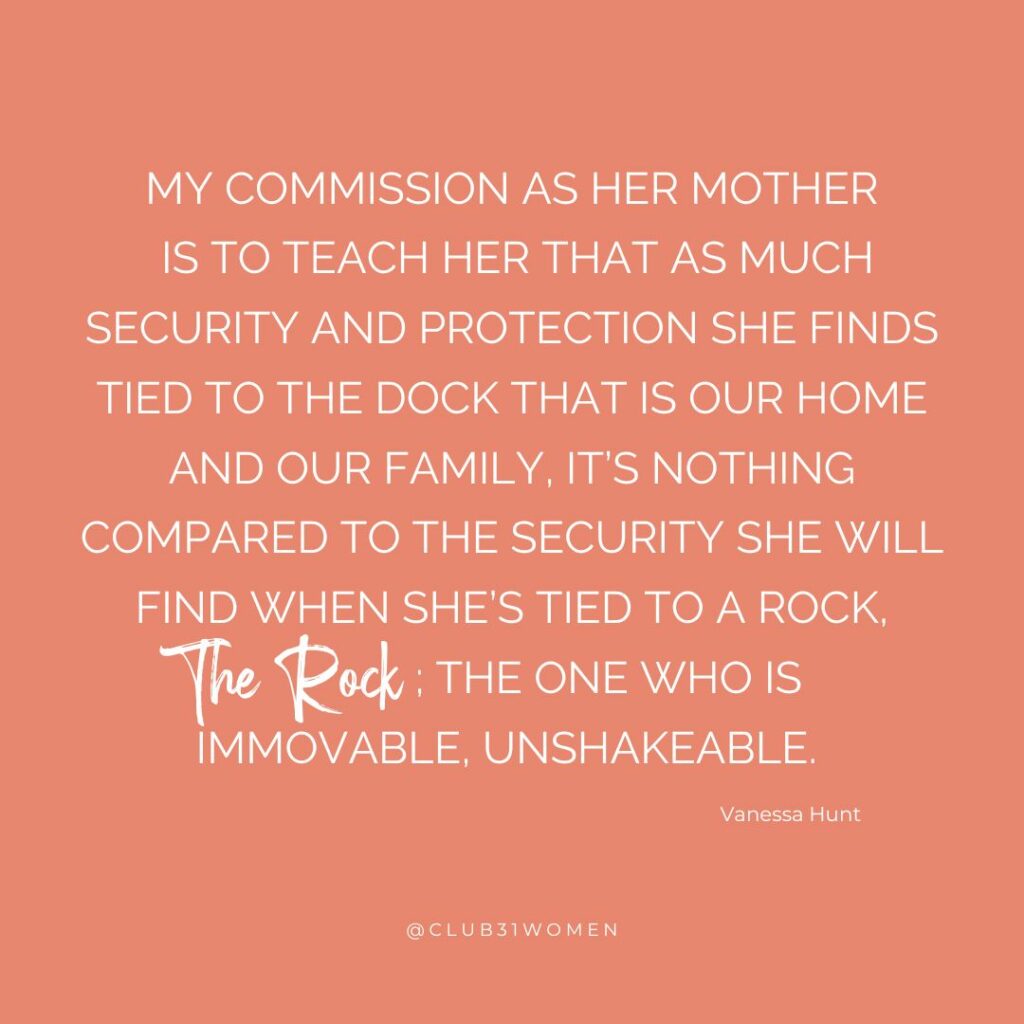 There is a battle being waged against our children. The enemy always comes first for those who are most vulnerable. It's tempting to allow this to cause us to parent from a place of fear rather than a place of trust in the sovereignty of the Lord. Personally, this has been one of the greatest struggles I've faced as a mother. Worry threatens to overwhelm me and I daily, sometimes moment by moment, have to lay it down and remember that He loves them even more than I do which is why it's vital that they tie themselves to Him.
Ultimately, my commission as her mother is to teach her that as much security and protection she finds tied to the dock that is our home and our family, it's nothing compared to the security she will find when she's tied to a rock, THE rock; the One who is immovable, unshakeable. This is how she will truly be able to withstand the hurricanes of life. And, we too must tie our rope to this rock, trusting that He will take care of us and our children.
As we sat in that chair together on that warm summer day, my daughter had no idea of the thoughts running through my head. How overwhelmed I can often feel at the enormous responsibility of being 'mom' to her and her brother. She just innocently waited for my reply. So, I told her the only thing she needed to hear right in that moment.
"I won't let you blow away sweetie!"
In His Word
"And they remembered that God was their rock, and the Most High God their Redeemer." Psalm 78:35
In Your Life
Make it the goal that as often as you verbally express your love for your children, you also remind them of how much more God loves them. Provide them examples of ways in which God's love is even stronger which is why they must tie themselves to Him.
We Recommend
Join me as we take a journey through the seasons of the year in my book 'Life in Season' with faith-filled stories, encouraging devotions, beautiful photographs, DIY projects, and recipes. ​Everything you need to slow down, embrace the beauty and the struggle, and celebrate the moments that fill your heart and home. You can find it here.
Let's Connect
You can find Vanessa on her website At The Picket Fence where she passionately shares how to have peace in your heart and peace in your home. Join her also on Facebook and Instagram.