Cast All Your Cares, Surrender Control, And You Can Find Peace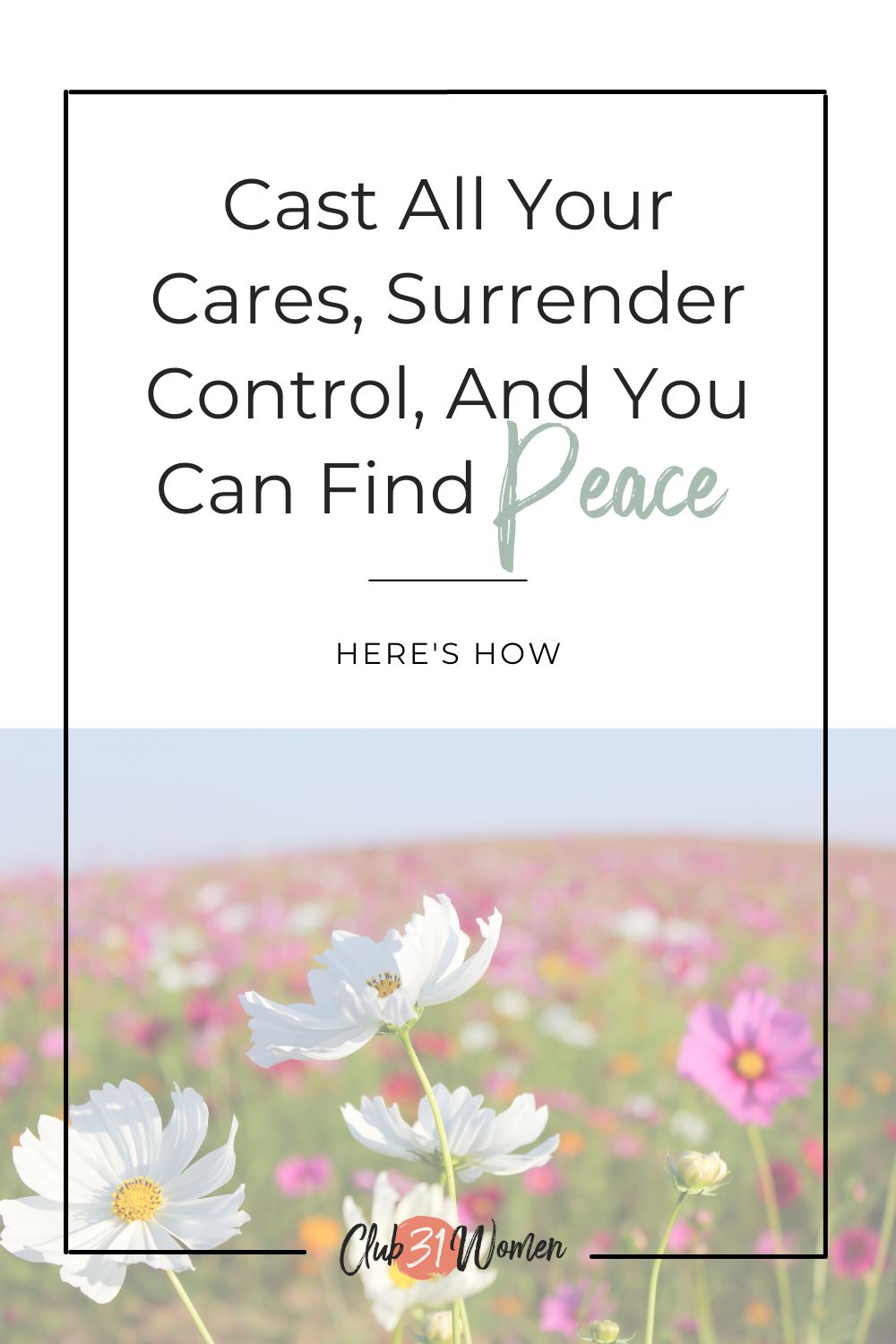 If there's one thing I find myself getting into trouble over repeatedly, it's attempting to take on responsibilities that aren't mine to bear. We can find peace.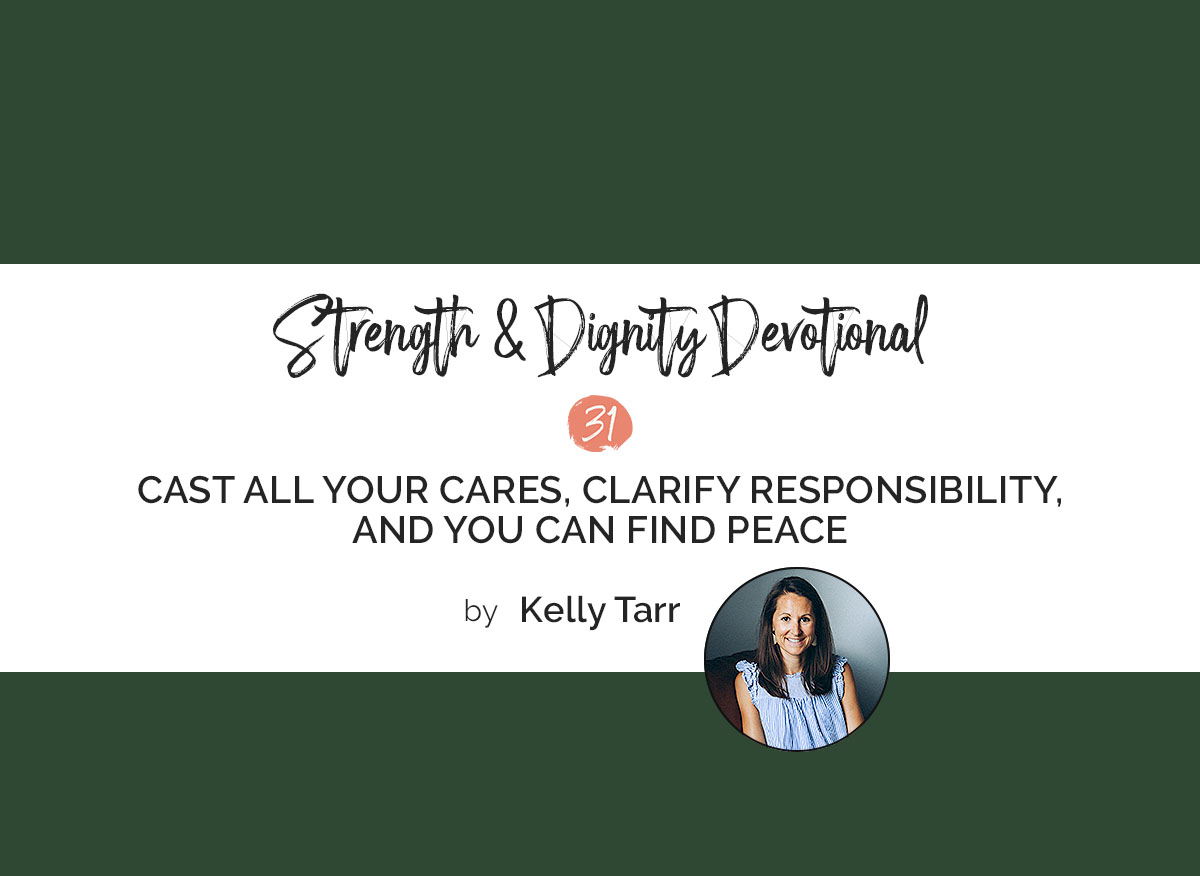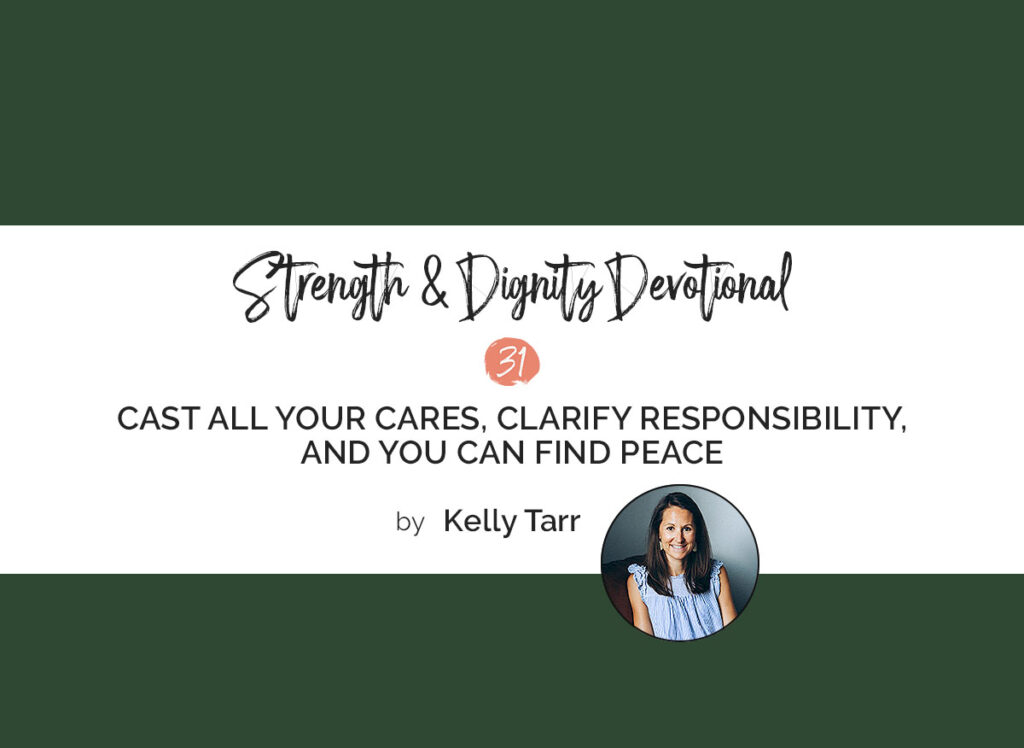 It's not my tendency to get anxious or fearful about sickness, car wrecks, or other worst-case scenario situations. However, what I do get worried about is relationships. If anything is off-kilter, or if I can see what is likely to be the result of a person's path, I can easily, and often without realizing it at first, be anxious to the point that I then begin to try to take control of the situation.
I get angsty. And then I act out of that angst.
What Do You Think About?
Proverbs 23:7a (NASB) says, " For as he thinks within himself, so he is."
We often aren't aware that what we think about affects our emotions. And our feelings affect our actions. In other words, we feel based on what we think about and act based on what we feel. This is a helpful diagram I use in counseling to describe what goes on beneath the surface because we often are unaware of the process.
When we've been sinned against, when we experience a loss of some sort, when something doesn't go as planned, when we're sick, etc., we respond to this stimulus.
How do we respond?
Earlier this week, I had a difficult interaction with someone, and I found myself irritated, angry, and discouraged later in the week. I was also anxious that there would be a specific future outcome. I was oblivious to what I was meditating on the circumstance and took action, all right. I sought counsel from a leader, and I heard something I didn't like: the problem was me!
Can you see the downward spiral? I was negatively ruminating on the interaction, which caused me to feel bad, and then I took action.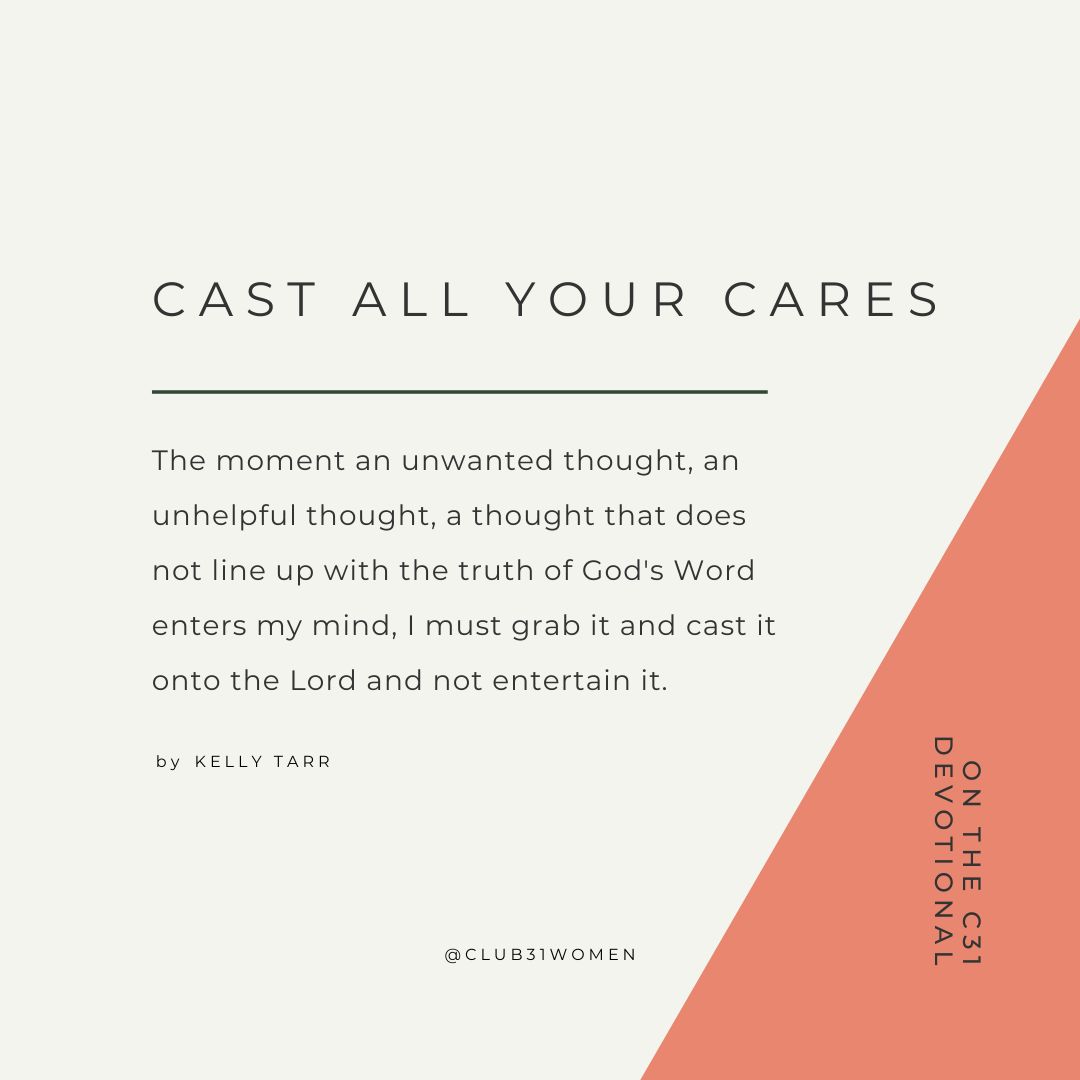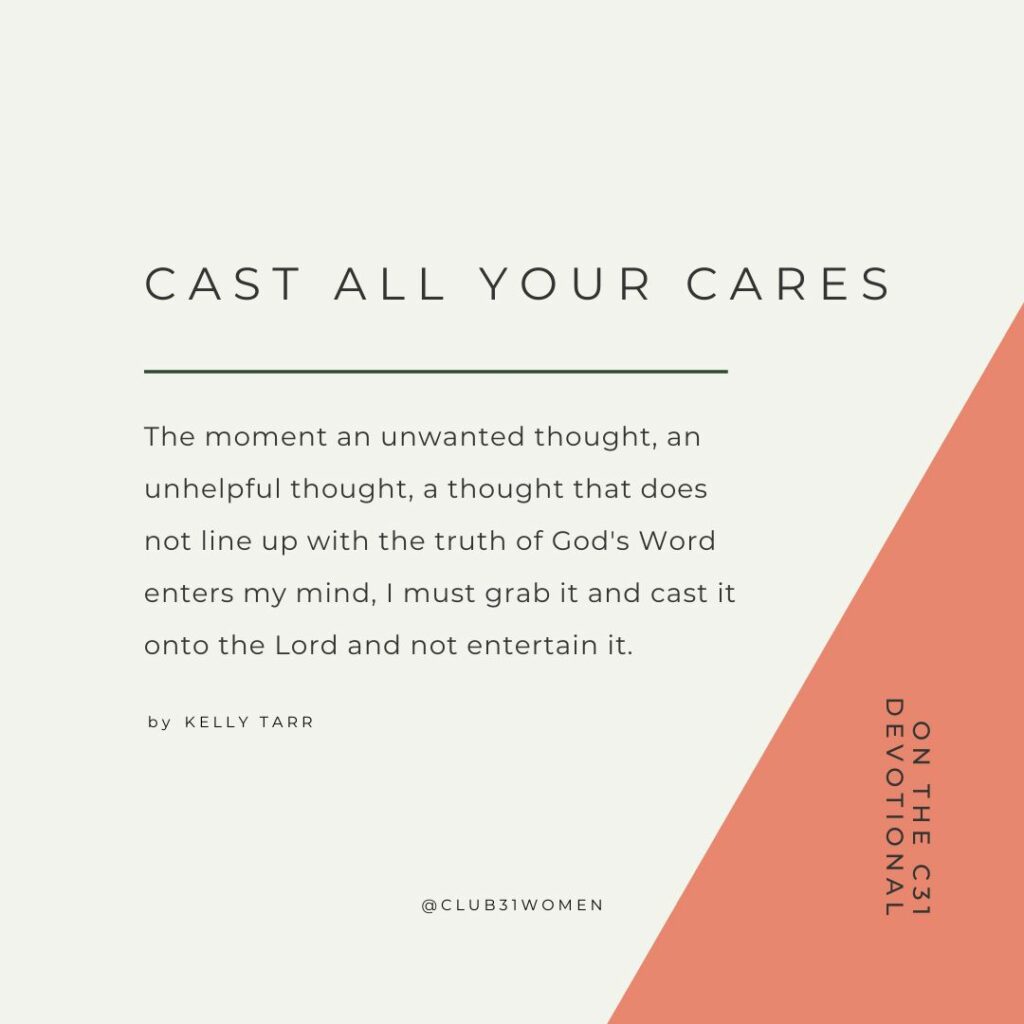 Now it may sound great that I sought counsel and wanted help, but the kind of counsel I wanted was validation, not a mirror! Oh, how the Lord kindly met me in a way I needed rather than wanted.
What do you tend to take on that you shouldn't?
It's helpful to identify what you tend to be anxious or fearful about so that you can take steps toward change.
Pay Attention!
Now, imagine if I had just stopped myself the first time I wanted to replay the events in my mind. What if I took my concerns to the Lord and left them with Him instead of replaying the events?
I know the outcome would have been peace (Col. 3:15). I also would have been more productive with my time and joyful in my spirit, to name a few things.
Though I don't always do it well, I have learned that I must pay attention to my thoughts. I must be on guard, vigilant. If I'm not, it's too easy for me to have what appear to be knee-jerk reactions to various things in my life.
The moment an unwanted thought, an unhelpful thought, a thought that does not line up with the truth of God's Word enters my mind, I must grab it and cast it onto the Lord and not entertain it.
As I turn to the Lord and share with Him my thoughts, I must choose to replace them with something pleasing to Him (Php 4:8).
What Is Your Responsibility?
When I feel anxious, I slow down and inventory my life. I make two lists: what am I concerned about but not responsible for, ultimately (these are God's responsibilities)? And what are my responsibilities?
Anytime I take the time to make this list, it brings a great measure of relief. It's easy to see that there is far less that I am actually responsible for than I thought. For example, I cannot control whether someone leaves my church. What a relief!
I also take time to repent because I've tried to take responsibility for the things the Lord alone can take care of. I have thought more highly of myself than I ought.
Not only that, but when I grasp for control, several sins quickly follow: manipulating circumstances, being overbearing or angsty in relationships with others, being easily angered, etc. Repenting of these sins is a wonderfully freeing experience because I am allowing God to have His rightful place in my heart. The idols have toppled, and the One true God is on His throne in my heart.
How are you doing? Are you aware of what you tend to think about and how those thoughts affect your emotions and actions?
In His Word
"Let your reasonableness be known to everyone. The Lord is at hand; do not be anxious about anything, but in everything by prayer and supplication with thanksgiving let your requests be made known to God. And the peace of God, which surpasses all understanding, will guard your hearts and your minds in Christ Jesus." Phl 4:5-7 ESV
In Your Life
I always use this worksheet, Clarifying Responsibilities, with my counselees and in my life. Download and print it out if you're struggling with anxiety, fear, or overwhelm. Anytime you start to be anxious about what you put in the left column, cast it onto the Lord in prayer, and pick one of your responsibilities in the right-hand column to do in those moments.
We Recommend
Sometimes it's wise to pursue more intensive discipleship through counseling. If you don't have a counselor available to you through your local church, consider seeking a Biblical Counselor through the Association of Certified Biblical Counselors.
Let's Connect
You can connect with Kelly through her blog or Instagram for encouragement in your walk with Christ.