From Darkness to Gratitude: Here's How to Unveil God's Goodness in Life's Trials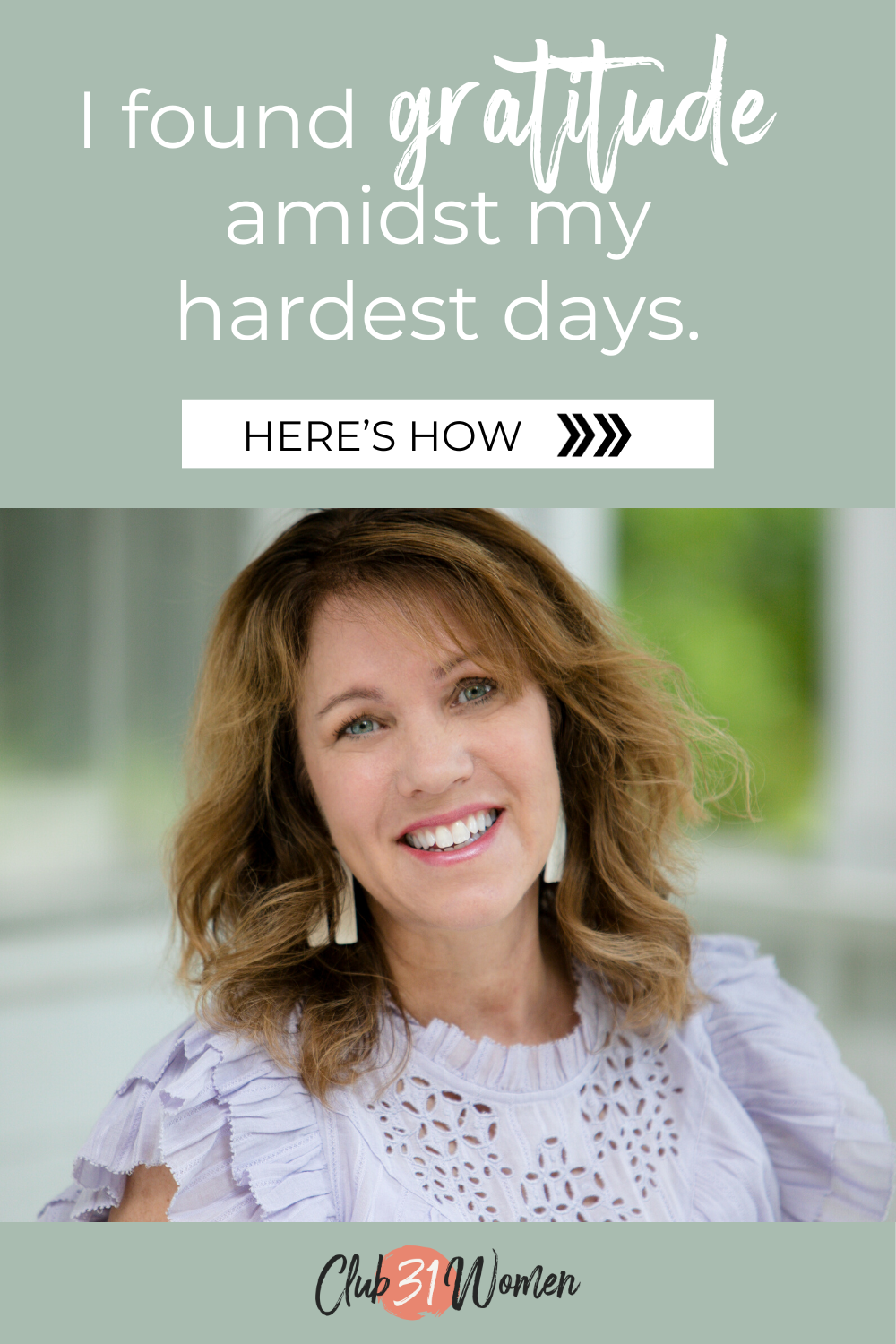 Choosing to have gratitude in the midst of suffering is the kind of real thanksgiving that becomes a sacrifice of praise.
"…give thanks in all circumstances; for this is the will of God in Christ Jesus for you."
1 Thessalonians 5:18 (ESV)
I discovered real thanksgiving not in my best season, but in my worst.
On a Friday morning in June, I woke to my husband's last breaths on the pillow next to mine. His sudden death brought a screeching halt to life as I knew it, not just for me, but for our seven children as well.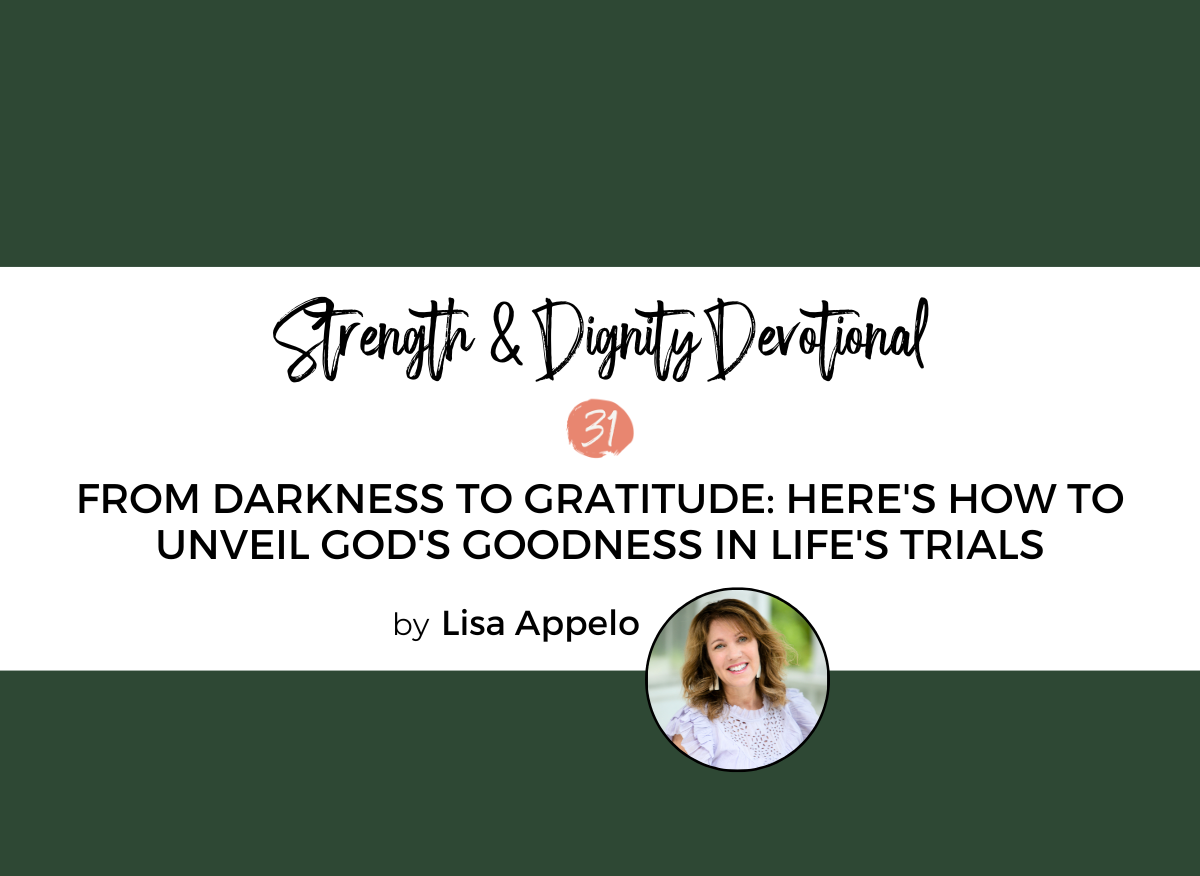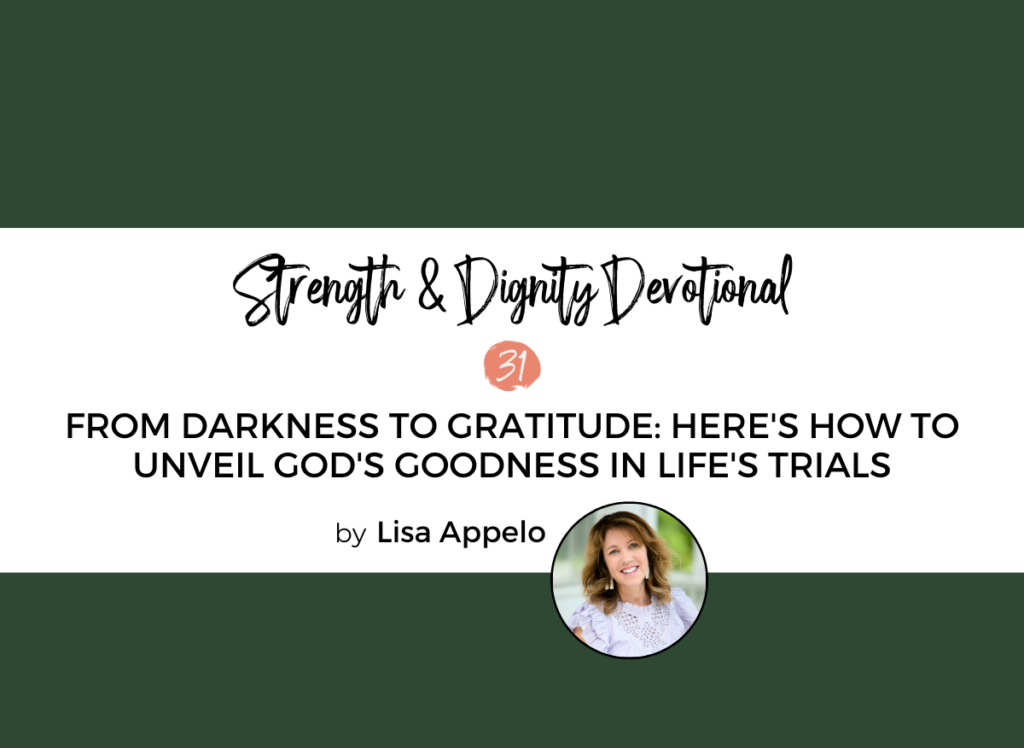 One day, life was brimming with a bucket list of dreams and the next lay in shreds around me.
Every moment was laced with a stinging reminder of what life should have looked like. Every new challenge was a blaring siren of all that I was carrying alone.
In a life that felt excruciatingly bad, I desperately needed to see good.
Of course, I knew in my head that God was good. For years, I'd sung the songs and studied the scriptures that declared God's goodness. But when life fell apart, I needed to see that goodness for was still at work for me, in this.
And so, desperate to see God's goodness in a life gone bad, I stumbled into intentional gratitude.
One morning, instead of rushing to give God my urgent list of prayer requests, I began my daily devotional time by giving God thanks. I opened a store-bought notebook to a fresh page, numbered seven lines down the left-hand side of the page, and wrote seven simple things I could thank God for.
The next morning, I numbered eight to 14 and wrote seven more things. I did it again the next day and the next, and after a month of writing out my thanks, I discovered a secret gift of cultivating gratitude.
The more we intentionally stop to thank God for what he's doing in the hard, the more we'll see him doing in the hard.
Cultivating gratitude helped me connect the dots between my prayers and God's answers. I began to see evidence of God's goodness all around me, in little and big ways and I began to sense my despair and sorrow might catch up with the truth: life could be good again.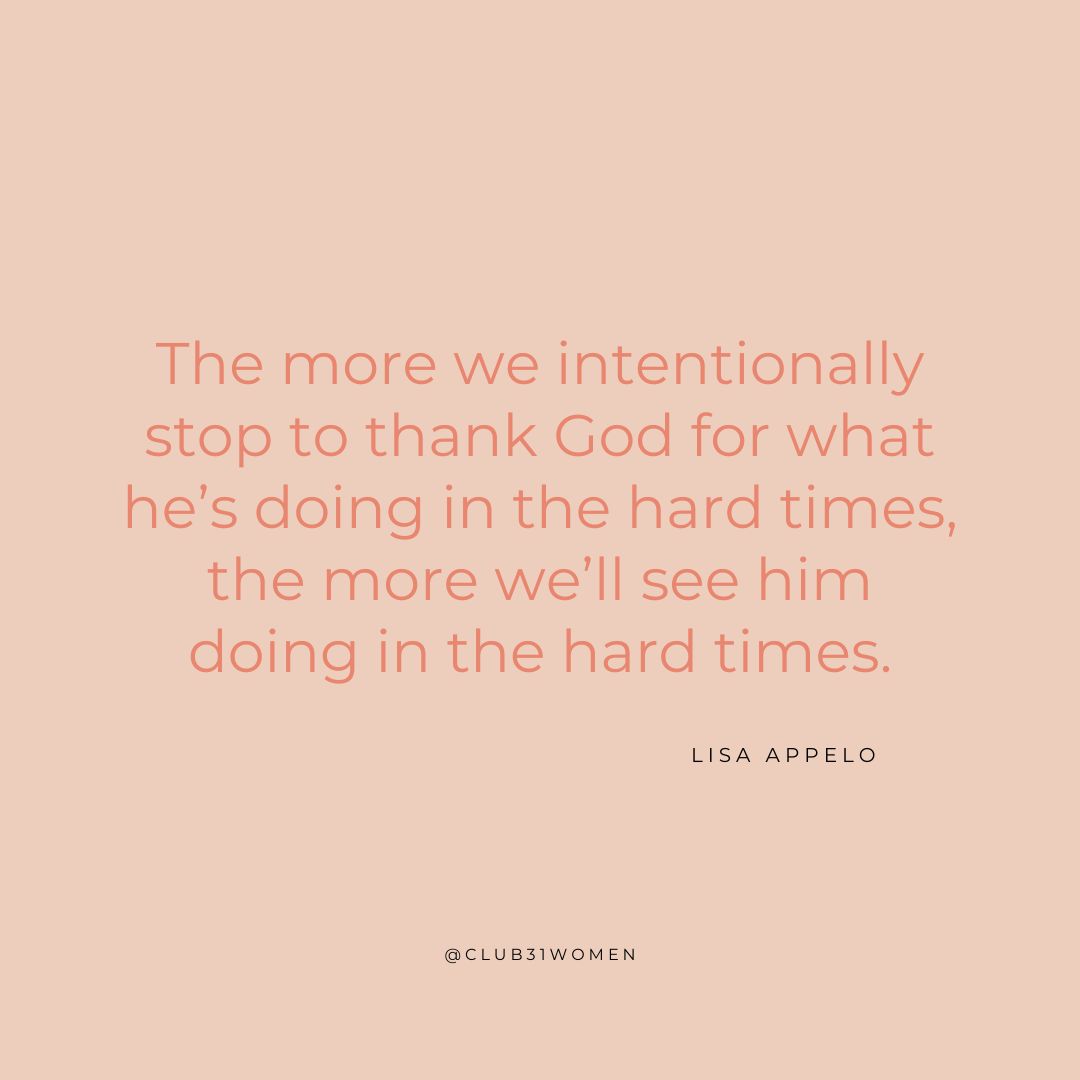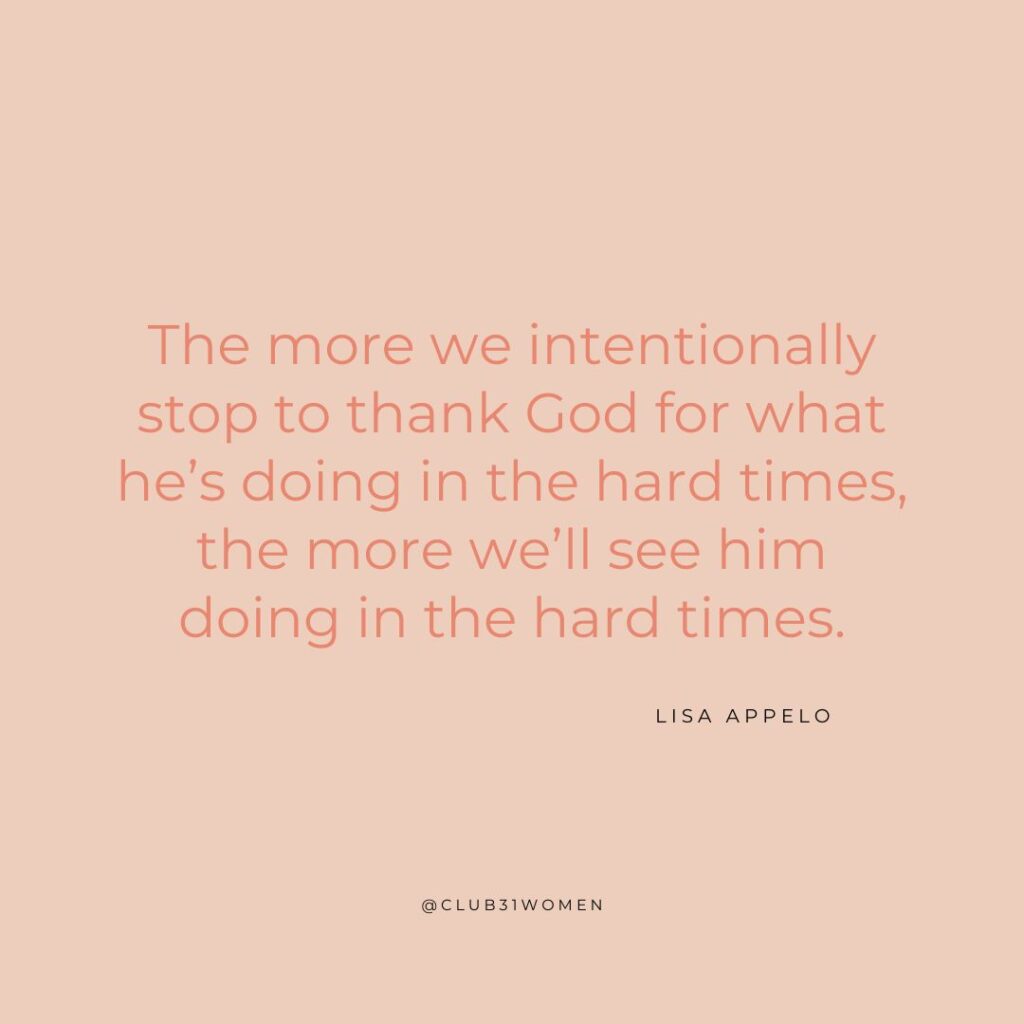 Giving Thanks in Hard Circumstances
First Thessalonians 5:18 tells us, "Give thanks in all circumstances; for this is God's will for you in Christ Jesus."
Maybe like me, you've questioned how to give God thanks in hard circumstances.
How can we give thanks when a spouse walks out or we get a devastating diagnosis?
How can we give thanks in a miscarriage or the death of a spouse or financial devastation?
Does First Thessalonians 5:18 mean we're to thank God for cancer or drunk drivers or broken dreams? No. We're not commanded to be thankful for evil.
God doesn't call us to give thanks for everything, but to give thanks in everything.
Because God's goodness doesn't start and stop. It's as present in storms as it is in sunny seasons.
Even in the worst circumstances, we can trace God's mercy. In fact, God's goodness helps us know God is sovereign, not our circumstances.
Thanksgiving is easy when life is going well. Lots of people do that. But choosing to give thanks in the midst of suffering is the kind of real thanksgiving that becomes a sacrifice of praise.
If you're navigating a season of loss or pain, look for God's goodness. The hardest days often reveal the sweetest, most personal mercies.
In His Word
Ephesians 5:20: "…giving thanks always for all things to God the Father in the name of our Lord Jesus Christ. (NKJV)
Philippians 4:6: "Be anxious for nothing, but in everything by prayer and supplication, with thanksgiving, let your requests be made known to God." (NKJV)
In Your Life
What is one way you can incorporate intentional thanksgiving into your life right now? How would giving God thanks in the midst of suffering affect your perspective and endurance in the suffering?
We Recommend
If you're navigating a season of difficulty or loss, find help to take steps forward and real hope in Lisa's book Life Can Be Good Again: Putting Your World Back Together After It All Falls Apart.
Let's Connect
Want to know what scripture says about gratitude? Get Lisa's free 30-Day Gratitude Bible Reading Plan.