Standing as a Watchman Over Your Home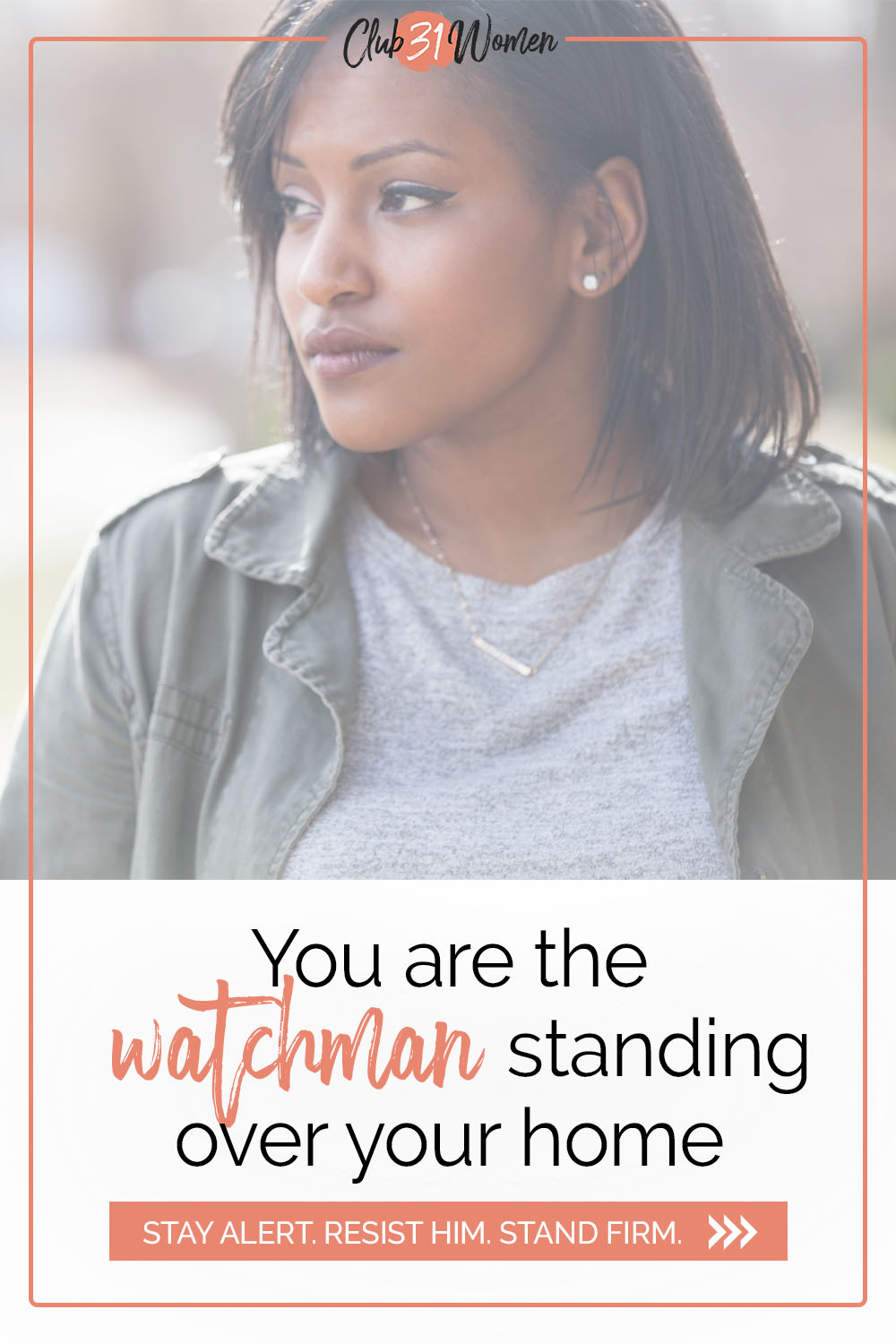 As moms who shoulder a lot of the decisions in our homes, thank God that we have a heavenly watchman and nothing escapes His gaze.
"But if the watchman sees the sword coming and does not blow the trumpet to warn the people and the sword comes and takes someone's life, that person's life will be taken because of their sin, but I will hold the watchman accountable for their blood.' "Son of man, I have made you a watchman for the people of Israel; so hear the word I speak and give them warning from me."
Ezekiel 33:6-7 NIV
As moms, we carry the weight of most of the decisions that are made in our homes. And that can sometimes feel as if we're carrying the weight of the world on our shoulders. Your mind is always on overdrive, constantly thinking of what needs to be done in your home, for the kids, for your husband, for work, for other things you feel called to do.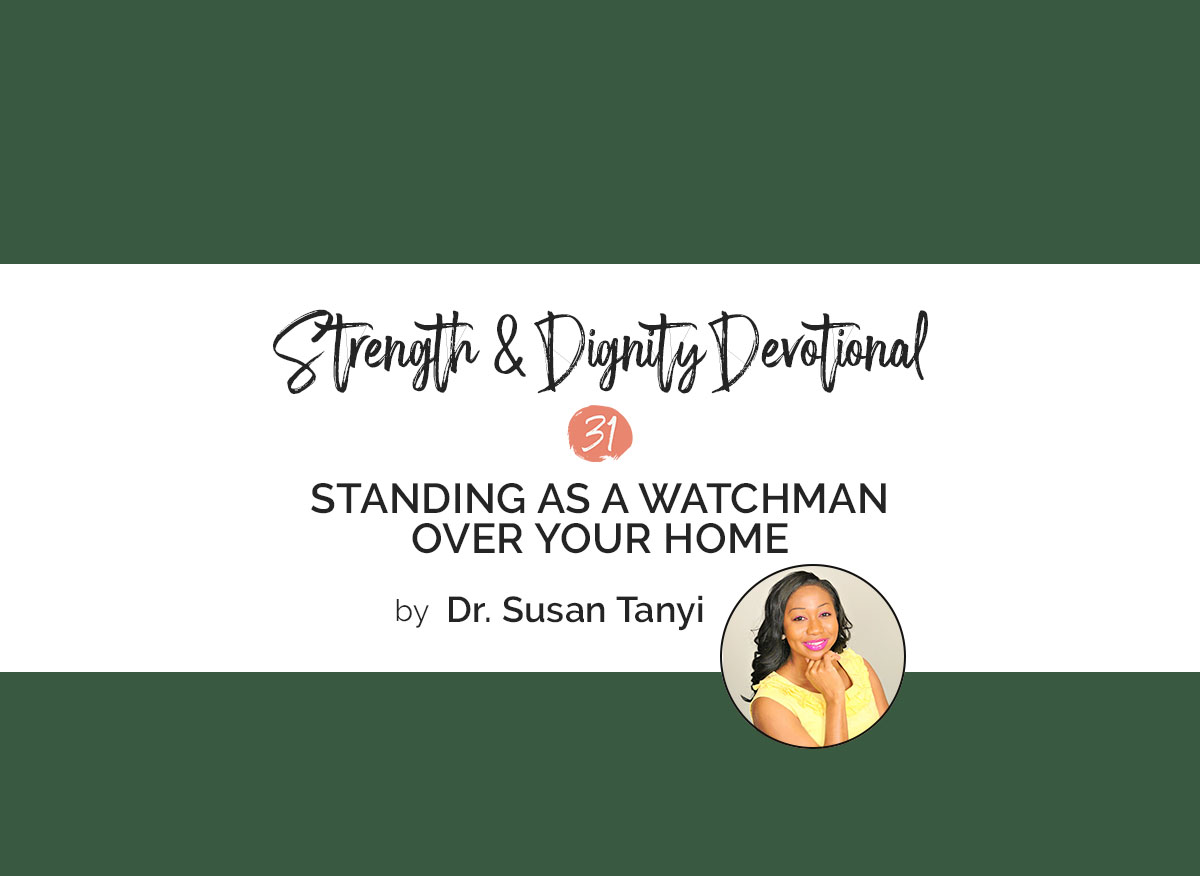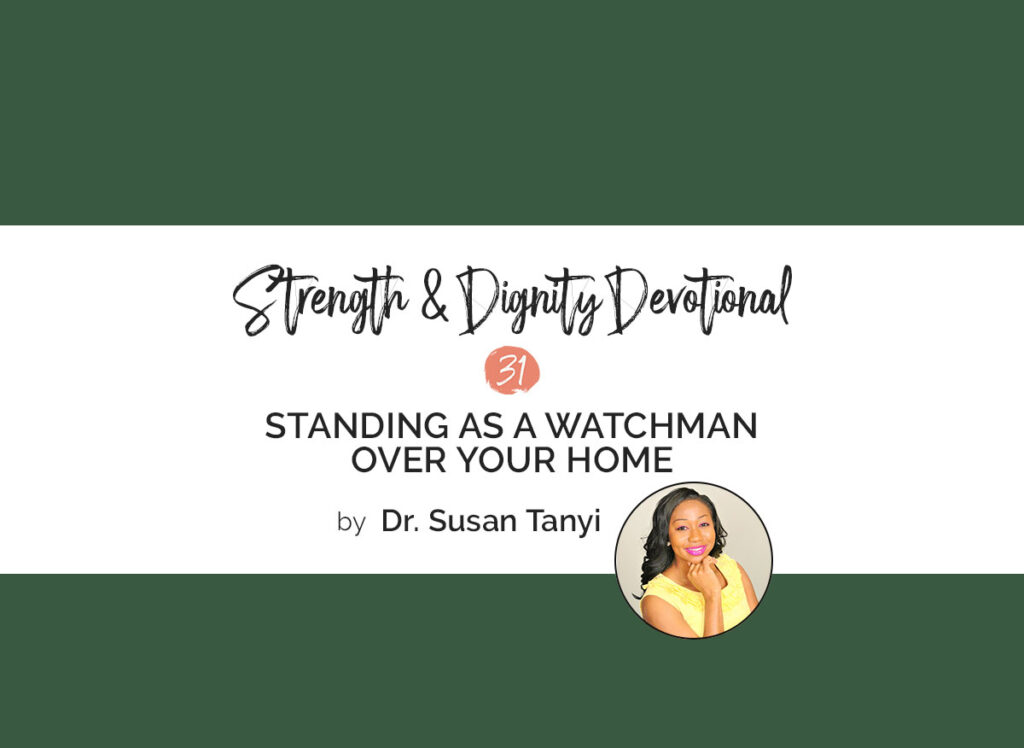 The mental and physical load that we moms carry for our homes, often leave us weary, worn-out, and ready to check out. If the burden of the decisions in our home is sometimes unbearable, then imagine what it feels like to carry the burden of the choices made by an entire nation. That's what God called Ezekiel to do as a watchman for the people of Israel.
The Role of a Watchman
The Hebrew word for watchman is 'tsaphah' and it means 'to peer into the distance, observe, look out, behold, to lean forward, wait for, keep the watch. Israel had many enemies and so the watchmen would position themselves in their towers and upon the walls of the city, peering forward, looking out into the distance. On the watch for messengers, unusual activity, or most importantly, any sign of an enemy or approaching army.
The watchmen of old were on the lookout for any signs of disturbance or the activities and schemes of the enemy. Does this change in the New Testament? No. Let's look at a well-known verse concerning this.
"Stay alert! Watch out for your great enemy, the devil. He prowls around like a roaring lion, looking for someone to devour. Stand firm against him, and be strong in your faith. Remember that your family of believers all over the world is going through the same kind of suffering you are." ~ 1 Peter 5:8-9 NLT.
'Be Alert, Be on the Watch!'
Why? Well, the thief comes to steal, kill and destroy. Therefore – we must keep watch! This command to 'watch' here is for all of us. This is not just for a pastor, a leader, or some specialized ministry.
No, you and I need to be on the alert for a real and ruthless enemy who wants to rob you of your joy, peace, a sound mind, your destiny, your purpose, the blessings of God, the will of God for your life, for your marriage, for your children, for your family, for your job, your influence and much more.
Resist him, and stand firm in your faith because you're not alone in this battle.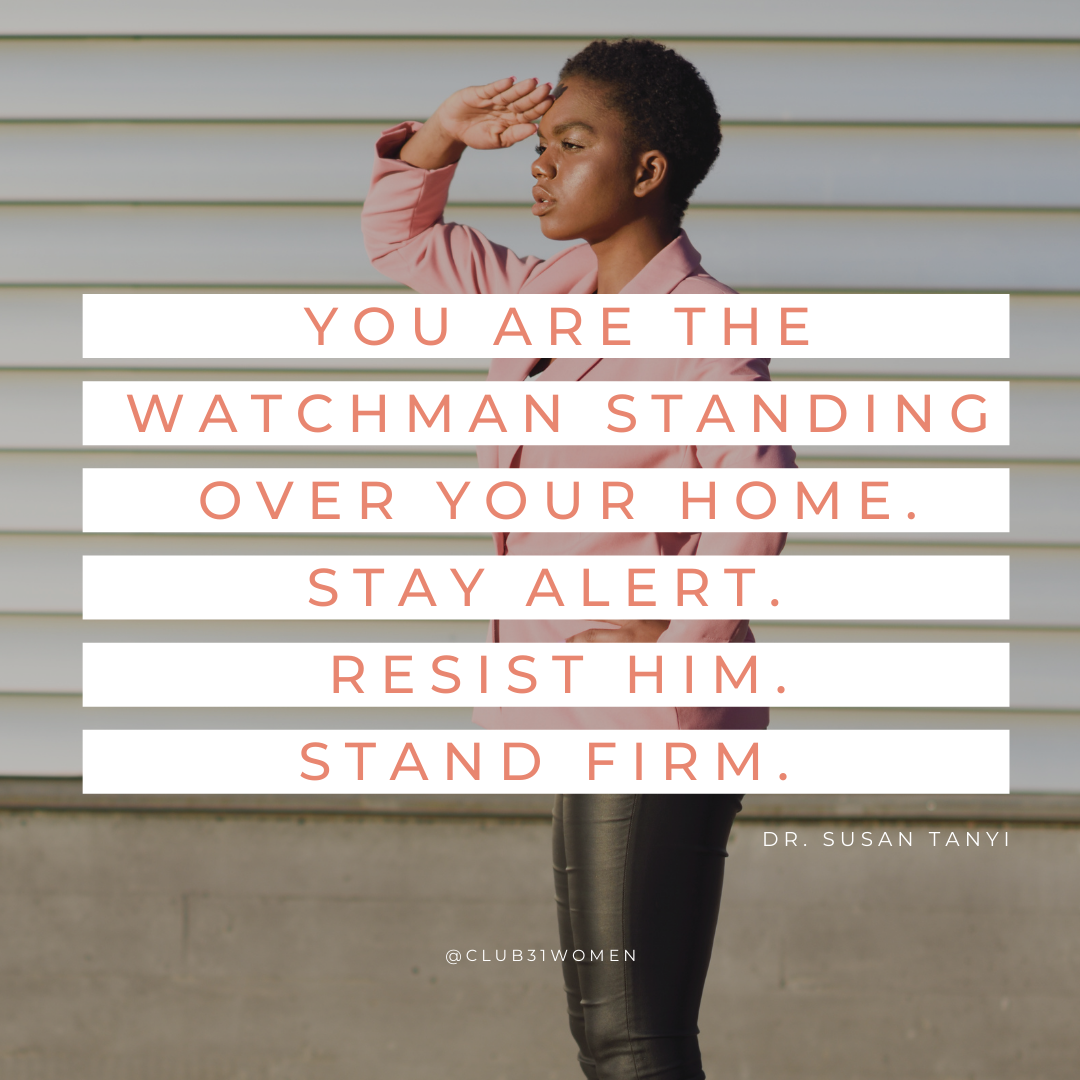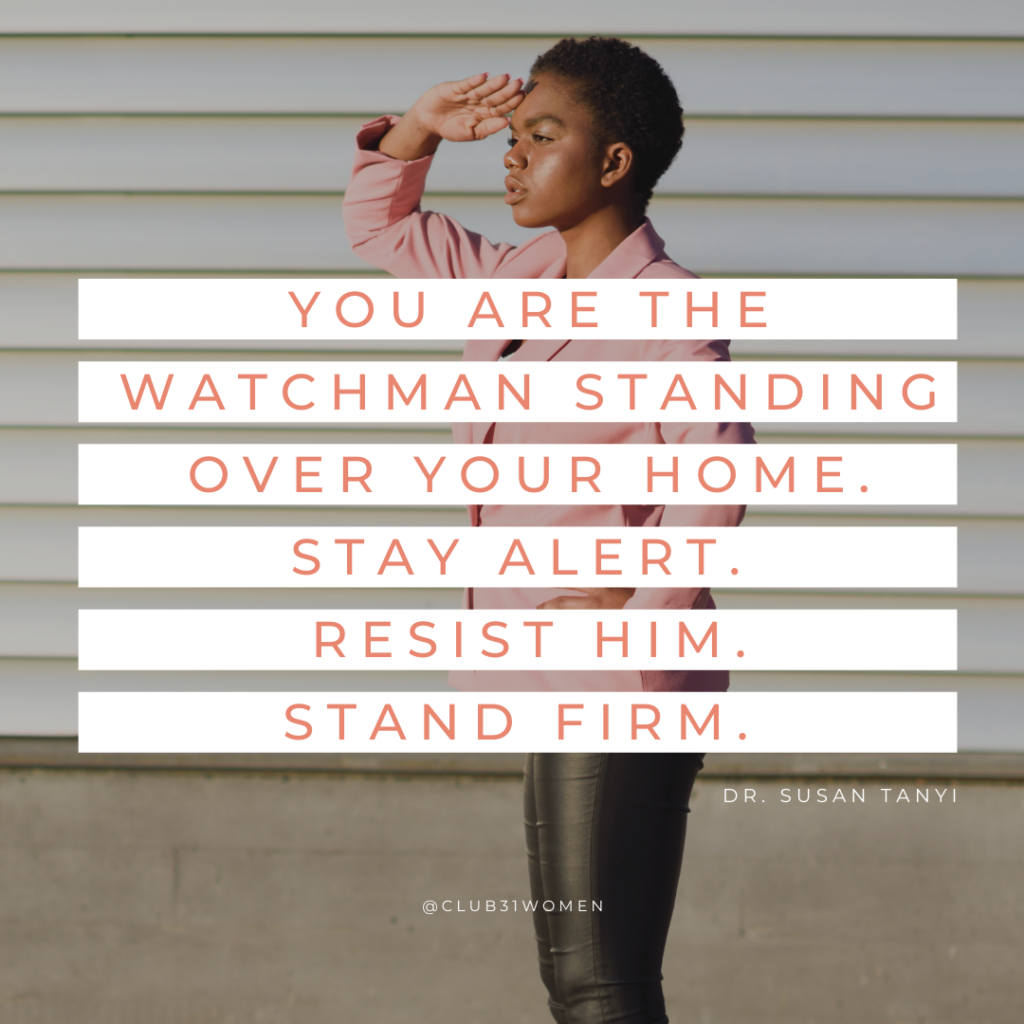 Remember – The Battle Belongs to the Lord
We need to be reminded always, that this battle is not ours. We play our part, no doubt. As moms who shoulder a lot of the decisions in our homes, let's pray, keep watch for our homes and cast our cares on God because it's not up to us but God. Thank God that we have a heavenly watchman and nothing escapes His gaze.
In His Word
"Unless the LORD builds the house, its builders labor in vain. Unless the LORD watches over the city, the watchmen stand guard in vain." Psalms 127:1
It is vain to simply employ natural resources in your quest to withstand the enemy. In fact, the scripture above tells us that without the Lord on our side, any watching and guarding are done in vain! But we should take comfort and praise God that He is a heavenly watchman, who unlike us down here, never slumbers or falls asleep. Only heaven knows the many unseen battles that God fights on our behalf. So let's thank God that although He calls to be a watchman over our homes, we can't do it without His help.
In Your Life
What are some circumstances in your family, children, and your home that you need to stand as a watchman in prayer for? What challenges has your family faced that only prayer and God's intervention got you through?
Take comfort in knowing that we have a heavenly watchman who never sleeps nor slumbers and is always watching to perform His word in our lives and listening for our cries of help.
We Recommend
Susan is thrilled to share a lot of FREE resources with you from our Library of Faith on Empowered Women Faith Club that will encourage and empower you in your faith journey.
Let's Connect
Susan would love you to join her on Instagram or Facebook for Christ-centered inspiration to empower your walk with God.