Don't Talk to Your Kids about God?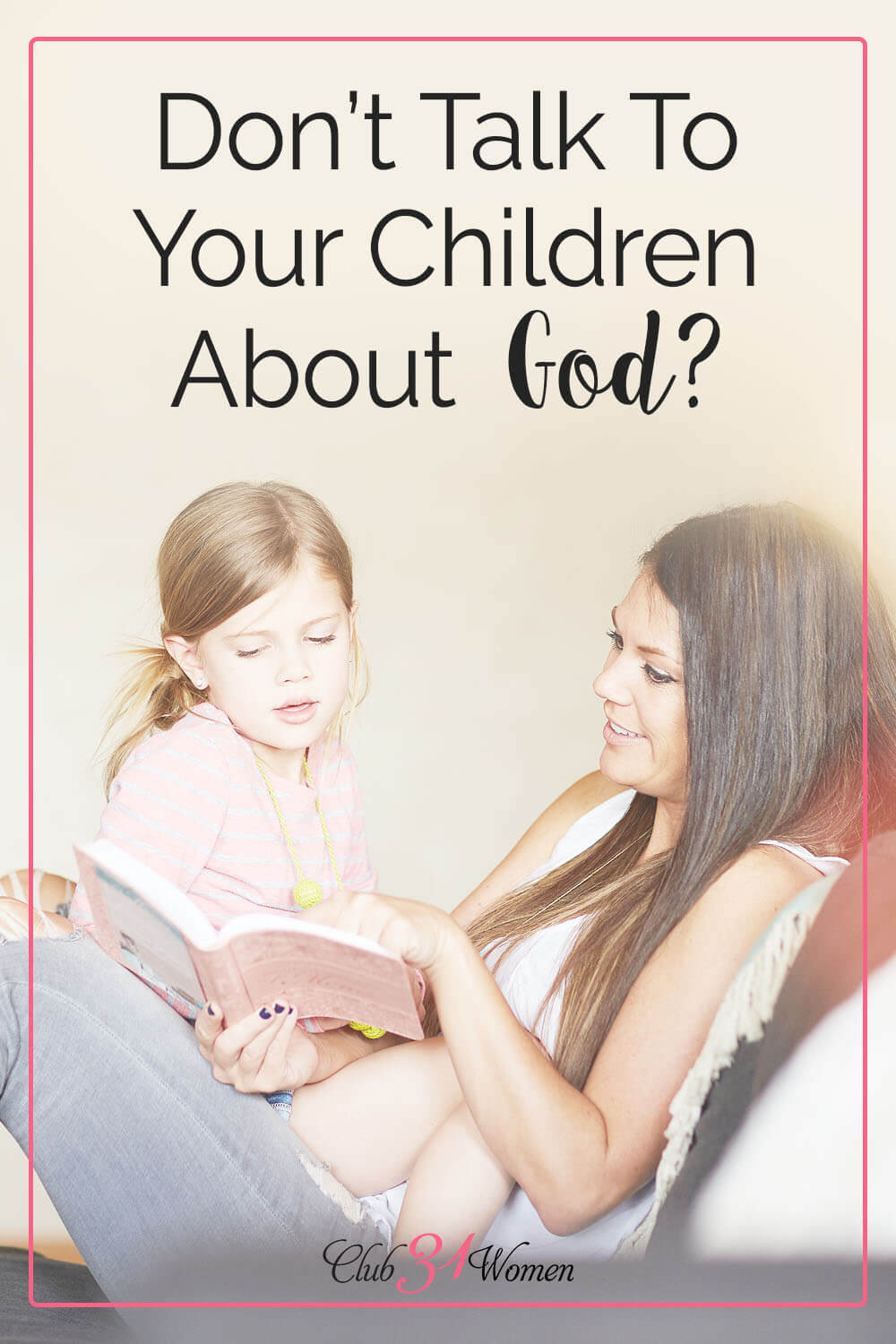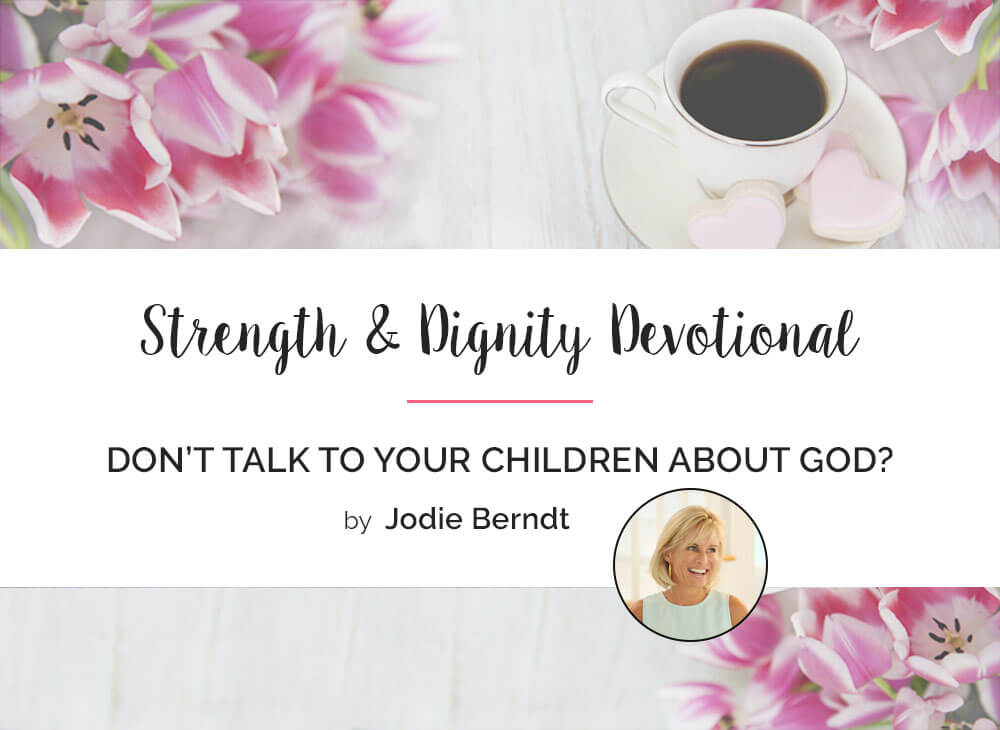 "Because he inclined his ear to me, therefore I will call on him as long as I live." ~ Psalm 116:2 (ESV)
"Don't talk to your kids about God."
I exchanged a look with the woman sitting next to me at the young mother's Bible study. Where was the teacher going with this?
"Don't talk to your kids about God," she repeated, "nearly as much as you talk to God about your kids."
Ahhh. That made more sense. And over the years, as our four children became teenagers and then young adults, that value of that advice grew right along with them.
My husband and I wanted our kids to love Jesus. We wanted to showcase God's attributes—his faithfulness, his mercy, his power, his love—so our children would know Him. We wanted to talk about His Word, like Deuteronomy 6:6-8 ESV says, sitting at home and walking on the road, from early in the morning until late at night.
Our inclination was to talk about God all the time—and there were plenty of days when our kids might say that we did.
But there were also plenty of days when they did not want to listen. Plenty of days when it felt like our children were out of our reach, emotionally and spiritually, even if they were sitting just across the dinner table. Plenty of days when all our best parenting wisdom fell flat.
The answer, those days, wasn't to talk louder, or more. The answer was to talk to God.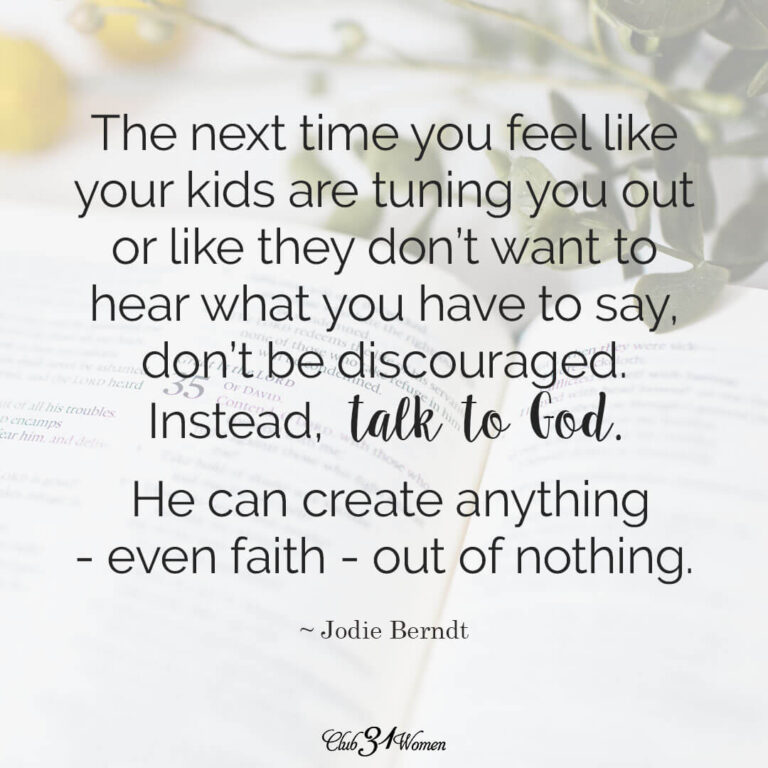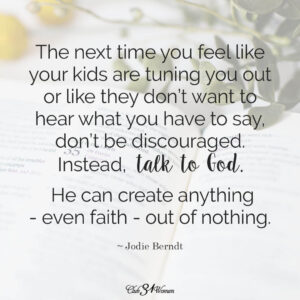 Talk to God about Your Kids
Mindful of verses like Isaiah 55:11 (ESV) (which promises that God's Word does not come back empty but accomplishes His purposes), we used Scripture to give shape to our prayers.
We asked God to captivate our kids' attention: "Make _____'s heart a stream of water in Your hand; turn it wherever You will." ~ Proverbs 21:1 (ESV)
We asked God to let their words and deeds line up with his plans, to give our children "the desire and the power to do what pleases him." ~ Philippians 2:13 (NLT)
And we prayed that our kids would know how much they were loved: "I pray that _____, being rooted and established in love, may have power to grasp how wide and long and high and deep is the love of Christ and be filled to the measure of all the fullness of God." ~ Ephesians 3:17-19
We prayed prayers like these (and we're praying them still), knowing that shaping our kids' faith—along with their character, their relationships, and their future—is not up to us. It's up to God. And honestly? Even though His answers have not always looked like what we expected (or wanted, sometimes), I can say with confidence that God has been faithful.
He has listened.
And He has been good.
The next time you feel like your kids are tuning you out or like they don't want to hear what you have to say (or like you aren't sure how to help even if they did want your advice!), don't be discouraged. Instead, talk to God. He's the one who, as Romans 4:17 puts it, "calls into existence the things that do not exist."
He can create anything—even faith—out of nothing.


In His Word
Pour out your heart like water before the presence of the Lord! Lift up your hands to him for the lives of your children. ~ Lamentations 2:19 (ESV)
Because he bends down to listen, I will pray as long as I have breath! ~ Psalm 116:2 (NLT)
In Your Life
What do you wish you could say to your kids? What do they need? How about trying a 30-day challenge where you talk to God about these concerns? Record your prayers in a notebook or journal, and then, after a month, see if you can spot the fingerprints of God's faithfulness.


We Recommend
Whether you're brand new to prayer or you're just looking for some fresh ideas to help shape your requests as you bring your children's needs before God, Jodie Berndt's bestselling series, Praying the Scriptures for Your Children, …for Your Teens, and …for Your Adult Children can help. Written in a warm, engaging style with real-life stories and biblical insights about all sorts of growing-up topics, each chapter includes a dozen scripture-based prayer prompts you can use to continue your conversation with God.
Let's Connect
Jodie writes about prayer and other family topics in her monthly newsletter and on Instagram. To download free resources like printable prayer calendars and scripture prayer cards, please visit JodieBerndt.com.