The Best Thing I Did for My Son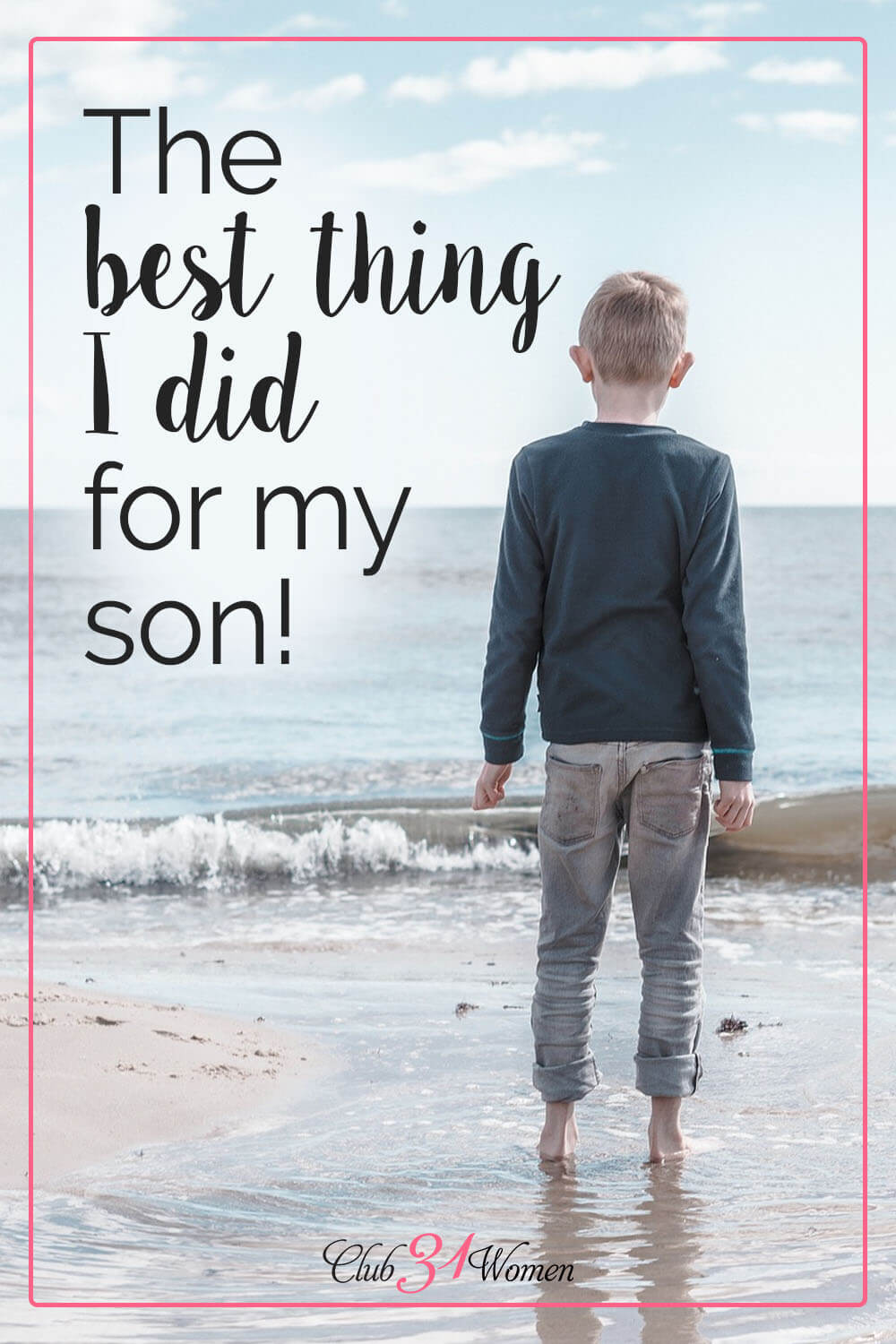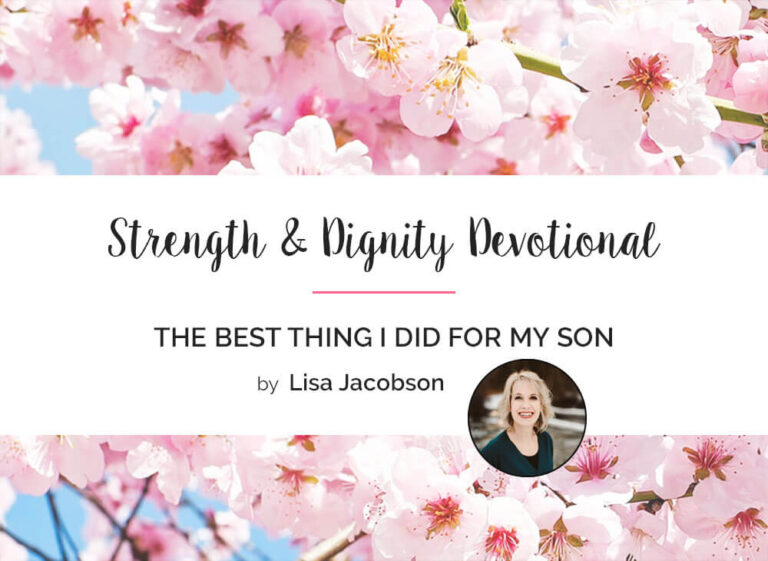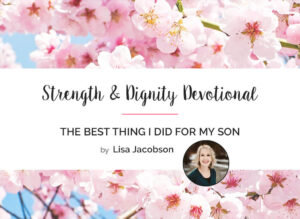 Know this, my beloved brothers: let every person be quick to hear, slow to speak, slow to anger; James 1:19 (ESV)
"What would you say was the best thing I did for you?"
Our oldest son was soon be taking off for college across the country, and I couldn't help asking the question before he left. "In our years together so far, what mattered most? Between mother and son?"
He stood there silently.
And I'll admit that I somewhat held my breath, waiting anxiously to hear what he would say.
For some strange reason, I felt the flood of maternal insecurity sweep over me at that very moment. As if I was waiting for a final verdict, wondering how he'd sum up the last 18 years I'd poured into him.
Was he hesitating because there wasn't too much to say? Or was he just trying to figure out a nice way to put it?
Nervously, I glanced up and was reassured to see him thoughtfully considering my question.
At last, he simply answered: "You listened to me."
Really? Out of all the things I'd done for him over the past eighteen years, listening stood out in his mind?
Not the meals. Not the laundry. Not the lessons, or even the stories I read aloud.
It's that I'd listened—merely listened while he spilled out his everyday thoughts, his fears, his hopes, and his plans. I heard his little boy's heart and, later on, his dreams.
But at the time, I didn't realize all those hours of listening would speak so strongly to him. That my listening would speak love louder than my words.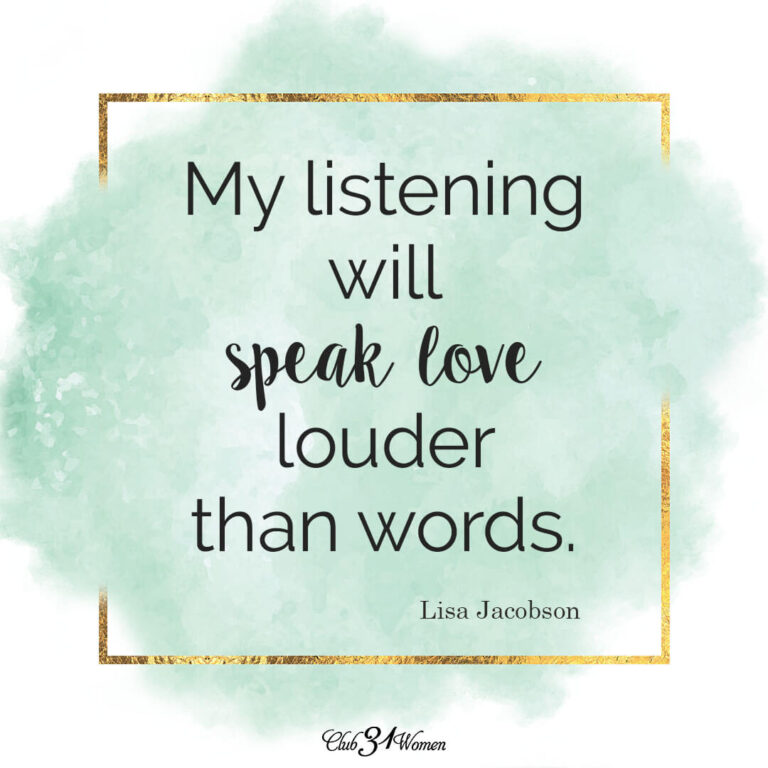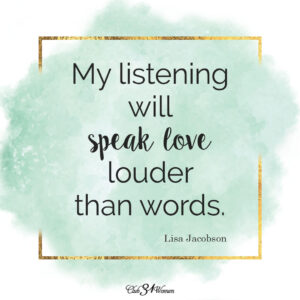 Listening Speaks Love
As parents, it's easy to believe that what we have to say to our children is more important that what we have to listen to. And I can understand why. After all, we really should have wisdom and instruction to offer our children.
But sometimes…sometimes…the best thing we can do is to sit quietly, with no other agenda than wanting to hear what is on his heart and mind.
A time to keep silence, as it says in Ecclesiastes.
This can require incredible patience as you wait for him to eventually get around to saying what is actually the heart of the matter. It might also take great self-control as you bite back the "answer" to the question he hasn't even formulated yet. Or, possibly hardest of all, you have to resist the impulse to correct when you already know he's in the wrong.
Now maybe you're choking a bit on that last one. Because, of course, as his mother, you're supposed to rebuke and admonish. And you're right about that.
But I'd caution you not rush in so that your son feels run over by your words.
Once he feels heard and understood, then you are in a much better place for him to embrace what you have to say. Not only that, but you're in the process of building a close and trusting relationship so that as he gets older, he can confidently come to you with most anything on his mind.
Because by then, he knows you will listen.
And listening looks a lot like love when you're a growing young man.


In His Word
A time to tear,
And a time to sew;
A time to keep silence,
And a time to speak; Ecclesiastes 3:7 (NKJV)
Set a guard, O Lord, over my mouth;
Keep watch over the door of my lips. Psalm 141:3 (NKJV)
In Your Life
Try spending some time this week considering if you're a "good listener" when it comes to your children. Or perhaps, if your child is old enough, ask him directly if he feels listened to by you?


We Recommend
Lisa is excited to share that she and her husband, Matt, are releasing NEW!! PARENTING resources: 100 Ways to Love Your Son & 100 Ways to Love Your Daughter. These practical books give you 100 specific, actionable ideas you can implement to show love to your children, no matter what age they are. And the best part? The short, bite-sized readings make it easy to start right now!
Lisa and her husband, Matt, also cohost FAITHFUL LIFE, a weekly podcast focusing on what it means to be a biblical Christian in marriage, parenting, church, and culture.


Let's Connect
Join Lisa on Instagram for further biblical encouragement!