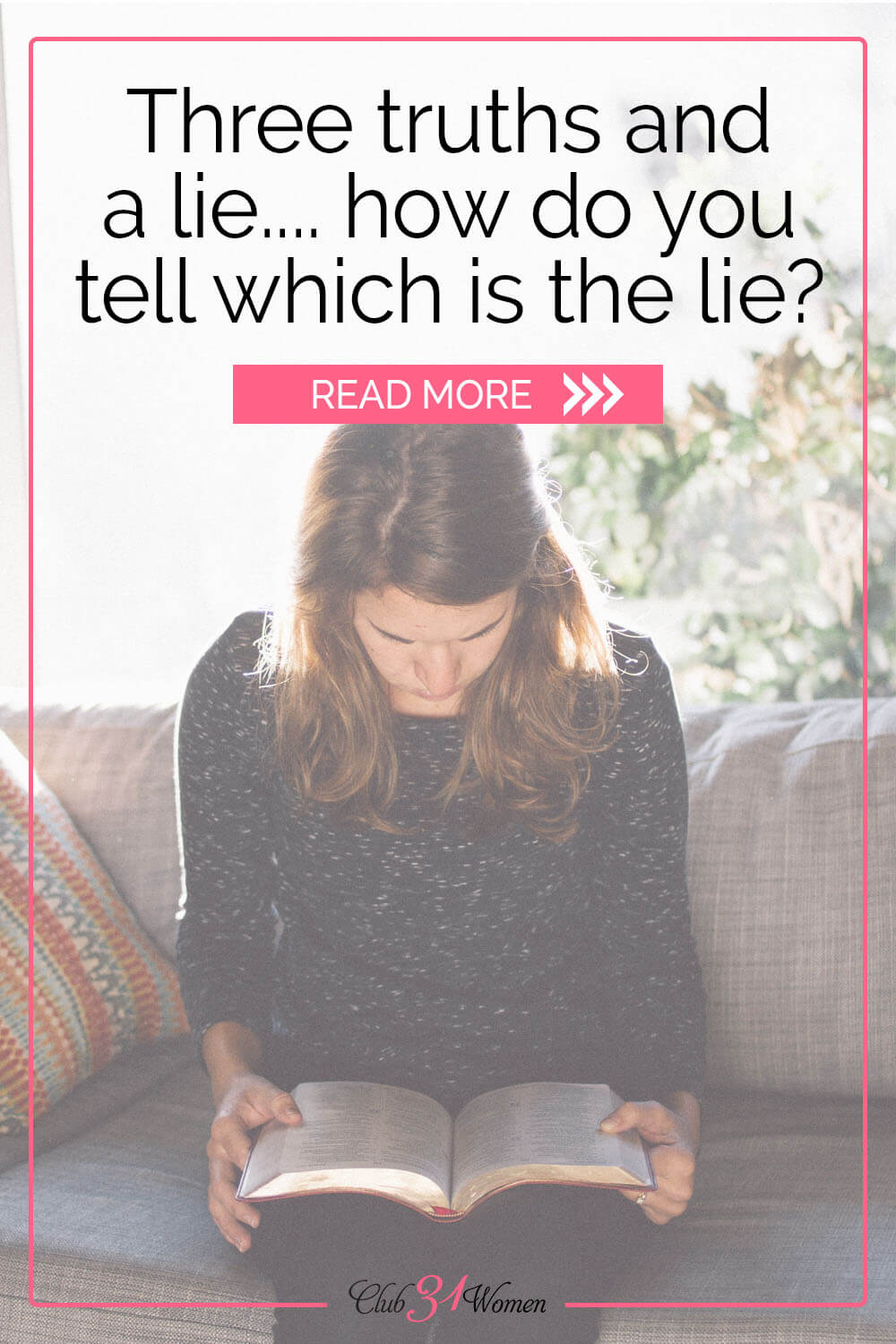 "Sanctify them in the truth; Your word is truth."
John 17:17 ESV
Truth Brings Freedom
Navigating the Christian life is often like playing the icebreaker Three Truths and a Lie. In this game, each player writes down four facts about themselves, three true and one false, and the opponent tries to decipher the lie in the list. The more believable the lie, the harder it is to win the game.
Every day, we're faced with believable lies. Just open social media. Carefully curated squares evangelize us, promoting a certain vision of the good life. Marketers promote products that target our felt needs, reinforcing the fear inside of us that something is seriously missing, that we haven't arrived, that we aren't as fashionable, popular, organized, or desirable as that person living the good life right there in that tiny electronic square.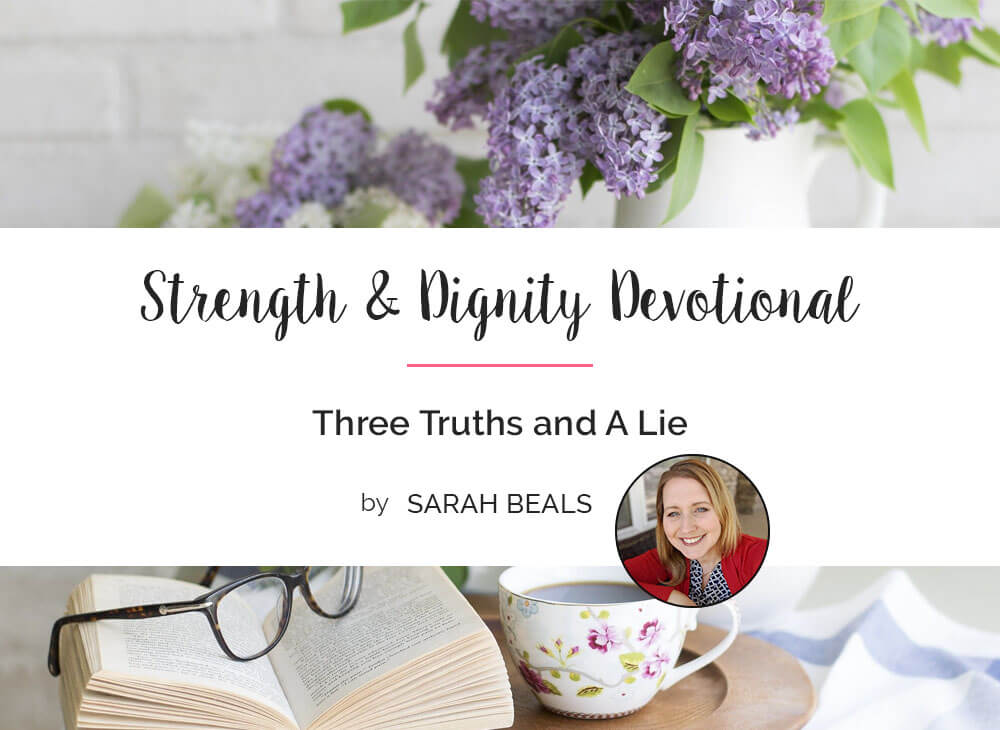 Satan has also been peddling a false version of the good life since the beginning. His version whispers that God has withheld good from us and we are somehow missing out. He plants doubt in God's word, implies God can't be trusted, infers that He's just holding you back.
Satan still promises us poison today, exclaiming "You will not surely die!" (Gen.3:4).
Maybe you've heard some of these lies in your own thinking and they've caused you to question God's goodness:
If only my house looked like this.
If only my kids were this well-behaved.
If only my husband was more attentive.
If only my wife was more responsive.
If only we could get away to the beach.
If only my friends were this supportive.
If only my church met this need.
Scripture is full of examples of men and women who believed pursuing a lie would benefit them:
Abraham asked Sarah to lie in the pursuit of personal safety. (Gen.20)
Rebekah schemed with Jacob to gain an earthly blessing. (Gen. 27)
Ananias and Sapphira who deceived for monetary gain and religious recognition. (Acts 5)
And we aren't immune to the lure of lies, especially when we are dissatisfied or hurting. When life hurts, it's easy to doubt God's goodness and question His love.
So how do we combat and expose these lies on a daily basis?
By being in the Word of God and being sanctified by its truth. Jesus prays for your sanctification through the Word of God. Did you know that?


In His Word
Sanctify them in the truth; Your word is truth. John 17:17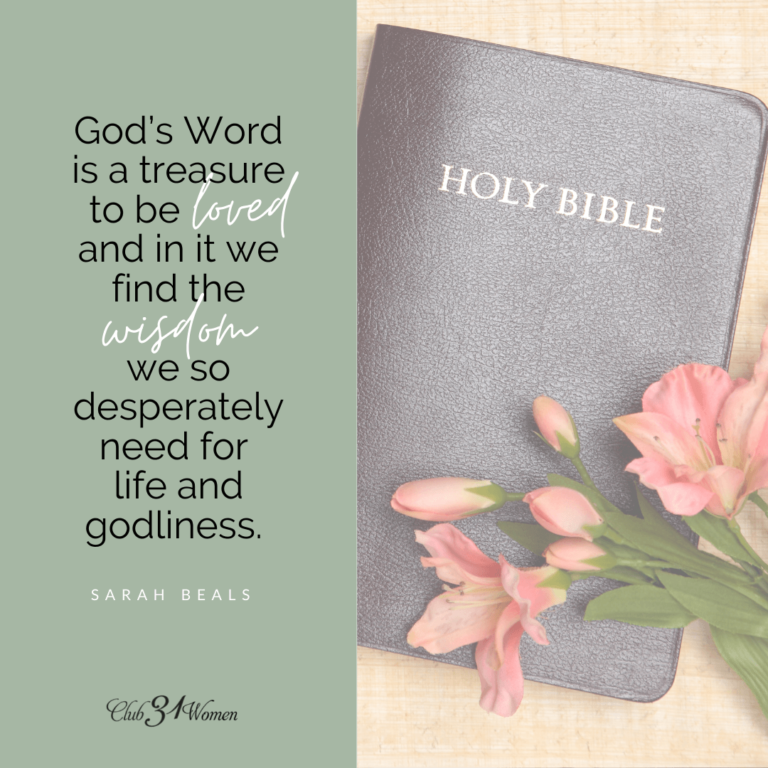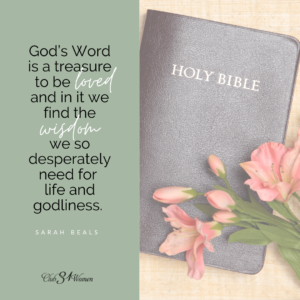 Friend, reading God's Word is of utmost importance in our quest for truth. It is a priority. God's Word is a treasure to be loved and in it we find the wisdom we so desperately need for life and godliness.
On the days when we are bombarded by loss or grief, when we are tempted to believe that God is not good and life is out of control, we need to purpose to spend more time in the rock-solid, unchanging, infallible Word of God.
On those days, it might be hard and we may feel unmotivated, but I'm just going to be honest and say that some days you have to force yourself to read the Bible because it's what we need, especially on the days when you don't feel like reading it!
The Truth has an illuminating effect on our spiritual vision and a softening effect on our hardened hearts. It gives hope when our minds are heavy, and a heavenly outlook to our earthly troubles.
Truth In Your Life
Have lies crept into your thinking? How are you combatting those lies?
When we are tempted to believe that life is out of control, we'll remember that God is in control and we can rest in Him and "put my hope in Him, for with the Lord is unfailing love and with Him is full redemption." Ps. 130: 7
When we are overwhelmed and at the end of our resources, when we're afraid, we'll remember to take courage for He promises "I am with you, do not be dismayed, for I am your God. I will strengthen you and help you. I will uphold you with my righteous right hand." Isaiah 40:10
When we wonder why this thing happened (or didn't ), we'll remember His good purposes for our lives and trust that "in all things God works for the good of those who love Him, who have been called according to his purpose." Rom. 8:28
As Christian women, let's live the good life by solidly resting in the truth of God's Word, reading and believing His promises, and praising Him for the love that we are confident we have in Him.


We Recommend
Want to dig deeper into Scripture but are not sure where to start? I've linked to my 30 Day New Testament Bible reading schedule to get you started.
I also recommend Hungry: Learning to Feed Your Soul With Christ and I'd love to have you join me on June 1st for a six-week online summer book club as we read Hungry together in our community You'll have access to a private Facebook group where you'll find friendship, reading schedule, weekly discussions, and teaching videos. Join us HERE.


Let's Connect
If you'd like to read more from Sarah, you can stay connected by signing up for post updates at Joyfilleddays.com or see daily updates on Instagram or Facebook.