Trusting God When You Can't Sense Him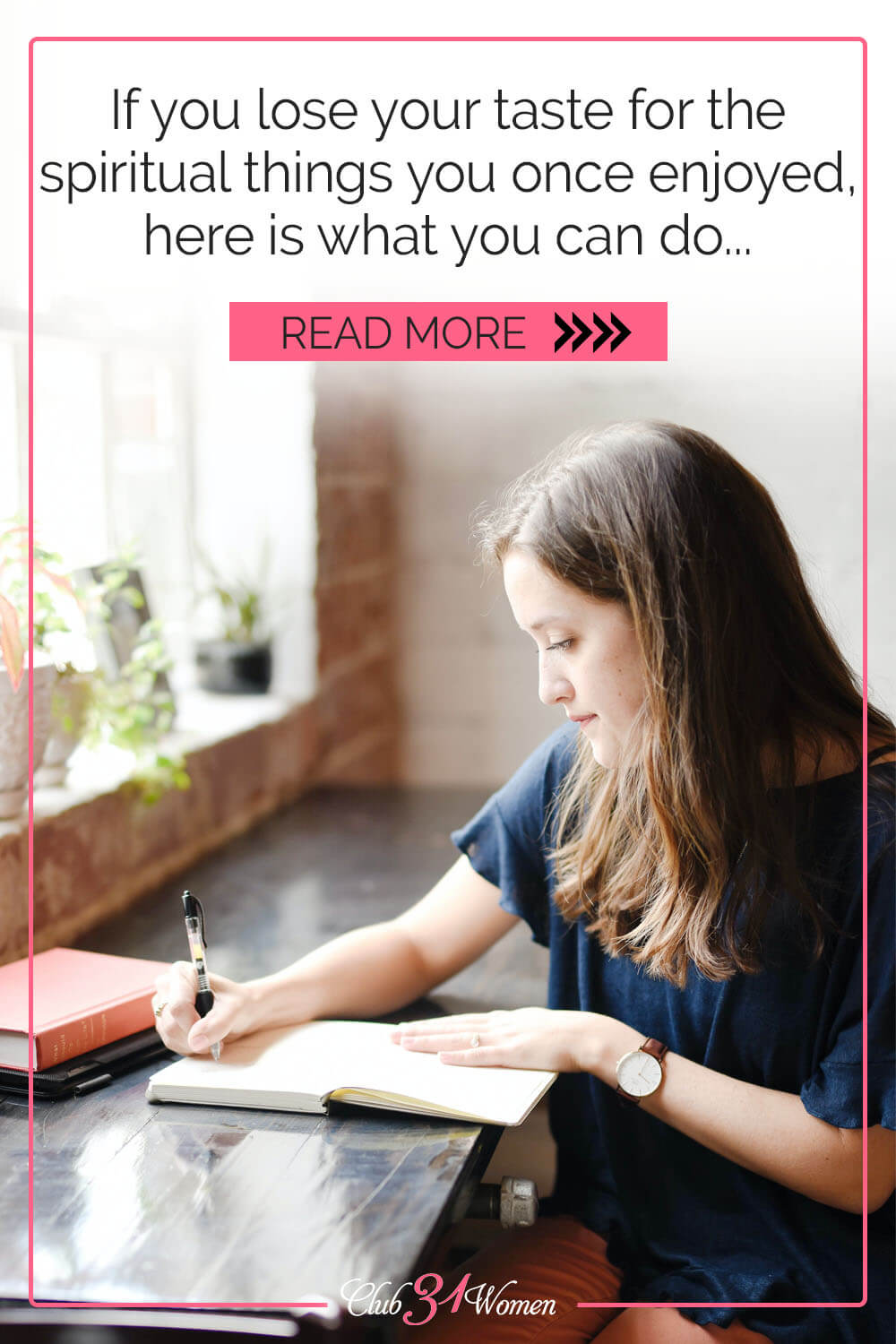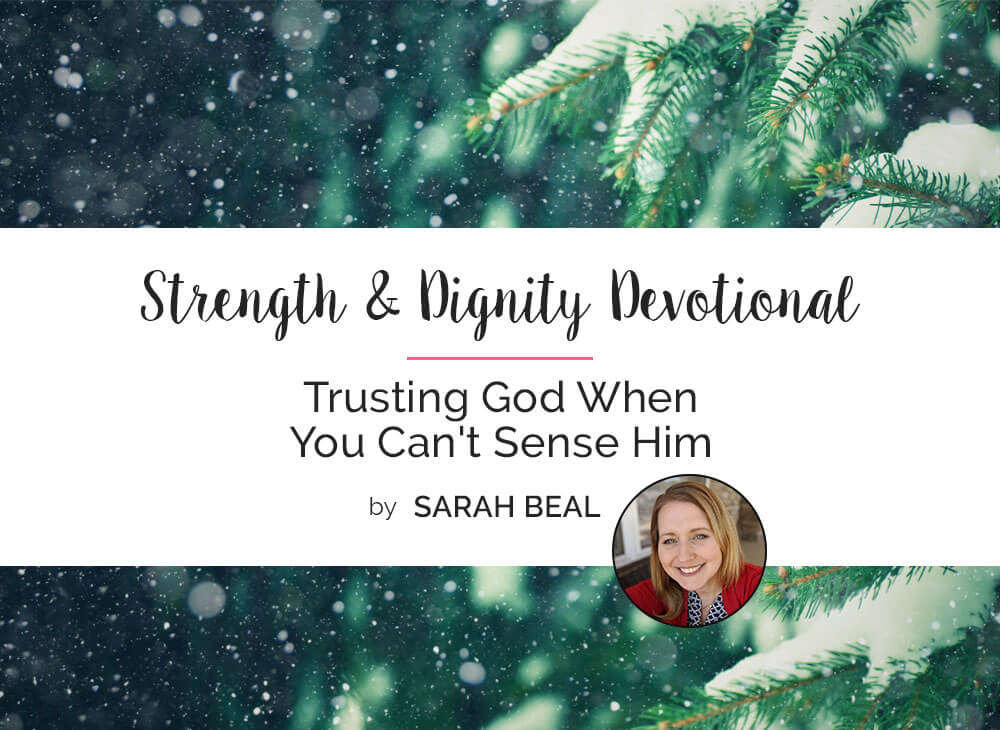 "Trusting God while life grows uncertain or unbearable can help you stay centered in Him and His purpose for you."
Two weeks ago, I woke up feeling out of sorts and went into the kitchen to brew my usual extra-dark morning iced coffee. As I stood at the coffee bar patiently watching the Morning Joe trickling into my cup, I realized that my coffee was missing something. It had no smell. I took a sip and it tasted like water to me.
That was the first clue that I had contracted the Covid-19 virus.
For the next few days, everything that entered my mouth tasted and smelled like water. "I think I'll make myself a cup of tea," I thought several times during my illness. But there was absolutely no comfort in tea. No charm. No sweet smell of my favorite bergamot and lavender steeping, no sweetness of sugar and cream. It just tasted like water. Plain old boiled water. Everything was the same experience. Gatorade, cold water. Soup, warm thick water. Scrambled eggs, mushy gross water.
The substances hadn't changed, but my ability to sense them was completely diminished and along with it went my desire for things I had always loved. I now had to force myself to eat and drink because I knew that I'd become weak if I didn't.
And I know from experience that some seasons of a Christian woman's life are like my strange experience with food during my Covid illness.
Trusting God in Difficult Seasons
There are some seasons when we lose our taste for the very spiritual things we once enjoyed. Opening God's Word may seem blasé. God seems aloof. Prayer seems pointless and church doesn't seem relevant.
Perhaps you've experienced this dulling during an extended trial, a season of waiting, or a string of losses you couldn't control. Perhaps you've struggled after sleepless nights with a newborn or extended seasons of worry over a prodigal son.
Because feelings aren't facts and emotions fluctuate
We need to recognize our finiteness and inform our own minds with God's truth, looking unto Jesus as the author and finisher of our faith whether we feel it or not. We need to remember that anything God allows is always for our good, whether life is empty or full, bitter or sweet. Or as Elisabeth Elliot reminded Joni Eareckson Tada, "Suffering is never for nothing" (Becoming Elisabeth Elliot, by Ellen Vaughn)
We need to: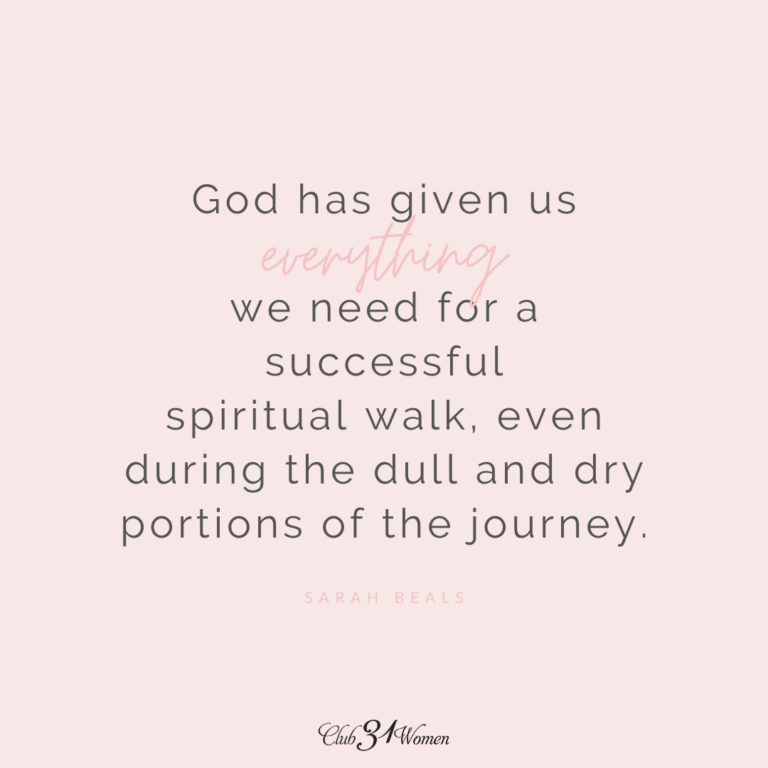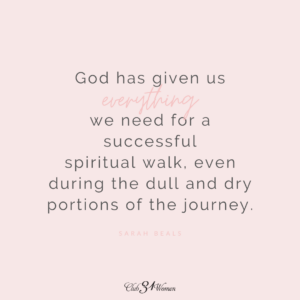 stay in God's Word knowing that it never returns void and always, always accomplishes its intended purpose.
rely on the Holy Spirit to lead us as we put one foot in front of the other in Biblical thinking and faithful living whether we feel like it or not.
resist self-pity and remind yourselves that though difficulty, our temptations are common to man and come with God's promise of a way of escape, even during spiritual malaise.
We must remember the wonderful assurance from 2 Peter 1:3-8 that God has given us everything we need for a successful spiritual walk, even during the dull and dry portions of the journey.
Vs. 3."His divine power has given us everything we need for a godly life through our knowledge of him who called us by his own glory and goodness. "
Everything is a no-exceptions word. Everything means we got the whole package. His divine power has given us everything we need for success in our Christian walk.
But we have to choose to know God's Word and His ways so we can walk in truth. (God didn't create robots. He gives us free will.)
So, here's the hard part, the part that requires grit and struggle, especially when our flesh is weak and our interests dulled. We are told to give all diligence or to make every effort to progress in virtue (excellent moral character) which is displayed as we live in our everyday human relationships.

In His Word
2 Peter 1:5-8 "For this very reason, make every effort to add to your faith goodness; and to goodness, knowledge; and to knowledge, self-control; and to self-control, perseverance; and to perseverance, godliness; and to godliness, mutual affection; and to mutual affection, love. For if you possess these qualities in increasing measure, they will keep you from being ineffective and unproductive in your knowledge of our Lord Jesus Christ.
In Your Life
God has equipped us with everything we need for our entire spiritual life and His way is good for us, even when we can't sense it in the moment. Faith chooses to continue walking the path He began in us, whether or not it is palatable to us. Trusting God will keep us focused on His truth.

We Recommend
These are exactly the times when we need to switch into "doctor mode" and insist that we continue to eat when we can't taste, gaze when we don't care to look, listen when we feel like ignoring, obey when we wonder if it matters, and savor when we can't sense His goodness. "You can see God from anywhere if your mind is set to love and obey Him, " teaches A.W. Tozer in The Pursuit of God.
This too shall pass, but during those seasons when doubts and negative thoughts crowd your mind, trust His Word, remember His love, rest in His promises, and pursue faithfulness. Trusting God will keep you focused and faithful in His Word.
Let's Connect
Sarah Beals is a wife, mother of six, and grandmother of 3. She lives in beautiful New England and writes about Christian living, home education, hospitality, and creative pursuits at Joyfilleddays.com.