What Not To Wear This Fall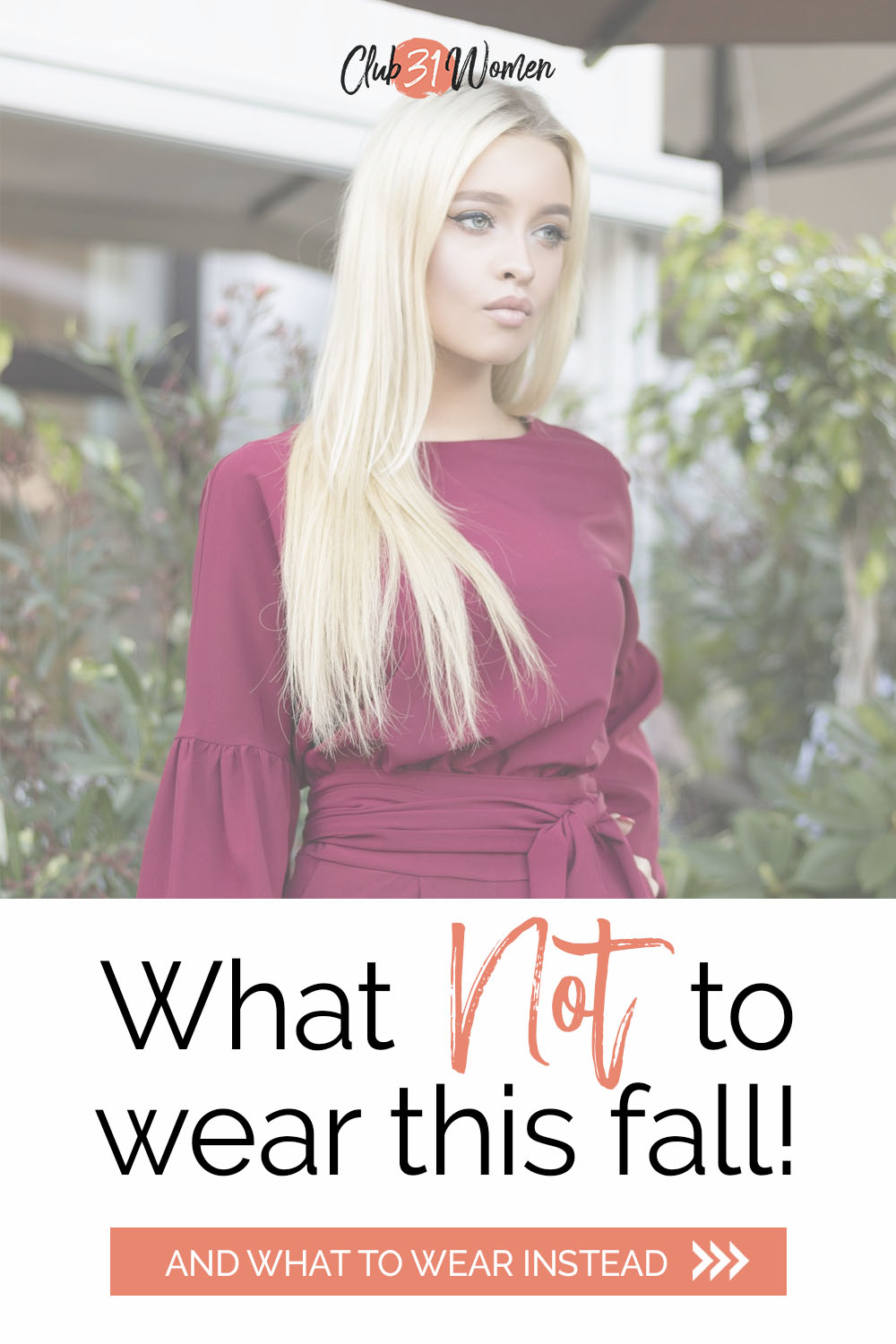 Choose wisely what 'self' you want to wear and what parts you want to take off.
"… put off your old self…and be renewed in the spirit of your minds,
and put on the new self, created after the likeness of God
in true righteousness and holiness."
Ephesians 4:22a-24a (ESV)
I'm a New Englander through and through, and autumn is one of my favorite seasons. What's not to love about sweater weather, chilly mornings, pumpkin spice lattes, and the breathtaking display of foliage swirling downward like confetti celebrating the start of the burnt-orange season?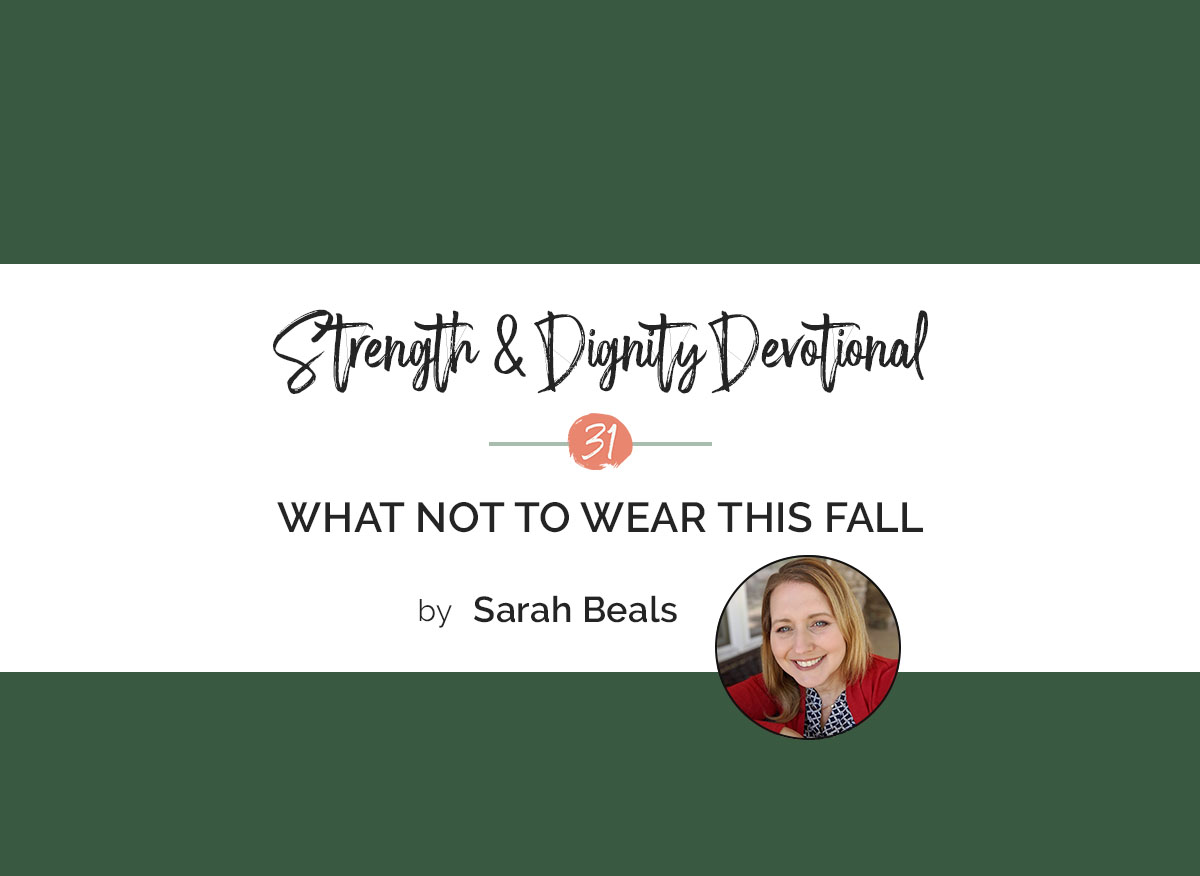 Last month as I was pulling out my fall clothes, Emily cleared her voice and said, "Mom, you have waaay too many sweaters." It's kinda true if one believes you can have too many sweaters. But, oh, I love all the chunky sweaters, tweeds, plaids, leather boots, and cozy scarves of this season. And, ahem… she was right. I hadn't worn many items for several years. Some were faded, pilled, out of style, and didn't fit well. Some things just had to go.
Did you know that the Bible talks about our Christian walk in clothing language? Put off the corrupt things of the old nature (retire the grave clothes, Warren Weirsbe would say!) because you are no longer dead spiritually. You are alive in Christ!
How do we do this?
Sheer willpower? Nope, because on my good days, I'd be tempted towards self-sufficiency or pride, feeling pretty good about my accomplishments. And on the bad days, when I fall flat on my face, I'd be tempted toward self-loathing or self-pity. Both extremes have the wrong focus: ME.
I need a new focus. The Bible tells me that God's Spirit brings forth fruit in my life as I "learn of Christ" and focus on Him. (Eph. 4:20)
So then, we are told to put off the old man, and all its accompanying wrong attitudes and actions and instead put on the deeds that compliment "sound doctrine." Titus 2:1
As women who are grateful recipients of God's amazing grace, our desire is to reflect Christ. Ephesians 4 shows us how to walk.
Instead of:
Lying – speak truth to your neighbor.
Sinful anger – seek to reconcile quickly and forgive.
Stealing – do an honest day's work.
Corrupting talk – use your words to build up as appropriate.
Bitterness, wrath, or other manifestations of anger – choose forgiveness and peace.
Clamor and shouting – choose grace-filled speech.
Slander – speak kindly.
Malice and evil intent – give them grace.
This list is convicting, isn't it? Do you have some spiritual closet cleaning to do?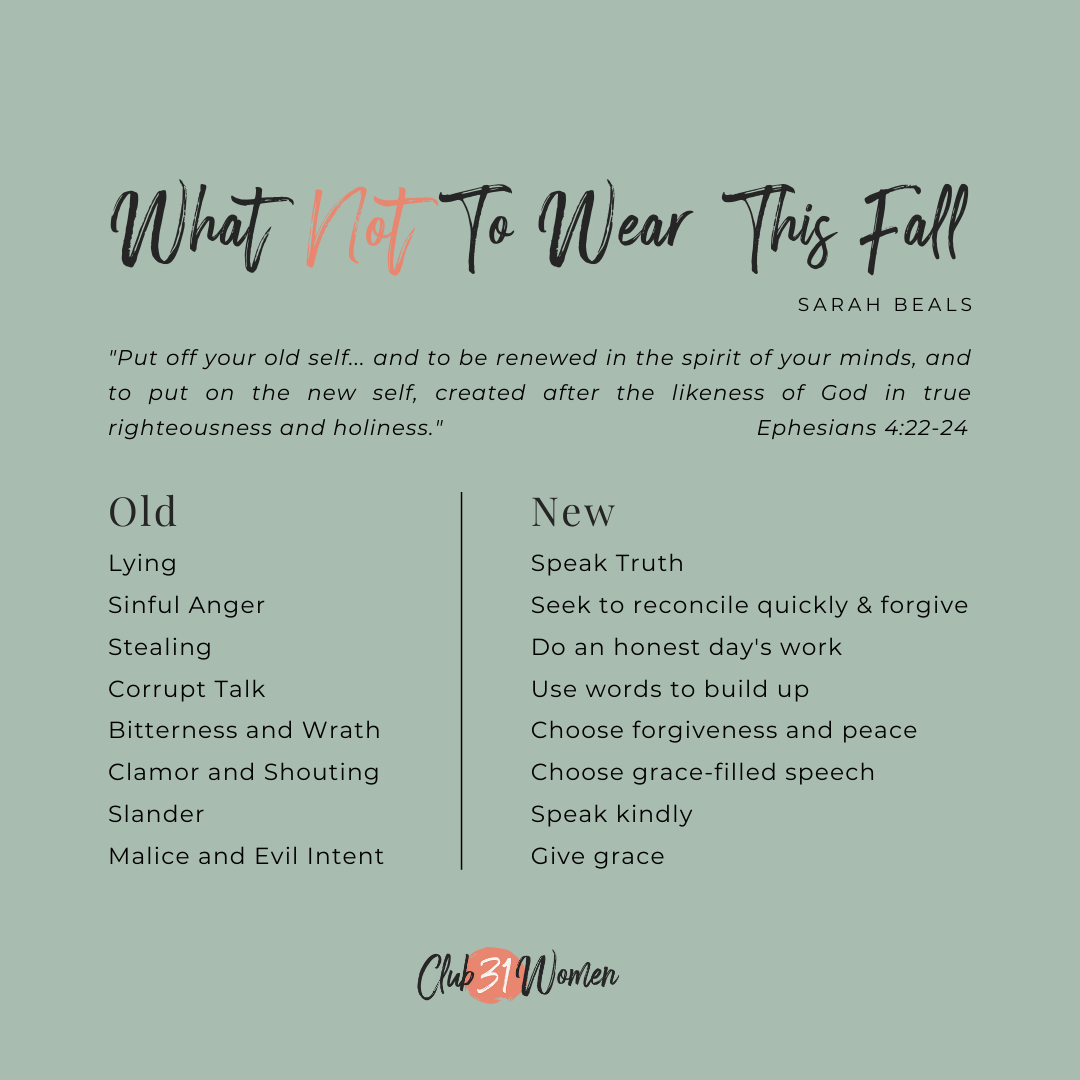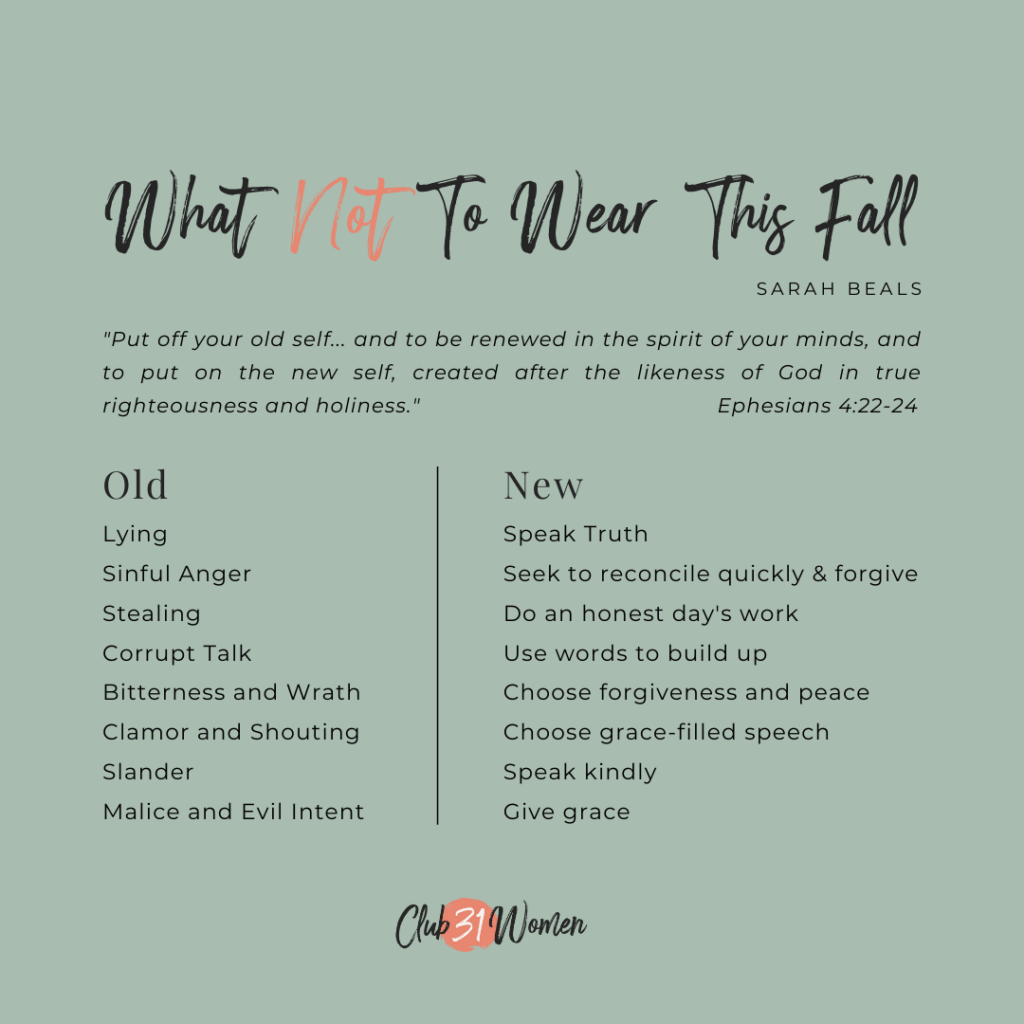 In His Word
Do you need a wardrobe adjustment?
"Put on then, as God's chosen ones, holy and beloved, compassionate hearts, kindness, humility, meekness, and patience, bearing with one another and, if one has a complaint against another, forgiving each other; as the Lord has forgiven you, so you also must forgive. And above all these put on love, which binds everything together in perfect harmony. And let the peace of Christ rule in your hearts, to which indeed you were called in one body. And be thankful." Col. 3:12-15
"Put to death therefore what is earthly in you…" Col.3:5a
In Your Life
As God's grace appears and astounds us, it teaches us to renounce ungodliness (Titus 2:12) and live uprightly… "to live self-controlled, upright and godly lives in this present age." (Titus 2:12)
As we step out in obedience and put on our new wardrobe, "created after the likeness of God," we are changed by degrees. It's so gradual that we barely notice! But think back to how you used to be ten years ago, you recognize that you have indeed grown. You aren't the same person, praise God!
Sometimes we fail, yes, because we still live in the flesh. But even in our failure, the Scripture tells us that Jesus paid our debt completely with His precious blood on the cross. In Christ, God looks at me as though I have obeyed His law perfectly my entire life and He's satisfied so there's no more wrath for me. It is truly finished!
As you look through Ephesians, ask God to help you to want to obey and to remove any pseudo-saviors that are obscuring your view of Him!
We Recommend
For further study, I've found this free Put Off/ Put On pdf helpful and Changed Into His Image by Jim Berg.
Let's Connect
If you'd like to read more, you can stay connected by signing up for post updates at Joyfilleddays.com or see daily updates on Instagram or Facebook.