Why "Trying Harder" Cannot Make You A Better Christian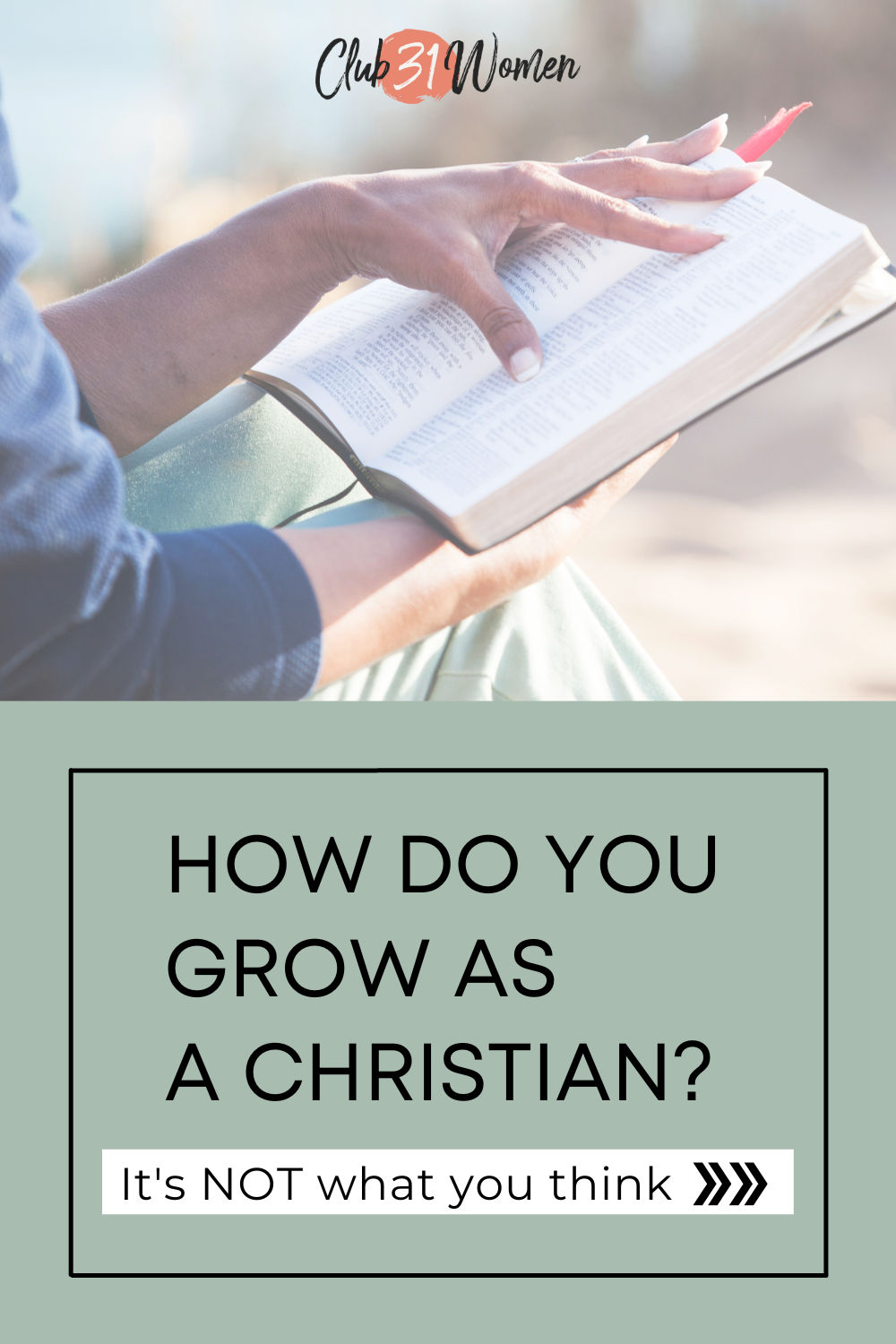 Growing as a believer is not about trying harder. It's about letting go of control and allowing God to do the work in you.
"My grace is sufficient for you, for my power is made perfect in weakness."
(2 Corinthians 12:9)
The summer before my junior year in college I had an opportunity to travel to Europe with my 3 best friends. We sailed on a ship crammed with 1500 college students for 10 days. Yes, it was one big "party boat" followed by 2 months of riding trains, hitchhiking, mountain climbing, youth hostels, and eating on $5.00 a day. OK, this was in the "old days" when travel was safe and food cheap. Cheap food meant bakery shops. I gained 10 pounds on our slim budget!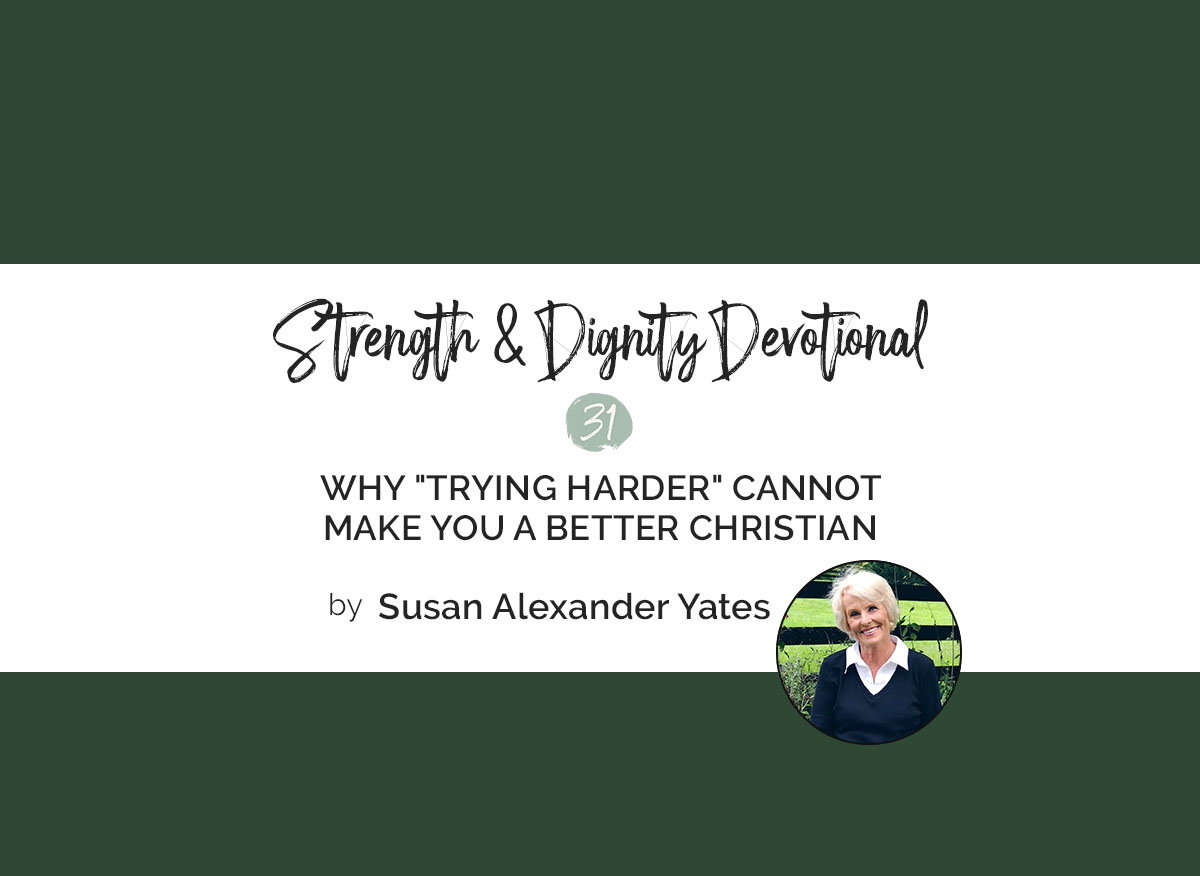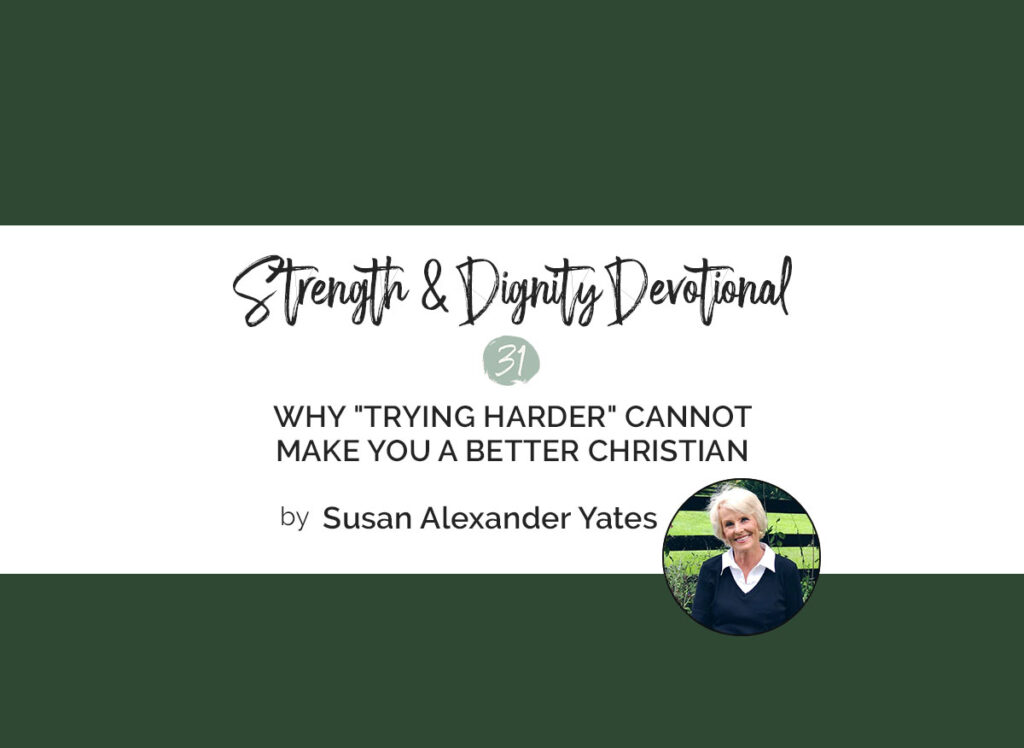 It was a glorious summer, a dream come true yet the most significant event for me was a decision I made to ask Christ into my life. Although I had grown up in a believing home, my faith was more of an inherited faith than a personal faith. On the ship, I met 2 guys who shocked me by asking, "Susan, are you a Christian?" What a weird question I thought, and these guys are cute!
I responded, "I think I am. I hope I am. I believe in Jesus."
What was obvious was that I lacked the assurance of my salvation and what became clear was that I needed to ask Christ to come into my heart personally (Revelation 3:20). I did this silently as my friend prayed aloud on my behalf. (It felt too awkward for me to do it out loud.) For the first time, I felt I could say that I was a believer and that I knew that one day I'd go to heaven, not because I was good, but because I was forgiven. And I had the assurance that Jesus would never leave me. (Hebrews 13:5)
I went back to college that fall hungry to grow in my faith and determined to "succeed" in being a good Christian. I was driven. For much of my young life, I had succeeded in most things. I was used to accomplishment; I expected it.
However, I soon found out that I couldn't just become a good Christian by trying harder, the way I did with everything else.
The reality was that the harder I tried to pray, read the scriptures, love others, and live like I thought I should, the more miserable I became.
Finally, I wrote my friend who had led me to Christ and told Him I just couldn't "do it" anymore. I was more miserable than I'd ever been, and I felt like a failure. I admired him but "this" just wasn't for me. It was too hard.
His answer both surprised me and freed me.
"Susan, he said, "growing as a Christian is not about trying harder. It's about surrendering and saying, "I can't." It's not about your doing it, it's about your asking the Holy Spirit to do it within you."(John 14:26)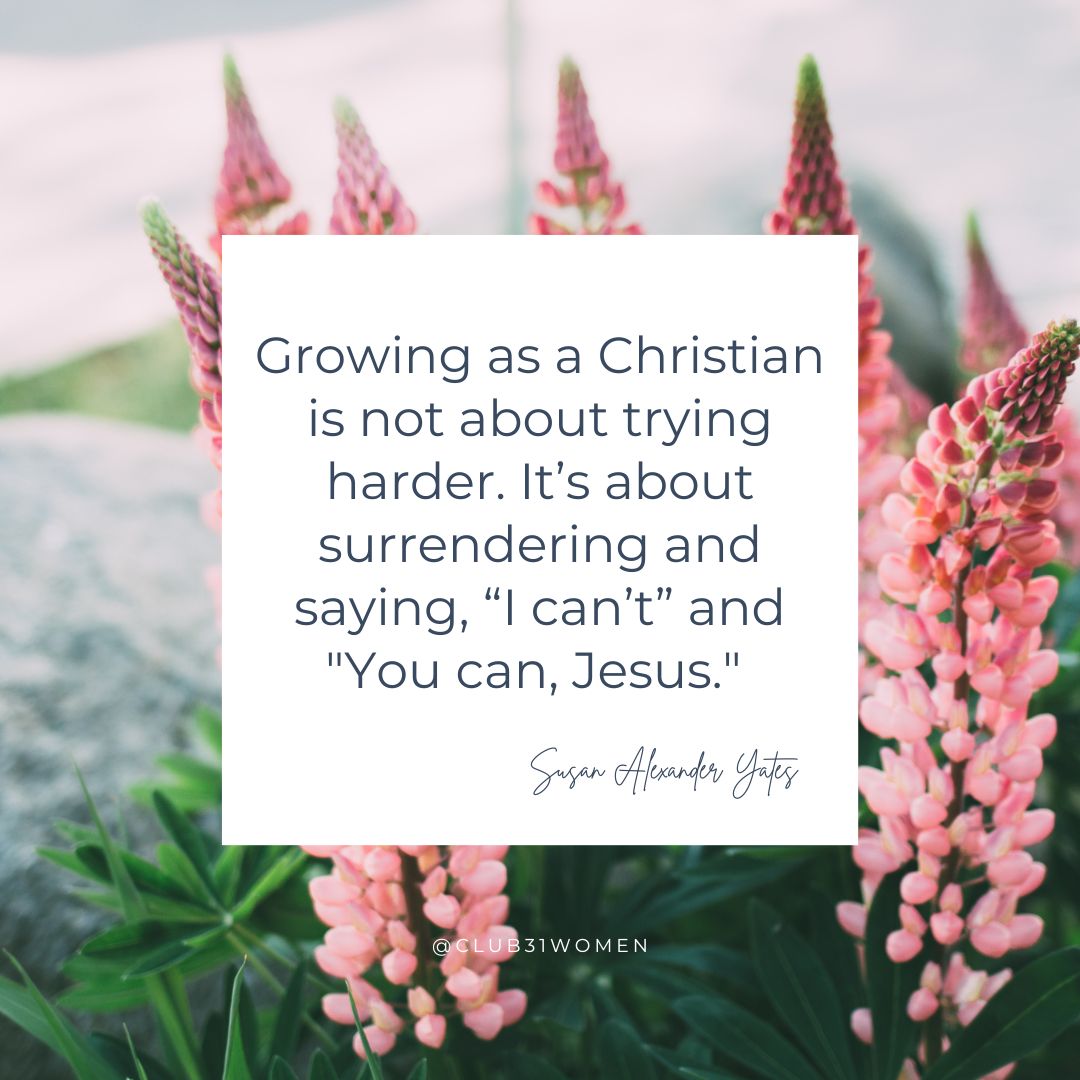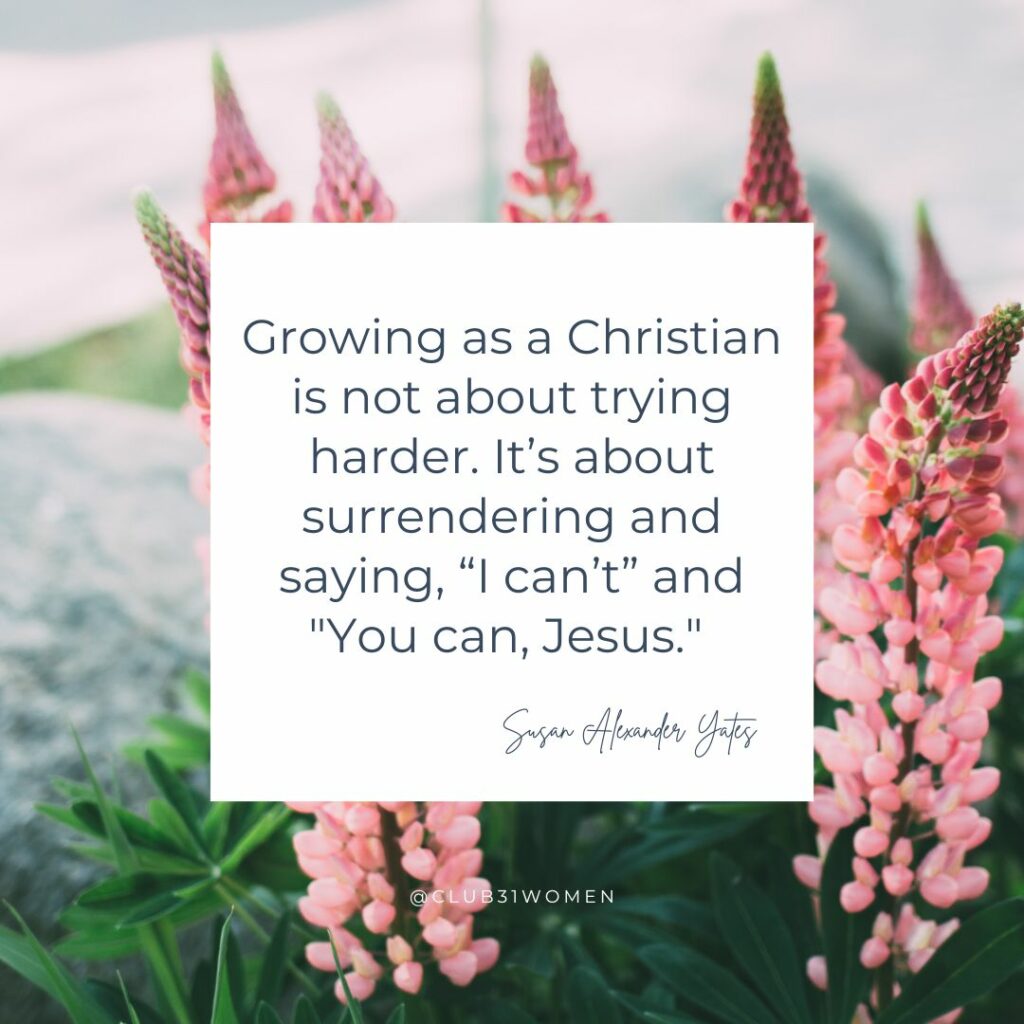 And it's not something you'll ever accomplish this side of heaven.
Working harder and trying to succeed still creeps in.
It's been over 50 years and I still have to guard against trying to grow, to succeed, to accomplish in my faith journey by my own strength. It's all too easy to let our "success-driven" culture creep into our spiritual life. But I have learned that it is in my weakness that Christ's power is made perfect. Today I feel weaker, more dependent than ever before. I'm more likely to surrender, to fall on my knees and cry out for His help which He freely gives. Growing as a believer is not about trying harder. It's about relinquishing and saying, "I can't." In relinquishing there is freedom.
It's not primarily about me; It's about Him–His power, His love, His understanding of me.
AND YOU.
In His Word
Two promises to claim:
"For it is God who is at work within you both to work and to will for His good pleasure." (Philippians 2:13)
"For there is no condemnation for those who are in Christ." (Romans 8:1)
In Your Life
You might ask yourself: Is there an area, a concern, in my life today that I am trying to fix, and at which I'm failing?
Perhaps you can pray: "Father, I give you_____. I do not have the power to fix this or to change this. I surrender and I ask for you to have your way in me. Mold me into the person you have created me to be."
We Recommend
Susan's book Risky Faith, Becoming Brave Enough to Trust the God who is Bigger than your World. Just for fun, read the last chapter first. In it, you will find a more thorough explanation of this concept.
Let's Connect
Sign up for Susan's blog at susanalexanderyates.com/join.
Download a free printable here called "Certainty in Christ." This is great to share with anyone who may need knowledge and assurance of Christ. Give it to your grandchildren and friends.