Why We Should Pray for Victory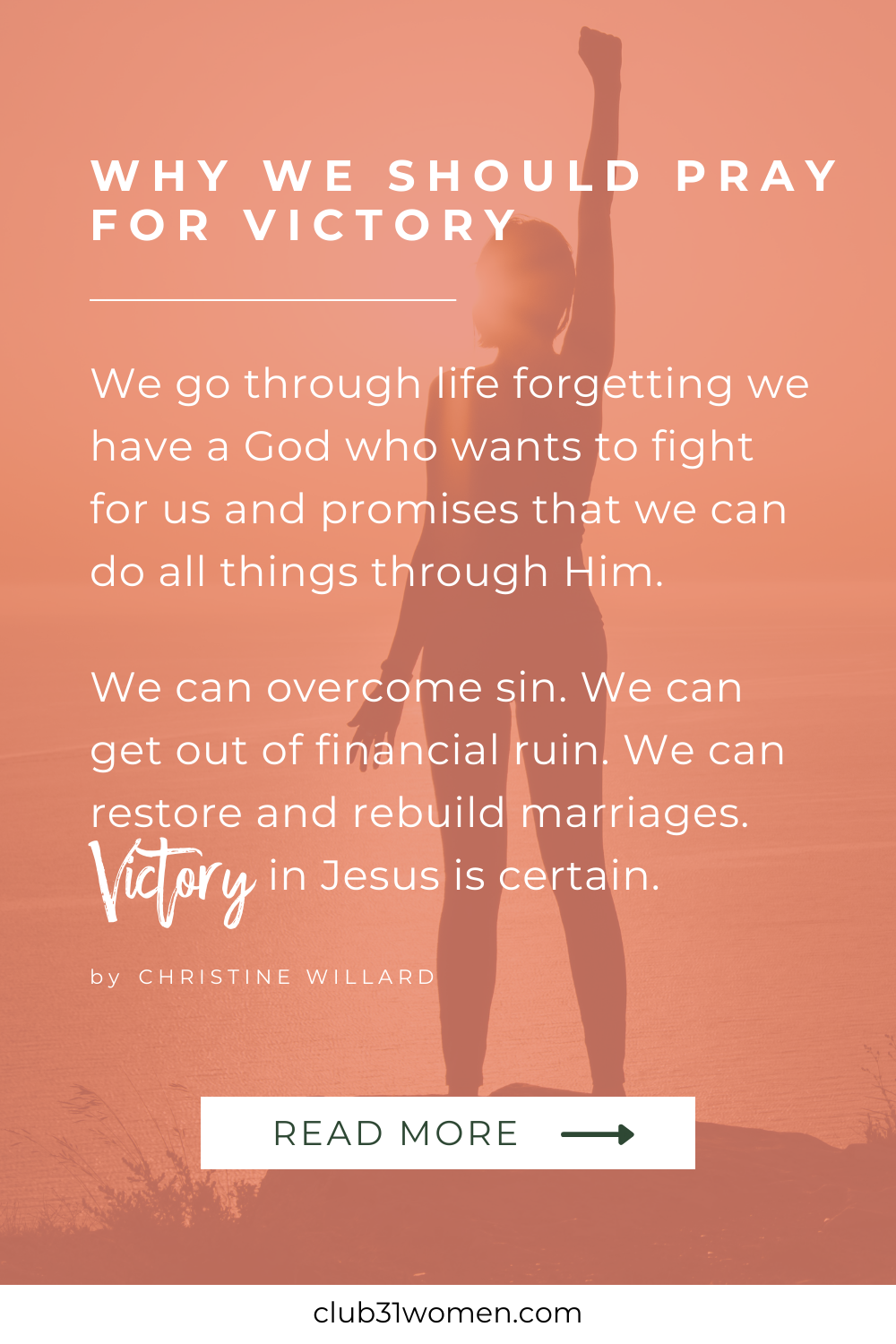 Pray for victory, witness God's goodness as He lifts you from life's burdens, seek triumph over challenges in various aspects of life.
Victory is sweet.
My family recently tasted it as we traveled to Greenville, NC, for a Southeast volleyball tournament. We were one of six teams from GA, SC, and NC reaching for the end goal: champion of the Carolina Classic Tournament.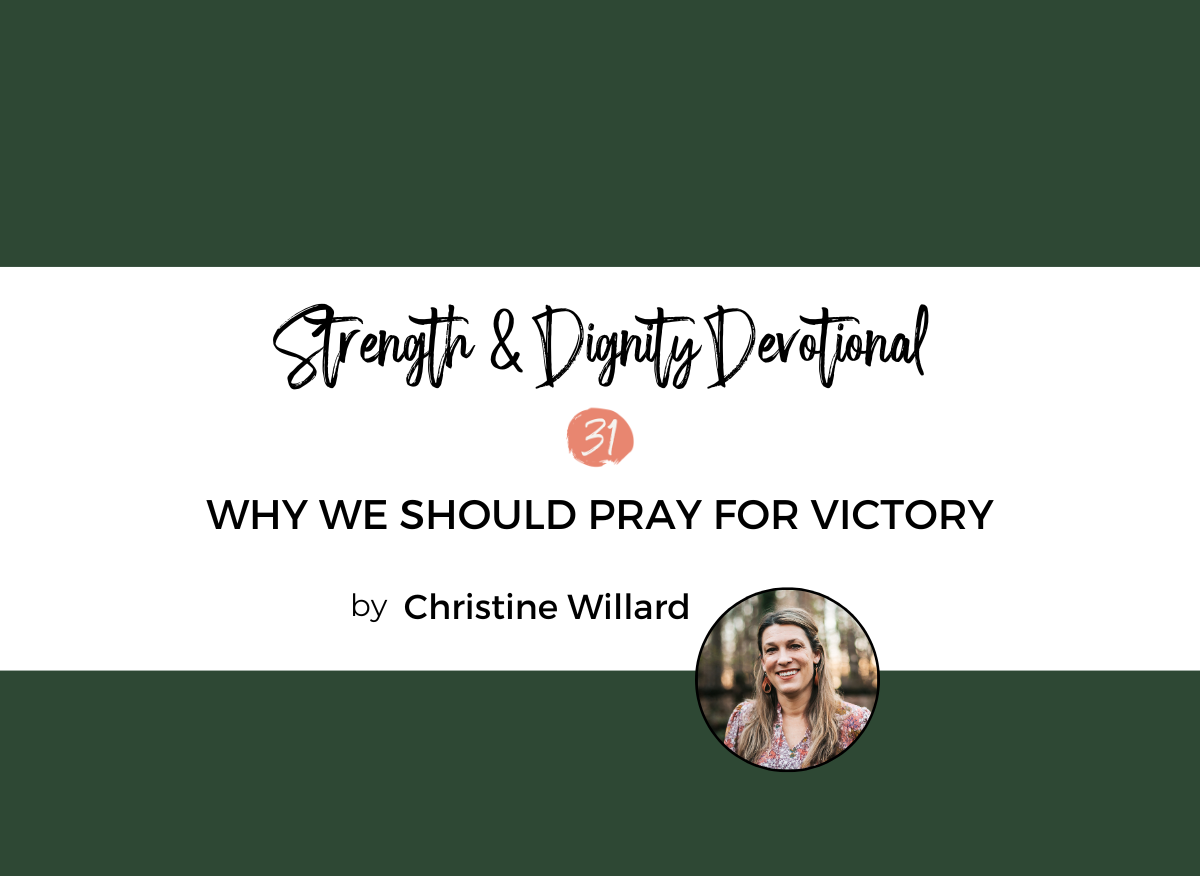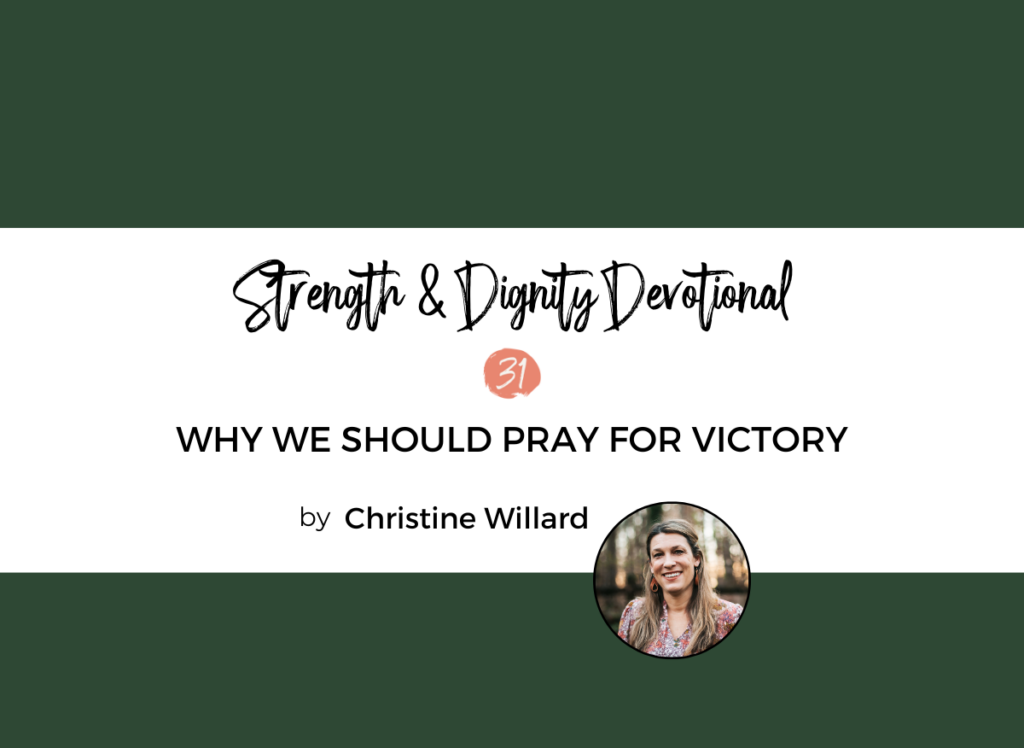 My husband, Tim, had taken on the new role of creating the first-ever all-homeschool girls' volleyball team from Charlotte, NC. When he started the team, he had no idea who, if any, girls would show up beside our three daughters. Surprisingly, he ended up coaching more girls than he thought, and we had a strong Varsity volleyball team.
It was beautiful to watch the girls get to know each other and work together in such a way they knew they legitimately had a shot at winning the tournament championship.
Over the course of the season, their confidence grew with each win. And here we were, with one week left in the season, believing we could drive to Greenville … and win.
Most of the team woke at 4:30 a.m. and drove two hours south to the Sportsplex. Excitement and yawns were in the air.
The setup made for a fun atmosphere. Three different gyms with two games being played simultaneously offered high energy and crowds of people.
The day was all we dreamed it would be. The South Charlotte Thunder Varsity volleyball team defeated the first team in two games and then defeated the next team the same way. And the winning continued. After playing all five teams in pool play, the Lady Thunder found themselves as the number one seed, undefeated, with a first-round bye.
Our girls played an intense semi-final game with all the drama you might expect. Passions ran high. But they triumphed and were headed to the tournament championship game. I heard the captains give their pep talks. "Victory is our only option. We did not come this far not to take it all."
And that's exactly what they did. They took it all in straight sets. Undefeated champions. The victory was sweet, as was the joy it brought the girls—to work so hard and see the fruit of their labor.
It was like watching a movie. The girls blossomed with every win, believing they could not be stopped. They cast off any thoughts of fear, stepped up, and reached for the victory they knew was possible.
The next morning, Tim and I sat on the front porch, and as we recounted the sweet joy of victory in a game, we contemplated together how important it is to pray for victory in our spiritual lives.
Fight for Victory
In the Psalms, David gives us a beautiful example of someone continually asking God for victory—victory over his enemies, victory over sin, victory in his work endeavors.
We should pray for victory too.
We have not come this far—in life, in parenting, in marriage, in our jobs—to give in to defeat. Why don't we pray for victory?
We go through life forgetting we have a God who wants to fight for us and promises that we can do all things through Him.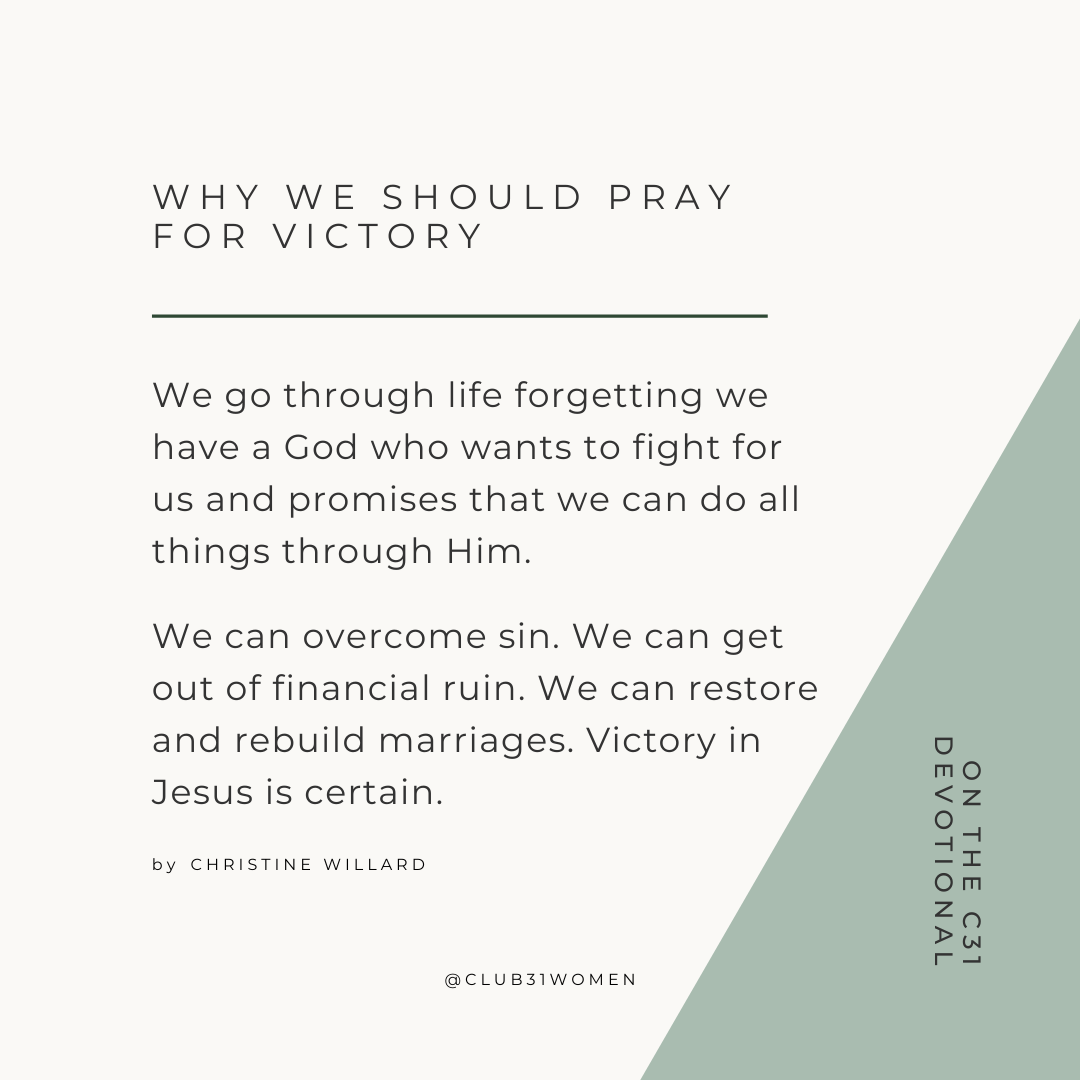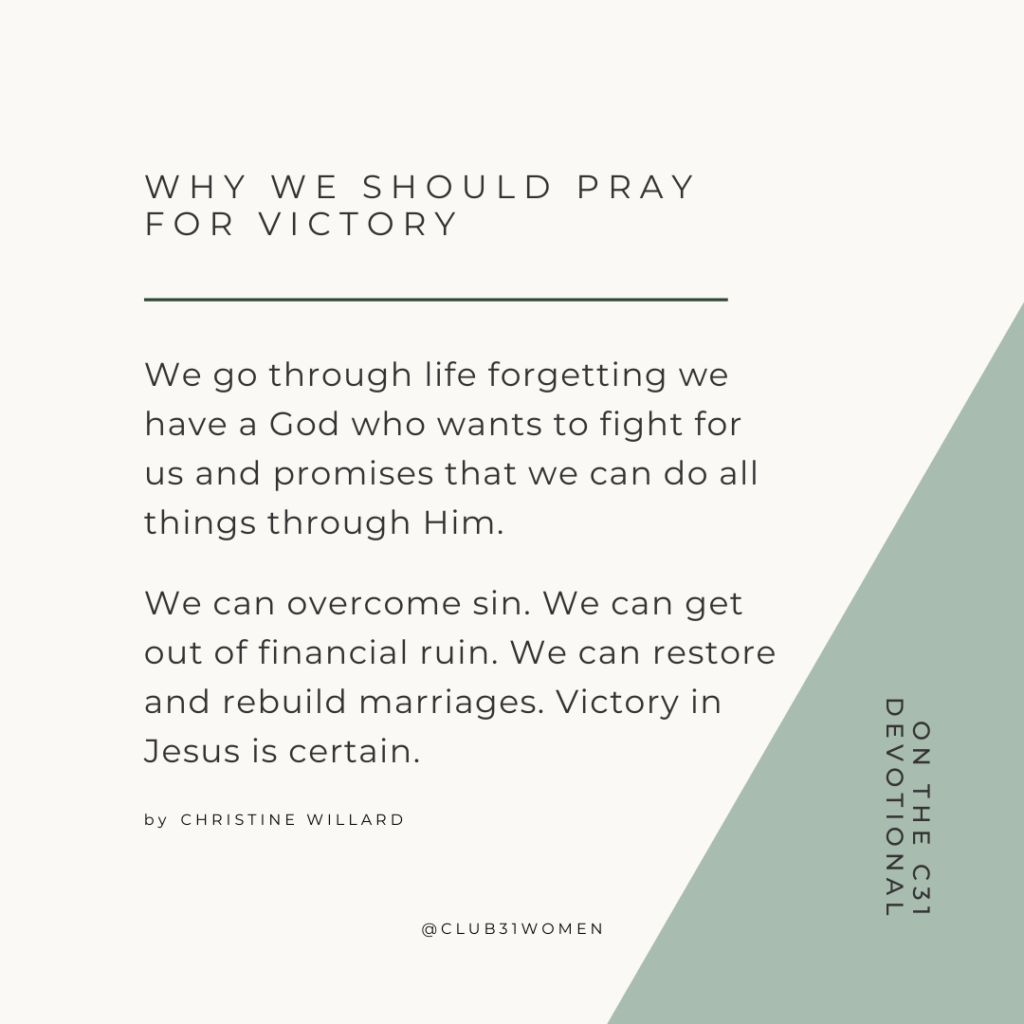 We can overcome sin. We can get out of financial ruin. We can restore and rebuild marriages. Victory in Jesus is certain.
I love how David recounts the victory he finds in God: "Blessed be the Lord, my rock, who trains my hands for war, and my fingers for battle; he is my steadfast love and my fortress, my stronghold and my deliverer, my shield and he in whom I take refuge, who subdues peoples under me."(Psalm 144:1, ESV)
We should ask for His training in the battles we face. We must enter the fight, not sitting on the sidelines, but working hard to run the race He has set before us.
He wants you to pray for victory
He wants you to get in the fight. Why?
I can think of several reasons why the Lord wants us to pray for victory:
When we pray for victory, we see the goodness of God.
Psalms 145: 9 reminds, "The Lord is good to all, and his mercy is over all that he has made." (ESV) It is humbling to see the goodness of God when He gives us the victory. We recognize His mercy in our lives, and our souls cry out with gratitude. His faithfulness in victory bolsters our faith in Him.

When we pray for victory, we recognize He lifts those bent beneath heavy loads.
Psalms 145:14 encourages our hearts, "The Lord upholds all who are falling and raises up all who are bowed down." (ESV) Life is hard, and many of us carry heavy loads of guilt, pain, and disappointment. But God desires to lift us up. He wants you to know the sweet taste of victory.

When we pray for victory, we later recount the wonderful works of God to others.
Psalms 145:4 says, "One generation shall commend your works to another, and shall declare your mighty acts." (ESV) On the drive home from the game, Tim and I talked with our girls about the win and how God answered our prayers. The next morning, we continued the conversation with full hearts, grateful for the victory. My girls will remember this sweet victory in the years to come. They will recall how they saw God work and that will bolster their own faith, simply by talking and declaring his mighty acts.
Pray for victory today. See His goodness, experience relief from the load you carry, and recount His wonderful works with others. He desires to give you sweet victory.
In His Word
Spend some time reading Psalm 142-145, noting how David prays for victory. Meditate on Psalm 144:9-10a, "I will sing a new song to you, O God . . .who gives victory."(ESV)
In Your Life
Is there an area in your life you feel led to pray for victory? Believe His word to you today. He fights for you and wants you to win.
We Recommend
The Psalms are full of requests for victory. The ESV Devotional Psalter is a wonderful resource to add for a devotional study of the Psalms.
Let's Connect
For inspiration on pursuing the Way of beauty in life and home, follow Chris on Instagram. She also writes weekly devotionals through her Mend membership newsletter on Substack.