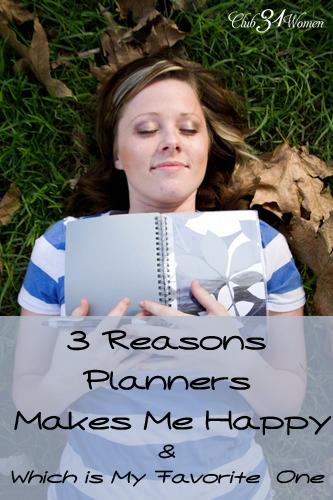 I am a planner.
You can ask my husband and he'll tell you. It's something he has learned about me and even come to appreciate about me.
Sometimes my kids appreciate it too – and sometimes it frustrates them.
And they all like to tease me about it.  Whispering in hushed tones, "It's Mom and Her Planner" as if it's sacred or something.
But it doesn't really matter, because planning makes me happy.
And if you're wondering why….?
I'll tell you.
3 Reasons Using a Planner Makes Me Happy
1.    Helps you live a more balanced life.
When you write down your schedule and add your current commitments, then you can better see what you really can . . . and cannot do.
When our kids approach me with some splendiferous (yes, it's a real word, I looked it up) idea for the upcoming week –end?
But I can see that those days are already covered in pink, green, and blue? Then I can point to the rainbow already splattered across those days and say cheerfully, "I'm sorry. But we can't. That week-end is too colorful already."
They might be disappointed, but no one can argue with the visual.
Or another scenario . . . .
Another family in the church invites us over to dinner and I can refer to our handy-dandy planner and see that night is wide open.
"Why, yes! We'd love to come over. What can I bring…?"
I don't need to panic and try to remember if we're already doing something that night. I know it's free!
2.    Helps prevent misunderstanding.
So, umm . . . have you ever double-booked? Hurt someone's feeling by not showing up? Or by showing up late?
Yeah, me too.
Okay, so sometimes these things happen, but it should never be a way of life.
By writing appointments and commitments down in my planner, all I have to do is look and see what is scheduled for that day and at what time.
Because it's not that I don't care – quite the opposite – but with all we've got going on, I can lose track of where I'm supposed to be (I'm not the only one who struggles with this, am I??).
3.    Helps you to prepare.
When I can see what I've got coming up, then I'm better able to prepare for what is before me.
Maybe someone has a birthday in the family, or a ministry event, or work commitment?
This is my chance to "get my act together" and get things ready.
This step alone has reduced my stress significantly.
So when I feel more balanced, better organized, and adequately prepared?
It makes me happy. 
In fact, it makes my entire family happy.
. . . even though it doesn't stop them from teasing me about it.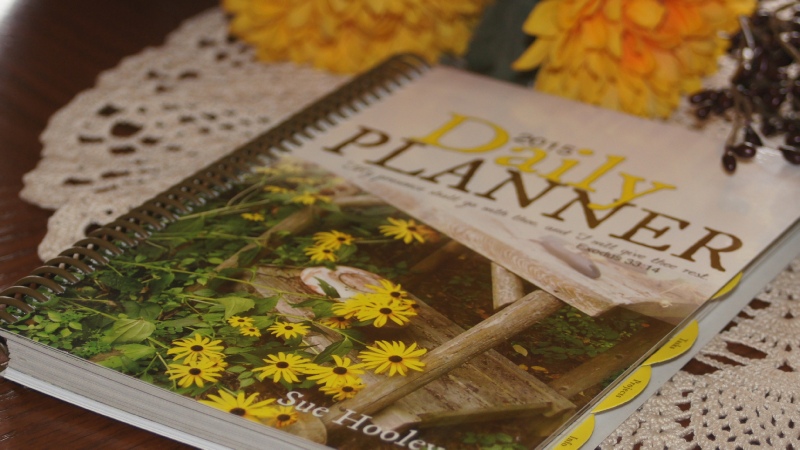 My Favorite Planner
I've tried so many planners, it's a little embarrassing.
I've used everything from a plain spiral notebook (not enough structure) to an expensive professional planner (spendy! Plus not well-suited for what I really need it for).
So when my friend Sue shared with me several years ago that she was putting together a  Daily Planner made especially for the needs of wives and mothers, I raised my hand, "Oh, pick me! Please, pick me! I'd love the chance to try out your planner."
And it's been my first choice ever since.
What makes this planner my favorite?
It's pretty. (Don't you think it's nicer to have one that's lovely?)
It's the perfect size. Small enough to fit into my purse and large enough for me to actually write in (and see what I've written).
It has encouraging verse and quotes throughout.  For example, on the cover: My presence shall go with thee, and I will give thee rest. ~ Ex. 33:14 What a beautiful reminder when I pick up my planner!
It has year, month, and week sections.  Necessary for short-term and long-term planning.
It offers additional sections for tasks, projects, info, and shopping.
Oh, and it has easy tabs and is spiral bound – did I mention that?
Now there you have it. My favorite planner. And why.

And if you're interested in trying this wonderful Daily Planner too, Sue has kindly offered to give Club31Women readers a discount (I told you she was a good friend!).
You can find out more and order your Daily Planner here at Sue's site,

The HomemakersFriend

.
So get happy!

In His grace,
*A small reminder, or if you're new here: I only recommend products that I actually use myself and genuinely love. I sometimes get a small commission for these, but this does not in any way affect your price. See my full disclosure.