A Better Battle Plan for Wayward Thoughts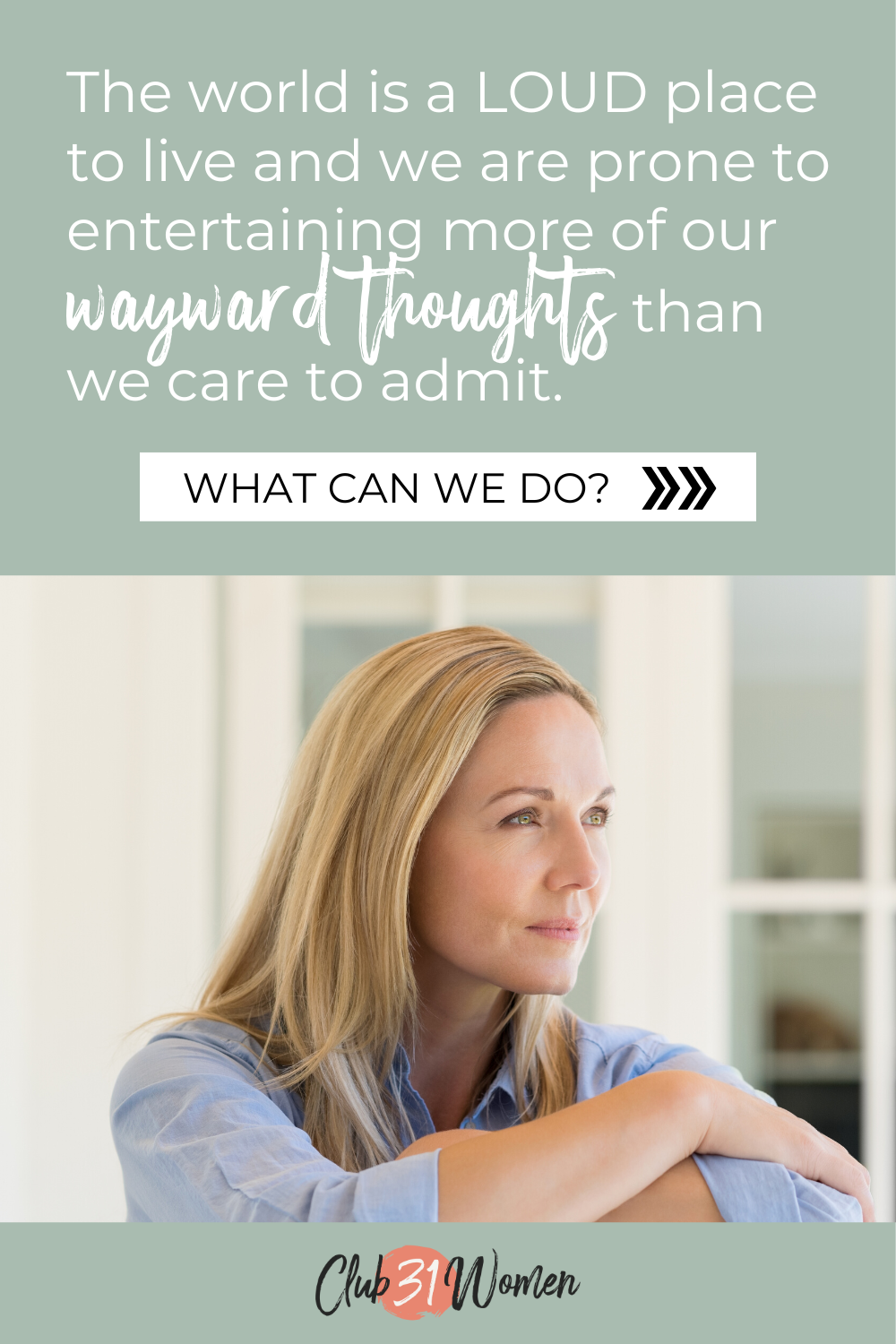 We need to be faithful about doing battle against thoughts that oppose truth. How can we be intentional to keep the wayward thoughts out?
We destroy arguments and every lofty opinion raised against the knowledge of God, and take every thought captive to obey Christ." 2 Corinthians 10:5 ESV
Scientist say we have over 6,000 thoughts a day. At the risk of adding one more, think about that for a second – more than 6,000 ideas, opinions, memories and reminders pin balling through our brains. If we're awake 15 hours a day that is more than 400 thoughts an hour. It's amazing we function as well as we do!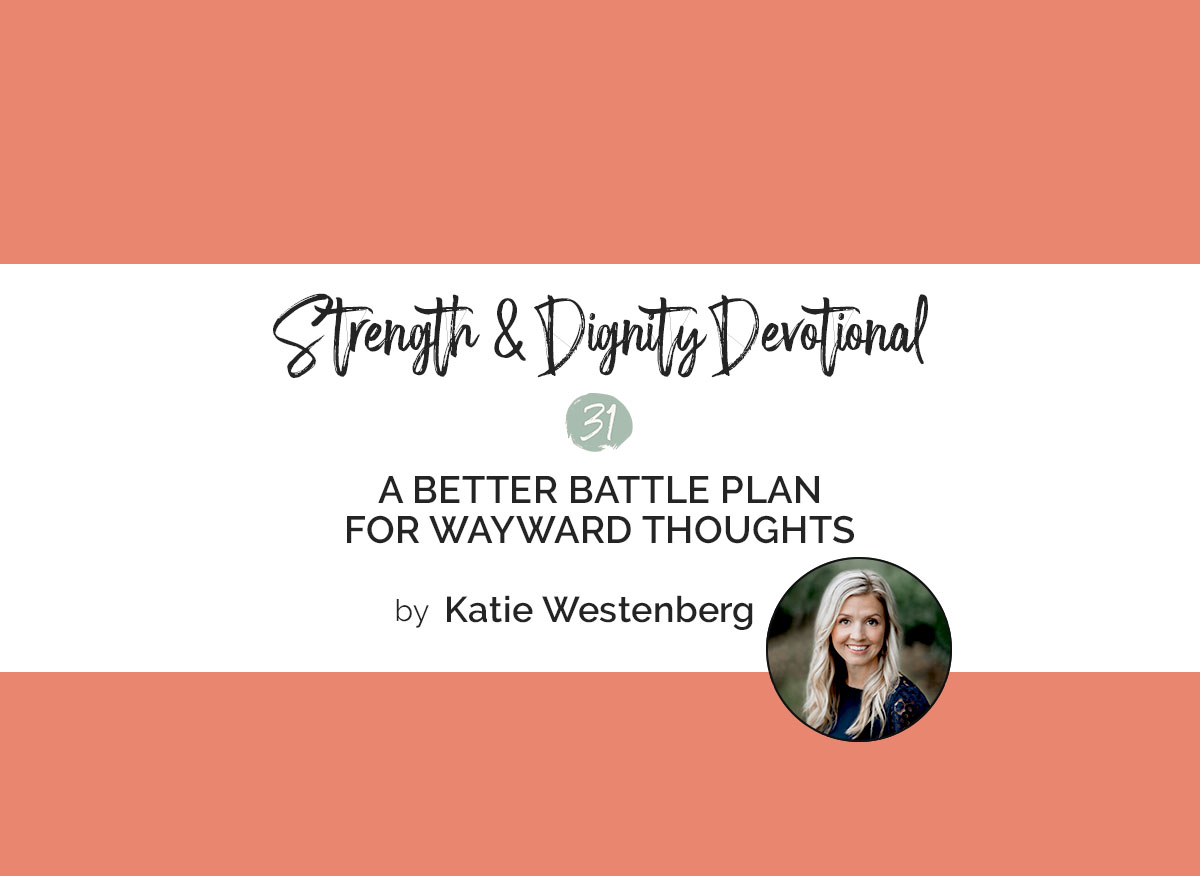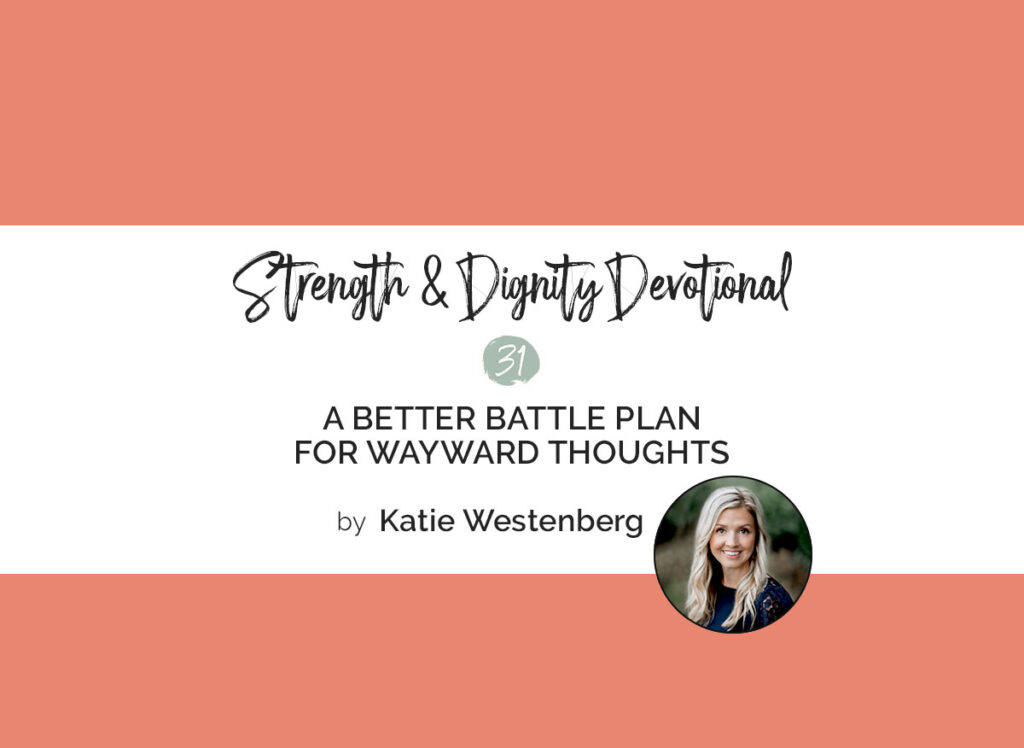 This research has me thinking about Paul's command in 2 Corinthians to take every thought captive. Every thought, Paul? Really? Because that is more work than I previously realized.
This task brings to mind the image of my 10 year old son, bent on catching butterflies in our backyard. He handcrafted what he believed was the perfect trap – a family-sized Cheerio box with two sides cut out, one for trapping and the other, covered with syran wrap, for viewing his prized catch.
My son tore through the yard for hours, throwing himself in the most ungraceful manner at any butterfly in sight, while the targeted prey always flitted just out of reach along their haphazard flight path. His success rate was not high and his method looks somewhat like my own when I try to take thoughts captive, except the stakes are higher and it's not nearly as cute as that 10 year old boy and his butterflies.
But Paul didn't leave us to go at this good work on our own. His message is quite the opposite. Let's look at that phrase with a bit more context:
"For the weapons of our warfare are not of the flesh, but have divine power to destroy strongholds. We destroy arguments and every lofty opinion raised against the knowledge of God, and take every thought captive to obey Christ." 2 Corinthians 10:4-5 ESV
We like to throw the phrase around casually in Christian circles, "take every thought captive", but God's Word gives more detailed instruction here. Backing up in scripture we see that Paul is talking about arguments and lofty opinions, meaning every pride or arrogance, that opposes Truth. The New Living Translations says it this way, "We destroy every proud obstacle that keeps people from knowing God."
This is good news in light of that 6,000 thoughts a day science. We haven't really spliced the verse fairly. Paul isn't saying take every thought captive, but he is speaking directly to thoughts that oppose truth. For some of us, in particularly hard and trying seasons, that's still a heavy task. The world is a loud place to live and we are prone to entertaining more of those wayward thoughts than we care to admit. And that is where God's Word doesn't just command us, but it equips us.
If we keep scooting back in this Scripture we see that Paul is reminding us from the beginning that although we live in the flesh (v.3), basically saying that we are human, we wage war in the Spirit. We have divine power on our side to do the good and hard work of recognizing thoughts that don't align with truth and bringing them into obedience.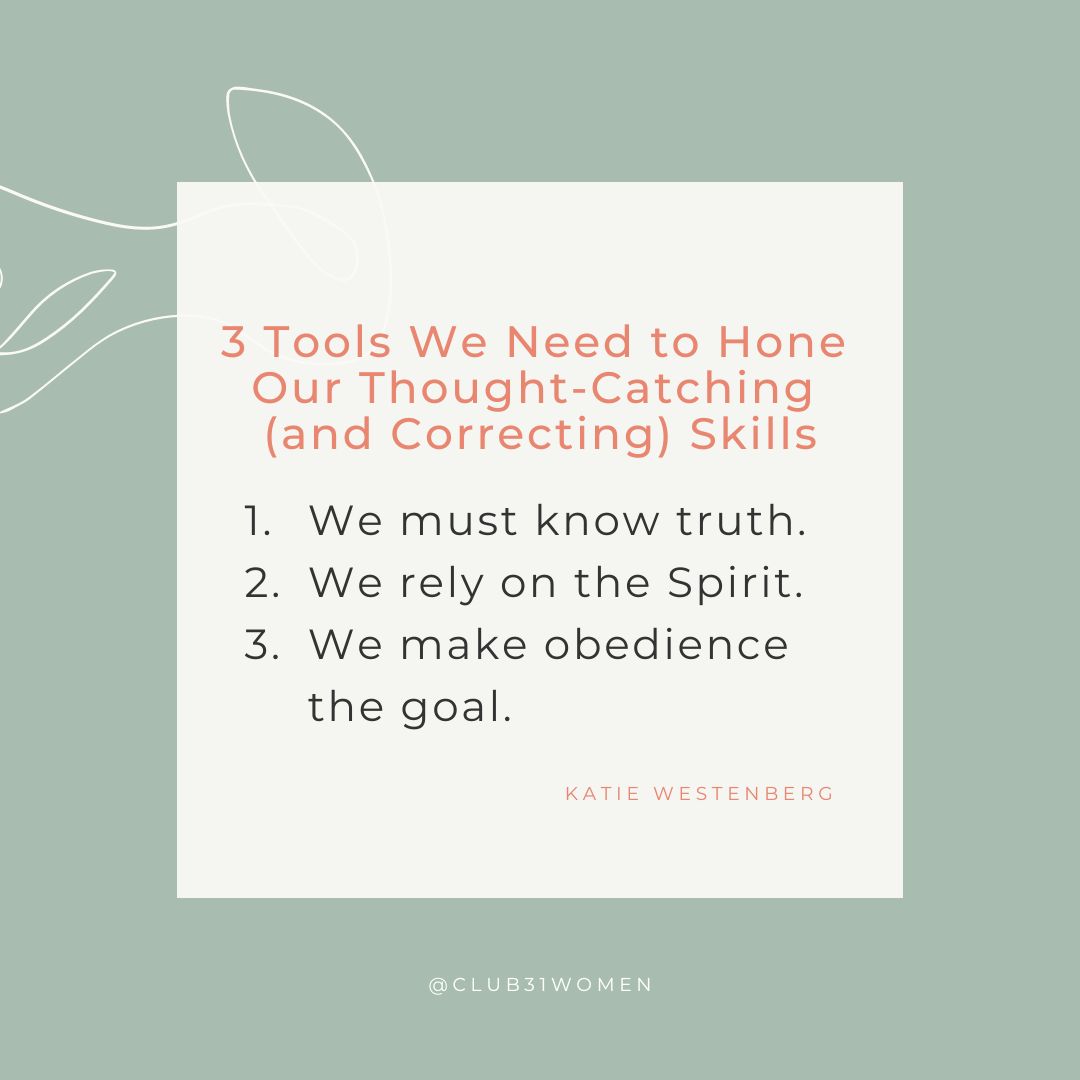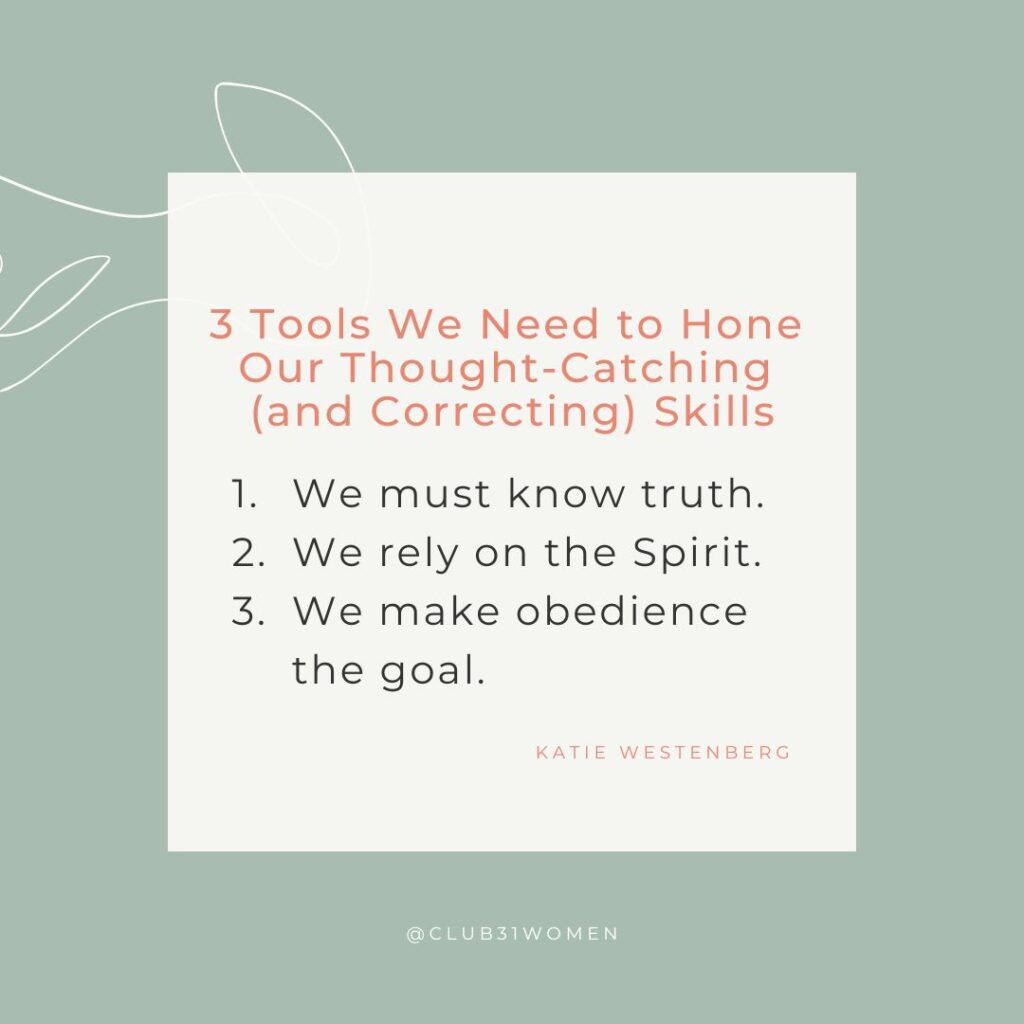 3 tools we need in order hone our thought-catching (and correcting) skills.
We must know truth.
It's simple, and yet not easy. We have been given the very good guide of the living and active Word to know truth, and grow in wisdom and discernment, but we have to invest in reading it in order to know it. The analogy of counterfeit currency has been overused to redundancy, but it still a good one. In order to learn to spot counterfeit currencies, federal agents spend time studying genuine specimens, real money. In order for us to spot thoughts that do not align with the truth of God's Word, we must know and study that truth.
We rely on the Spirit.
Paul notes in this passage that we battle these thoughts not in the flesh, but in the Spirit. He is weaving together here many passages in the New Testament that remind us there is a real battle to be fought here (Ephesians 6:10-20, 2 Timothy 4:7), and this battle is waged by divine power. The same power that raised Jesus from the dead (Romans 8:11). The Spirit that reminds and teaches us (John 14:26), has the very job of guiding us in all truth (John 16:12), and grows good fruit in us (Galatians 5:22). We aren't doing this work with a refurbished Cheerio box, friend. We must rely on the Holy Spirit.
We make obedience the goal.
Against all odds, my son eventually caught a butterfly. He was elated. He managed to zig right in the unpredictable path of an unknowing butterfly and captured the creature of his desire, squarely inside that homemade trap. He gazed in wonder at his perfect prize. He marveled at its unique body and lovely wings. And then he paused for a minute and asked, "Now what, Mom?".
I think we risk the very same question when we trim that powerful 2 Corinthians passage down to one small phrase – take every though captive. See the thoughts. Catch them. But then what?
That is why we keep reading. Paul tells us that we must make those thoughts obey Christ. We don't stare at our captive thoughts. We don't hide them or don't sulk about them or sink into shame over them. We make them obey truth. We get busy about the good work of retraining negative thought patterns, anxious and worried ideas, faithless and fatalistic opinions with the truth we know of who God is, how He loves and how He works in our world and in our lives.
This is good work, friend. Work each of us are empowered to do with the help of the Holy Spirit. We weren't made for butterfly-style adventures with 6,000 thoughts a day. We simply need to be faithful about doing battle against thoughts that oppose truth. Let us work to keep the wayward thoughts out. Let's go!
In His Word
For we do not wrestle against flesh and blood, but against the rulers, against the authorities, against the cosmic powers over this present darkness, against the spiritual forces of evil in the heavenly places. Ephesians 6:12
I have fought the good fight, I have finished the race, I have kept the faith. 2 Timothy 4:7.
In Your Life
Are you able to recognize thoughts that oppose truth in your own heart and mind? Can you write a specific battle plan for how you can replace those thoughts with the truth of God's Word?
We Recommend
If this devotional was helpful to you, you will love Katie's newest book But Then She Remembered: How to Give God Your Full Attention in a Distracted World, where she outlines the biblical call to remembrance and how essential it is for navigating the distractions of our world with wisdom.
Get your free copy of the Bible Study to accompany the book here.
Let's Connect
You can connect more with Katie on her website or find her occasionally on Instagram as well.