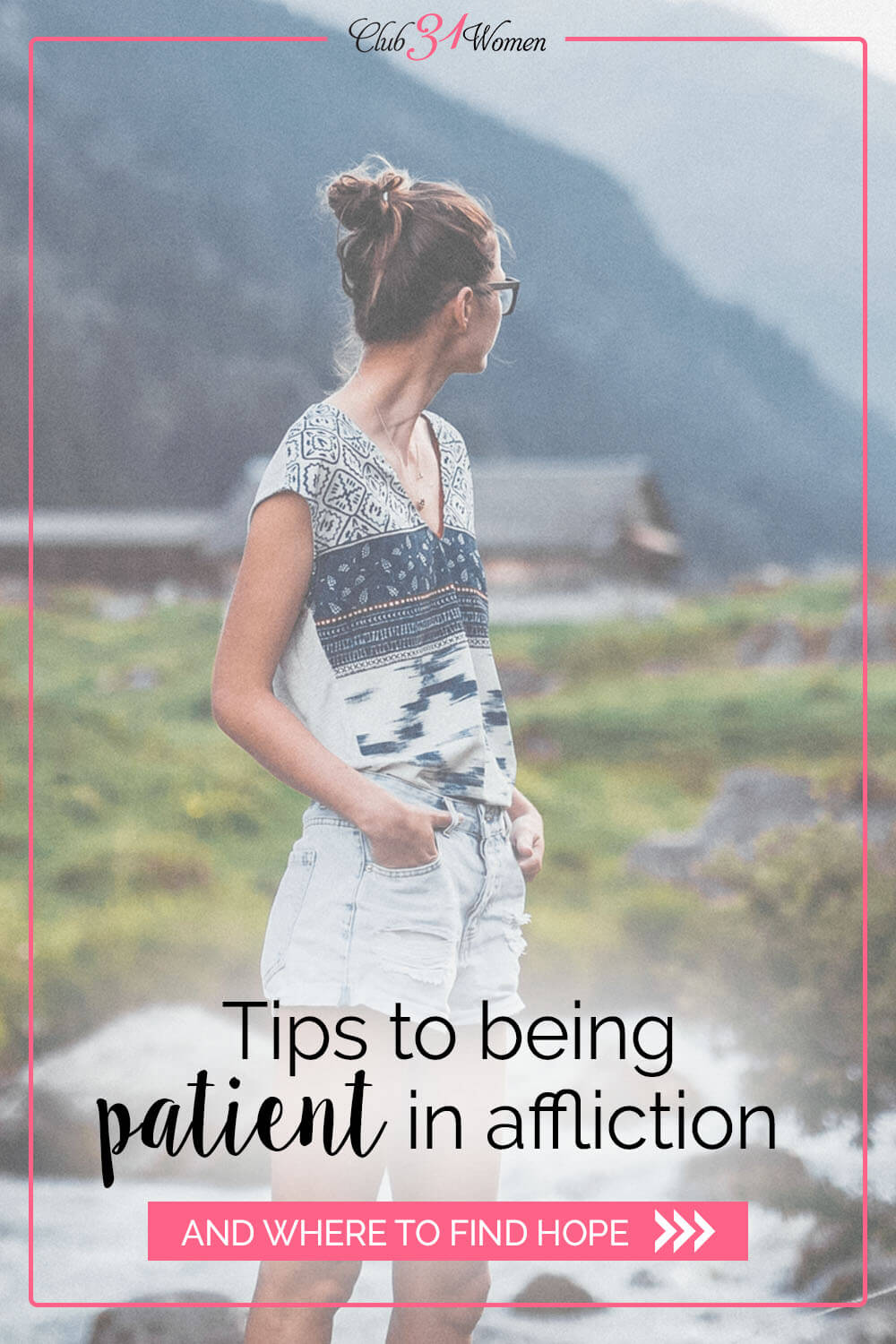 "Rejoice in hope, be patient in affliction, be constant in prayer"
Romans 12:12
There were no glimmers of light to indicate that the trial I was in was nearing an end. But these words stopped me in my tracks.
I wondered, "What did Paul mean when he instructed the Romans to be patient in affliction?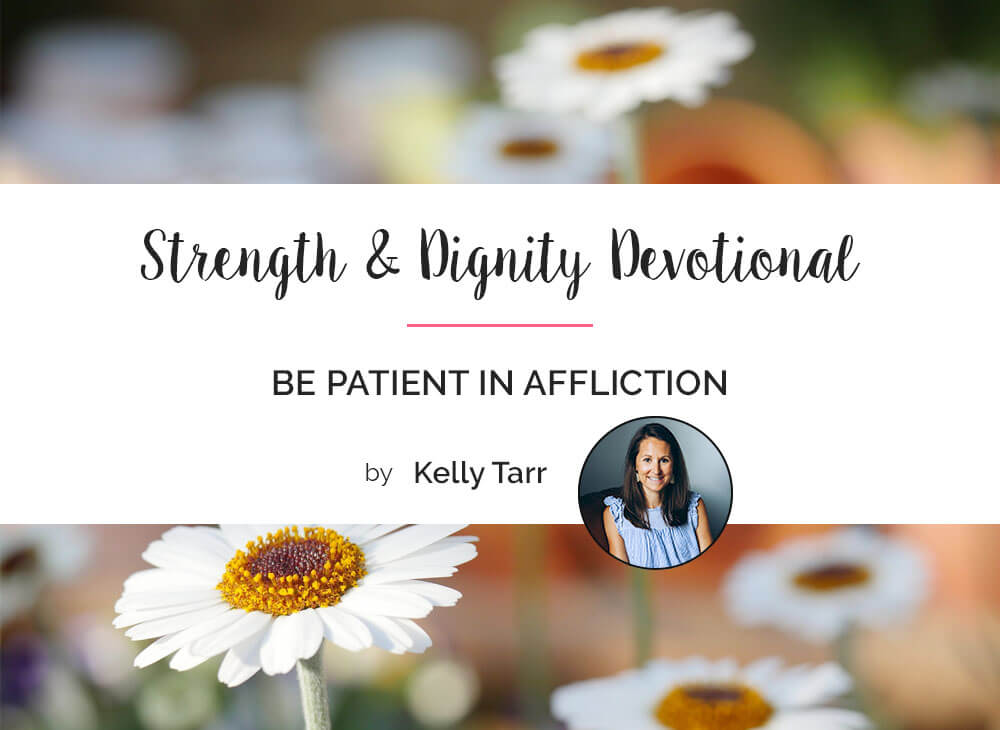 Future Hope
I love Romans. Paul labored to lay a solid foundation of the gospel so that by the time we read the latter parts of his letter, his instructions don't seem out of place or harsh.
When we read "be patient in affliction," we shouldn't gloss over that he first says, "Rejoice in hope." Earlier in Romans, Paul says that "hope does not put us to shame, because God's love has been poured out into our hearts through the Holy Spirit who has been given to us" (Romans 5:5).
As Christians, our hope is Christ.
Not only because of the work He accomplished on the cross, but also because of the promise of His second coming. "Christ, having been offered once to bear the sins of many, will appear a second time, not to deal with sin but to save those who are eagerly waiting for Him" (Hebrews. 9:28).
We were given the guarantee of our inheritance (Christ) by the Holy Spirit, which will receive on that day when Jesus returns (Ephesians 1:13-14).
The hope that you and I can rejoice in is that not only have we been saved from our sin, but one day, we'll have unrestricted access to and unlimited enjoyment of Jesus.
That fuels me to want to persevere through trials!
Faithful Patience
It's easy in the midst of a trial, no matter what it is, to get restless. It's easy to manipulate the situation or satisfy our desires, taking it into our own hands.
Ask me how I know.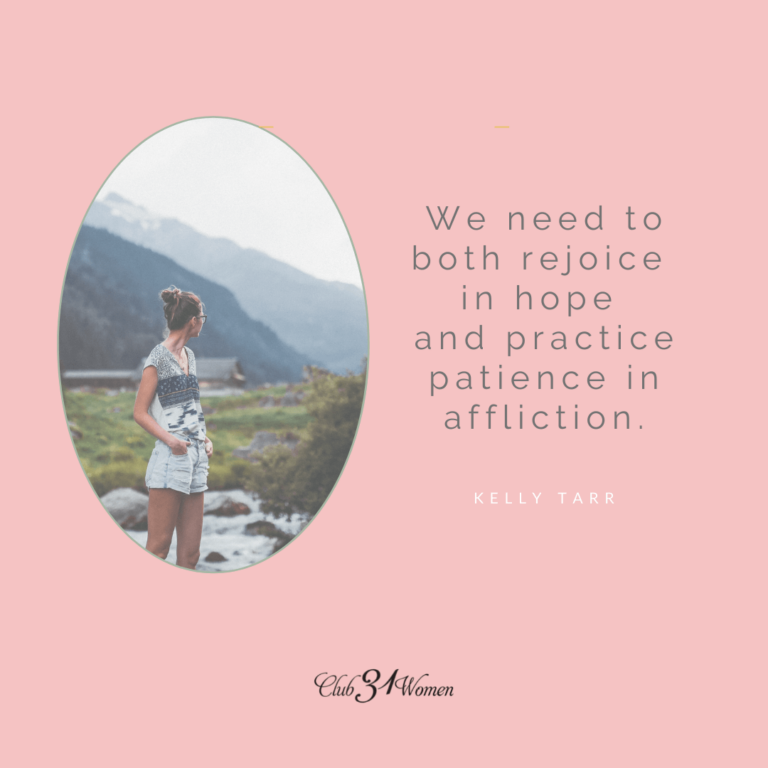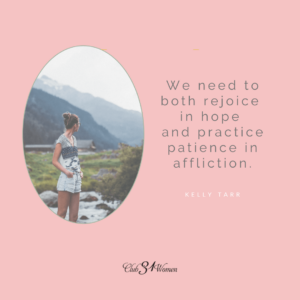 I love David's example throughout the Psalms. It seems like he is always talking to the Lord! Whether he's sad, angry, or being chased by an army ("just another day at work…"), we see David in what seems like constant communion with the Lord. Listen to his waiting heart in Psalm 25,
"Oh, guard my soul, and deliver me! Let me not be put to shame, for I take refuge in you. May integrity and uprightness preserve me, for I wait for you" (Psalm 25:20-21).
These verses, and two more in Lamentations, I believe, provide keys we need to both rejoice in hope and practice patience in affliction:
"The Lord is good to those who wait for him, to the soul who seeks him. It is good that one should wait quietly for the salvation of the Lord" (Lamentations 3:25-26).
Here are the keys:
Turn to the Lord
Remember our hope – Christ
Wait quietly on the Lord
Years ago, I wrote in the margin of my Bible the Greek definition for quiet found in 1 Peter 3:4. It means, "tranquility arising from within, causing no disturbance to others. Meek, undisturbed."
We can wait quietly as we turn to the Lord, again and again, remembering the promise of our sure inheritance in Christ, while accepting and not fighting against what He's brought into our life.
This lends to the tranquility that arises from within.
We won't be perfectly patient. We'll mess it up even as we give our best effort.
But as we turn to the Lord, He will keep us. He will guard us with the integrity and uprightness that David speaks of, which will involve repentance.
And, we will learn to be patient in our affliction. It's a lifelong process, and He's so patient with us!


In His Word
O Lord, hear my voice! Let your ears be attentive to the voice of my pleas for mercy! … I wait for the LORD, my soul waits, and in his word, I hope. (Psalm 130:2, 5)
In Your Life
I wonder where you struggle to rejoice. What trial are you walking through that tempts you to despair or complain?
Turn to one of the Scriptures in this article and ask the Lord to help you know Him, to be patient in your affliction, and to hope.


We Recommend
Prayer through song is both powerful and helpful. I love I Will Wait for You by Shane and Shane.


Let's Connect
Kelly serves as the Women's Ministry Director in her local church, as a Biblical counselor, and writes regularly in her newsletter. You can also find her on Instagram.