Prayer Without Ceasing, Practically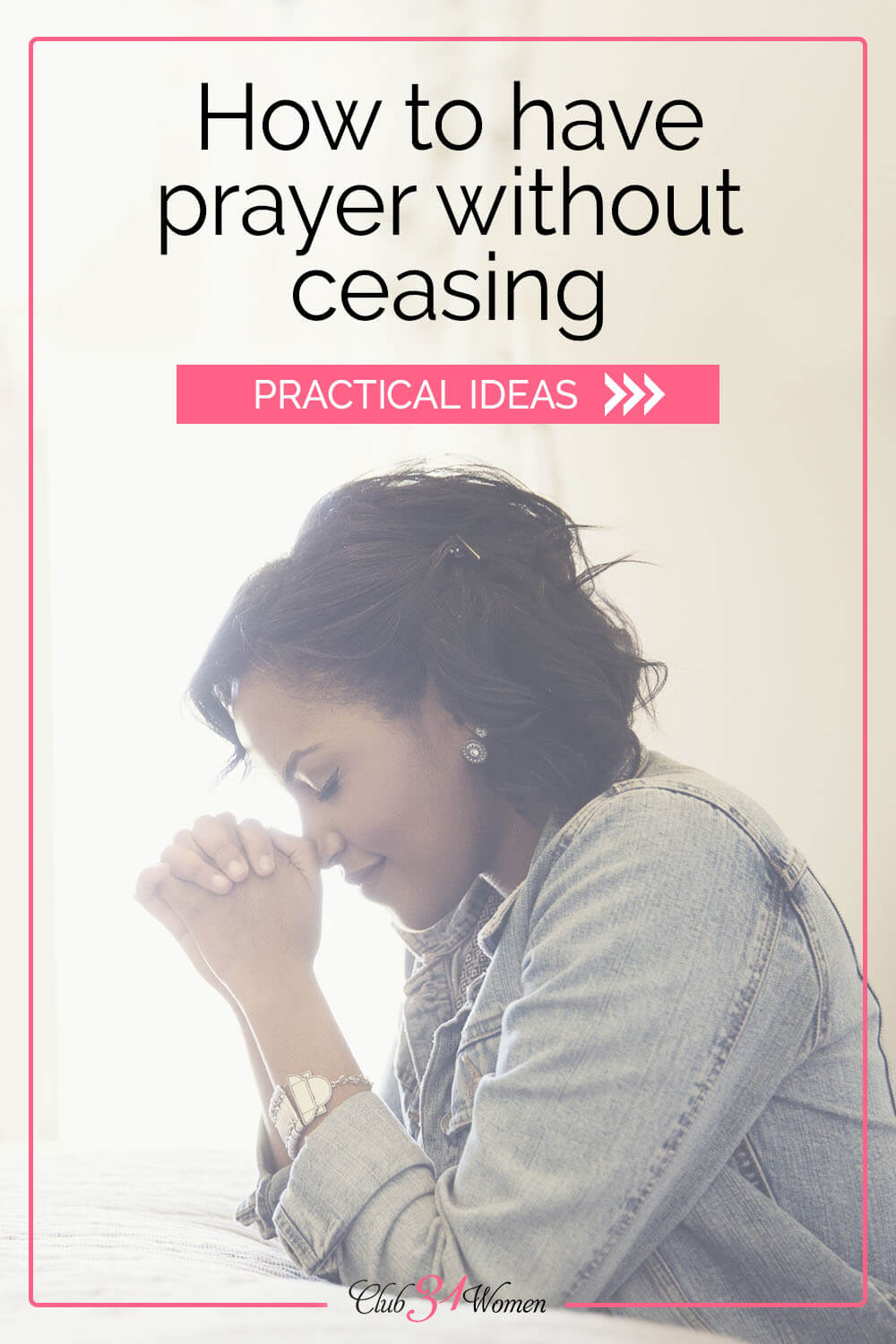 Prayer as a consistent, ongoing conversation with God is the most natural spiritual act once you get into the practice of it.
"Rejoice always, pray without ceasing, give thanks in all circumstances;
for this is the will of God in Christ Jesus for you."
1 Thess. 5:16-18
When I was a newly saved teenager with my own room and walk-in closet, I dove headfirst into cultivating a prayer life. I created a "prayer wall" (long before the movie War Room came out!) where I pinned requests, pictures, psalms, lyrics, and more. I had a CD player tucked under my dresses and would go in there a few mornings a week to pray and worship. It was a sweet time in my early Christian walk, but it also set a pretty high standard for my prayer life in the years to come.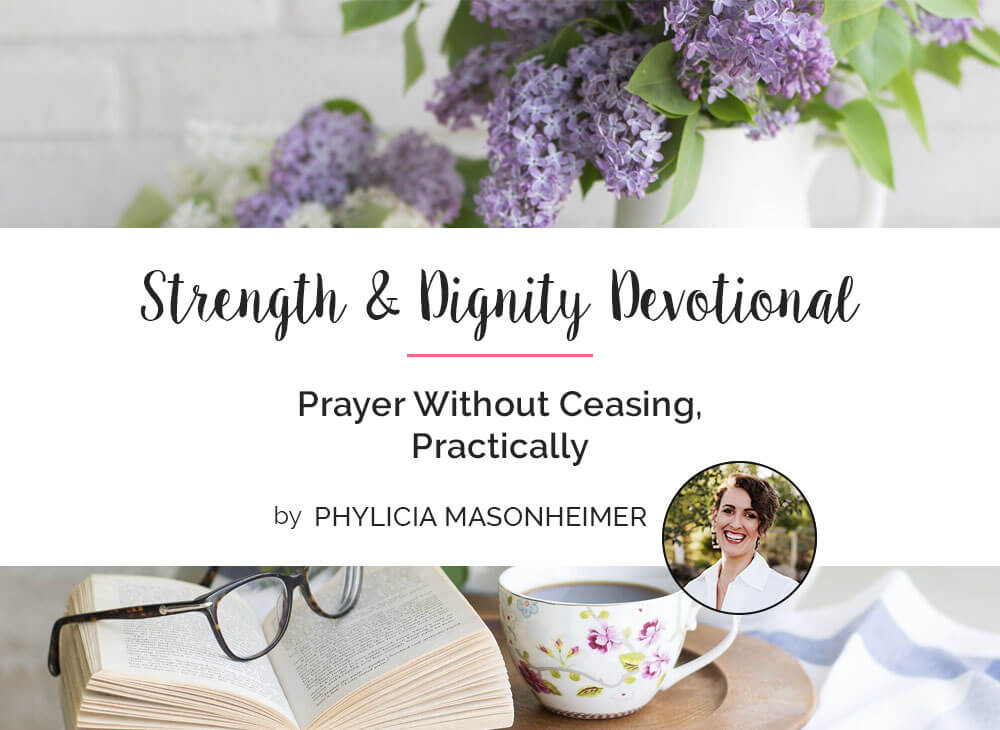 Fast forward ten years and I found myself home with a toddler and a baby, running a fledgling business, and putting dinner on the table every night. My time in the Word, while consistent, was easier than making time to pray. I felt overwhelmed by all the things to pray for; felt like I didn't have time to pray every morning for the amount of time I "should"; and even though my quick prayers throughout the day must be somehow sub-par compared to that War Room of years gone by.
But what I learned in the years since then – during which I've added another baby and an even busier schedule – is this: it doesn't matter how you come, or for how long, or in what format.
What matters is that you pray!
I've started trying all different types of praying – from writing out my prayers for 15 minutes a morning to putting singular requests in a box and drawing them out daily.
I pray while I walk, while I wash dishes, while I answer emails. I say "breath prayers" as I feed my son and drive to town. Prayer is no longer isolated to an hour in my closet. It's everywhere, all the time. I think I'm finally experiencing what Paul meant when he said to "pray without ceasing"!
Instead of ceasing to pray, we really can pray without ceasing – which isn't so much about praying constantly as it is praying consistently.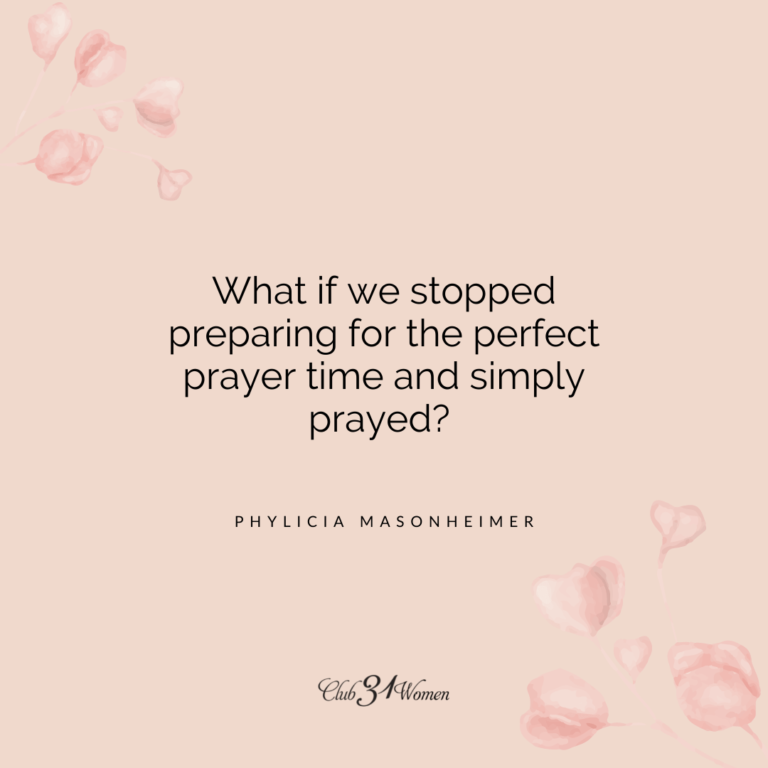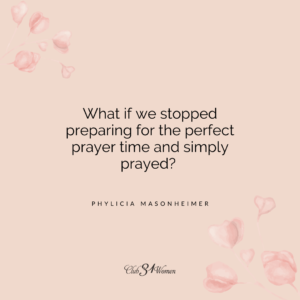 What if we stopped striving for what we thought prayer was "supposed" to look like? What if we stopped trying to fit our prayer lives into some preconceived notion? And what if we stopped endlessly preparing for the perfect prayer time and simply prayed?
I can now tell a difference between a day I started with prayer and one I started without it!
And even on days when I don't get to write out my prayers (my preferred way of focused praying, because it's less distracting), I know I can approach God anywhere, anytime. I can bring before Him any burden He prompts me to lift up to the throne of grace.
And so can you.
In our question section below I've given you some ideas for integrating prayer in your daily life. The Bible is so important, but it is meant to point to a relationship with Christ. And relationship happens through conversation! We will not begin praying on accident; it must be intentional. What will you do to begin intentionally praying to the God who loves you?


In His Word
"Do not be anxious about anything, but in everything by prayer and supplication with thanksgiving let your requests be made known to God." Phil 4:6 ESV
"Likewise, the Spirit helps us in our weakness. For we do not know what to pray for as we ought, but the Spirit himself intercedes for us with groanings too deep for words." Romans 8:26 ESV
In Your Life
Do you feel like you have to have the perfect prayer time in order to pray? What would happen if you stopped believing that lie?
What is a simple step you could take today to start praying consistently? Maybe it's writing out your prayers for five minutes (set a timer!). Maybe it's writing requests down on a notepad and flipping through them daily in a place you frequently stand. Maybe you make a calendar reminder at a set time to pray for 10 minutes! Think of something that works for you and integrate it into your life right now.


We Recommend
Valerie Woerner's blog on prayer

Prayer by Richard Foster

Praying the Scriptures for Your Children by Jodie Berndt


Let's Connect
You can find Phylicia on her blog at Every Woman A Theologian or with her latest book Stop Calling Me Beautiful. She also invites you to stop by and say 'Hi' on her Instagram or on Facebook page.