The Gift of Wisdom for Your Girl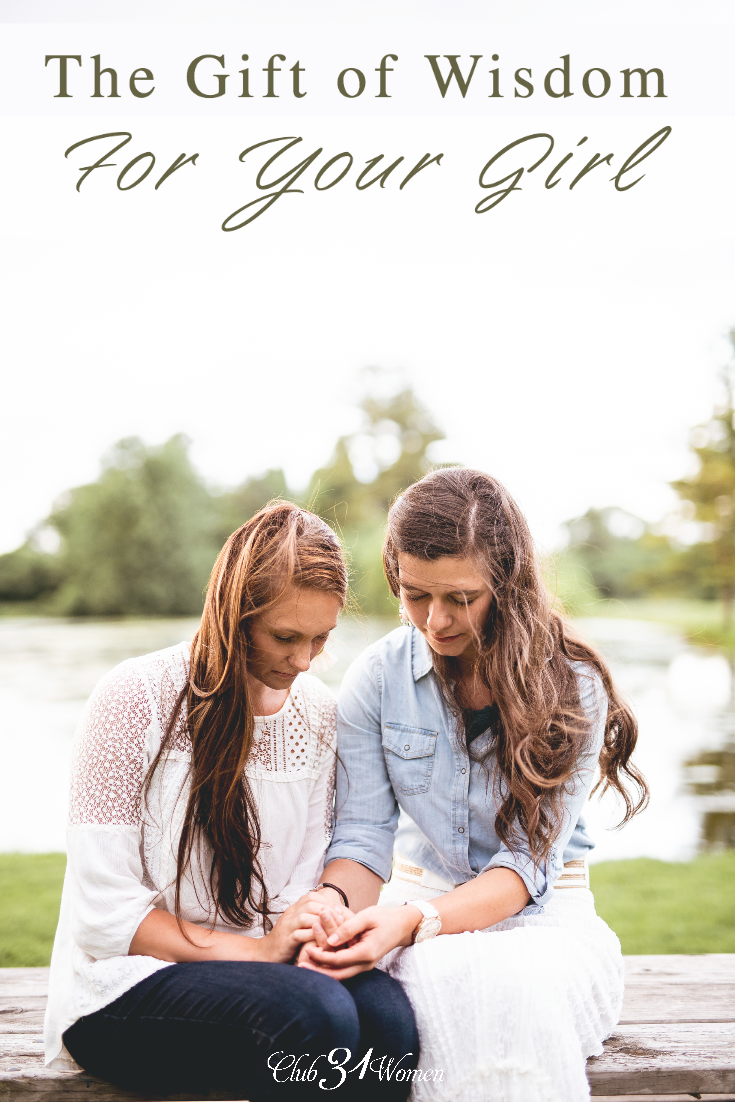 Did you know that your daughter needs your knowledge and experience? Whether she realizes it or not, your wisdom is a loving gift to her!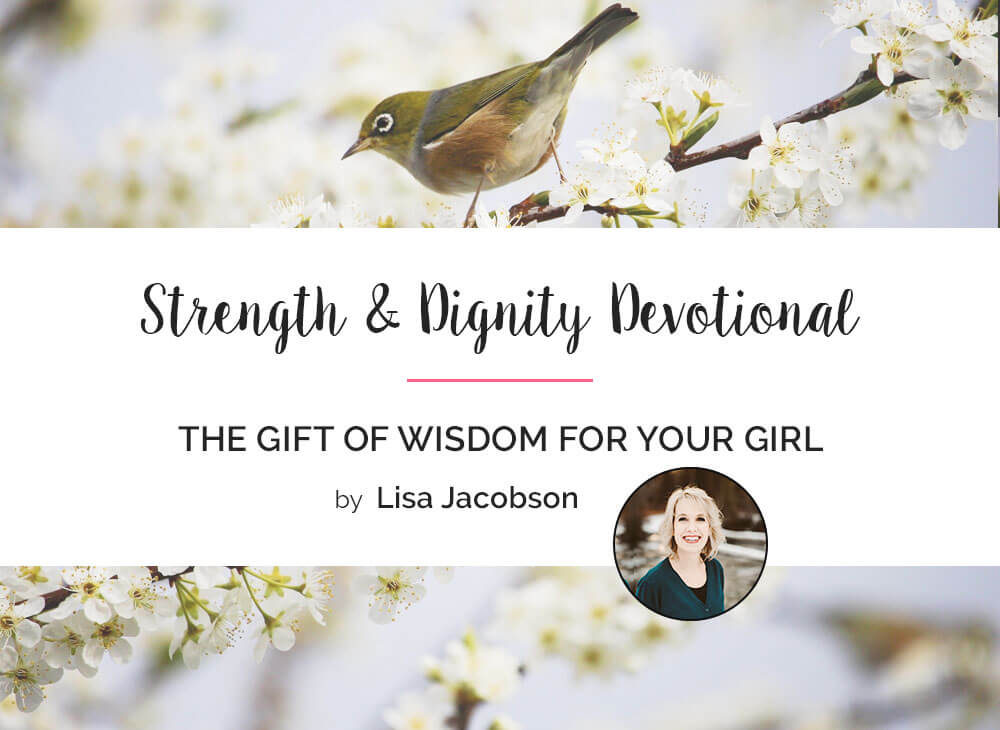 How much better to get wisdom than gold! To get understanding is to be chosen rather than silver. (Prov. 16:16)
The phone rang late one night, and it was one of our daughters calling from college.
She found herself in a relational dilemma and wanted to know what she should do. Should she say something to her friend? Or should she stay silent? The situation was complicated and would have a cost either way she went.
She called to see what I'd advise.
I did my best to offer what insight I could and told her I'd pray for wisdom for her too. But I couldn't help but be grateful that as a young adult, she'd turned to me for counsel and not only her peers.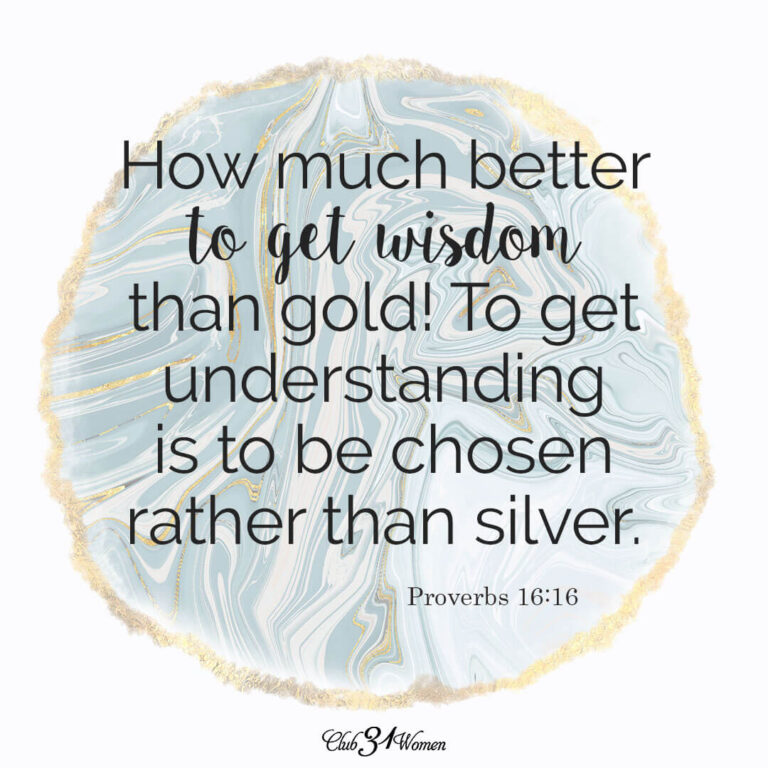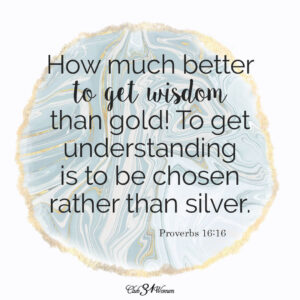 But that phone call? It didn't start that night. That relationship began much earlier when she was a little girl. Those hours of sitting at the edge of her bed, talking through moral dilemmas and challenging choices added up over the years, to where we found ourselves now.
Your Wisdom Is A Loving Gift
As the mother of four daughters, I'm often struck with how much I want to pass on to our girls. I want them to be strong, confident, and brave. Gentle and kind. I hope they embrace all that is good, right, and lovely.
But it's only been lately, especially as the girls are in their 20's, that I've realized how very important it is for them to grow wise too. And that I can — and should — pass wisdom down to our daughters.
As you look around, have you noticed a total lack of regard for wisdom in our culture today? It's all about fame, beauty, youth, and throwing caution to the wind. It's as though wisdom has fallen out of favor—it can even hold you back.
And yet, this is the exact opposite of what the Bible says about the gift of wisdom. Proverbs says that wisdom is even more to be desired than gold! Better than any wealth or success you can imagine (Prov. 16:16).
And this, my friend, is what we want to pass onto our daughters. We want to be growing in wisdom ourselves, and gently, carefully pouring this wisdom over the hearts and minds of our girls.
So don't hesitate to offer your knowledge and experience to your daughter. She needs you to help her sort through the choices, relationships, struggles, and challenges that face a young woman.
Your wisdom is a loving gift to her.
*from 100 Ways to Love Your Daughter


In Your Word
But the wisdom that is from above is first pure, then peaceable, gentle, willing to yield, full of mercy and good fruits, without partiality and without hypocrisy. James 3:17 (NKJV)
She opens her mouth with wisdom,
And on her tongue is the law of kindness. Proverbs 31:26 (NKJV)
In Your Life
Before we can genuinely pass something onto our children, we have to make sure it's something we are growing in ourselves, right? Not that we have to be perfect or faultless, but take a moment to reflect on how much you, yourself, have been pursuing wisdom?
Then read through the entire book of Proverbs. One chapter a day, or even one verse a day! Get out your highlighter and mark every verse you see that mentions wisdom (and the equivalents or synonyms). You might want to start taking notes in your journal, Growth Book, or journaling Bible about what you see and how it could apply.
Next, ask yourself, "Do I have a wisdom relationship with my daughter?" Sometimes what holds us back is a lack of confidence in ourselves. We're so aware of our own mistakes or weaknesses that we let this hold us back from being a "voice of wisdom" in our children's lives. But I am certain you have much to offer her. So start building that wisdom relationship today.


We Recommend
Lisa is excited to share that she and her husband, Matt, are releasing NEW!! PARENTING resources: 100 Ways to Love Your Son & 100 Ways to Love Your Daughter. These practical books give you 100 specific, actionable ideas you can implement to show love to your children, no matter what age they are. And the best part? The short, bite-sized readings make it easy to start right now!
Lisa and her husband, Matt, also cohost FAITHFUL LIFE, a weekly podcast focusing on what it means to be a biblical Christian in marriage, parenting, church, and culture.


Let's Connect
Join Lisa on Instagram for further biblical encouragement!