The One Thing That Matters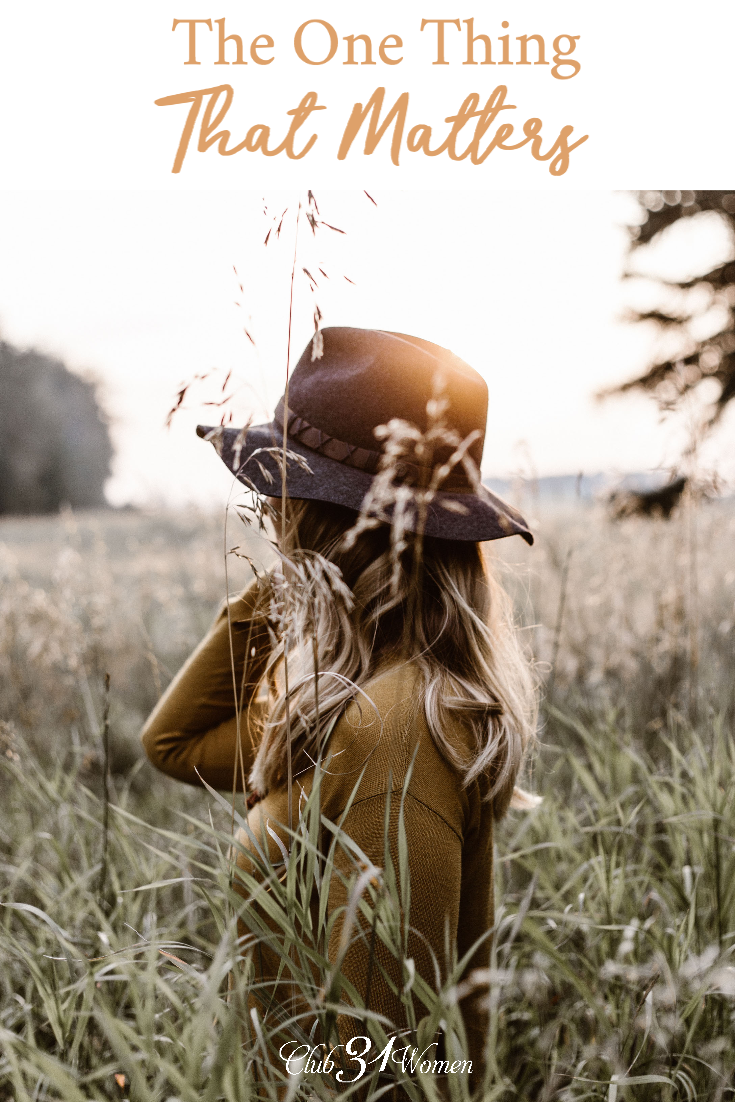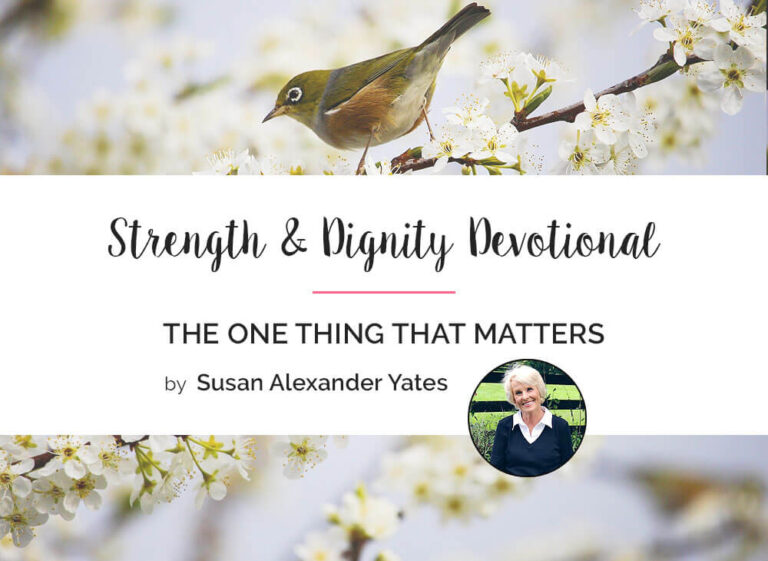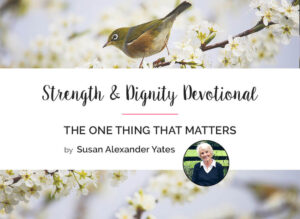 Call to me and I will answer you and will tell you great and hidden things you have not known." (Jeremiah 33:3)
We had five kids in seven years.
Six weeks after our twins were born (numbers four and five) we moved from Pennsylvania to Northern Virginia. I had no friends, no family, no help, and I was severely sleep-deprived with colicky babies. My husband was in his first job as a Senior Pastor, so he was gone a lot.
To say that it was a rough time is an understatement! I was miserable. I felt like a failure as a mom, as a wife, and as a ministry partner. As I staggered through my day, waiting for someone to fall asleep I'd pray, "Lord, please make me a better wife, a better mother, a nicer person."
I am sure He heard me, but I did not see many answers to this prayer for nearly two years.
Mostly I just felt like a failure. Up until this time in my life, I'd been pretty successful at things. And then I had twins. And then we moved. And…now I wasn't accomplishing anything at all.
I'm Changing My Prayer
Guilt and shame became my companions, and I felt I was letting God down. I wasn't "doing" for Him. And He didn't seem to be answering my prayers.
Then I ran across Jeremiah 33:3: "Call to me and I will answer you and will tell you great and hidden things you have not known." (ESV)
And I changed my prayer.
God, I'm so focused on your making me better and using me, and you are NOT. So I'm changing my prayer and asking you to show me something new, something "hidden" for my life.
As I began to pray in this way, He opened my eyes to see that my self-image had become tied to my works—what I was "doing" for Him. I had become "works-oriented," determining my value according to my works. Theologically I knew this was not true, but being a "Type A" person, living in a world that idolizes accomplishments, I had allowed my identity to become tied to my accomplishments, and I didn't even realize it.
In this season, I learned the "Principle of the Other." God had something hidden, something "other" to teach me.
God began to reveal to me again that He loved me not because of what I was doing or not doing for Him but simply because I belonged to Him—the one thing that matters.
"In this is love, not that we have loved God but that he loved us and sent his Son to be the propitiation for our sins." 1 John 4:10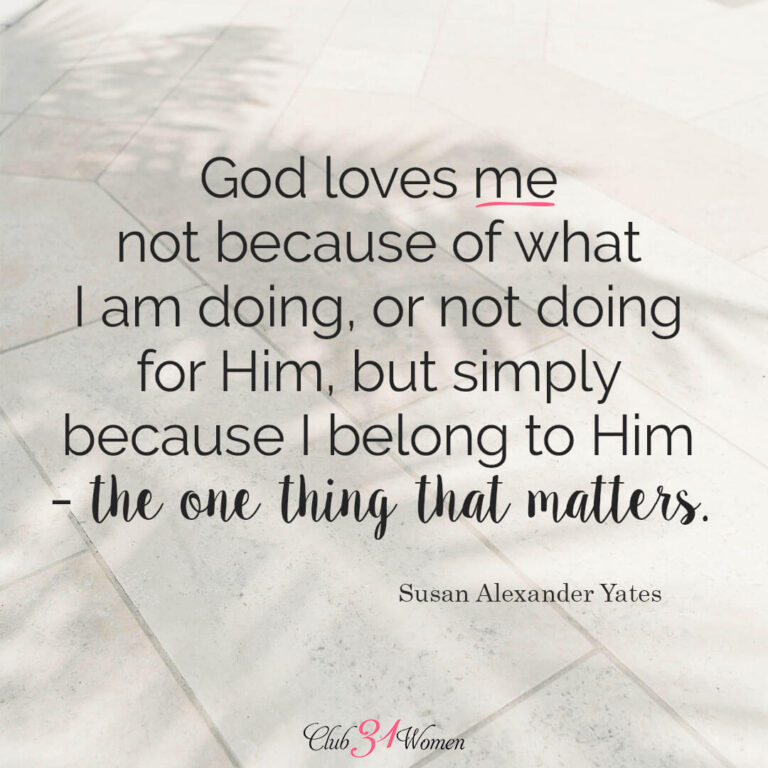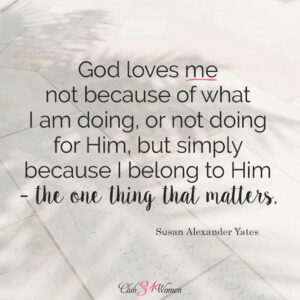 The One Thing That Matters
Jump ahead forty years
John and I have been married for fifty years. Our five kids are all married, and we have twenty-one grandchildren. It is a new season. It's been a great run. And yet recently because of the pandemic life has slowed down, speaking engagements canceled, get-togethers limited. I have felt the old sense of worthlessness creeping back in.
Once again, God has shown me that my identity has become more defined by my accomplishments (yes they can be an idol) than my place in His Heart. Really, God, I thought I learned that forty years ago. Now I have to be reminded again? How embarrassing.
As believers, we prefer to learn something once and then move on to something else. We want to accomplish something, even with regards to maturing faith. But frequently in life, we have to learn the same things over and over in new situations. God is patient.
As a child, I remember my Dad scooping me up in His arms and saying,
"Susan, I love you so much. Do you know why?"
(It definitely wasn't because I'd been good.)
"Why, Daddy?"
"Just because you belong to me. Period."
Friend, this is how your Father God is loving you right at this moment.
He is loving you, not because of your accomplishments, but because you belong to Him. Period. Nothing can ever change that.


In Your Word
Great is the Lord who delights in the welfare of his servant. Psalm 35:27b (ESV)
In Your Life
Imagine yourself curled up in your heavenly Father's lap with His gentle arms hugging you. Hear him whisper in your ear, "I love you precious one just because you are mine."
Not only is He loving you right at this moment, but He is delighting in you. Imagine that.
Dwell in this scene throughout your day today.
Click on this song as you imagine sitting in your heavenly Father's lap. "He will hold you fast."


We Recommend
Risky Faith: Becoming Brave Enough to Believe the God who is Bigger than your World. (A journey in learning to see in very practical ways how much bigger God is than our issues and how much He cares.)
A NEW book, Cousin Camp, A Grandparent's Guide to Creating Fun, Faith, and Memories That Last. And be sure to check out this Free download.
Let's Connect
Susan would love to invite you over to her blog, SusanAlexanderYates.com!