Trusting God While You Organize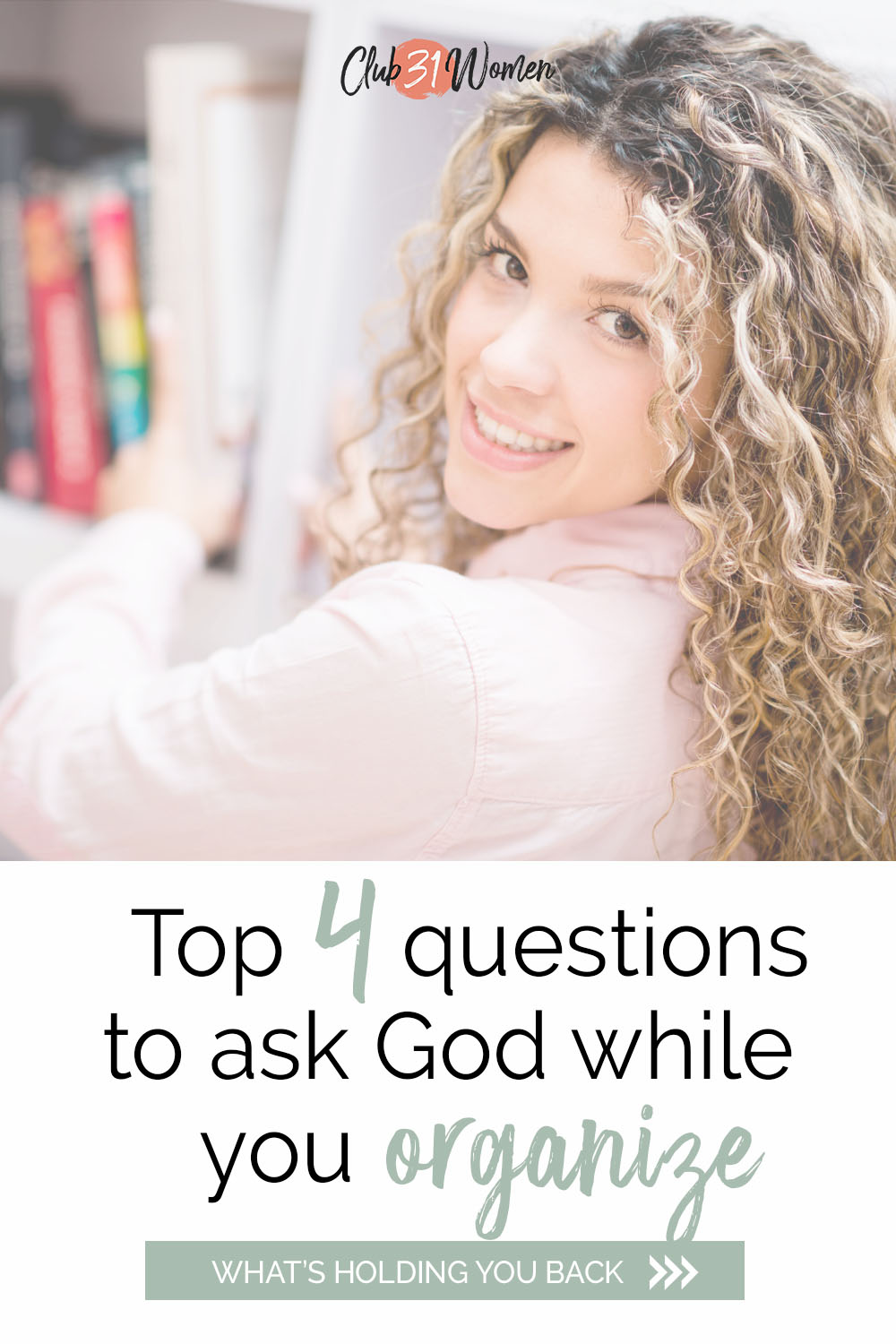 It can be overwhelming to organize our homes and our lives but trusting God with letting go of stuff can bring a whole new freedom!
"Look at the birds of the air: they neither sow nor reap nor gather into barns, and yet your heavenly Father feeds them. Are you not of more value than they?"
Matthew 6:26 ESV
Every month in my online membership, we organize a different part of our home life. We've organized our kitchens, laundry rooms, offices, paper, bathrooms, digital life, and now we are organizing our mental clutter.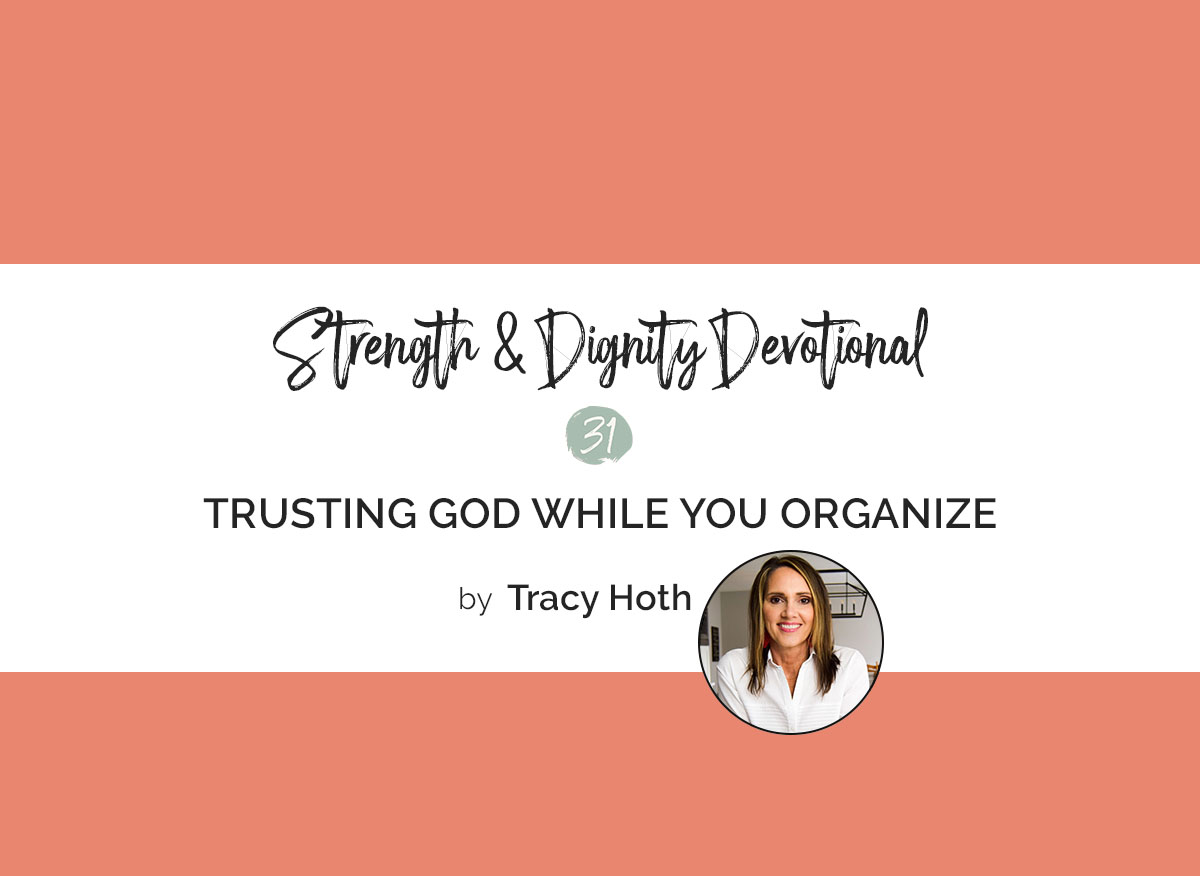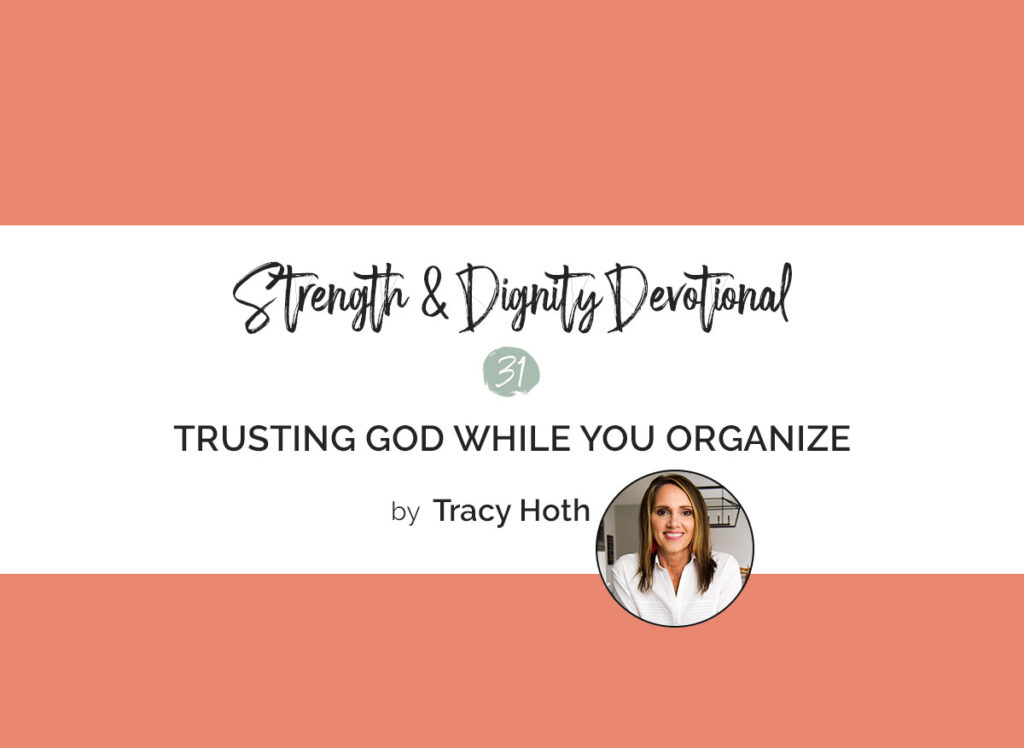 We use the same process with each area.
First, we sort through the stuff putting 'like items' with 'like items'.
Then we go through each pile and purge.
This is where the problems arise. All the questions and thoughts come flooding in.
For example:
What if I need it?
I paid a lot of money for that.
I loved that so much.
I might use that another time.
I should keep it just in case.
That was a gift from…
How can we let things go, declutter, and get organized when we "might need it" or when everything seems important?
Trust God.
Yep. That is the simple answer.
He will provide everything you need right when you need it.
Do you believe that?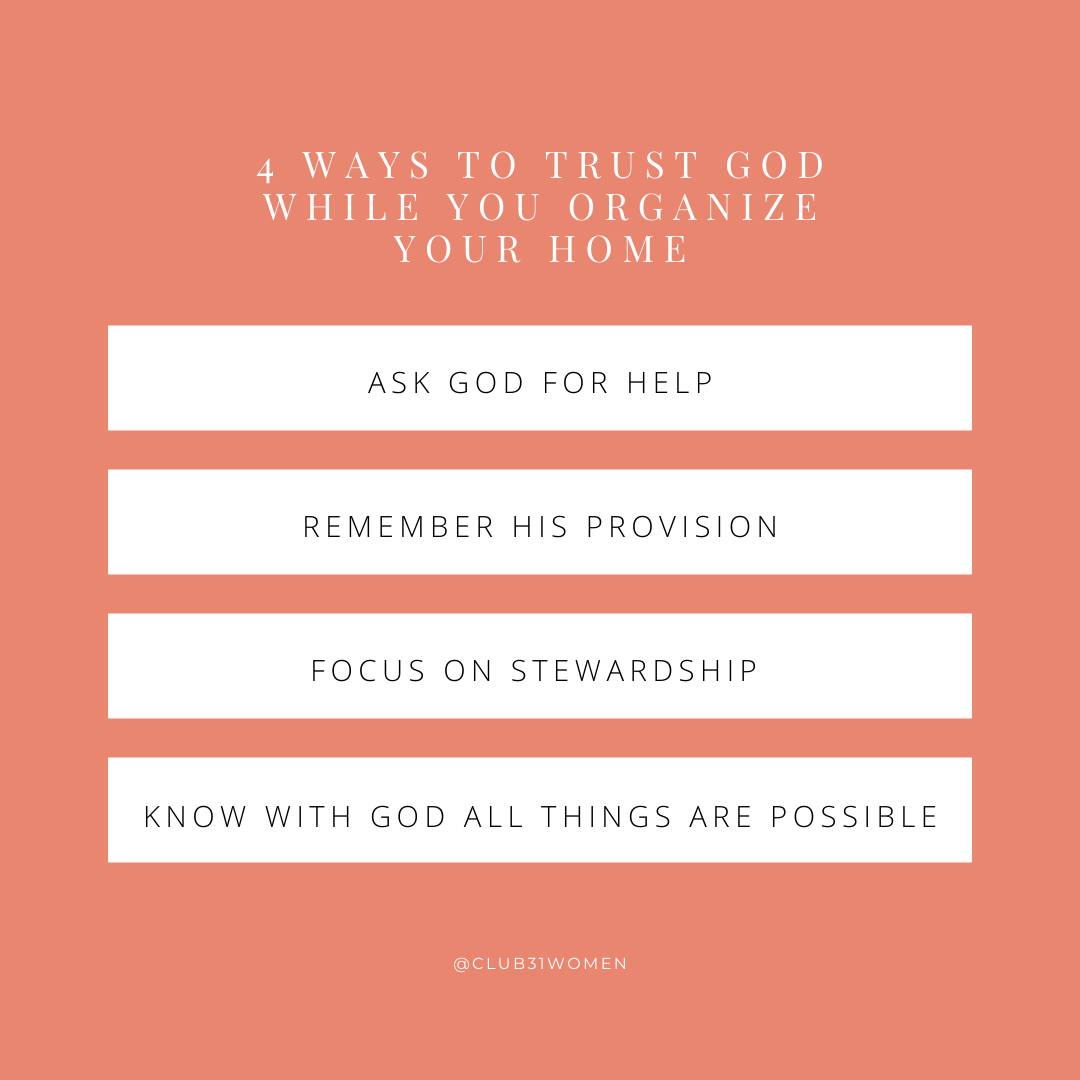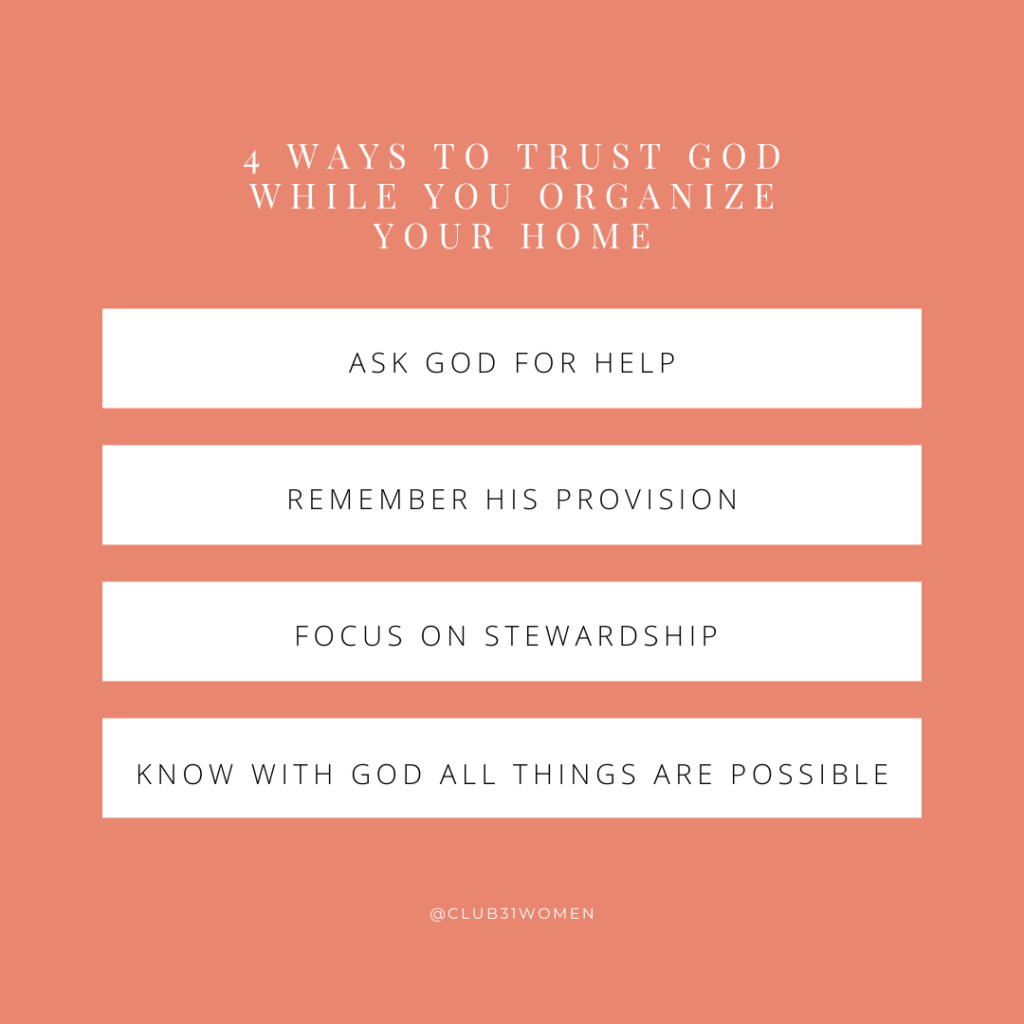 How can I trust God as I organize my home?
Here are a few guidelines:
Ask God For Help.
What would God want you to do? Ask Him to help you.
Check your heart and guard against covetousness. (John 12:15) Are you holding on to something that could bless someone else right now? Could you bless others?
Remember His Provision.
I like to think and say aloud, "God I trust you will provide all I need WHEN I need it."
Recall three ways He has provided in your past…exactly when you needed something.
Focus On Stewardship.
Could someone else be blessed with the platter you got for a wedding gift that you've only used once… in 35 years?
Are you holding on to the item from a place of scarcity? Or abundance?
Know All Things Are Possible.
With God ALL things are possible. That includes making hard decisions. Organizing is a skill that you can learn.
In His Word
In Philippians 4:19, Paul said, "And my God will supply every need of yours according to his riches in glory in Christ Jesus." (ESV)
Paul was living proof. God provided all he needed – food, a place to stay as he traveled, the blessings of seeing and hearing the fruit of his labor, etc. Over and over he trusted God and God provided.
In the parable of the rich fool, we see that all the work and time put into collecting and storing things can keep us from being rich toward God. Read John 12: 16-21.
In Your Life
Check in with yourself.
Make a list of all the ways God has provided for you? Are you trusting he will always provide – right when you need it?
Notice if you gain security from things rather than from God.
What have you been holding on to "just in case?" Would letting it go be a better steward for God? How could that thing bless someone else right now instead of sitting in the closet or the basement waiting for the day you "might" need it?
We Recommend
If you want to organize your home and life, please consider joining the Organized Life Academy. We practice the skills and mindset needed to simplify and organize one area at a time. AND we have a lot of fun in the process!
Let's Connect
If you want more practical organizing insight, join Tracy on Instagram here, on her website Simply Squared Away, or grab her FREE Quick Start Guide to Get Organized For Life here.