What You Need To Know About How To Unsubscribe From The Bully In Your Brain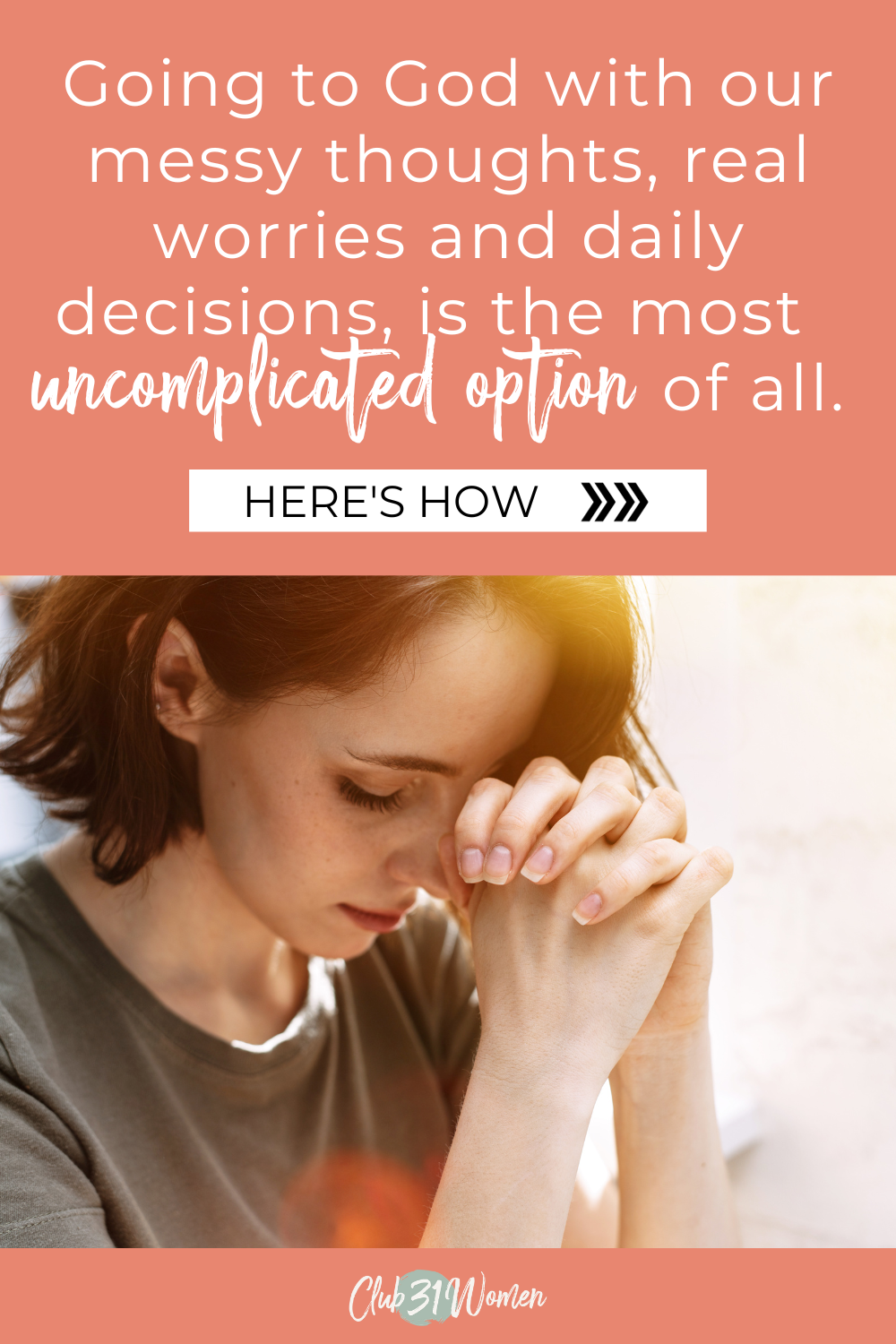 We live in a complicated world and we have busy and chaotic minds. How can you unsubscribe from the bully in your brain?
Finally, brothers and sisters, whatever is true, whatever is noble, whatever is right, whatever is pure, whatever is lovely, whatever is admirable—if anything is excellent or praiseworthy—think about such things. Whatever you have learned or received or heard from me, or seen in me—put it into practice. And the God of peace will be with you.
Philippians 4:8-9 NIV
If we were meeting for coffee today in our favorite corner at the local café, chances are that I would probably share with you a few random and really honest things that have been on my mind lately.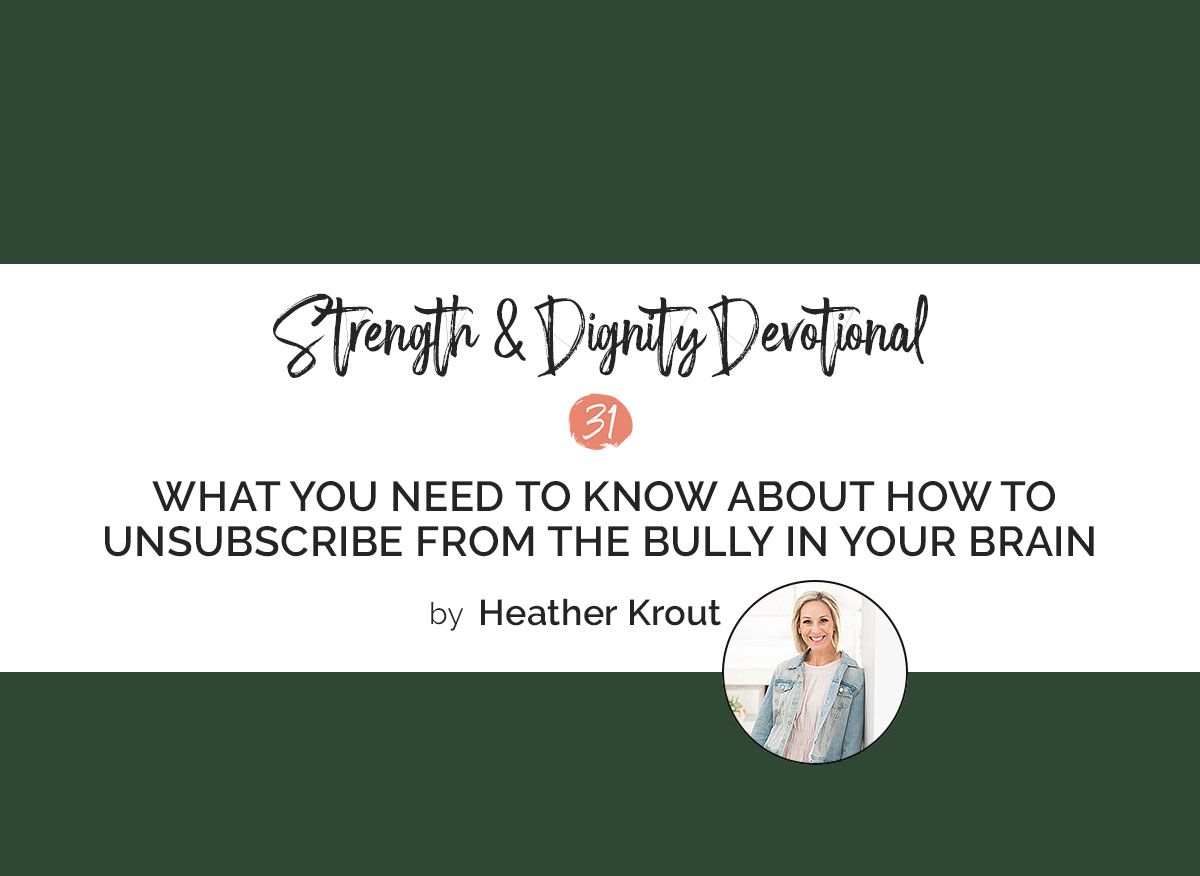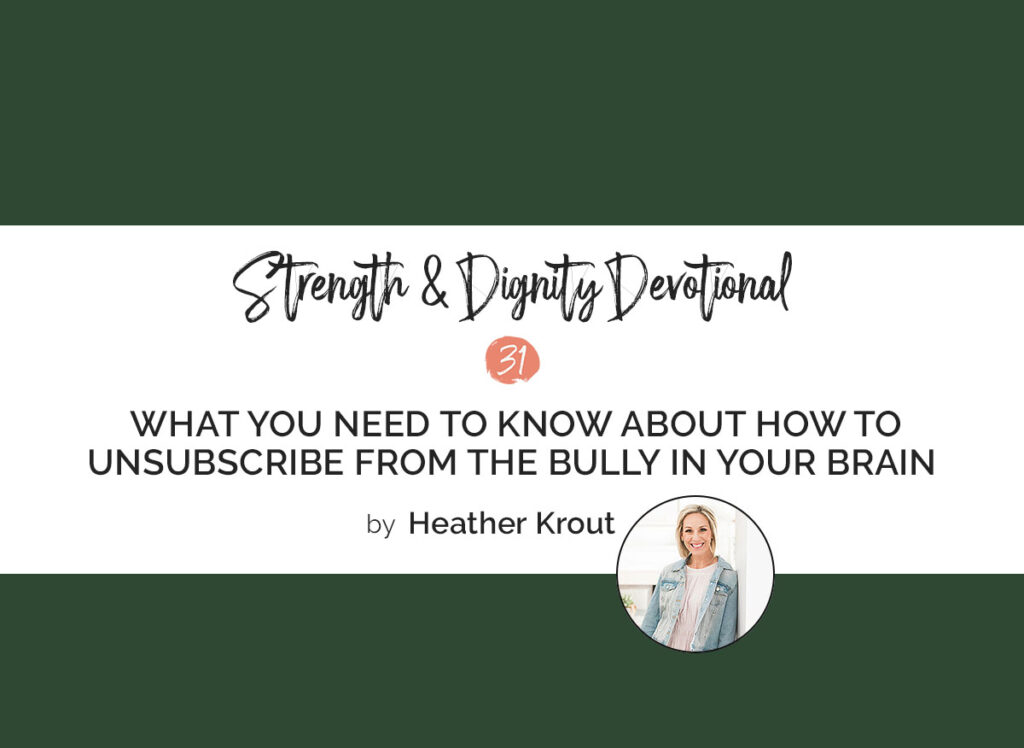 Why?
Because, I'm like that.
A little random and A LOT open book.
And…you know what?
Some of those random things that have been bumping around my mind lately…
They might surprise you.
In not surprising news, I might rattle off that Summer went by too fast.
That, I am a bit more teary about it this year, because I feel the time we have to make memories with our three daughters is slipping through my fingers, like the sand washing away along our favorite seashore.
I might share that I have been on a serious "unsubscribe kick" over the last week, in an effort to clean up my inbox and invite more white space into what has become an overwhelmed computer screen.
Yes, right now, I'm addicted to unsubscribing.
In the middle of a hurried day, I am intentionally taking the extra time to scroll down to the bottom of all those spammy emails to first find and then click the tiny, hidden link at the bottom, tucked in light gray.
Unsubscribe.
Click.
Confirm.
Click again.
Yes, I'm sure.
Oh, how I wish clearing out the junk in my mind would be as easy as a two-second scroll to the bottom of the box and a double click.
Because?
Eventually, during our catching-up conversation, I would probably share this.
There is a bully in my brain.
Maybe yours too?
The bully tells me:
You finished the project – but it could have been better.
You are tired – but you can't afford to take time to rest.
You were at the bus stop on time today – but you missed her getting home yesterday.
You made the dinner – but you forgot the vegetable.
You ordered the uniform – but you got the size wrong.
In other words?
What is wrong with you?
Can't you get it together already?
Can't you plan ahead more?
Can't you make life work better by now?
Does this slippery soundtrack ever get stuck on repeat in your brain too?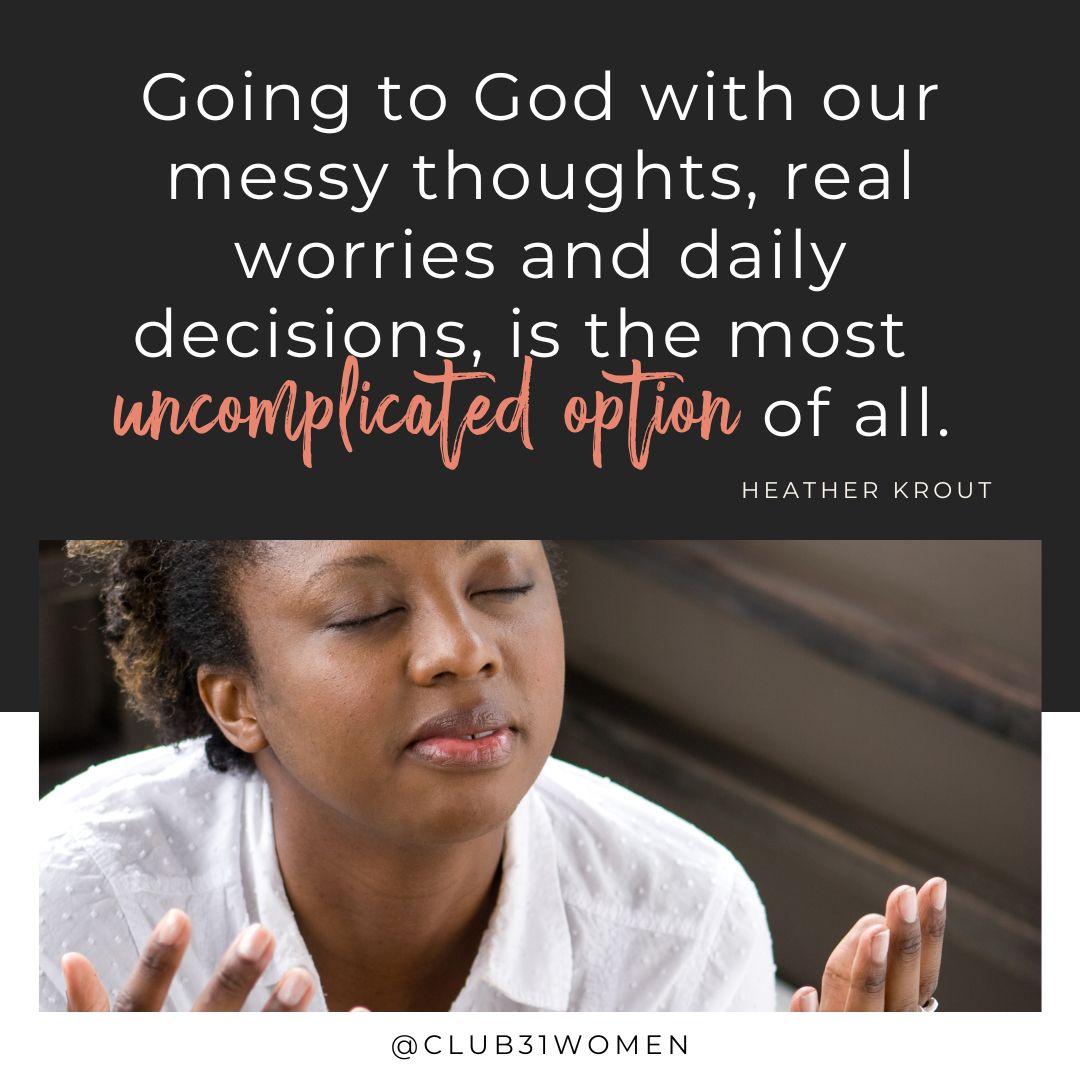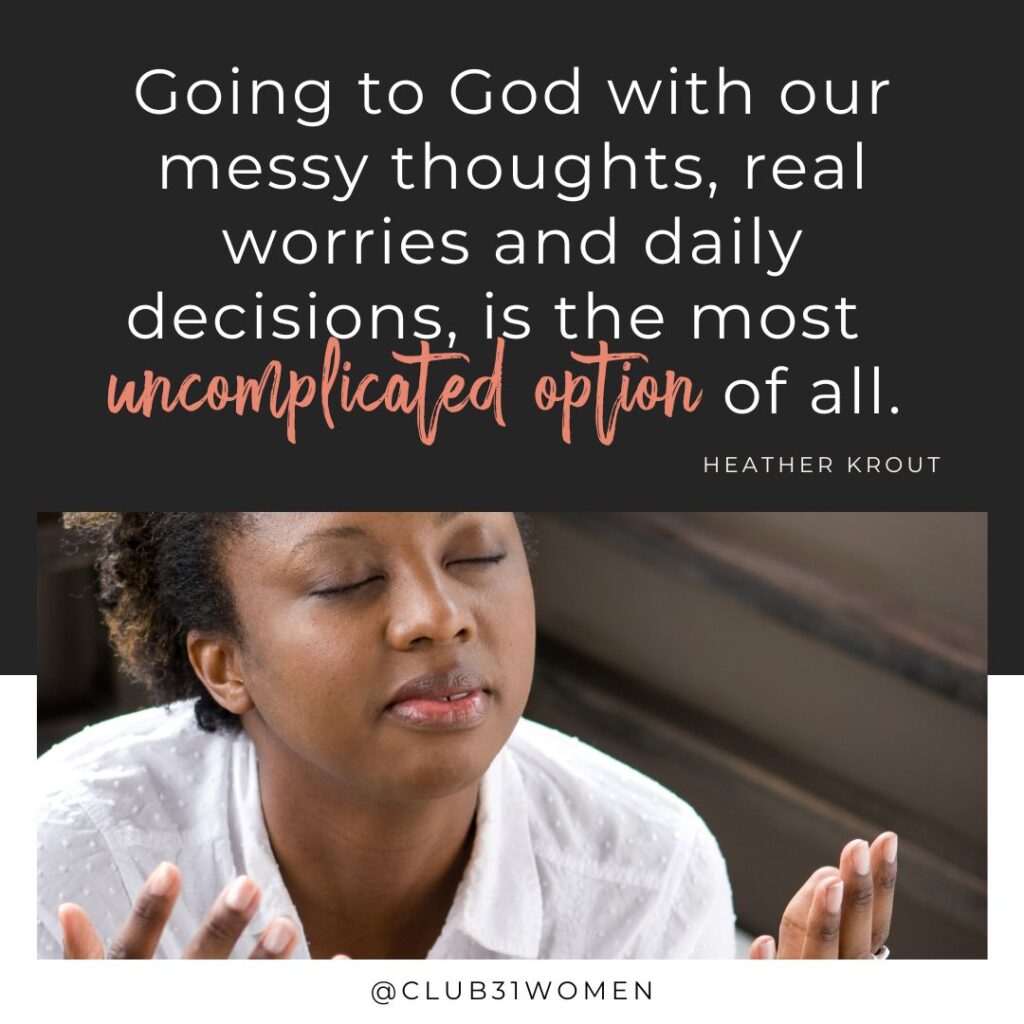 For so long, we have battled back against the lies that our value is based on our productivity in a day.
That our worth is carved out of what we do, what we look like, and how we show up in public.
But what about how we show up to ourselves, on the inside of our own minds?
How are you doing with showing up for yourself in the mental marathon we are running?
How are you holding up on the inside, with your inner thoughts?
Friend, when everything in our world seems to be oh-so extra complicated…
And, when every decision and choice dangling in front of us tends to come with some invisible strings attached ripple effect, requiring a balanced weighing out of options…
This is what I know to be true.
Going to God with our messy thoughts, real worries, and daily decisions, is the most uncomplicated option of all.
Yes, in a complicated world and messy mind, God offers us the most sincere and uncomplicated option of all – to pray.
In His Word
"Do not worry about anything and instead, pray about everything." (Philippians 4:6)
In other words, we can unsubscribe from the bully, belting a soundtrack of bold lies.
And instead?
Subscribe to the soul-settling source of peace Himself, through heart-soaked prayer.
What I have learned, is that when I intentionally fix my eyes on what is true and pure and when I put into practice what I have learned and received, I unlock the power to God's freeing truth and evict the bully in my brain.
In Your Life
When you find your thoughts tail-spinning into toxic downward trails. Try praying and asking God to help you re-focus your thoughts on what is true, honorable, right, pure, lovely, admirable, excellent, and praiseworthy.
Put into practice what you have learned and received.
While you are praying, try taking a long deep breath.
As you inhale, let the truth of His promises wash over you from the inside out:
He will never leave or forsake you. (Hebrews 13:5)
His watchful eye is on you and He even knows the number of hairs on your head. (Matthew 10:29)
He is with you wherever you go. (Joshua 1:9)
His power is made perfect in our weakness. (2 Corinthians 12:9)
He has sent us a Helper to equip and guide us when we are stressed. (John 14:15-21)
And then…
Exhale His Praise.
Because?
Where the terrain in your brain has changed, so has the air pressure.
Therefore, it's time to find a new way to breathe.
Soul-Breathing –
Breathe in His Grace
Breathe out His Praise.
May grace find you today, friend, because He sees you, He loves you and His net is big enough to catch you and all of the messy pieces you are holding inside.
We Recommend
For more encouragement, you are invited to read more posts from Heather in this post, "What You Need To Know About The 3 Things Helping Me To Respond To Life Right Now."
Let's Connect
Heather is a lifestyle blogger, women's speaker and owner of Home with Heather, a home decorating consulting business. She also writes weekly on her blog at heatherkrout.com,
For more inspiration for your home and heart, follow Heather on Instagram, Facebook and Pinterest for inspiration to empower you on your walk with God and inspire you with new and fresh ways to love your home.