10 Simple Tips to Help You Get Skin that Glows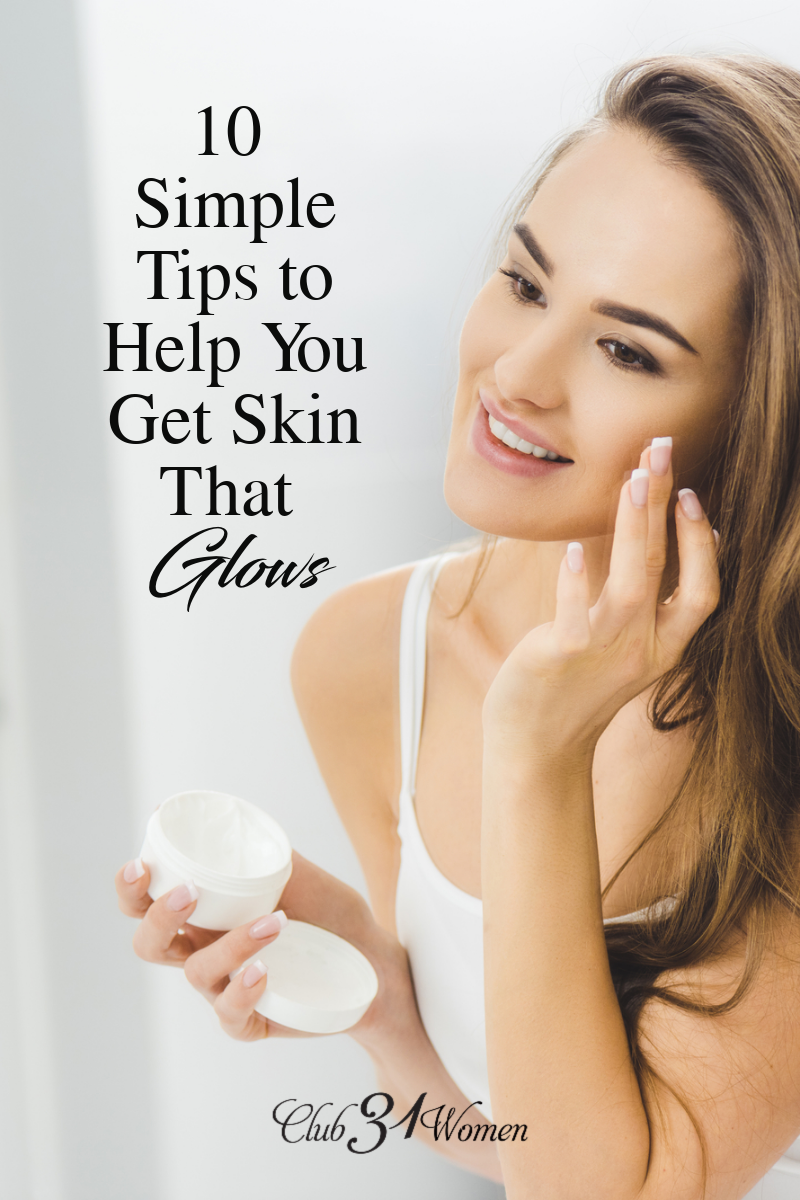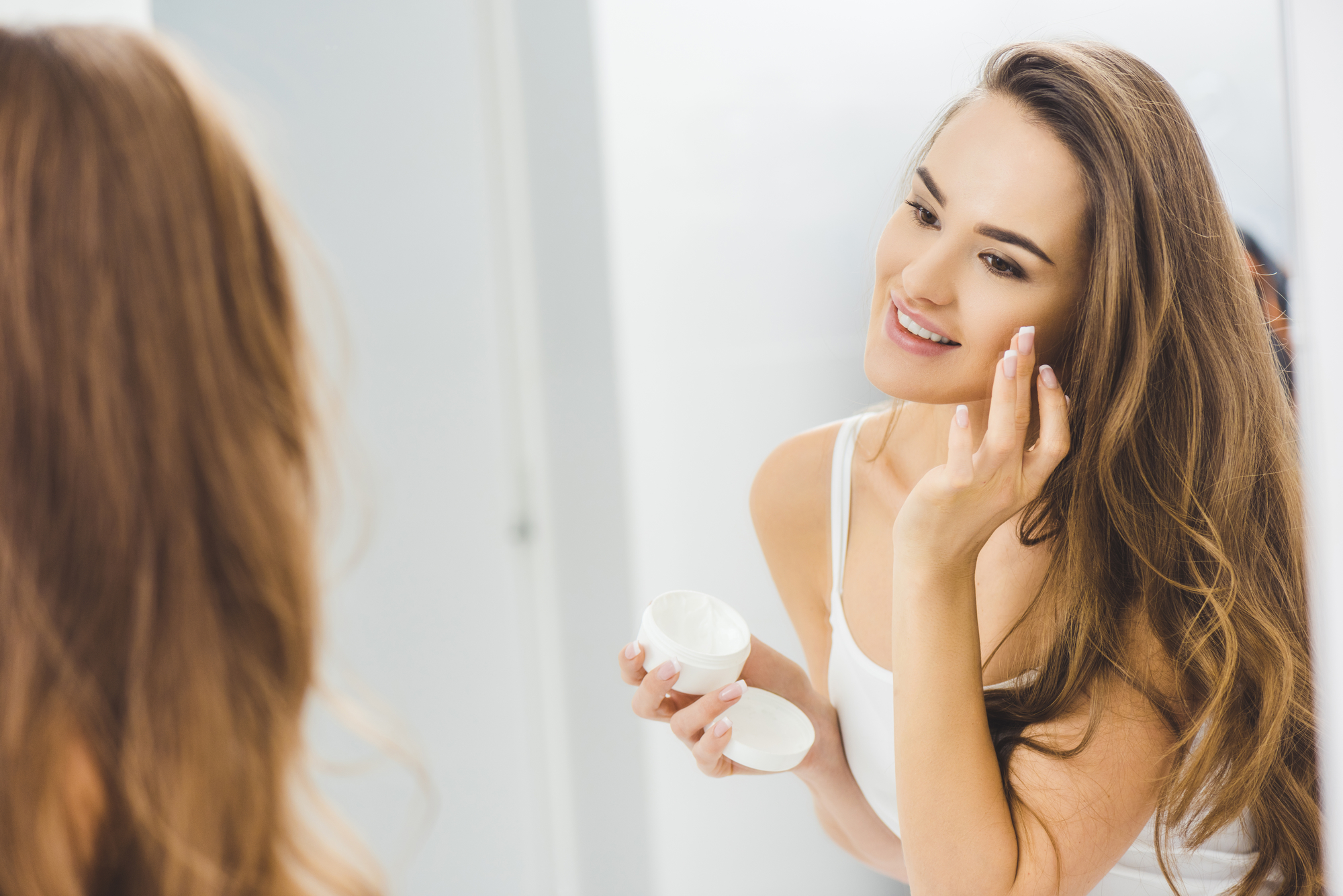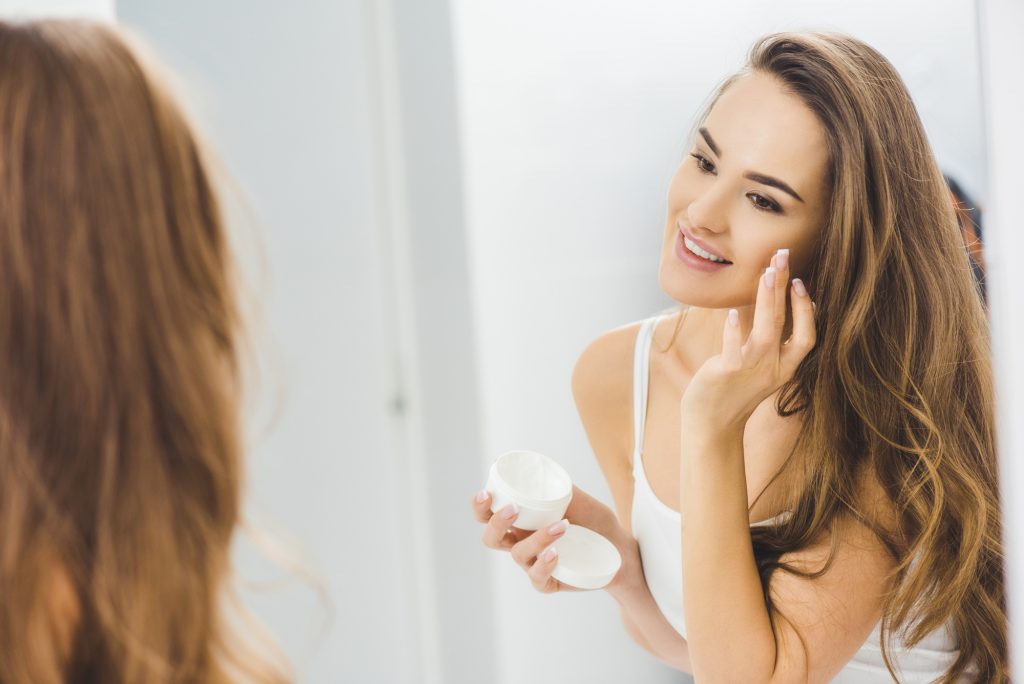 Do you ever feel like the fight for happy skin is a losing battle? Well, you're not alone. Here's a starter list of things I use myself, that I compiled for you!!! I hope all of these items are easy to incorporate into your routine, while making a noticeable change for the better.
This post may contain affiliate links through which Club31Women might get a small compensation – with no additional cost to you.  See my disclosure policy here.
1. Drink More Water
Wow, did you know that already?
Ok, so most people know they're supposed to drink a certain amount of water. But how much really are we supposed to be drinking?!? To help your skin stay hydrated, start with the basic 8×8 rule. The 8×8 rule is eight 8 oz glasses a day! Try getting a cute water bottle to motivate you and track how much water you drink on a daily basis for a week. You might be surprised by how little you are actually consuming!
You might like this Stainless Steel water bottle, or this Fruit Infuser water bottle could be more your style, or maybe you'd like to keep it classic.
2. Take your makeup off before sleeping!
If you're leaving makeup on while you sleep, you are letting it mix with the oil and dirt that builds up throughout the day which results in clogged pores. This, of course, leads to breakouts which can take quite a lot of time to heal.
Try this makeup remover!
3. Use Natural Cosmetics
Whenever possible, try using natural makeup brands. Most cosmetic companies don't care about what types of chemicals they are putting into their products.
Don't believe me? Download the Think Dirty app on your phone to see if any of the products you are using have harmful chemicals in them.
You are giving your skin a huge advantage by not applying harmful chemicals or harsh products that might temporarily improve your skin's appearance, but will inflict long term damage.
I used to dislike the idea of natural because it made me think of musky smelling and odd colored products that simply didn't work well. This doesn't have to be the case as I have realized 😉
You might want to try out the Savvy Mineral's line! I especially recommend their mascara as it is gentle on the eyes, so easy to remove, and gives the maximum effect.
4. Drink Green Tea
I love green tea! (Can you tell? 😉 ) I try to have at least a couple cups every week. Your green tea doesn't have to be boring or plain! Check out this fun set!
Green tea contains a powerful antioxidant and the catechins in green tea are known to help reduce irritation, redness, and swelling.
5. Regularly Moisturize
Moisturize, moisturize, moisturize! Find a lotion that works well with your skin type and apply at least once in the morning and once at night before you go to bed.
I highly recommend this lotion from Young Living.
6. Pillowcase Change
How often do you change your pillow cases? Typically, they should be rotated every few days. Seem too often? At least flip your pillow over after a few days to double the amount of time between washes.
Silk pillowcases are also known to help with wrinkles and overall skin health. And who doesn't love a little bit of luxury to help a good nights rest? 😉
Here is a very affordable option!
7. Exfoliate Once a Week
Exfoliation is very important when it comes to good skin health! Removing any excess dead skin cells and cleansing your pores is something you should try to prioritize once a week at least. This can be as easy as taking a washcloth and gently scrubbing your face and applying moisturizer. Want to make it a little more fun? Try this scrub! Or maybe this peel face mask!
Extra fancy? These Beauty Masque's might be just what you're looking for!
8. Limit SUGAR + JUNK
I'm not saying to ditch everything! But try giving yourself a week to take away things like soda, more than one cup of coffee a day, and junk food. See if it makes a difference! Note what food items seem to bother your skin. Everyone is different on this, and some people's skin isn't even affected at all by junk food or sugar. For me, it can be a variety of things, but specifically, marshmallows and gum always wreaks havoc on my skin. Who knew? 😉
9. Exercise
Exercise increases blood flow which helps nourish skin cells and keep them vital! Plus, hello happy endorphins 😉
10. SLEEP
AS MUCH as is possible, try to give yourself a good nights rest! Getting enough sleep can incredibly help to clear up your skin and give it that extra glow you are looking for!
xoxo,
Cambria
**Disclaimer: The information contained in this article is not meant to diagnose, treat, cure, or prevent any disease. The information represents what I, an Independent Distributor of Young Living Essential Oils, have chosen to do to take charge of my own personal health. Statements here have not been evaluated by the Food and Drug Administration. If you are pregnant, nursing, taking medication, or have a medical condition, consult your physician before using these products. Be advised; some essential oils require caution when being used on or around young children and pets. If you'd like to purchase any of the Young Living products mentioned in this article, comment below or message me on IG and I'll get in touch!