How to Serve Your Family Good Food On a Small Budget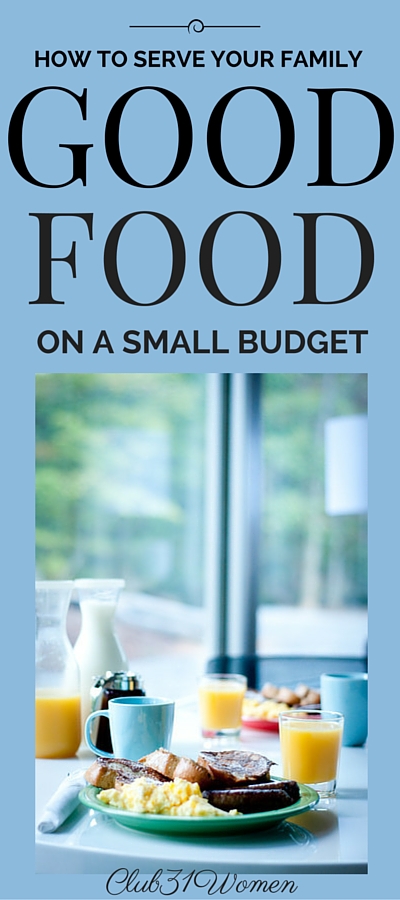 So I've noticed this strange phenomenon.
My family expects something to eat at an unusually high rate. No less than than 3 times a day. I'm serious. I feel like we just finished eating the last meal…and there they are asking about the next one.
It's the oddest thing.
But maybe you've encountered a similar situation.
Breakfast. Lunch. Dinner.
Day after day.
Not only does this take a lot of time (but that's another post), but it takes a lot of, well, money. To put it bluntly. Let's just say this: we have heavily invested in the grocery market.
So here my family has this high expectation of three meals a day and then there's a further complication: I want them to eat well. Not necessarily fancy or epicurean, but at the very least healthy and of good quality. It's something of a challenge.
How Do You Serve Your Family Good Food on a Small Budget?
1. Plan ahead. Of course, you already knew that, but I thought I'd mention it anyway. The more you "make a quick run to the store" the more money you'll end up spending. Take an hour or so each week to plan your meals and write your grocery list. You can "reward yourself" for the hour by all the money you've saved.
2. Simplify your meal ideas. Not only does this make it easier to menu plan (see above), but it can save you in the long run. Mix and match your basics, throwing in fresh ingredients and ta-da! you have delicious food for a lower price.
3. Never waste food. Obvious? But I find that I still have to ride my family about not throwing out food. Turn leftovers into casseroles, soup, or a sandwich. Just don't waste! Unless it's growing green fuzzies, that is, and then feed it to the chickens. Poor things.
4. Shop at the big box stores. I know, it's hard on the soul, but it tends to be gentler on the wallet. Not sure if I should admit this, but our Costco cashiers greet me by name and the employees ask after our children (not sure if that's the good news, or the bad?).
5. Clip out coupons. Now I'm not a coupon-clipper myself, but I have friends who are and can recommend a good place to start if you're interested: The Beginner's Guide to Coupons by LivingWellSpendingLess.
6. Buy in bulk. And maybe you think this only applies to large families, but it's actually a great way for anyone to save money. My in-laws buy large quantities and then freeze or bag the item into smaller portions for just the two of them. A little extra work for big savings.
7. Grow your own. Not everyone can do this, I realize, but even if you can only grow your own herbs (just takes a sunny window), you can still save money and add wonderful flavor to whatever you cook. Home-grown tastes the best!
8. Buy local. This might require some extra effort at first as you search out where you can get local produce and other food items, but it can really pay off. We've even made "swaps" with local stands and stores in exchange for a discount. You never know until you ask!
9. Choose quality over quantity. I find that my family tends to feel more "satisfied" when I've served them a meal that has fresh and quality ingredients. It actually fills them up better than large amounts of cheap food and it's certainly better for them.
10. Give thanks for what you have. Nothing makes food taste more delicious than a grateful spirit. Thankfulness turns everything into a gourmet banquet.
All the days of the afflicted are evil, but the cheerful of heart has a continual feast. ~ Prov. 15:15
With garden tomatoes for dessert – yum!
So do we ever just make a fun-food run to the local grocery store? You know, we do. Especially when this mom gets a craving for mint-chip ice cream. 😉
Feeding your family and staying within the budget can be a big challenge for a mom these days, but I hope these ideas help and encourage your efforts!
*And if you have other money-saving suggestions to add to the list here, I hope you'll share!
In His grace,
Lisa Jacobson