Choosing Forgiveness in Marriage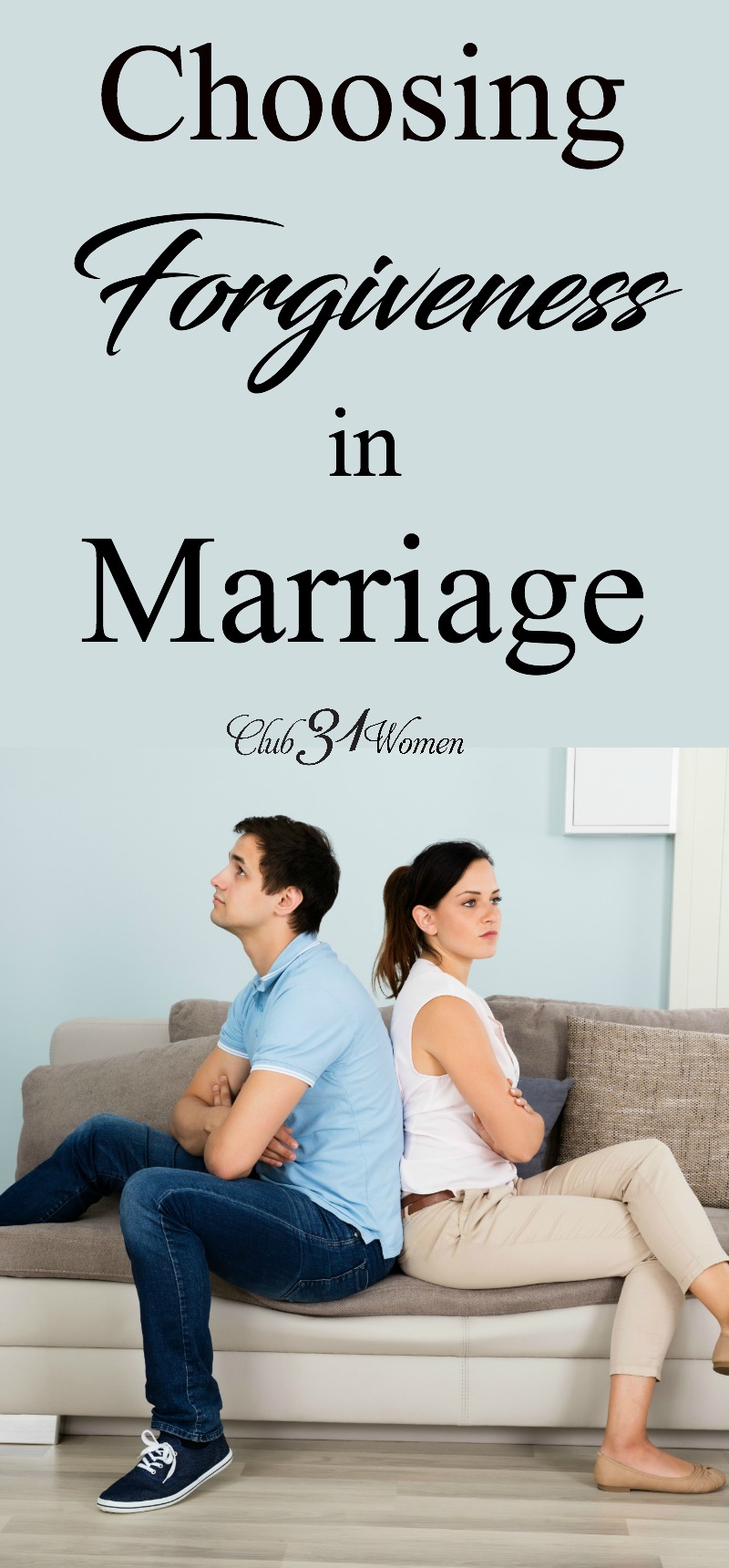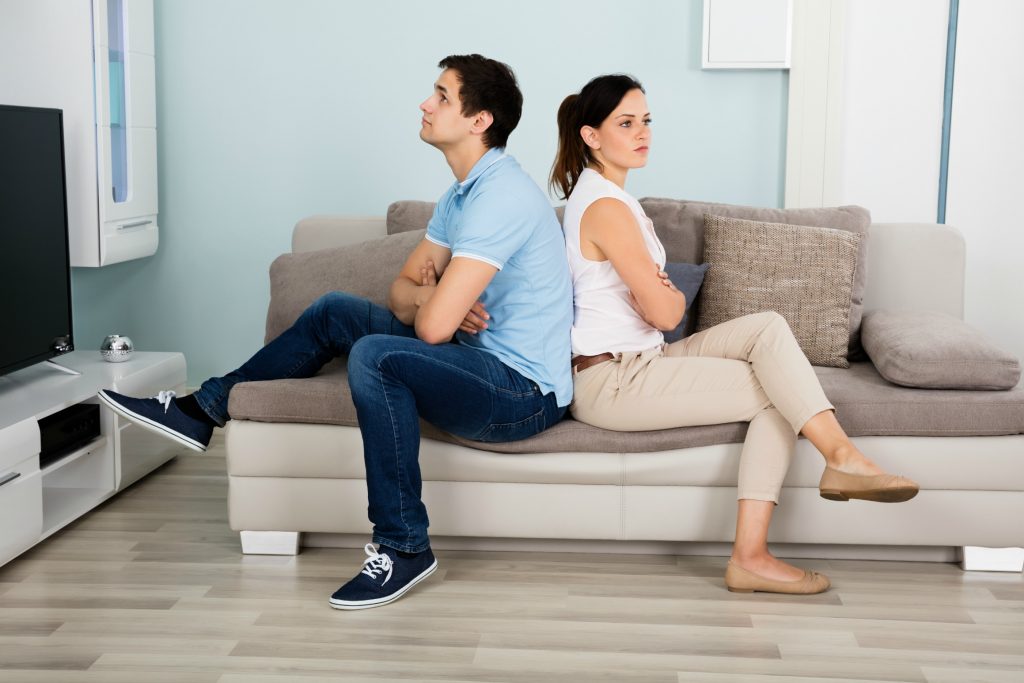 I replayed the conversation in my mind over and over again. I listened to the words, the responses, dissected the motives and tone and made mental tally marks for each and every one. The more I listened to the replay the more I became convinced I was right.
What Do I Gain?
This blow-up, this minor marriage disagreement that turned hot quickly and left us both feeling the dissonance of disconnection, was clearly not my fault. I was convinced of it.
My competitive side teams with all of my flesh to let me know that I have won this one. But somehow it doesn't feel like winning at all. It feels broken and lonely. The foundation feels shaky. Grey clouds cover my world, shadowing everything when my most vital earthly relationship is off balance.
Try as I may, I cannot convince myself I have won anything.
Because I haven't. I know better.
If you, Lord, should mark iniquities, O Lord, who could stand? But there is forgiveness with You, that You may be feared. Psalm 130:3-4
This game I play, keeping score and running replays, throwing out challenges for an additional review, it's nothing new. The hunger for justice and fairness is born in childhood and clearly, I've not outgrown it.
Knowing God's Grace
But what happens when the game is played on me? I don't want to watch those replays. I know the extent of my own selfishness and pride. I know the times I'm short on patience and grace and mess up marriage, motherhood and life, something ugly. I'd be horrified to watch a replay of that. I could never stand.
But God, in His infinite mercy, doesn't do that. He doesn't do tally marks and replays. He does forgiveness and grace. He wipes it all clean.
To know the extent of my transgressions is to know the beginning of God's grace.
In Him we have redemption through His blood, the forgiveness of sins, according to the riches of His grace which He made to abound toward us in all wisdom and prudence. Ephesians 1:7
So this becomes the remedy for keeping harsh words at bay, the remedy for forgiveness over fairness and a reprieve from keeping score. His grace abounding to me. His mercy alive in me. He forgiveness extended through me.
Understanding Forgiveness
There are times when forgiveness seems beyond us. The hurts cut too deep, the pain is too fresh, the debt is too great. And on our own, it most certainly is. But when we lay the work before Christ, surrendering the hard and hurtful, he exchanges it for grace that abounds.
I've not always seen this happen instantly in my own marriage. The reality of emotions is real and sometimes it takes time for my head and heart to catch up with one another. But when I take the mess of my emotions before God, when I surrender my score card and ask Him to grow forgiveness in me, He is faithful.
Fifteen years of marriage, faithful. Forgiving hard and hurtful things, faithful. Redeeming brokenness and distance, ugly pasts and shaky beginnings, faithful.
Matthew Henry says, "The believer's actions, as well as his words, declare the praises of Divine mercy."
My prayer is that this will be true in my marriage, on days of rainbows and birthday parties and days when the work of marriage and motherhood feel like grinding gears.
God, let my words and actions declare Your Divine mercy, because I know I cannot do this well without You. Let my reflex be forgiveness, surrendering the hard and hurtful before you so that Your grace may abound in me. Amen.
Blessings,
Katie, I Choose Brave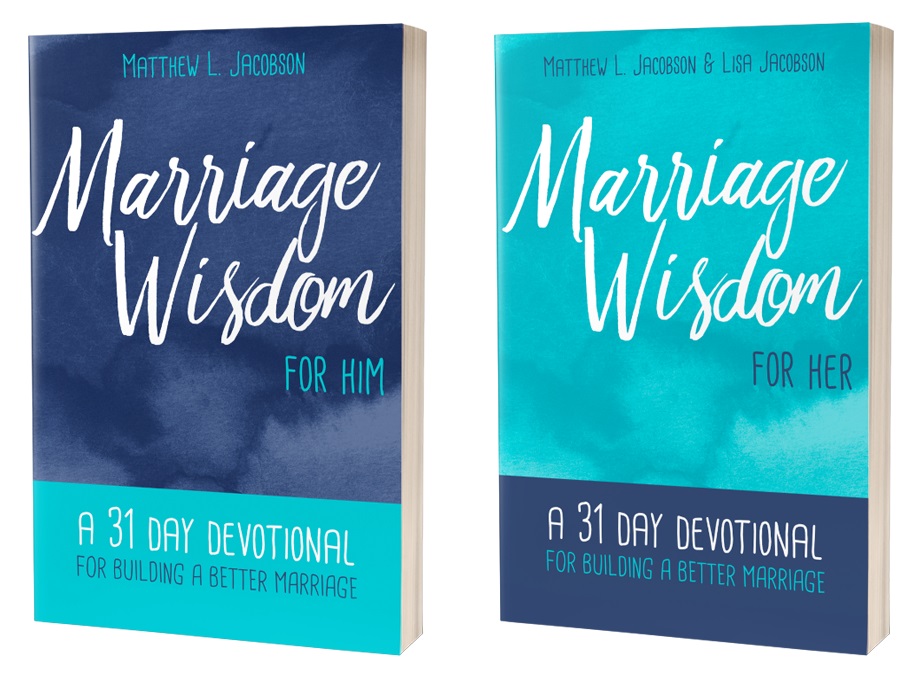 ★★★★★ "Genuine and gentle" by
Reading
Marriage Wisdom for Her
is like having a chat over coffee with two mentors who are committed to speaking the truth. Matt and Lisa take turns giving practical, scriptural marriage advice. Matt gets straight to the point, giving wise counsel while helping a wife see the husband's perspective. Lisa is genuine and personable, humbly admitting her own mistakes while gently sharing exhortations along with memorable anecdotes.
Marriage Wisdom for Her
is the kind of book you'll want to share with all your girlfriends–but you'll want to keep your own copy close at hand to re-read often
.
From the authors of the best-selling 100 Ways to Love Your Husband/Wife, Matthew and Lisa Jacobson have recently released their new Marriage Wisdom devotionals!
Each book contains 31 short, easy-to-understand readings on topics uniquely suited to a husband or wife – topics that are vital for growing in wisdom and maturity in marriage. Also included are prompts that help you be successful by asking questions that encourage you to wisely apply what you learn.
Marriage Wisdom is for every intentional couple focused on building an amazingly enjoyable, enduring, beautiful, and biblical marriage, starting right now.
Get the Wisdom for Marriage bundle, today, and save 20% off the retail price for a limited time!
So what is the secret to a happy, thriving, loving marriage, where the fire of romance and close friendship do not fade?
From popular Christian voices Lisa Jacobson and Phylicia Masonheimer, The Flirtation Experiment inspires you to strengthen your marriage with a fun, unexpected approach that leads to the depth, richness, and closeness you desire.
Ready to make a significant impact on your marriage . . . one small flirtatious experiment at a time?