How to Create the Ideal Headquarters for Managing Your Home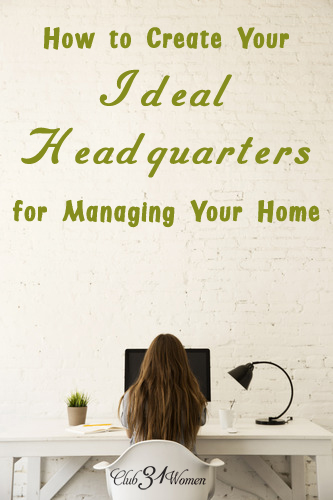 The strangest things make me happy.
Or so my children tell me. They think I'm a little bit funny that way.
Like having the perfect place to manage my home.
Okay, maybe not perfect, but it works for me.
Our kids might not understand it. This pleasure of creating just the right spot for running things around here.
But you get it. Don't you?
Like when he asks "Where are my keys, dear?" And I can say right back, "They're hanging up here, my Love."
Like when my friend calls and asks what to do about such-and-such and I can reply, "Wait just a minute while I look that up for you."
Like when my teenage daughter needs marking pens. And glue. And tape. And a ruler. And I can say, "Sure, Honey, they're all right here."
Or like when he asks for the receipt from Lowe's Home Improvement because that power-tool isn't so powerful after all and he wants to return it. Then all I have to do is open the box and hand it to him.
You see? I just knew you'd understand.
(Okay, maybe it doesn't always work out quite like I planned—this finding of the keys, for instance . . we're still working on that one.)
But it's funny how this place – this headquarters where so much happens – is often the last place we invest in. Even though it's one of the most important places in the house. At least as far as managing our homes go.
This is a Very Important Place.
The 3 Basics for Headquarters: Location, Organization, & Decoration
Location: For many years, I've had my Headquarters situated in the kitchen. Two of the houses we lived in actually had a desk built right into the kitchen counter which was highly convenient. Currently, my spot is back in our bedroom, believe it or not. You'll want to pick a place that it convenient – whether that means in the center of things or slightly secluded – depending on your priorities at the time.
Organization: I like to identify my main "areas" that I manage and then figure out ways to organize each. This might include things like: receipts, business papers, homeschool stuff, personal correspondence, and such. Then watch the clearance shelves at places like Staples or Michael's crafts for organizational items. You can also search Craig's List for great finds. That's how we found both my office armoire (see below) and my husband's office set for a terrific price (translation: cheap, cheap!).
Decoration: Okay, this is the best part. Why not make it fun and/or pretty? I mean you're going to be spending some time here, so let's make it a pleasant (as possible) experience. Add a little creativity with one of your favorite themes: whimsical, elegant, colorful, or funky. Besides, don't you think we're more inclined to take care of business, if it's lovely too?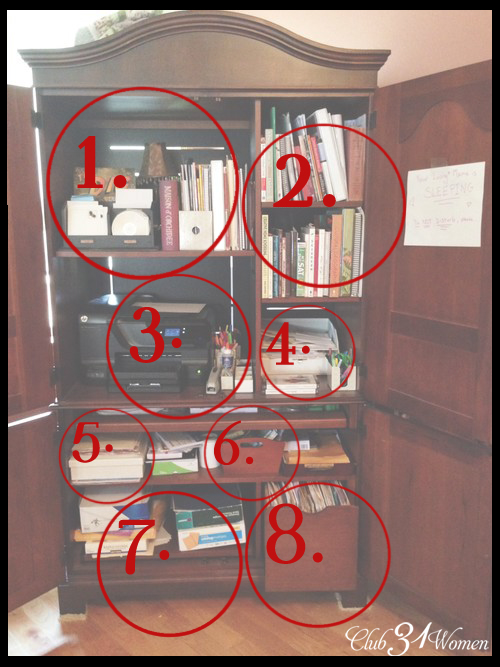 What Goes On Inside of Headquarters
Alright, so this is what it look like on the inside of mine. Yours is going to look different, of course, because it's going to reflect you and the unique needs of your home and family.
Notecards and notebooks. Here are your basics – things you're going to grab most every day.
Resources. A place for those books and resources that you refer to often. For me that would include favorite books, essential oils catalog, and homeschool books.
Printer. I know – this was a big investment. But I admit that I just love having my own printer! I use it ALL the time (mostly for homeschooling, but for other things too).
Paperwork. This is reserved for major to-do's: taxes, forms, and that you'd-better-not-lose-this stuff.
Receipts. You see that pretty white box? THAT holds this year's supply of receipts for just about everything. I might have to shuffle through it a bit, but it should (should!) contain that Lowe's receipt that my husband was wanting to return.
Stationary. Maybe it's a bit old-fashioned, but I still like to send hand-written thank you notes and such. So that brown box is full of stationary and notes that I've picked up…you guessed it! from the clearance shelves.
Supplies. Gather all those necessary goodies that make life easier: file folders, envelopes, printing paper, etc. I find that I'm much more efficient when I'm not having to look all over the house for, say, an envelope.
File folders. This is probably my least favorite part, but….*sigh it must be done. I have a file for taxes (*double sigh) and other such Important Papers.
*Other Essentials: I also have a large calendar (on left) and a dry-erase board for notes, plus a place to hang keys (on right).
So these are my main categories and you'll probably have some that are the same and some that are all your own. Maybe you help with your husband's business? Or have your own home business? You homeschool, or your kids attend a school? Whatever the case, think through those areas that you're responsible for and then enjoy setting up a system and spot that works well for you.
Your ideal headquarters.
It will likely take some time and effort to get it up and running, but what a worthy investment! After all, it will make for a happy place for you to work from.
And that's something you know I'll understand . . . 😉
*Do you want to share what works for you? What creative solutions have you found for your headquarters?
In His grace,


(This post may contain affiliate links. Read my full disclosure.)