Yummy! Peanut Butter and Chocolate Chip Nutella Swirled Blondies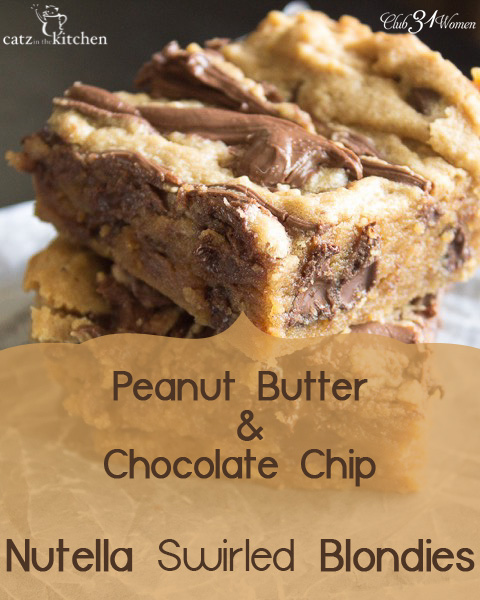 *Okay, everyone meet Chels! I've been wanting to introduce her to you for a while now! You're gonna just love her. And her recipes. Even if you never make her recipe (but you really should, if at all possible), you'll enjoy reading her commentary—which is about as delicious as the food she makes! So, here she is – enjoy! ~ Lisa
Hi everyone, I'm Chels from catzinthekitchen.com and I'm so excited and honored to be here sharing some of my favorite recipes with you!
I first met Lisa this past summer at a homeschooling conference where she and her family spoke. I was so encouraged by not only the wisdom she shared, but by the testimony her daughters gave about growing up in their home and the way they were raised. Soon after the conference, I subscribed to Lisa's and Matthew's blogs, and starting stalking following her on social media… (which I would recommend you all do, by the way – the following, not the stalking!)
At any rate, I'm thrilled to share one of my favorite little desserts with you today…more to come! Enjoy!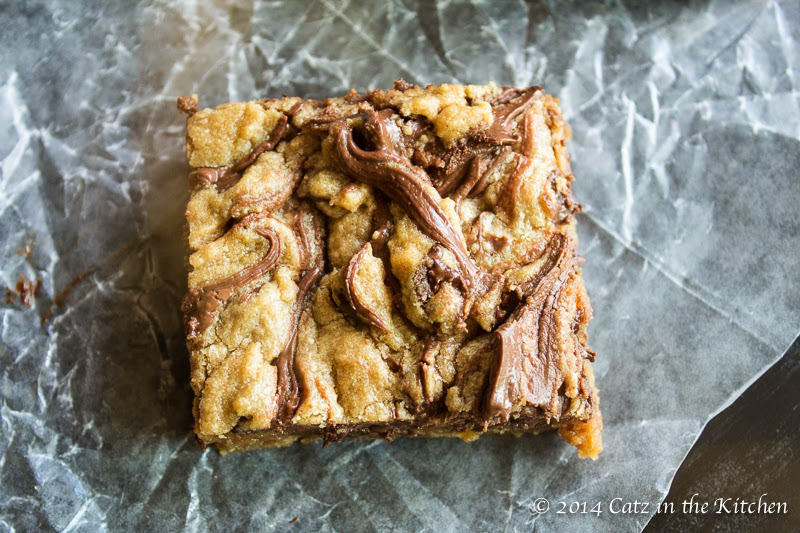 Peanut Butter & Chocolate Chip Nutella Swirled Blondies
I love my husband to pieces.
He does a lot of really sweet things for me on a daily basis that just proves his faithfulness to me. He sets out a coffee cup and leaves me a note every morning before he goes to work. He NEVER leaves the toilet seat up. He picks up after himself. The list goes on. If I were to make a list, his pro's would far outweigh his cons.
But we all have cons.His indulgent snack of choice is peanut butter slathered on toast and dotted with chocolate chips.
This snack drives me crazy because it means he is dipping into my supply of chocolate chips!
They are for baking. Not snacking on! #men #foodbloggerproblems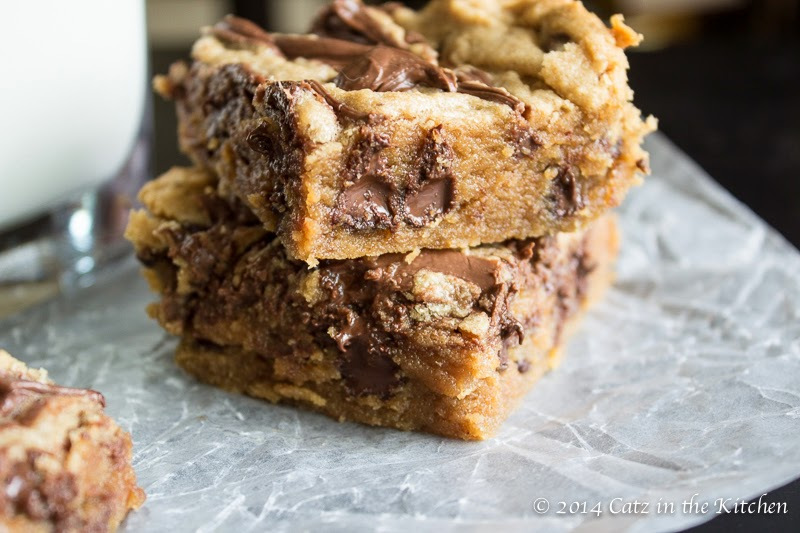 Anyway, Josh reminded me that we had some creamy peanut butter from Trader Joe's in the pantry I needed to use before it expired. My first thought was to make cookies.
I love cookies. Like OBSESSED!
But, I didn't really have the time to experiment with a cookie recipe. I was short on time. Then my mind switched from brownies to blondies! I LOVE BLONDIES!
I love the color, the flavor, the texture. You name it. Plus, with a fun name like Blondie, how can you go wrong?
I thought it was a genius idea to kind of take my husband's favorite snack and turn it into something really awesome. The blondies needed something else though.
Nutella, duh! I had just enough leftover in my container to swirl on top of the mixture. YUM-O!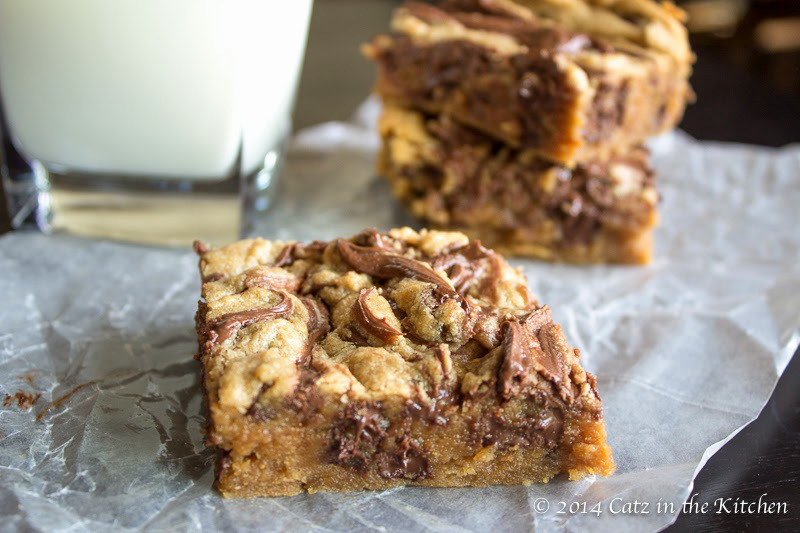 Seriously, these smelled so good while they baked. The girls and I could barely keep our hands off of them while they cooled.
Of course, I got to sample the finished product ahead of time so I knew whether they were good enough to take pictures of. They certainly smelled good enough.
They tasted even more amazing though!
These lasted maybe 2 days in our house, but only because we started cutting the pieces in half to make them last longer.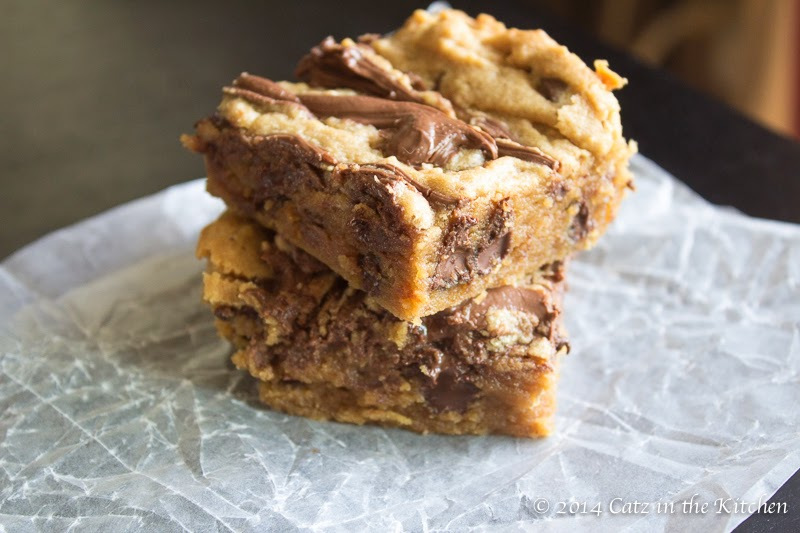 I was a little worried about how Josh would react to these because he doesn't understand Nutella.
Who doesn't understand Nutella?
It's amazing and full of magic! Anyways, I added the Nutella for me, not for him anyways.
But he ended up loving these so it goes down as a win for me!
I'm already planning on making these again soon. But I think I need to buy the giant sized container of Nutella from Costco first.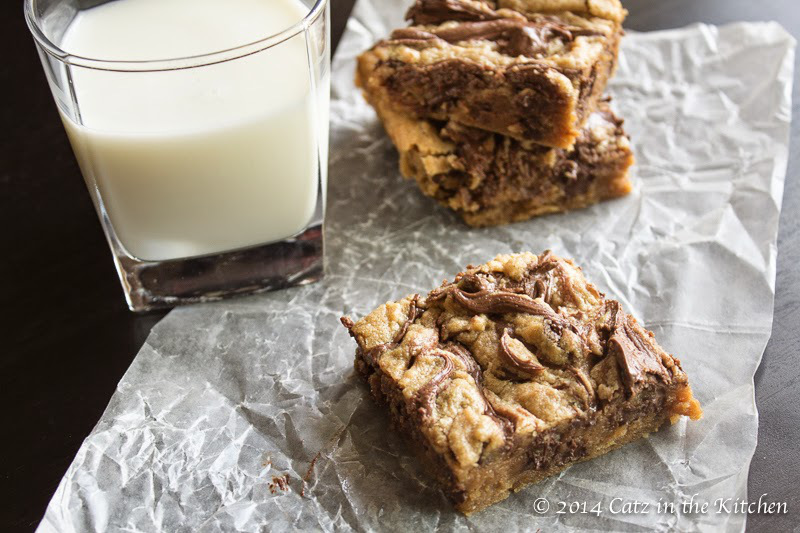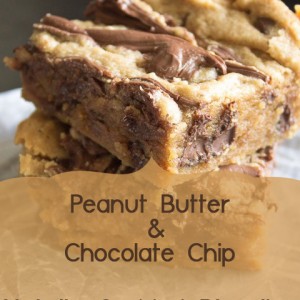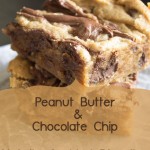 Peanut Butter and Chocolate Chip Nutella Swirled Blondies
Homemade chewy blondes mixed with creamy peanut butter and sweet chocolate chips get topped with smooth, nutty Nutella – a peanut butter and chocolate lover's dream come true!
Ingredients
1/2

cup

unsalted butter

, softened

1/2

cup

creamy peanut butter

1

cup

brown sugar

, packed

1

egg

1

tsp

vanilla extract

1

cup

all-purpose flour

1/2

tsp

baking powder

1/3

cup

Nutella

, warmed

1

cup

semi-sweet chocolate chip morsels
Instructions
Pre-heat oven to 350 degrees. Line an 8×8 baking dish with foil and spray with non-stick cooking spray. Set aside.

Cream butter, peanut butter, and brown sugar together using the paddle attachment of a stand mixer. (Also can be done with an electric mixer.) Beat in egg and vanilla until combined.

In a small bowl, whisk together flour, and baking powder. Pour into peanut butter mixture and beat until combined. Beat in chocolate chips.

Pour and press mixture into prepared baking dish. Scoop Nutella into a bowl and heat in the microwave for about 30 seconds, just until warm and spreadable. Drop Nutella by spoonfuls all over the mixture. Gently use a knife to swirl the Nutella over the top.

Bake for 20-25 minutes until edges are golden. Cool completely. Remove foil from baking dish, cut into squares and serve.
Bake and enjoy!
~ Chels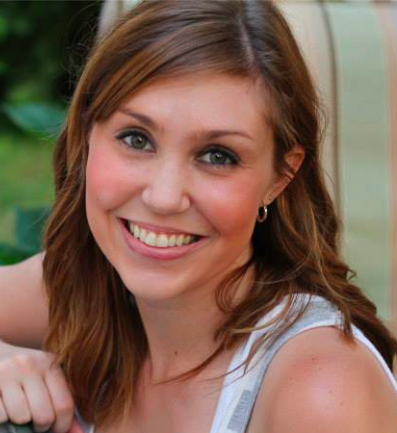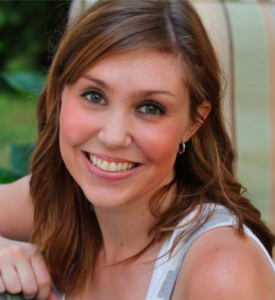 Chels is a born-again believer who dreams of living with all four seasons in Central Oregon. She's a wife and stay at home mom to her three vivacious kiddos whom she home schools. When she's not schooling or chasing after her munchkins, she enjoys reading, bubble baths, and finding clothing/kitchen treasure at thrift stores. But more than all of that, she finds refuge in her kitchen where she and her husband can be found cooking and baking up a storm for their family and friends. You can read more about her culinary endeavors at CatzintheKitchen.com.