A Spiritual Lift for the Tired and Busy Mom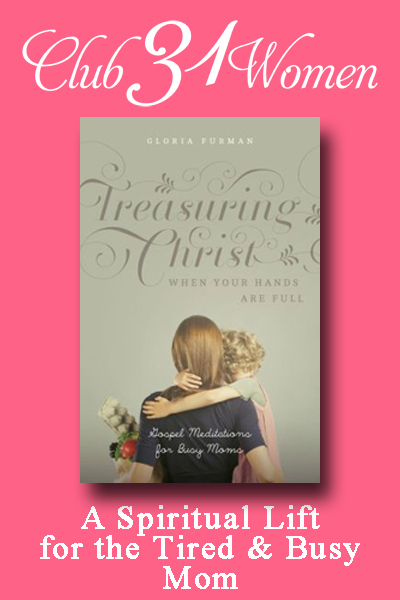 So my husband and I had one of those conversations in the car this week.
Oh no, not one of those.
This one was actually about this book I'd just finished reading.
He could tell that I was enjoying it. Because he kept seeing it in my hands whenever I had a spare minute.
(Not that I really have "spare" minutes, but you know what I mean.)
I'd first heard about this book when some friends were posting on Facebook their "Top 10 Books that were influential in their lives" and this book was listed on several of them.
So naturally, I had to check it out.
Now, after reading it, I could see why it was listed in the Top Ten.
This book offers a spiritual lift to a tired and busy mom.
And you want to know something? This "tired and busy" mom could use a lift now and then.
Like right now.
And so I found myself picking up Treasuring Christ When Your Hands Are Full every chance I got. Because friends? My hands are full right now.
Maybe your hands are full too.
This post may contain affiliate links through which Club31Women might get a small compensation – with no additional cost to you.  See my disclosure policy here.
A Spiritual Lift for the Tired, Busy mom
If so, I thought you might be as encouraged and refreshed as I was by this little book of "Gospel devotions".
About Treasuring Christ When Your Hands Are Full: Gospel Meditations for Busy Moms
A Treasure-filled Book: In it you'll find gems such as these:
"When the mundane looms larger than eternal life, we forget who God is, who we are, and who our children are.
When we have eternity in view, we respond to motherhood differently than if we lived just for the moment. We see that our children are marching toward a destiny."
and
"God's grace to us in Christ is greater than any frustration that threatens to unravel us. Because Jesus is upholding the universe with His word, we can trust Him with any no-good, very bad day." ~ Gloria Furman
A Short, but Deep Read: This is a relatively small book – only 160 pages long – and yet contains many rich truths for the weary mom to consider.
A Christ-Centered Book: This is more of a WHY than a how-to book. The author is continually pointing us back to Christ and His Word rather than a practical, child-training type of book (Both can be helpful to moms: I just wanted to clarify that this book falls more into the first category).
An Encouragement to Moms with Young Children and More: While the author is primarily addressing the mothers of young ones, I still found her insights and reminders to be very refreshing at the stage I am in with older children.
An Honest and Inspiring Testimony: In addition to being the wife of a pastor and mother of four young children, Gloria and her family minister in the Middle East at the Redeemer Church of Dubai. Her hands certainly qualify as "full" to overflowing.
Treasuring Christ When Your Hands Are Full: Gospel Meditations for Busy Moms
by Gloria Furman
Paperback: 160 pages
Publisher: Crossway; 1 edition (March 31, 2014)
Motherhood is tough, and it often feels like the to-do list just gets longer and longer every day—making it hard to experience true joy in God, our children, and the gospel.
In this encouraging book for frazzled moms, Gloria Furman helps us reorient our vision of motherhood around what the Bible teaches. Showing how to pursue a vibrant relationship with God–even when discouragement sets in and the laundry still needs to be washed–this book will help you treasure Christ more deeply no matter how busy you are. ~ from the back cover of Treasure Christ When Your Hands Are Full
*Gloria Furman is also the author of Glimpses of Grace: Treasuring the Gospel in Your Home
. You can read more from and about Gloria on her blog: GloriaFurman.com
So for all you tired and busy moms (and we know who we are) who could use a lift, this book offers spiritual encouragement in the middle of an intensely pouring-out season of life.
I hope you've found this Club31Women Book Review helpful and inspiring!
In His grace,