20 Delightful Picture Books Your Little Ones Will Love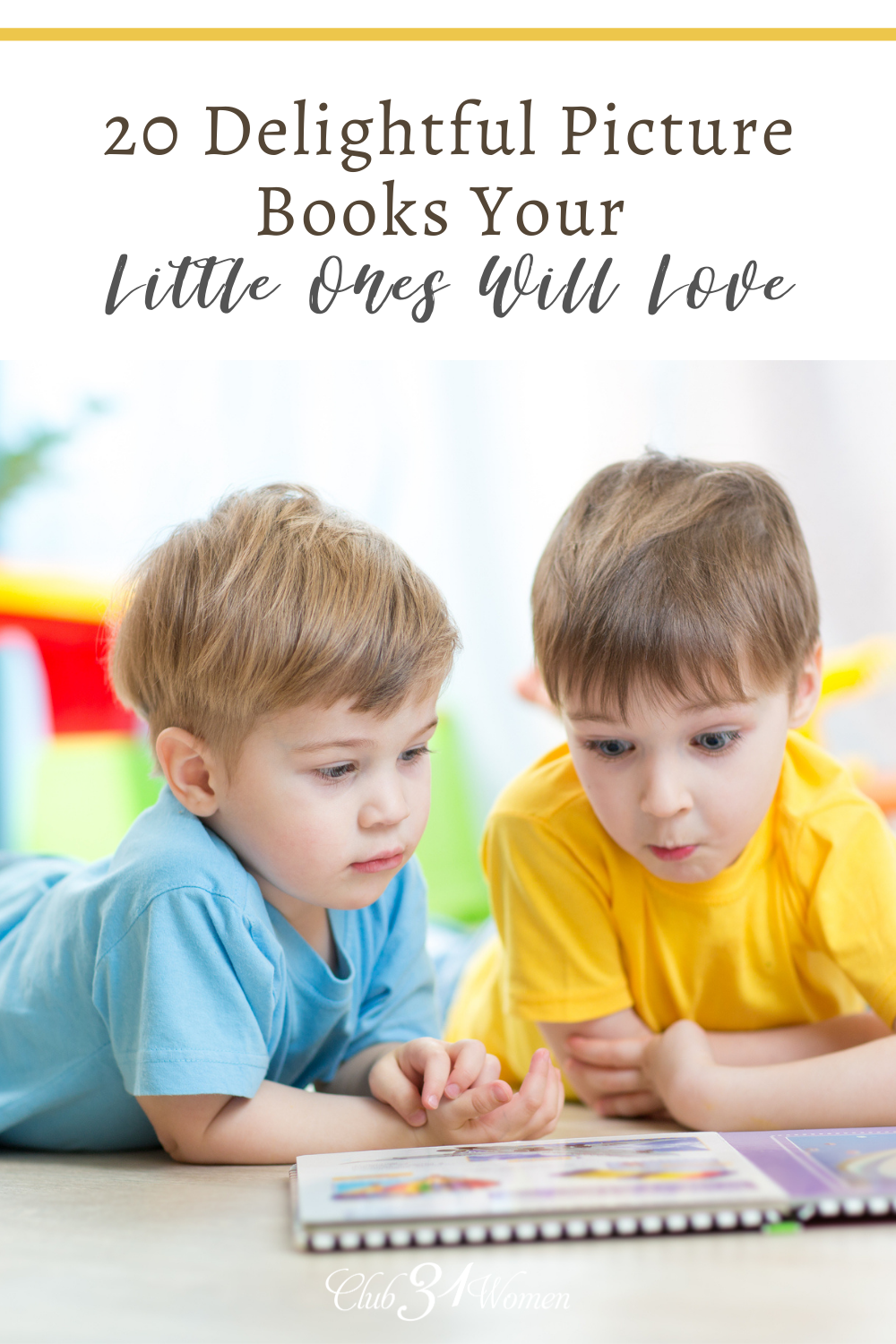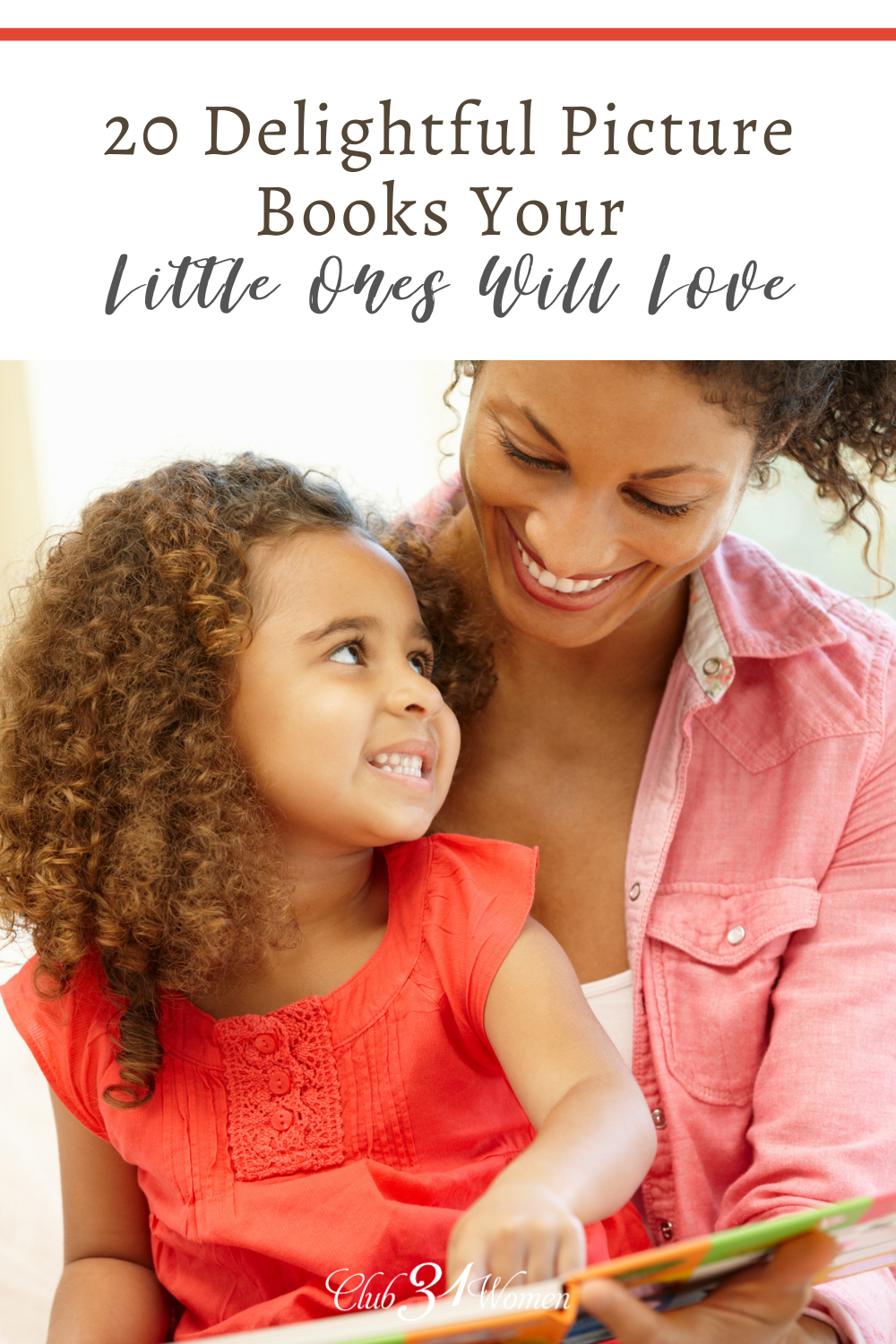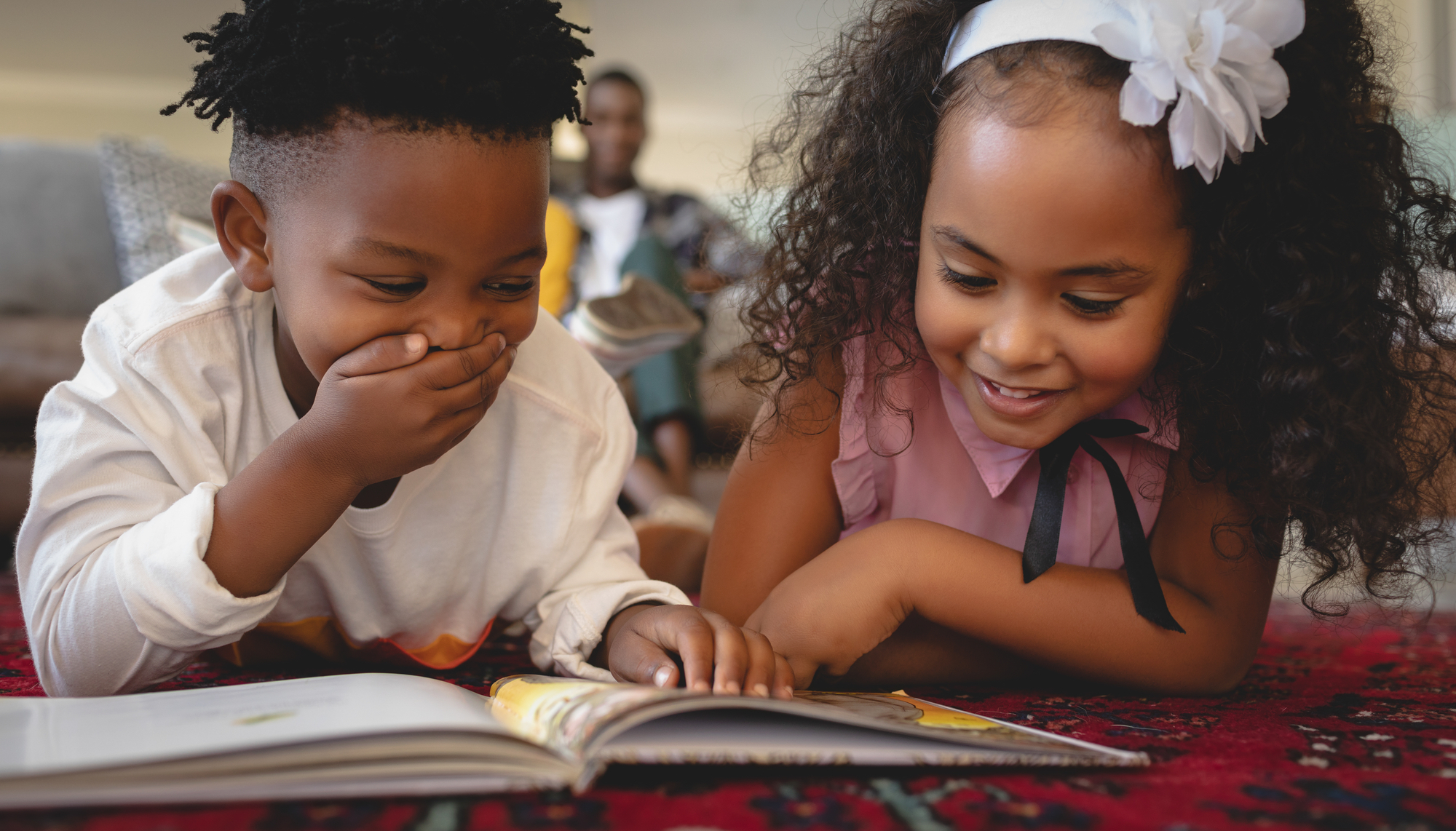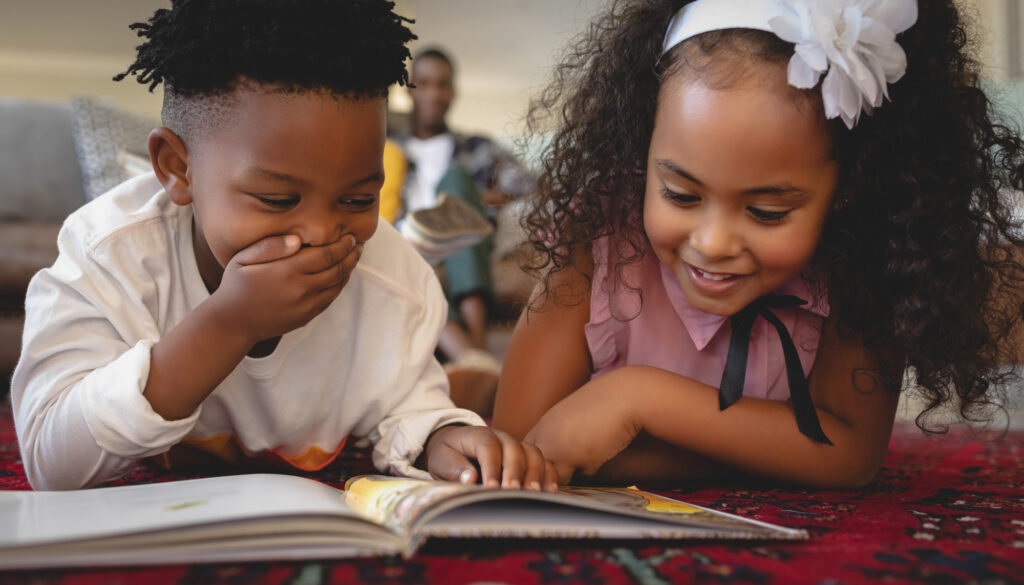 It can be challenging to wade through millions of books to find those delightful picture books your children will love. Here is a list to get you started!
"How are you planning to get all these books to your car?" the librarian eyed my baby and my toddler with skepticism.
I confidently showed her my backpack and she replied, "We can use a cart to help you get the books out to your car."
I did manage to get the books and my children out to the car on my own, just like every other time. (I didn't even need a U-Haul for our selections!) And as she always does when we get home from the library, my 3-year-old excitedly settled herself on the couch with her favorite blanket and her water cup. Next to her, almost as tall as she was, sat a stack of our newest finds. While I may not read them all in a single afternoon, these books will certainly hold her attention for a long time as she savors each picture and spots whatever creatures might live within those pages.
Here are a few of the delightful picture books that have enthralled my daughter and me, some I've owned since before I was married and others new friends from our recent library runs. I hope you find a few of these at a library near you, and perhaps even decide to add some to your shelf for repeated reading!
This post may contain affiliate links through which Club31Women might get a small compensation – with no additional cost to you.  See my disclosure policy here.
Imagine a town where food falls from the sky three times a day, where you carried your plate and utensils around whenever you ventured outside. Then imagine that the weather (read "food") takes a turn for the worse, and your town is in great danger from ginormous pancakes and a tomato tornado. The best bedtime story ever, as told by Grandpa to Henry and his sister, brings this town to life with entertaining illustrations and imaginative language.
The news must have spread that Mrs. McTats takes good care of her cat Abner because suddenly she has cats and more cats showing up on her doorstep. Mrs. McTats welcomes the creatures, names them alphabetically, and of course, heads off to market to buy food for her cats.
Don't miss reading this classic children's book, complete with its holey pages, to your children! It's a cute tale of a caterpillar who starts by eating his way through a single apple on Monday and then ten foods (including a pickle and a cupcake) on Saturday before his amazing transformation into a butterfly.
When Mother Bat is attacked by an owl, Stellaluna ends up in a nest with three baby birds. But her adoption into the birds' family has its challenges, as Stellaluna learns to "behave as a good bird should." Her two worlds collide when she is reunited with Mother Bat, but Stellaluna and her bird "siblings" agree that "we're friends" and that's what matters. (This book was introduced to me as part of a curriculum which helps children moving cross-culturally; I find it a powerful resource to use in that way, as it can foster discussions about how peoples of different cultures are similar and different.)
Soon after we announced that our Natalie was going to be a big sister this book arrived on our doorstep, courtesy of Aunt Rebekah. In those ensuing months, we read it over and over and over, anticipating what life would be like once our little baby made his appearance. Reading about how the baby would need to be fed, diapered, and loved definitely helped prepare Natalie for her promotion to big sister!
Wilfred has made friends with the elderly people who live in the retirement home next door, including "Mrs. Jordan who played the organ" and "Mr. Drysdale who had a voice like a giant." But when Wilfred discovers his favorite neighbor, Miss Nancy, has lost her memory he sets out to help her find it. I get teary-eyed when reading this book!
Miss Smith is one of those amazing teachers who make reading come alive, though it's apparently her storybook that produces characters in flesh and blood. One day when Miss Smith is stuck in traffic and Principal Rittenrotten starts reading to the class, chaos ensues. This is one of those books that my Natalie asks to be read over and over!
Dads have a wonderful and mysterious way of doing things with extra excitement and adventure, whether that's a trip to the grocery store or a visit to the park. And this alligator dad cares for his little gators in that same loving way, even participating in "something that maybe we shouldn't have done" before finally tucking them into bed at night.
Bats are not on my list of favorite animals, but somehow, once again, here is a bat book I enjoyed. The bats' night at the beach wouldn't be complete without moon-tan lotion, bug-mallows toasting, or banjo strumming; and the creative illustrations lend an extra element of originality to the expressive rhymes.
Some books must be read at a swift pace, and these rhymes about this crazy goose are definitely in this category! From chaos in the sheep pen to dad's "morning routine (which) was completely destroyed," the goose leaves nothing untouched. This book is illustrated by the same Steven Kellogg who illustrates Library Lil (see below), and his style is perfect for this story!
From the beloved authors of Brown Bear, Brown Bear, What Do You See? comes another classic, this one focusing on sounds such as a hippopotamus snorting, a boa constrictor hissing, and a walrus bellowing. It wraps up with a zookeeper who hears children in animal costumes making the appropriate animal noises.
Most of this book is made up of one extremely long sentence, showing us that stories and adventures from childhood can become the stuff of books. It's a creative encouragement to children that they could become an author, and a sweet peek into Patricia MacLachlan's childhood. And if you're familiar with Sarah, Plain and Tall you'll love the reference to that lovely story within the pages of this book. (Warning: Somebody Like Me references eavesdropping as well as, I "ran away more than once.")
Warning: this is another tear-jerker! From his birth on the farm Eli is surrounded by people who love him, including a grandfather who carves his name on the barn rafter. Eli's growing up is full of adventures along the river, in the meadows, and in the fields. When a sister arrives to bless the farm, Eli is determined to teach baby Sylvie about all the places to love, so that she'll be anchored to their first home no matter where she might live.
Cute Little Sal's blueberry picking becomes quite the adventure when she finds herself following Little Bear's mother up the hill. On the other side of the hill Little Bear tramps along behind Little Sal's mother, while their respective mothers remain oblivious to the excitement…until suddenly something isn't quite right. The darling black and white illustrations make this story spring to life, and Little Sal's enjoyment of the berries on the hill makes me feel like finding a blueberry bush!
Ever tried counting sheep when sleeplessness strikes? Well, if those sheep you're counting have fallen asleep, but you're still wide awake, there are lots of other animals to be counted! The cute illustrations depict a little girl counting everything from deer in the forest to pigs in the pigpen, with the successful ending of drifting "off to sleep."
Minerva Louise's hilarious confusion and creativity make simple objects into something completely different than their original intent. As she catches a joy ride in the farmer's pickup, she notices "farmers, hard at work in the fields" (golfers) and "baby trucks playing in the sand" at their "truck farm" (bulldozers working in a construction zone). Minerva Louise concludes that she still loves her truck best, no matter how many other big and mighty trucks she may see.
Library Lil is not your average librarian, and when she discovers that people are watching TV instead of reading books, she sets out to change the town of Chesterville. Soon after Library Lil shows everyone how exciting reading is, a motorcycle gang rolls into town. And gang leader Bill is not about to let books get in the way of his favorite TV show. But before long Library Lil has the whole gang reading books as if they're going out of style. (Warning: Lil refers to TV as the "devil's invention" and Bill's gang hangs out at a tavern playing pool.)
In this book about Bear and his delightful friends we see them counting as they discover exciting tastes, sights, and sounds in their forest home. If you enjoy this counting book with its darling illustrations, there are many other books about Bear and his friends.
This book's boy imagines what life would be like as a mouse, an owl, a squirrel, a bird, and a cat. But ultimately he exclaims, "I am a child, and God made me so…I thank the Father for making me ME!" We've enjoyed multiple books by Karma Wilson, and I was thrilled to see that this one speaks of God as our Creator and Father.
Any children's book about cows immediately captures my attention, and this book was one that both my daughter and I thoroughly enjoyed from cover to cover. The lilting rhymes about each farm animal and its proper food is interspersed with that silly cow who loves cookies.
As I wrote this post, I discovered that certain beloved authors (like Patricia MacLachlan) have written a number of books I've never heard of, let alone read. Methinks it's time to visit the library again…
I hope you love this list of delightful picture books and your little ones will, too!
Off to the library,
Jennifer Church
Here at Club31Women, we recognize that not everyone has the same taste or point of view on books, music, or movies, but we offer these short reviews for your consideration. Our hope is that you will find something new and wonderful on this list of recommended resources!
~ Lisa Jacobson, Club31Women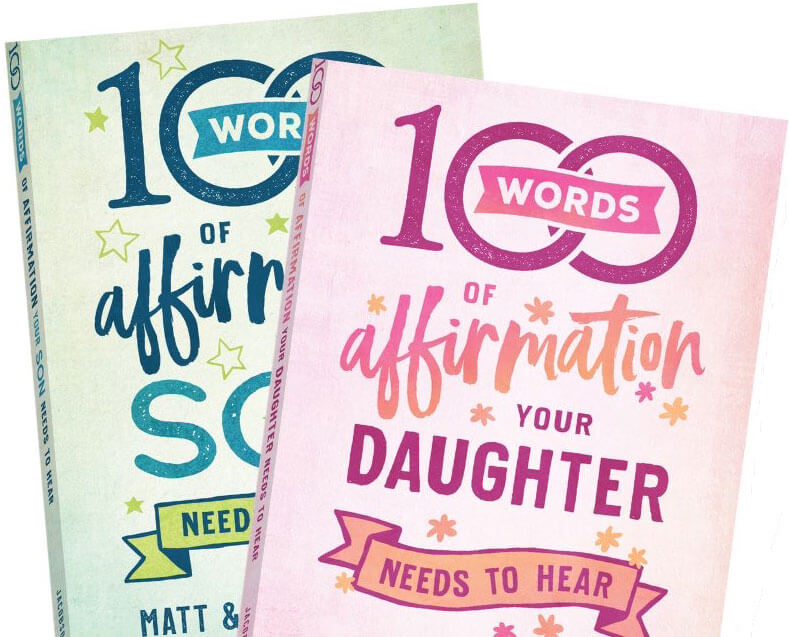 100 Words of Affirmation Your Son/Daughter Needs to Hear
Matt and Lisa Jacobson want you to discover the powerful ways you can build your children up in love with the beautiful words you choose to say every day–words that every son and daughter needs to hear.
These affirmation books offer you one hundred phrases to say to your son or daughter – along with short, personal stories and examples – that deeply encourage, affirm, and inspire.
So start speaking a kind and beautiful word into their lives daily and watch your children–and your relationship with them–transform before your eyes.