Is Your Perfect Way…Getting In the Way of His Perfect Story?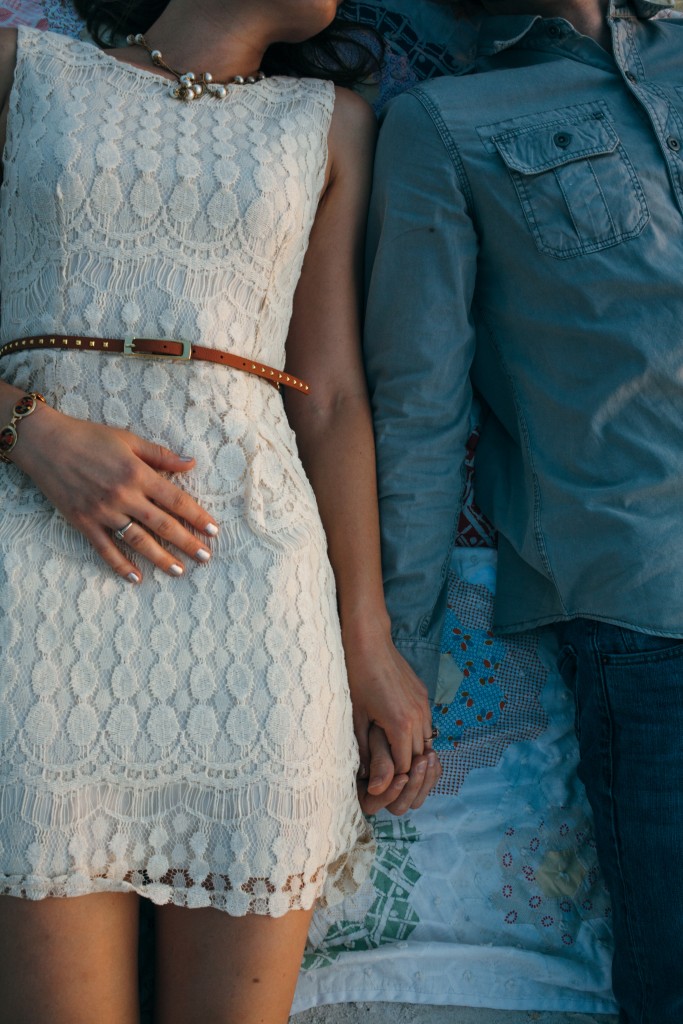 Our first home together was a 1930's bungalow, the only remaining vestige of a farm in Crozet, Virginia.
When we moved in, then, it had about 50 nearly-new spec homes around it, transforming it from a charming farmhouse into the gangly outlaw of the neighborhood. In exchange for reduced rent, we stripped wall-paper and sanded floors and painted trim. We also added a pull-down staircase into the attic in a harried attempt to compensate for the hole our friend made in the ceiling as he foisted our boxes up into "storage."
Most of those boxes were Nate's; I brought only a small dowry to our union.
I thought he must be a pack rat, then (you know, all those guesses you make about this person whose ring you're wearing but whom you still barely know). Poetry anthologies and historical biographies and more works of C.S. Lewis than I knew he wrote.
We loaded up that cob-webbed crawl-space in the ceiling with box after box of books that didn't have titles like "Growing Your Heart for God" or "How to Change the World for God" which were the only kind of books that I read at that time.
The attic concealed them, so I ignored them.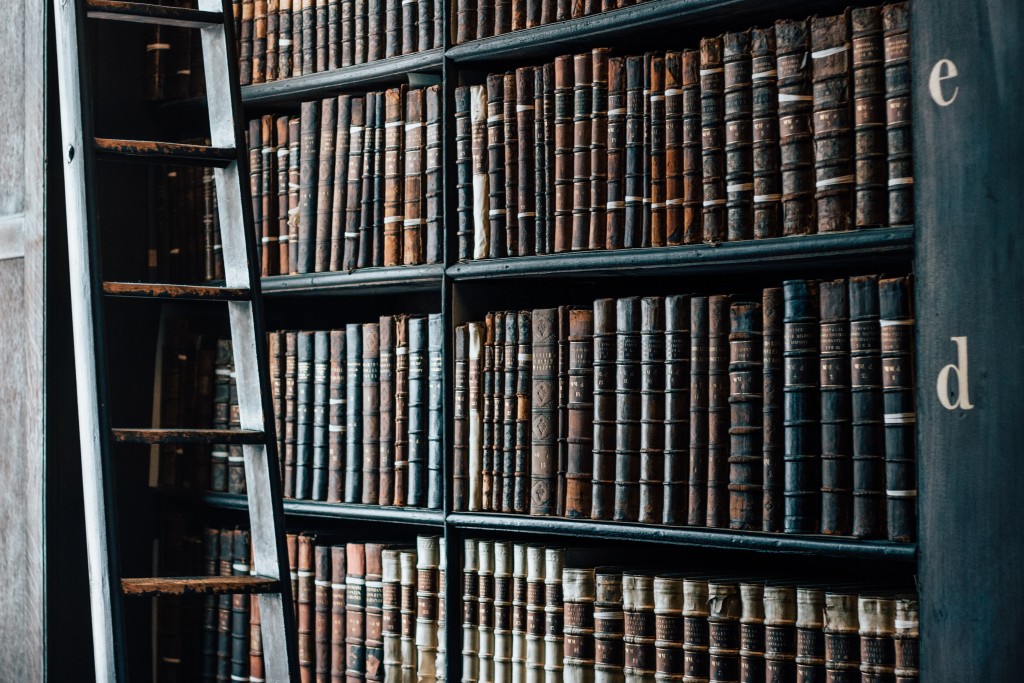 When we moved again three years later into the home that didn't have an attic, but a basement, and one into which we walked through every day from our garage up to the first floor,
I remembered the books.
The boxes of books.
"Can't we just sell them?" I inquired with an added edge.
I now knew he wasn't a pack rat, but he had another habit I didn't quite get. Nate loved story and verse and layers that unfolded over pages — ideas, but not the kind that were quick to digest. The ones that took time to unfurl.
I, on the other hand in that season in life, had little tolerance for this.
Who had time for layers, unfurling, when there were souls to save? And there was always Cliffs Notes anyway.
One day, either with words or with looks or with the stone cold indifference that a wife who's fixed on what she wants can wield, I'll convince him to drop this hobby and give his time to something of actual significance.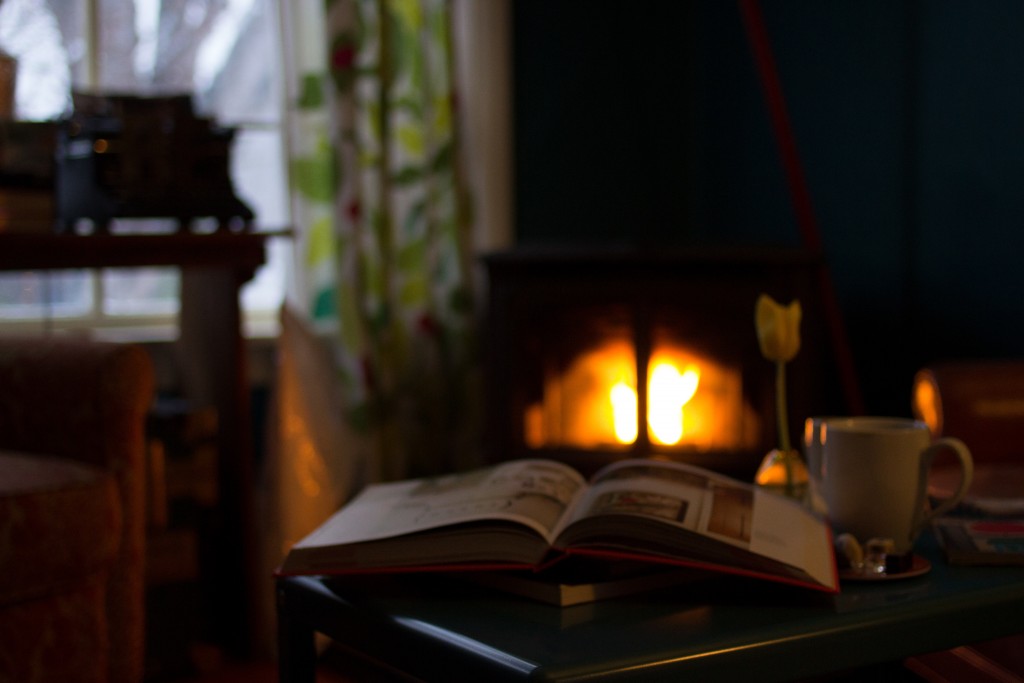 Ten years later and I'm out of Nate's sight, down the hall, but close enough to hear it all.
One child's heart is sunken and their words are all tangled in pain and hurt and anger. Nate's fielding them in the family room.
It's the child I've been zeroed in on — praying for in the early hours and talking, long, with in the afternooons. I need to tell him what I've been doing with this one, I thought. Five children and laundry and dinner and math worksheets and piano practice and I hadn't briefed him yet on this particular child.
Before I could walk through the door of our bedroom, he's responding. Oh no, I thought. This wasn't my approach. This isn't what I would do. How do I intercept this?
History or the Holy Spirit stopped me.
The books. The boxes of books.
Several years into our marriage — several years of storing those books — and I'd felt a nudge: read. Read a story. I padded down to the basement and rummaged through those boxes and blew the dust off the volumes that were well-loved, dog-eared and inked.
And as I read those stories, I remembered a young girl — a young me — with pig-tails who rode her bike to the Reading Railroad and to the library only to return and spend hours buried in story in the corner swivel chair of her parents' sunroom.
She hadn't yet taught herself that life was a set of rules, with clocks on every wall and boxes to be checked.
She had vigor, then.
Zest.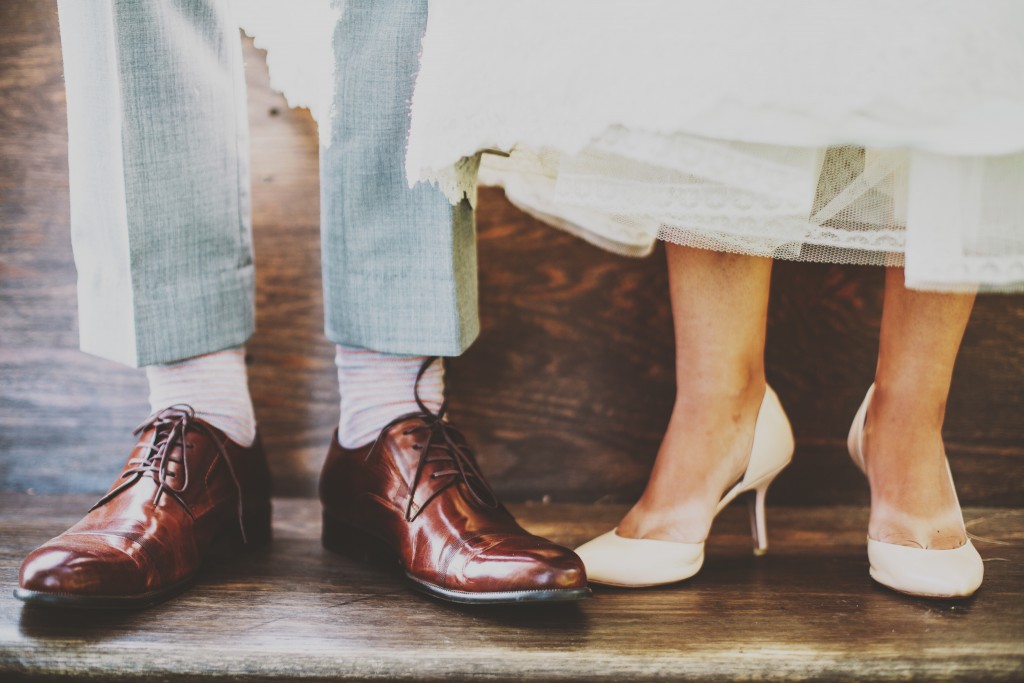 I married Nate for his passion to share gospel to the ends of the earth.
I wanted a leader who wouldn't tire and who would leave behind him a ripple of impact. I liked the parts of him that were just like me and the ones that weren't, I ignored in hopes that they would go away. Becoming one was becoming "same," to me then.
Yet this leader of mine — God — used my husband to bring out sides of my heart and my hunger for Him that were long-latent.
At twenty-three, I didn't see that my driven-self needed to get lost in the Love Story of all ages and stop approaching it like it was a playbook. Those books in our basement and the man who bought them and read them and shared them widened my lens to see the layers of God's beauty.
I never read the Bible or my heart the same again, afterwards.
A decade and a half later and down the hall — with a house full of squeals and giggles and squabbles, not just books — and that man who approached my child's heart from a different angle than I would have, was doing the same all over again.
I could interrupt and correct him or I could press my knees against the floorboards and ask God to use this mixture of different persons into one union to bring crazy glory for Him.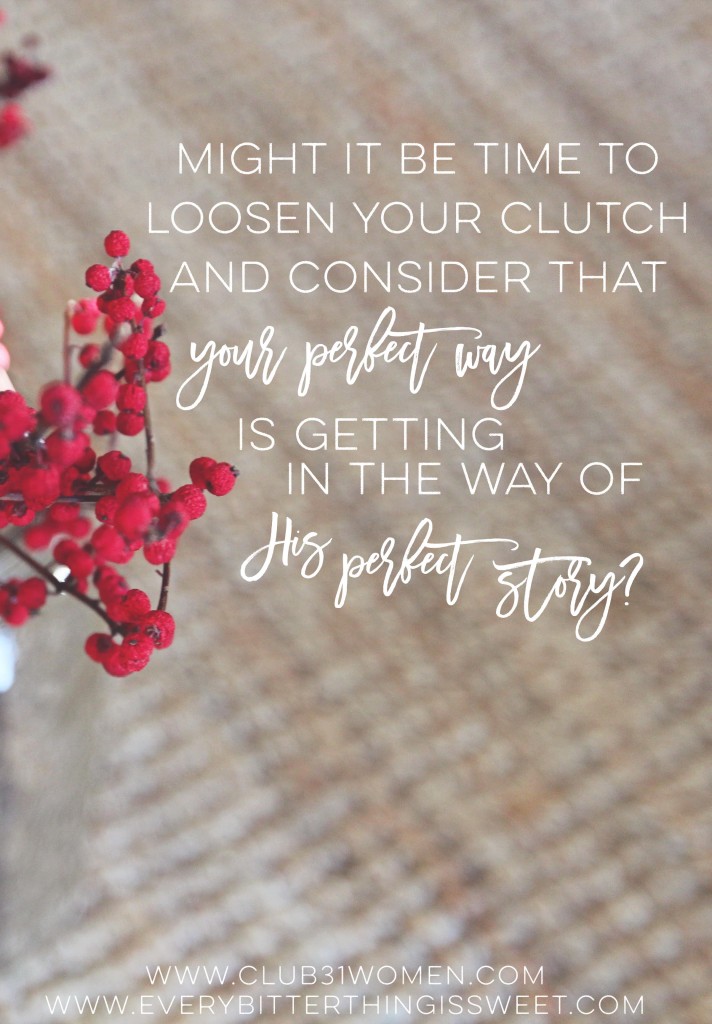 This post may contain affiliate links through which Club31Women might get a small compensation – with no additional cost to you.  See my disclosure policy here.
Dear bride — married for 3 months or 20 years — might it be time to loosen your clutch and consider that your perfect way is getting in the way of His perfect story? Seems like too big of an ask, as the laundry list of things you'd like to change about that man is ever-growing?
Then, start with one.
Pick one area you've had your eye on for that man of yours to change and ask these two questions of God:
1) What is it in me that you want to reach while I've been biting my nails and staring at him?
and 2) Will You turn this one spot of friction into a place where I fall more in love with You?
Your man who's not budging may be revelatory of the unrelenting hand of God to reach new places of your heart.
A friend I'd prayed for for years, came to know Jesus after reading my book — the book I wouldn't have cared to write had it not been for the man God used to unlock me, this little evangelist, with dreams — and stories — I'd never knew I had.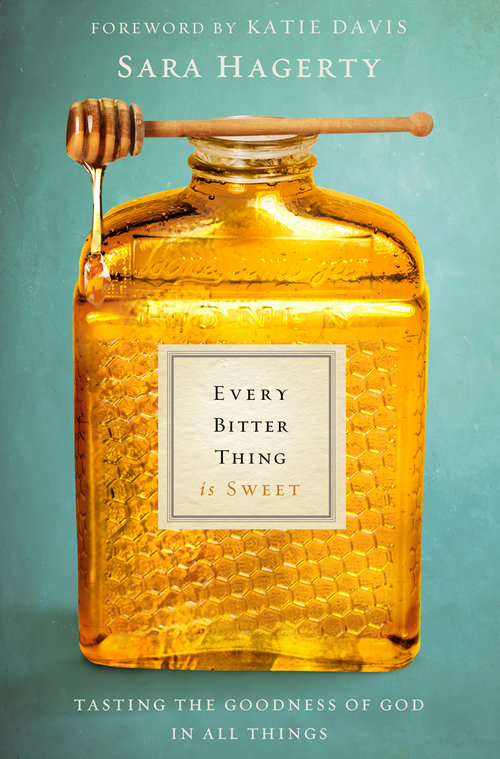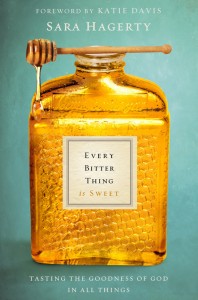 Sara Hagerty masterfully draws from her own story of spiritual and physical barrenness to birth in readers a new longing for God. Whatever lost expectations readers are facing—in family, career, singleness, or marriage—Every Bitter Thing Is Sweet will bring them closer to a God who longs for them to know him more. What does it look like to know God's nearness when life breaks? What does it mean to receive his life when earthly life remains barren? With exquisite storytelling and reflection, Hagerty brings readers back to hope, back to healing, back to a place that God is holding for them alone—a place where every bitter thing is sweet.
Find Every Bitter Thing is Sweet on Amazon →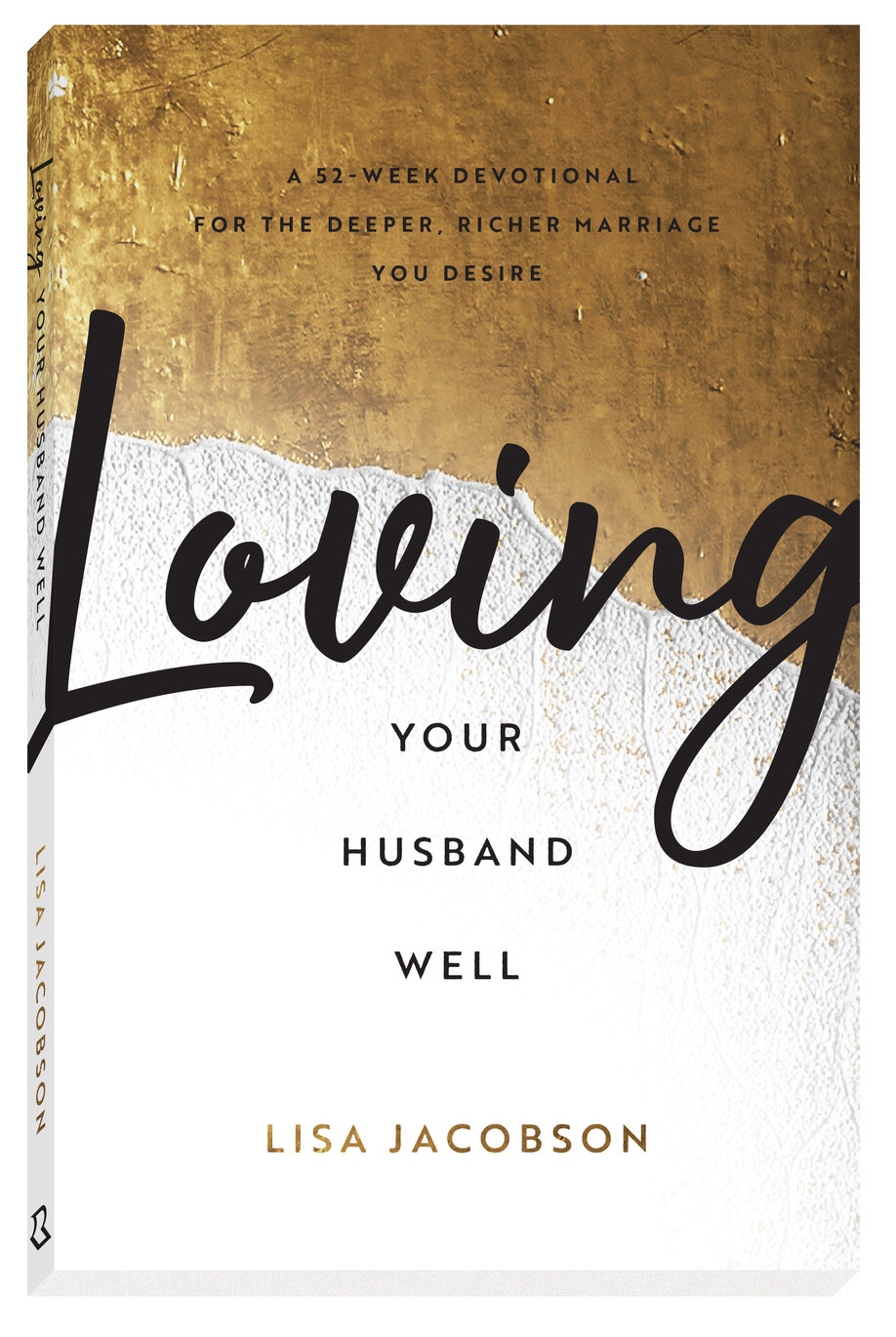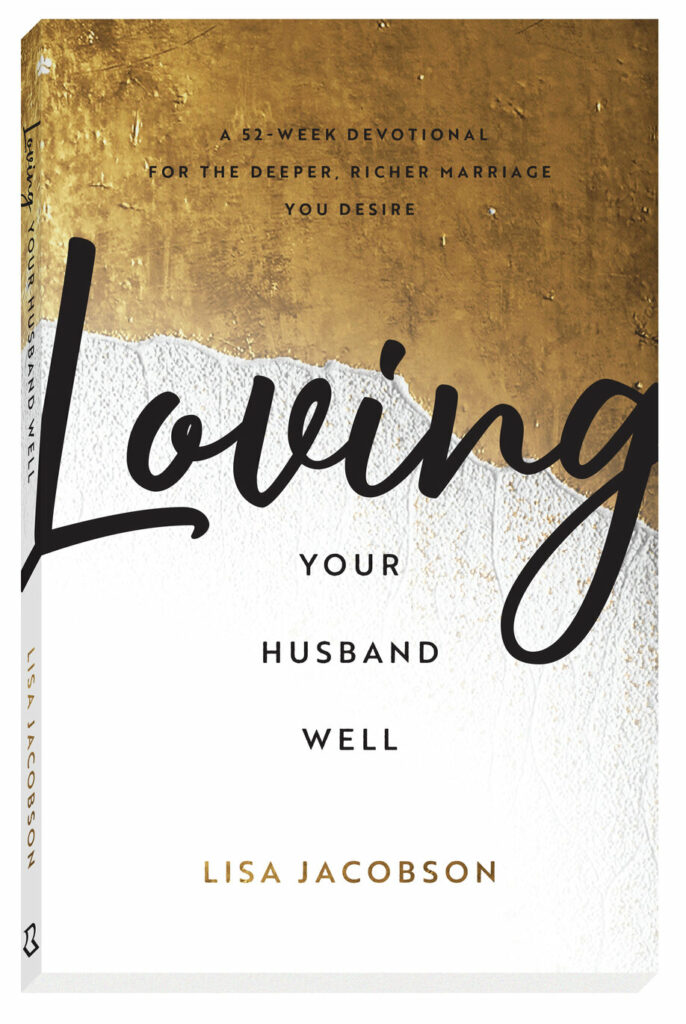 A 52-Week Devotional for the Deeper, Richer Marriage You Desire
An intimate, loving marriage is so much closer than you think

Imagine if, at the end of the year, despite your busy schedules and all the demands on your time and attention, you and your husband were more in sync, more connected, and more in love than ever before. Sounds amazing, right?

That kind of marriage is what is waiting for you as you read through the fifty-two weekly devotions in Loving Your Husband Well. Each entry includes a specific theme, related Scripture, a powerful devotion, thoughts for further reflection, practical ideas, and a prayer, all designed to help you love, cherish, and serve the man who shares life's journey with you.