Why Prayer is the Most Powerful Thing We Can Do for Our Children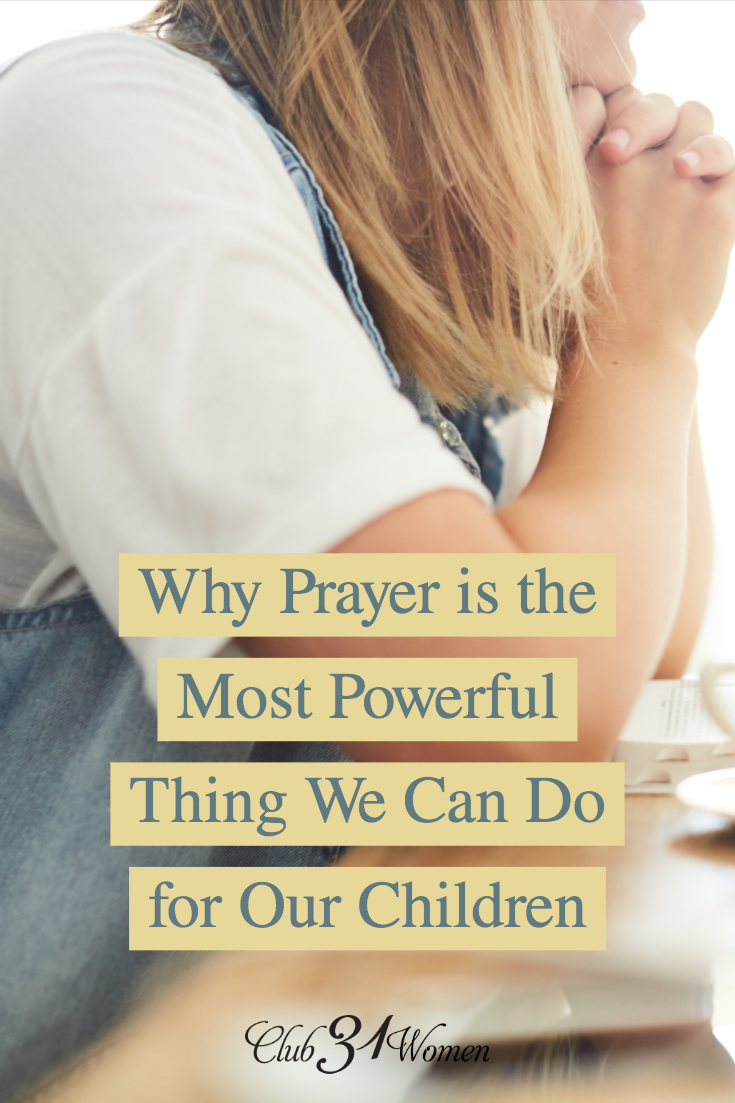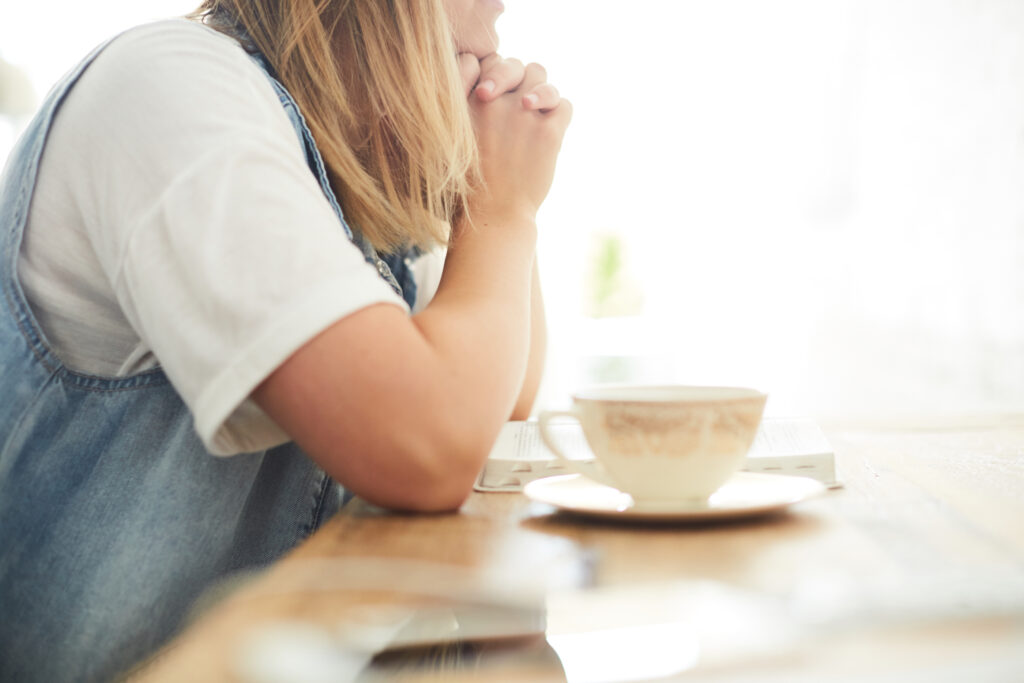 It is very common that prayer for children is overlooked simply because we feel unequipped with how and what to pray.
"I know God loves my kids," the young father said, "and I trust Him to work in their lives. So I don't see why I need to do it."
The man was talking about prayer. And I'd heard his logic before: If God is all-powerful, and if He loves us, then why should we pray? Doesn't He know what's best? Won't He just do it?
I've been writing and speaking about prayer for 25 years, and I meet plenty of moms and dads just like this guy—folks who love God and want His best for their children but say that prayer is not a big part of their parenting journey.
"I prayed, but nothing happened," one mother told me. "I'm not convinced that prayer works."
"I know God answers prayer," said another, "but I don't want to be clogging the lines with my children's issues when someone with cancer or a marriage breakdown or something really big might be trying to get through."
Perhaps the hesitation I hear most of all—the thing that keeps parents from praying—is that we don't really know how. "I didn't grow up in a home where people prayed," a precious mom in my own church confided. "It feels awkward and unfamiliar to me. But I don't want it to be that way for my kids. What can I do?"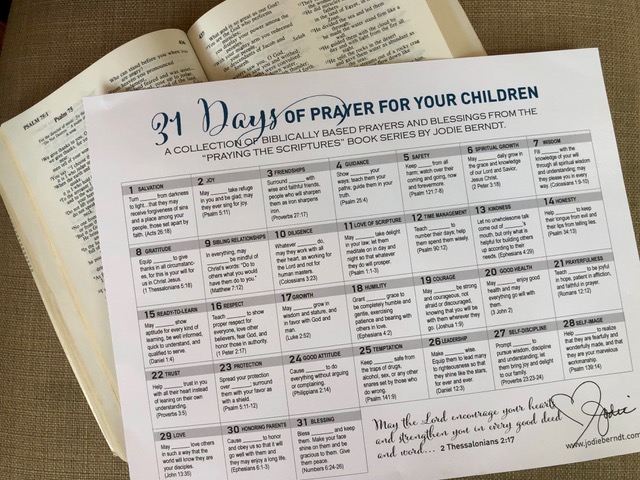 What can I do?
I am by no means a prayer expert. Or a parenting one. But having raised—and prayed for—four kids who are now in their young adult years, I am convinced that prayer is the single most powerful thing we can do for our kids. Not only that, but it's what opens the door to freedom from worry and fear in our lives.
Think about it with me for a sec.
There will be times when we don't really know what's best for our kids (or when they won't listen to us when we do). And even if we do know what we want—healthy friendships, strong character traits, safety, and protection—we can feel like our influence, or our ability to provide blessings like these is woefully limited. And that can leave us feeling anxious, afraid, or ill-equipped.
Which is where prayer for your children comes in. "Don't worry about anything," the Bible commands, "but pray about everything. Tell God your needs and thank him for what he has done."
Pray. About. Everything.
That's a command that crops up over and over again in the pages of Scripture; clearly, God wants us to talk to Him about stuff! Not only is prayer the power by which His blessings come into our lives, but it's also a way to acknowledge God as the Source of these gifts. And prayer is a sign that we're actually in a relationship. (After all, we confide in people we know and love, right? Why should it be any different with God?)
In Part 2 of this post, I'll share a few strategies to equip us to pray for children, like using a prayer calendar like the one pictured above, plus other tips to breathe fresh power and life into our convos with God. For now, though, let's be honest about how we regard prayer.
Do we hold back for fear that we'll bug God, that we'll "clog up the lines" with our minor requests—as if God operates like an earthly parent and might not have the bandwidth for all of our needs?
Or do we think that if we don't get the answer we want, it means God didn't hear us—or that we didn't sound convincing (or holy) enough when we asked?
Do we reason, like the young father did, that trusting God is enough—that if we know that He loves us, we don't need to talk to him about our desires?
Or do we take God at his word and jump in, knowing that prayer is both an act of obedience and a sign of our love—and that the Heavenly Father who numbers the very hairs on our heads cares about the smallest details of our lives?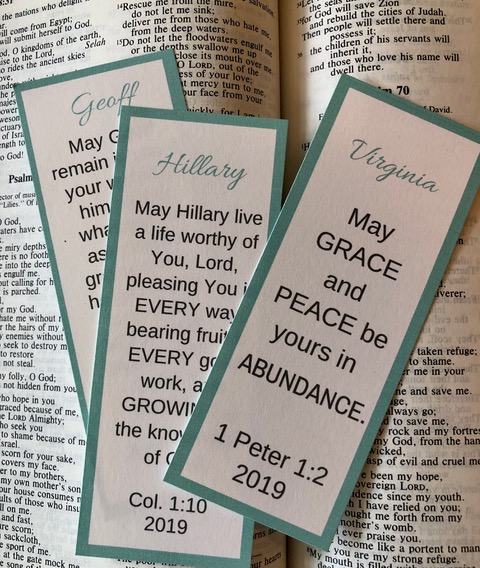 Prayer for your Children is More Than a Command
Sure, we might not always get the thing we asked for, or it might not come as quick as we want. But the more we get to know God, the more we'll be able to trust that He really does hear our prayers and that He answers in immeasurably better ways than we could have imagined. And the more we allow God's heart—as revealed in the pages of Scripture—to shape our perspective, the more our requests will line up with the good things that He wants to do.
Because prayer is more than just a command.
Prayer is an invitation. Prayer for children is a gift! It's an invitation to let go of all of our worries and fears and slip our hand into God's, partnering with Him as He accomplishes His extravagantly beautiful purposes in the lives of the people we love.
In Him,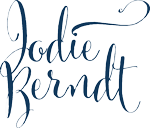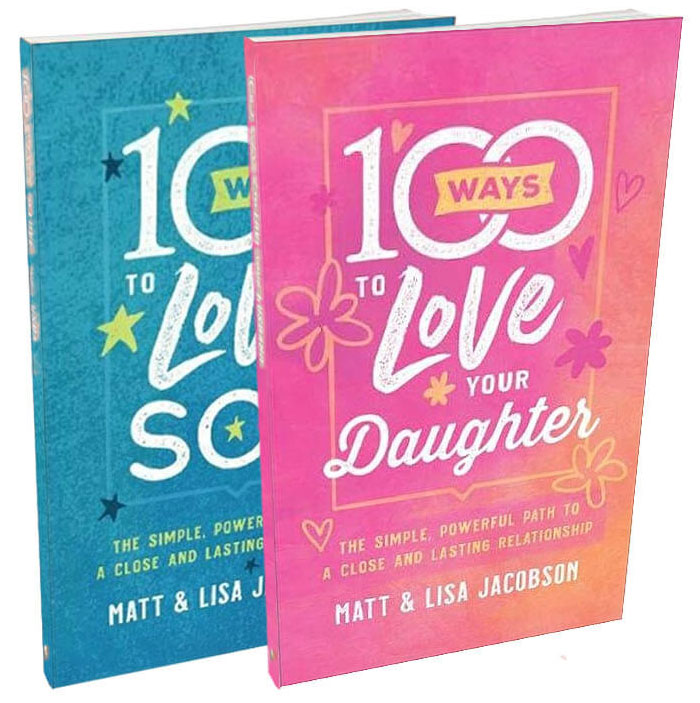 100 Ways to Love to Your Son/Daughter
You love your son and daughter–but that doesn't mean you always know the most effective ways to show that love, ways that will connect with their hearts, and stick with them no matter what life throws their way.
These practical books by the authors of 100 Ways to Love Your Wife and 100 Ways to Love Your Husband give you 100 specific, actionable ideas you can implement to show love to your children, no matter what age they are.
The best part? The short, bite-sized readings make it easy to start right now!