So I want to be better organized this year.
Hoping for things to run just a little more smoothly and reduce the stress of my schedule.
You too?
While I'm not one to make many New Year's Resolutions, I can't help but acknowledge that this is a good time of year to stop.
Appraise.
And see where I can improve.
Not merely for my own sake, mind you, but also for the sake of my marriage and for my family.
Now do you want to know what I want to work on? Where I hope to be better organized?
Okay, I'll tell you a few…..
I would like to get back to meal planning. There've been too many nights over the past few months where I've had to scramble to figure out dinner. And while I could blame a number of circumstances, the responsibility comes down to me. I'm thinking I'll either return to my Simple Menu Planning and/or try out Chelsia's Weekly Menu Plan.
Closely related to the goal above, I want to go back to shopping lists—especially grocery shopping. Ugh. I don't even want you to know how bad I've been with this lately. I have to remember that lists are my friends. Saves time, money, and stress.
I want to write down all appointments and plans. And not only my own, but also those of others in my family. Increasingly, we are scattered in many directions and if I want to make family plans (or a nice family dinner, ahem!), then I need to know what works…and what doesn't.
I want to carve out set-aside time for rest and refreshment. I've noticed that if that time isn't purposely marked out, then most days and many hours get filled. And it's too much. So I'm looking forward to designating chunks of time where we don't have anything on the calendar. (Doesn't that sound lovely, though?)
And speaking of calendars, that brings us to the best tool I've found for becoming better organized.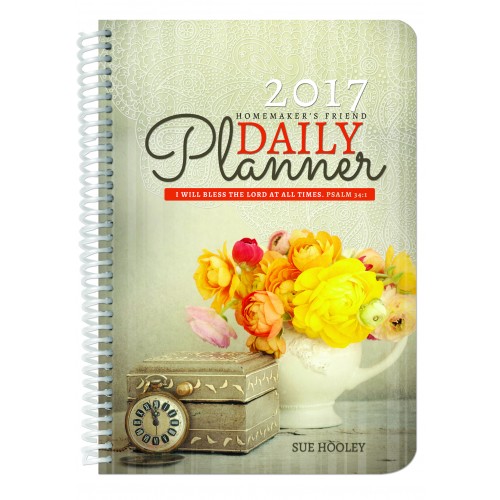 Not to long ago, I shared with you 3 reasons why planning makes me happy and why this planner is my favorite.  But for those of you who missed it, I'll give you a quick recap on why I like this planner so much.  My friend, Sue – whom I've known ever since our kids were itty-bitty –  created this planner and I've been using it ever since. It's truly the best I've found.
Here's why:
It's pretty. (Don't you think it's nicer to have one that's lovely?)
It's the perfect size. Small enough to fit into my purse and large enough for me to actually write in (and see what I've written).
It has encouraging verse and quotes throughout.  For example, on the cover: Jesus Christ the same yesterday, today, and forever. ~ Heb. 13:8 What a beautiful reminder whenever I pick up my planner!
It has year, month, and week sections.  Necessary for short-term and long-term planning.
It offers additional sections for tasks, projects, info, and shopping (and a perforated shopping list section allows you to take the list with you).
It also has easy tabs and is spiral bound.
Oh, and it's very reasonably priced – did I mention that? (Much less expensive than what you find at your office supply store!)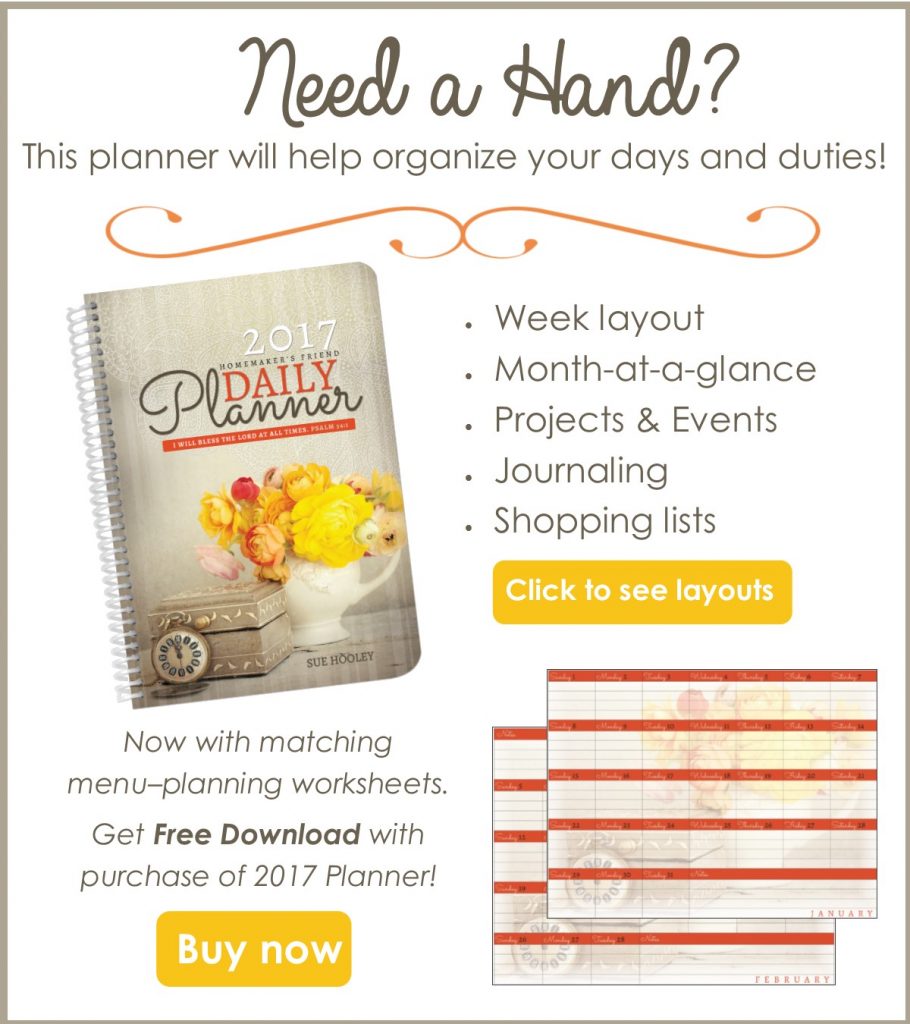 I don't know about you, but I'm actually getting excited about this coming new year. I've been very thankful for the last couple of weeks of holidays and celebrations, but I'm going to be ready for that fresh start! 
Happy New Year, my friends!
*I shared a few of my own goals for the upcoming year and now I've love to hear some of yours! Do you have new resolutions and, if so, what are they? 
In His grace,
*A small reminder, or if you're new here: I only recommend products that I actually use myself and genuinely love. I sometimes get a small commission for these, but this does not in any way affect your price. See my full disclosure.