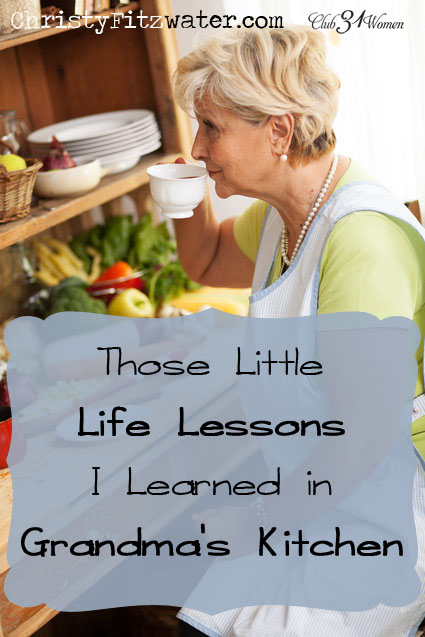 Opening the side door that she used as the front entry, we walked straight into the kitchen.
Ahead I could see the sewing room, where I would always look to see if there was a new dress hanging for me. Immediately to my right was the first kitchen chair –the special comfortable one with rolling wheels, for my grandpa –one of several chairs set around the 50's-style table.
There was the smell of bacon grease and the little felt and pop-can-tab lizard attached by magnets to the fridge –a forever-valuable piece of art made by one of her kids.
It was a room full of life.
Where Grandma greeted her camper court customers and clipped dad's hair. Where cookies often cooled on brown paper sacks and fried chicken came out of the electric skillet.
There were elements of my grandma's kitchen that I will never forget and that are simple enough for any mom to copy . . .
The plates set to warm in the oven and pulled out just when the food was ready.
A bowl of cut-up fruit and several forks sticking out of it that she would plop down in front of us.
Always a game of Chinese Checkers in progress.
During breakfast the big Bible opened and her reading stories that she would embellish with ridiculous details, "to see if we were paying attention."
A preacher on the little TV on Sunday morning.
An assortment of small containers pulled out of the fridge with every meal because never did leftovers go in the garbage.
A hot wash rag kept next to her plate, to scrub the sticky hands of children who had just eaten.
A timer set to go off at random times during a birthday meal, for a surprise present every time it dinged.
Toothpicks stuck in the homemade chocolate cake pieces, to keep the Saran Wrap from sticking to the frosting.
A brown paper sack tucked into the plastic garbage bag, to save money by making the plastic bags go as far as possible.
A freshly ironed dollar bill handed to me once a week for several years, so I could build my own savings account.
One can of pop split between two glasses filled with ice, for a frugal but special treat on pizza night.
It wasn't a big room, and it was mostly utilitarian in appearance . . .
But there I learned to laugh and to be thrifty and to be generous.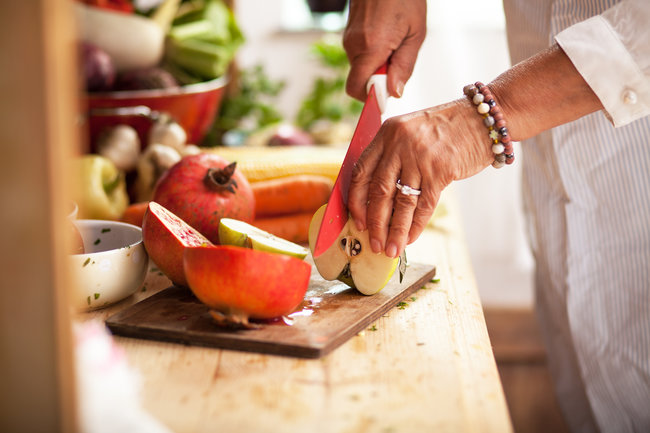 *Is there anything special you would copy from your grandma's kitchen?
Christy Fitzwater is a pastor's wife south of the border (Canadian, that is.) She has two children –a newly married daughter and a son who is a senior in high school, although she is in denial about the latter. Christy is a librarian's daughter and an English major who loves the smell of a new book and freshly sharpened pencils but who occasionally can be seen in a kayak as her one claim to athleticism. Living in Kalispell, Montana she teaches high school Spanish at a Christian school in the afternoons and spends the mornings writing her devotional blog, Off the Shelf. Her greatest desire is to help people know and understand who God is. You can also find her at Pinterest and Twitter.
*If you would like these posts delivered directly to your inbox, simply subscribe below (and get the FREE eBook, The 7 Habits of a Highly Fulfilling Marriage).