5 Steps to Dinner Success: How This Kitchen Failure Started Making Meals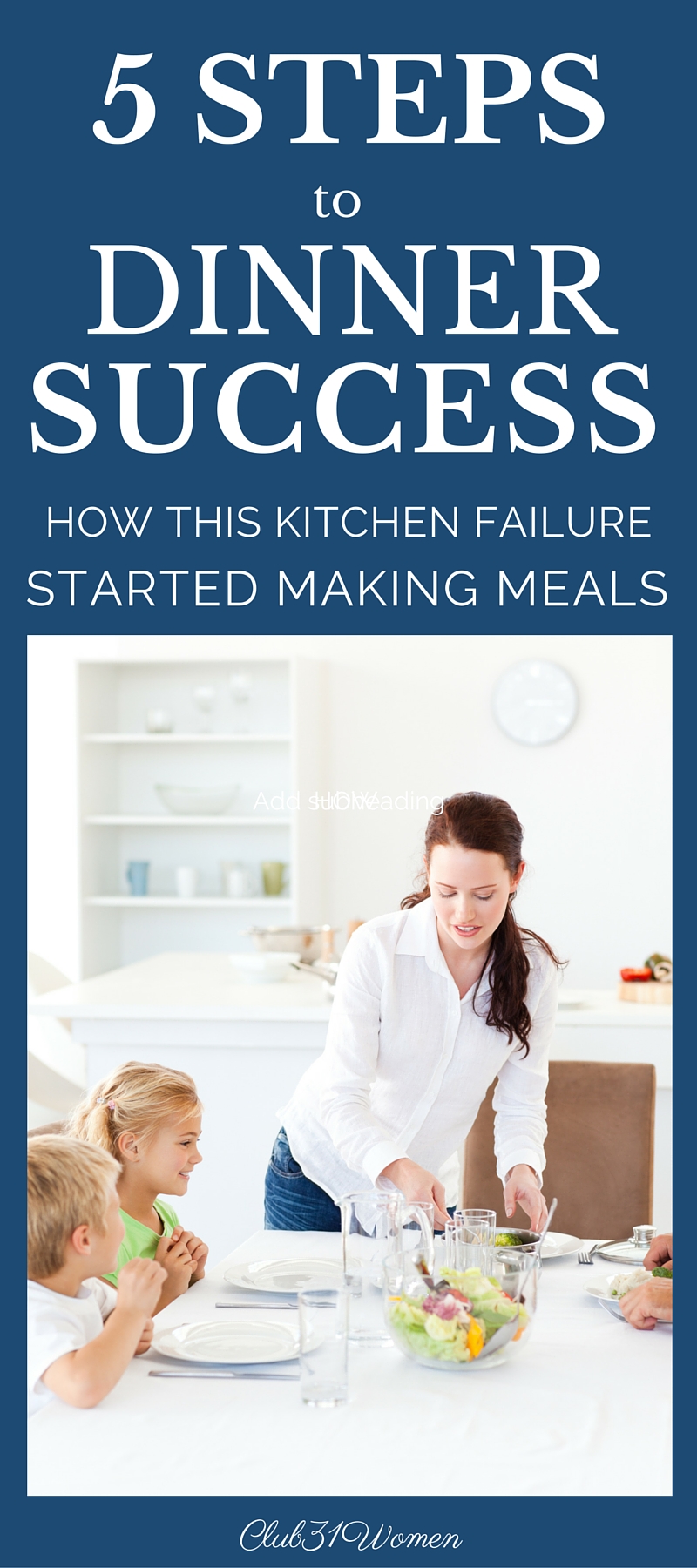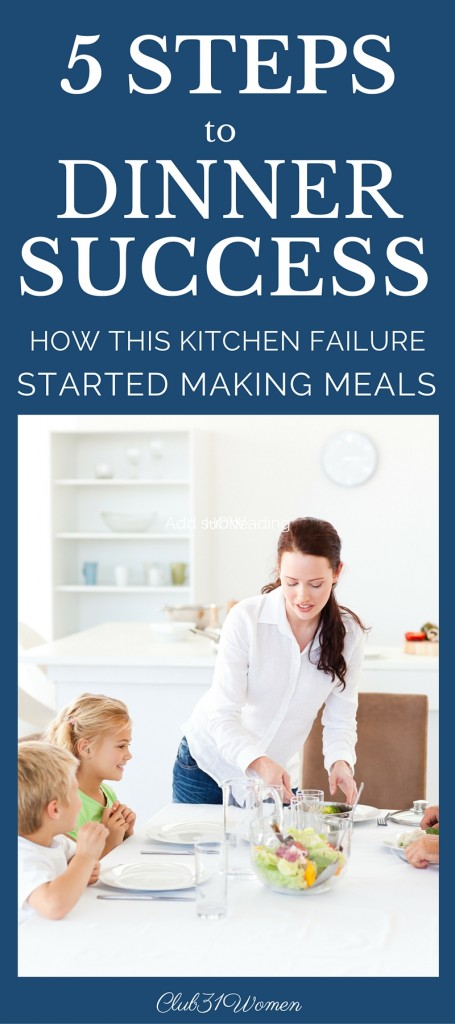 Well girls, I'm almost 47 and both kids out of the house, and I think I'm finally starting to get the hang of this meal thing.
I will spare you the stories of my almost daily failure to make meals for my family over the years (although stay tuned for my book to be released soon, in which I give the whole dirt and how God has helped me.)
If you struggle to cook for you family but you want to improve in this area, I am the woman you want to listen.
I've tried everything –including one time making cute, laminated cards of every recipe I had and then putting them on the fridge with magnets. Total fail.
But what I'm about to tell you has worked for me –the process combined with the Lord's persistent grace. Maybe some – or all – of these ideas will encourage you.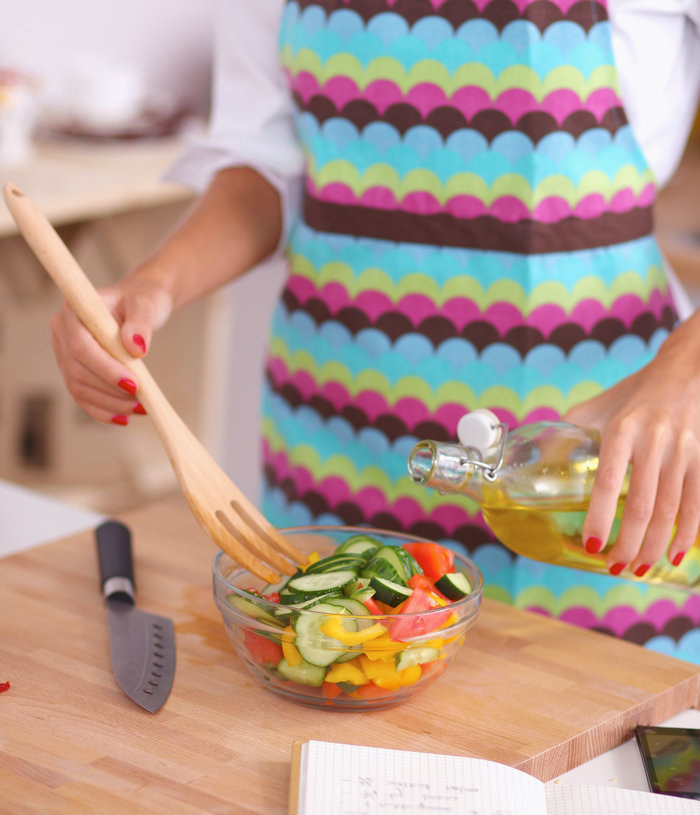 This post may contain affiliate links through which Club31Women might get a small compensation – with no additional cost to you.  See my disclosure policy here.
My Five-Step Process to Get Meals on The Table
1) Collect 30 simple recipes that get a thumbs up from the whole family.
Put each recipe in a plastic sleeve, and keep them in a cute three-ring binder in the kitchen. (You know all those recipes you want to try some day? Put them somewhere else. This binder is only for tried-and-true recipes.)
2) Take an hour to make a great list of all the ingredients in the 30 recipes.
Tally the ingredients that are repeats.
Study this list. What would you consider to be staple ingredients that you can always keep on hand in the pantry or freezer? As you can afford it, stock up on these.
From now on, any time you use the last of one of these staple items, go immediately and write it on your grocery list. Train your family that if they use the last item, they need to write it on the list. Practice giving them a scary mom look if they fail to do this. (Right now. Practice it right now.)
Proverbs 21:20 says: "Precious treasure and oil are in a wise man's dwelling, but a foolish man devours it." I think this means a wise woman is going to have food on the shelf that she can put her hands on when she needs it.
3) Make five weekly menus with ingredient lists.
Part of my cooking problem was that I hated thinking about what I was going to make for the week and then searching through recipes for ingredients to buy. Making weekly menus has changed everything for me.
Get five pieces of lined paper (I am hopelessly paper and pencil.) Now divide up your 30 recipes into five weeks. That will give you six recipes per week. Sister, if you make six meals a week, you are on fire! I've found that usually we have a pizza night, a leftovers night, or an unexpected night at friends, so six recipes gives you some extras to choose from in the week.
Divide the recipes thoughtfully. Make sure you have a variety of meats and cuisines. I made sure we didn't have a week with too many pinto beans in it, for the sake of air quality in the house. (Moms have to think about these things.)
On the paper, write the names of six recipes and then a list of ingredients needed for each recipe. (Don't include anything that is on your staples list. You know you're keeping those things on hand at all times.)
Get a magnet and hang one of the weekly menus on the fridge. As you make one of the meals, write down the month you made it in pencil, so you can see what you're actually making and how often. Rotate through these menus every week.
4) Food Prep Day
Choose one day of the week that can be your grocery shopping and food prep day. Make a grocery list by looking at your weekly menu ingredient list (piece-a-cake!).
Go buy groceries. No donuts (note to self.)
Come home and prep as much of the menu stuff as you have time and energy for. You could cut up some of the veggies or cook ground beef. You could even assemble a few entire meals and cook them.
5) Make meals most every night.
Feel good. See happy family.
Okay, girls. If I can do this, you can, too. God will help us!
Bon appétit,
Christy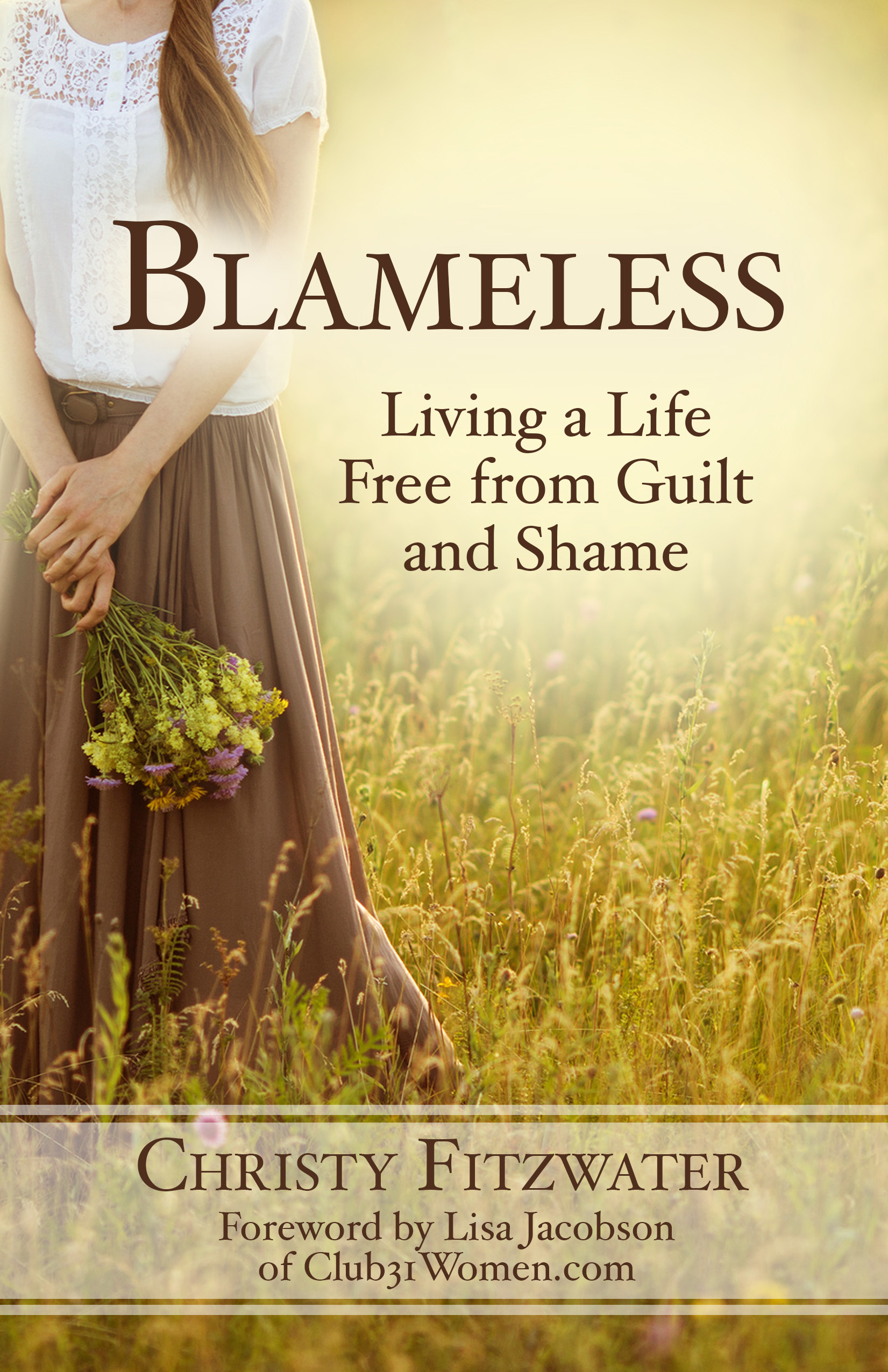 We're so excited to announce the new release of Christy Fitzwater's book, Blameless: Living A Life Free From Guilt and Shame with Foreword by Lisa Jacobson of Club31Women!
I've read hundreds of books in my life, many of them very good. But few have made me laugh so much, given me so much hope, and made me so eager to share its pages with my friends. ~ Elisabeth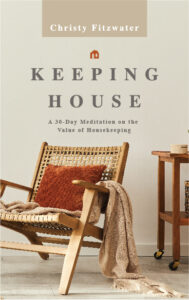 Christy has been keeping house for over 30 years and has found ever-deepening value in this role, especially as a way to navigate the painful season in which we find our world. This book is a gentle invitation, to walk with Christy through vacation rentals and refresh your heart and mind on why housekeeping is so important.
Find Keeping House on Amazon →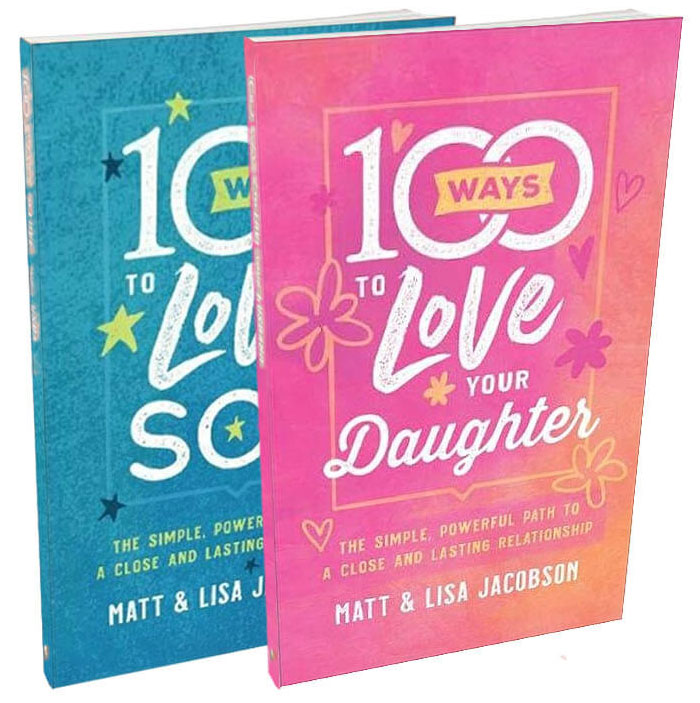 100 Ways to Love to Your Son/Daughter
You love your son and daughter–but that doesn't mean you always know the most effective ways to show that love, ways that will connect with their hearts, and stick with them no matter what life throws their way.
These practical books by the authors of 100 Ways to Love Your Wife and 100 Ways to Love Your Husband give you 100 specific, actionable ideas you can implement to show love to your children, no matter what age they are.
The best part? The short, bite-sized readings make it easy to start right now!